Disney's Finding Dory: Just Keep Swimming for Windows 10 gets us ready for the movie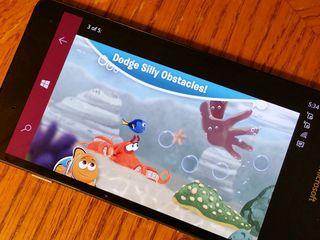 Disney has released Finding Dory: Just Keep Swimming for Windows 10 on PC and Mobile. The game, based on the forthcoming Disney-Pixar animated sequel to Finding Nemo, has you controlling the forgetful fish Dory as she tries to find her family.
Here's a quick look at the game's features:
The game costs $3.99 and is a 1.6GB download. Be aware that the game has just launched and it may not be available yet for all Windows Store users.
Download Disney's Finding Dory: Just Keep Swimming in the Windows Store (opens in new tab)
Windows Central Newsletter
Get the best of Windows Central in your inbox, every day!
1.6 GB for a flappybird-like game? (Isn't it?)
And $3.99? Moreover, it advertises the movie! This should be completely free.

You know, so often movie games seem so rushed and just bad. Posted from PornHub

Ugh.. These are not rushed but a bad idea.

Everything should be free. And then when the devs meet for their quarter earnings they realize they made nothing but spent a lot. Hmm we will have to cut back on windows phone. They have barely any users and expect everything to be free still. Maybe she's born with it, maybe it's Lumia 950xl

Disney has trouble Customer support for apps. I will never buy again after getting Ducktales Remastered and it not even launching. Their app support sent me to MS who ended up finding my money. Shame on Disney.

Ducktales could have been great. But I, too, had terrible problems with it on a variety of devices. :(

Lol never had problems on Wii U

Booooooo Waiting on the apps for their parks. These games are weak sauce.

Thought Disney had exited the games industry along with binning Infinity.

Guessing it doesn't include mobile apps/flask games

They did, but this was probably already too far in development to cancel. I don't think we can expect any updates on this app anymore, at least not on Windows. So do take that into consideration before investing in this thing.

I'm almost certain they were no longer self publishing games for consoles. That doesn't include other companies licensing their properties to publish games or mobile games. I could be wrong. But most of what I read indicated they aren't abandoning games entirely

I hope the game is fun and everything customers would want. But, more importantly, I hope the movie is as fun as it's older sibling. I love Finding Nemo. :)

Instead of buying this, I'll just keep swimming. Sent from my Lumia 640 running Windows 10 Mobile using my new ZaggKeys keyboard via the Windows Central App.