The Division 2 is getting a new game mode in its fifth season
Ubisoft's plans for The Division 2's 2021 updates are basically one big mysterious update and several months of reruns.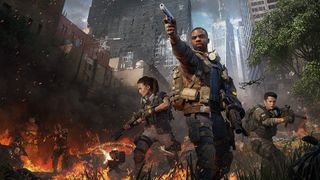 (Image credit: Ubisoft)
What you need to know
Tom Clancy's The Division 2 is an action RPG set in a ruined America, first released by Ubisoft in 2019.
The game is getting a major content update at the end of 2021 that will include a new game mode.
In the meantime, the game's Seasons will rerun, giving players a chance to replay them.
Ubisoft Massive just revealed its roadmap for The Division 2's content in 2021. The good news is that the development team will be rerunning its previous Seasons, allowing users a chance to replay previously inaccessible content. The better news is that the developers are working on a big, mysterious update that will add a new game mode.
The development team on The Division 2 first announced it was receiving new content a few weeks ago, and before that the game got a surprise 60FPS update for Xbox Series X/S. Now we know what kind of content it's planning to add. As for what kind of game mode we're getting, the team doesn't say. The only description we get is that it's "entirely new to the franchise."
It'll also apparently be quite large, as the team estimates it won't be finished until the latter half of 2021 at the earliest (which means it could be released in 2022). In addition to this mode, the team is working on new ways for you to level up your agents with an eye towards build variety.
So what will happen to Division 2 while the development teams works on the game mode update? Ubisoft will rerun previous seasons to fill time until we get the big new update, starting with Season 5, which will be a rerun of Season 1. This will give players a chance to "collect rewards and collectibles that you might have missed out on."
The development team also released a list of stats to show off what players have done in the game in the time it's been active. It's not exactly clear if the stats cover both Division games or just The Division 2 -- but regardless, it's rather impressive how much the players have managed to do. According to Ubisoft, the 40 million players across the franchise have managed to land 156 billion headshots. If you want to play The Division 2 on console and score some headshots of your own, check out our list of the best keyboards for Xbox Series X/S.
Get the Windows Central Newsletter
All the latest news, reviews, and guides for Windows and Xbox diehards.
Rachel Kaser is a Windows Central gaming contributor, who's been writing since 2013 and gaming since the age of five. She's covered everything from gaming news, reviews, and analysis -- if it exists in gaming, she knows about it. She also contributes to Future's other sites, iMore and Android Central. If you want to hear her opinions on games, pop culture, tech, and everything in between, follow her on Twitter @rachelkaser.