If you use Kodi, do you need a VPN?
Kodi itself is just a media player, but that doesn't mean it's not worth considering a virtual private network (VPN) to use with it.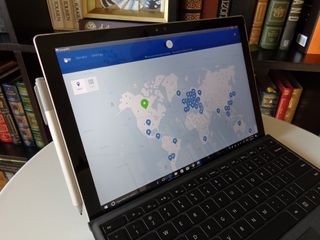 (Image credit: Windows Central)
The reasons for using a VPN are common across any specific applications you may use. In the case of Kodi, you may have seen material online suggesting you should be using one and how to set it up, and that's fine.
But you don't need a VPN to use Kodi. That message can sometimes be washed out, but the truth is simple: Kodi is just a media player, an empty shell, and you do not need a VPN.
Why you should consider using a VPN is because it's just a good thing to have in general for your online activities.
What is a VPN?
A VPN is an encrypted "tunnel" that transfers your internet activity between your PC and a host server. The internet is a public thing, but a VPN adds a dose of anonymity, making it harder for someone to track your activities. There are many VPN service providers like NordVPN (opens in new tab), IPVanish (opens in new tab), TunnelBear (opens in new tab), ExpressVPN (opens in new tab), and more, each with different feature sets.
Reasons for using a VPN are various, but a popular one is to "spoof" your location. In some countries, like China, internet access is severely restricted, and a VPN is a tool that can help get around that (albeit not for much longer). Specifically, in relation to Kodi, the open-source nature of the platform has its own concerns, mainly down to third-party add-ons.
Advertisement
These can be built by anyone, anywhere, and even if you're not using one to access pirated content, there's always a chance that your security could be compromised. Kodi itself is an empty shell, and while you'd assume all add-ons in the official repository are good, outside of that it could be a real hornet's nest.
How to use a VPN with Kodi on Windows
Why should you use a VPN?
There are lots of reasons, one of which we mentioned above. But it's not just about spoofing your location, a VPN can help you "hide" online, keeping private things more private and limiting what various organizations, even governments are seeing.
If you're looking for more reason you might want a VPN in your life, hit the link below.
6 good reasons why you really should use a VPN
Which VPN should you get?
There are lots of options out there, hundreds, perhaps thousands. Some are good, some are not so good. Only you can really make the decision on which fits best for you. You'll also want to make sure you get a VPN that doesn't hoover up all your bandwidth.
Advertisement
Here are some suggestions on the best all-around products available. These may work for you, or you may find a better fit elsewhere. Ultimately, you want to make sure you understand what you get and what it costs.
The best VPN services of 2017
Bottom line on Kodi and VPNs
Having a VPN for Kodi (opens in new tab) absolutely is not necessary, but since you'll be connecting to online content through it, it's not a bad idea to invest in one. If you're using a Windows machine, in particular, having your Kodi build behind a VPN is very easy.
If you do decide to use one, you should get a VPN because it's something you need. Not because you heard Kodi users "must get one." That's just not true.
Download Kodi from the Windows Store (opens in new tab)
Related resources
We test and review VPN services in the context of legal recreational uses. For example:
1. Accessing a service from another country (subject to the terms and conditions of that service).
2. Protecting your online security and strengthening your online privacy when abroad.
We do not support or condone the illegal or malicious use of VPN services. Consuming pirated content that is paid-for is neither endorsed nor approved by Future Publishing.
Windows Central Newsletter
Get the best of Windows Central in your inbox, every day!
Managing Editor - Tech, Reviews
Richard Devine is a Managing Editor at Windows Central with over a decade of experience. A former Project Manager and long-term tech addict, he joined Mobile Nations in 2011 and has been found on Android Central and iMore as well as Windows Central. Currently, you'll find him steering the site's coverage of all manner of PC hardware and reviews. Find him on Mastodon at mstdn.social/@richdevine
If you want to use the good media repos, you should use a VPN as some of the content on them is pirated...

"Some"? Try "all". Also, don't make the mistake of conflating Kodi with the pirate extensions. Kodi is awesome even without pirating. https://kodi.tv/article/having-issues-free-movies-tv-shows-sports-iptv-s...

some? a lot of the better stuff kodi on kodi is either blocked or has a hint of piracy attached to it. it's no wonder why you might mistakenly get a notice even for streaming something legal over kodi using an addon that's shady in terms of content legitimacy. and that's why a lot people who stream legit material still use vpns, not to avoid notices, but to steer clear of trouble they don't want on their plate.

Why is Kodi being open source a "concern", and what does that have to do with dodgy third-party plugins?

because a lot of third party addons might grab a stream that might either be blocked in a certain region, or is protected by copyright.

Assuming you would like to play by the rules(meaning not watching pirated content or geo-restricted content), then there is absolutely no reason to get a VPN "just" for Kodi. In fact, in some cases, VPN can make your experience in Kodi bad.

A VPN is a good way to get around geo-blocks. Of the things that corporations have dreamed up and their political lackeys have supported, geo-blocks are truly destructive and despicable. Citizens everywhere have good reason to get around geo-blocks. And, quite often broadcasters lazily apply geo-blocks because some of their content is licence restricted. For example, I often watch Dutch material and Dutch language material is unavailable outside of the Netherlands for distribution. Unfortunately, sometimes that material ends up being geo-blocked anyway with no way to access it legally. A VPN is the only solution around that problem.

if the user's nation doesn't have as strict laws and every key addon is accessible without having to change the region, then yes, you don't necessarily need a vpn... but if you're in some region that has either of the aforementioned issues, then using a vpn connection like ivacy or nord or basically any service as long as it has encryption and multiple servers, becomes rather necessary.

"*IF YOU USE ILLEGAL STREAMING* do you need a VPN?" Kodi != illegal IPTV streaming box. It is a program that allows plugins. Some people make ones that stream illegal content. You are discussing the illegal content here, not Kodi itself, as you do not need one for anything in Kodi's default sources/plugins.

Suggestion for a future article: is it piracy if it's unavailable through legal channels online? For example, in Canada Game of Thrones is unavailable on-line. The rights holders in Canada have kept it restricted to a speciality cable-channel. Recently there was an article about a farcical effort by the rights holders to intimidate Canadian users of streaming services into stopping with streaming with the claim that it was legally available. That claim is as empty as their ability to enforce their threats (fortunately Canada has, for once, not gone down the route of criminalizing regular citizens for the commercial benefit of corporations... the US resembles Russia more and more by the day). So, is streaming piracy if the corporate masters themselves ensure that there is no legal avenue to obtain material online?