Do Microsoft's Office UWP apps have a future on Windows Core OS?
Can Windows Lite be the savior that Office UWP needs? A lightweight OS experience complemented by a lightweight Office experience could be the way to go.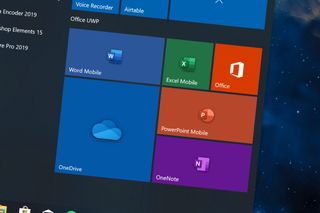 (Image credit: Windows Central)
I really like Microsoft's universal, or Universal Windows Platform (UWP), Office apps for Windows 10. Sure, they're not as feature-packed or capable as the full Win32 versions of Office, but for me, and I'm betting a lot of people, the UWP apps are more than enough. I use them every day for looking at PowerPoint presentations, writing articles, and managing expenses. While there are some limitations, the overall experience is fine, and in some cases, great.
The state of Office UWP apps
Unfortunately, the universal Word, PowerPoint, and Excel apps Microsoft has built seem to be in a weird place. Last year, the company announced that those apps were no longer a focus, with the Win32 suite and web apps taking priority. Since then, Microsoft continued to update the Office UWP apps with new features and changes, the most recent of which introduced the new brand iconography.
Microsoft has gone so far as to hide the UWP apps in the Microsoft Store. You won't find them if you explicitly search for them, and the only way to download them today is via your previously installed list or if you look for them on the web. It's fair to say Microsoft doesn't want people using these UWP apps, even though the apps themselves continue to be updated. I believe there are two primary reasons for the continued updates. The first is that the UWP apps share a similar codebase to the Android and iOS apps. Microsoft is committed to the suite on Android and iOS, so by extension, the UWP apps get updates as well. The other reason is that the Office UWP apps are the primary Office experiences on devices like HoloLens and Surface Hub. Even with Windows 10 Mobile no longer a thing, these apps are still required for Microsoft's other hardware efforts that feature versions of Windows 10 that aren't the desktop OS.
A reignited focus with Windows Core OS?
With all that in mind, can we expect to see a reignited focus on the UWP versions of Office in the future?
I can't see Microsoft reprioritizing these apps for desktop, mainly because there are too many enterprises relying on Office extensions support and other capabilities specific to the Win32 versions. But I also don't see why Microsoft can't make the Office UWP apps the default experiences on Windows Core OS (WCOS), including Windows Lite.
Is there a future for true UWP apps on Windows 10?
Windows Lite is designed from the ground up as a lightweight, clean, and straightforward experience. Office Win32 isn't suited for that. If there's a version of Office that compliments Windows Lite, it's definitely the Office UWP apps, which are also lightweight, clean, and straightforward. I don't see why Microsoft can't just bundle these with every Windows Lite device, allowing any user that needs more advanced capabilities to go ahead and download the Win32 versions.
This could give Office UWP the kick it needs to become the mainstream version of Office that's good enough for most people, with the older Win32 versions being optional for those that need them. This is similar to Microsoft's plan with Windows Lite and Windows 10. Windows 10 will always be around for the enterprises and professionals that need it, but Microsoft is hoping Windows Lite becomes the new mainstream version of Windows for the masses.
Will these apps be free if bundled with the OS? I'm not too sure about that. As of right now, the Office UWP apps are free on devices under 10.1 inches. Anything over that and you need an active Office subscription. Office Online, however, is free to use. In fact, Office Online and Office UWP are similar in a lot of ways.
The future of Office on Windows Core OS
While I personally hope Microsoft keeps the UWP apps "native" to the universal app platform, I wouldn't be surprised if Microsoft eventually turned the UWP apps into web apps, just like it did recently with OneDrive and the Office Hub app. Microsoft already has web apps for Office, and they're pretty good, in some areas even outshining the UWP apps with newer and more advanced features.
Why Microsoft's Office Mobile suite is much more than a simple set of mobile apps
I hope Microsoft repositions the Office UWP apps as the primary experiences on Windows Core OS devices. It makes sense to do so, considering what Windows Core OS stands for. This is a lightweight, modern OS experience, and I think it needs a lightweight, modern Office suite to match.
There is one thing Microsoft needs to change about the UWP apps if it wants to position them as the primary experiences on Window Core OS, however, and that's allowing the user to run multiple instances of the apps. Right now, the apps themselves can only run one instance at a time, meaning if you want to open two Word documents, you can't. This is an easy fix, but it's something Microsoft would have to do.
What are your thoughts on Office UWP and Windows Core OS? Do you think these two experiences should go hand-in-hand? Let us know in the comments.
Our favorite computer speakers for less $100
Team Windows Central wholeheartedly recommends each of these computer speaker setups, because they all bring the NOISE and will not wound your wallet.
Bose Companion 2 Series III speakers ($99 at Dell)
If you want great sound quality and value, then you want Bose. You too can have room-filling, immersive sound, so Bose says in every advertisement.
Logitech Z313 speaker system with subwoofer ($49 at Dell)
The Z313 comes with a powered subwoofer and two satellite speakers to deliver 25 watts of total power. That's enough to fill your room and then some.
GOgroove BassPULSE ($50 at Dell)
These are clearly the coolest-looking speakers recommended here, but they're not all flash and guile – these speakers can produce amazing highs and lows, for just $50.
Get the Windows Central Newsletter
All the latest news, reviews, and guides for Windows and Xbox diehards.