Does Cortana have a future on Xbox One?
With Microsoft pulling direct Cortana integration from Xbox One, what does the future hold for the digital companion?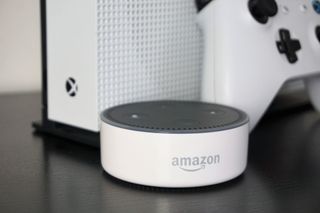 (Image credit: Windows Central)
The Xbox One soon receives another significant overhaul, as Microsoft continues to build upon its home console OS. The reengineered layout further refines the Home startup menu, ditching a current tabbed interface for a streamlined, lightweight design. In theory, the update improves navigation speeds system-wide, cutting out pesky background clutter.
The upcoming refresh also scales back Xbox One's deep Cortana integration, Microsoft's in-house digital assistant spanning its extended Windows 10 ecosystem. Revoking Cortana support both via headsets and the ill-fated Kinect sensor, it shifts voice commands to external voice-enabled devices. With remote Cortana and Alexa support first introduced in 2018, focus now lies exclusively with external third-party speakers, apps, and other respective endpoints for the duo.
Cortana's Xbox One missteps, as Alexa looms
Microsoft has endlessly wrangled Xbox One voice commands, first shipping alongside the once-bundled Kinect sensor. Microsoft would later alleviate limitations of locally-processed inputs, bringing the scope of its connected Cortana voice assistant. But the result was an assistant grounded by clear shortcomings, often slow, inaccurate, and weighted by server latency.
The Xbox One saw Cortana improvements with time, introduced in parallel to Windows 10 PCs. We've seen new features and refinements (although many US-only) while also expanding into new territories. But Cortana soon became a shell of Microsoft's AI ambitions, offering little to progress beside Amazon and Google.
Instead, Microsoft now points its users toward Amazon Alexa integration, tapping into the mega-retailer's growing lineup of smart speakers. Already proving snappier and more capable than the Halo-inspired assistant, the downloadable Xbox Alexa Skill is now the best option for voice control across the Xbox family.
Related: How to use Cortana and Alexa on Xbox One
The state of Cortana for Xbox One
With Microsoft retreating its Cortana investments, it's only natural to question what lies ahead for the virtual companion. Microsoft is well-aware that Cortana has fallen behind in the space, but remains committed to pushing its presence. "Cortana is not dead," affirmed Andrew Shuman, Corporate Vice President of Cortana Engineering, in an interview with Windows Central at Microsoft's annual Build developer conference. "Fundamentally it is a foundational horizontal piece … like Microsoft Account, Microsoft Store, Microsoft Search."
Cortana might be unable to compete with Google Assistant and Amazon Alexa, but Microsoft no longer looks to dominate the consumer space. It increasingly serves as an enhancement to Redmond's platforms and services, most recently doubling down on productivity amid an identify shift. As our Senior Editor, Zac Bowden, explained in 2018, "Microsoft's end goal is to integrate Cortana into Windows 10 seamlessly so that users don't even know they're using it."
That transition comes with a retreating consumer presence, both on Xbox One, and the broader Cortana ecosystem. We've recently seen Cortana scaled back elsewhere too, most recently headlined by Johnson Controls' GLAS thermostat switching to Amazon and Google alternatives. Cortana has a place among the world of assistants, even if Microsoft is yet to nail down that identity.
Microsoft hasn't stopped its Cortana investments, far from the case, with continued patents striving for natural language advancements. Entertainment wasn't a centerpiece of Cortana and likely never will, with Amazon Alexa offering better suited consumer-facing services instead. It comes with the familiarity of millions of homes across the globe, even if the choice of Cortana still lingers today.
Voice control
(opens in new tab)
Jump into the world of Xbox voice commands.

You can now control your Xbox console using voice commands via an Amazon Echo speaker. The lowest-cost Echo devices are pretty affordable and currently sport the widest array of support for connected devices and services. The most affordable Echo device is the Echo Dot, starting at $30.
Windows Central Newsletter
Get the best of Windows Central in in your inbox, every day!
Matt Brown was formerly a Windows Central's Senior Editor, Xbox & PC, at Future. Following over seven years of professional consumer technology and gaming coverage, he's focused on the world of Microsoft's gaming efforts. You can follow him on Twitter @mattjbrown.
I wanted to try using on Xbox, but was never able to. Xbox doesn't have a microphone, Kinect was discontinued and USB webcam support lacked Cortana. So that left me with no way to actually use Cortana. In short, Cortana was dead on arrival with no way to actually use it.

I've never used Cortana on my Xbox One X. However, I used it regularly on my Lumia 950 XL and I still use it on my Surface Pro and within the Microsoft Launcher on my Note 8. (Just and opinion based on the trend I've been seeing for some time.) I've said this before, with Microsoft's interest in incorporating Alexa with Cortana, with Alexa taking front seat, I wouldn't be surprised to see Cortana being absorbed into Alexa, when it comes to PC and other Microsoft areas Cortana is still present. It's been said that this wouldn't happen, because of the way Cortana is incorporated with Bing search, but I'm not convinced. I believe sometime in the near future, Alexa will be the one and only virtual assistant on PC and other Windows devices. As I've seen lately, Cortana is being removed from a number of things and it's not just because of lack of use. I think MS has sent noticed to companies that they are going to partner with Amazon and at some point, Alexa will be the go to for both MS and Amazon devices, allowing them to work seemlesly together. Don't be surprised if we see Alexa incorporated into updates for the current and future MS gaming and other devices. I believe the work that MS is currently doing on Cortana is to make this a reality. Corlexa or Alexana? Terrible names. Lol But, what other recourse does MS have at this moment? Cortana, as much as I loved using it and wanted it to flourish, this would be the most logical step for MS. Alexa is already rooted in many people's homes. Cortana is an after thought, even on PC.

I still use "Hey Cortana, turn in my Xbox." when I walk into the living room. I shouldn't have to buy another device to use features I already have on my Xbox One X with Kinect. Good ole Microsoft, it giveth and it taketh away. Thanks Microsoft.

You mean, on anything? Cortana just got killed on the cool Glass thermostat. I hate it when I become a fan of something Microsoft has done and they pull the rug out from under me.

Does the service called Cortana have a future anywhere? I am sure the technology will stick around somewhere, but I bet they kill Cortana branding in the not too distant future (within a year).

You are probably right, but this is just a sad thought.

Cortana is the next Windows Phone. MS needs devices. Apple users are Siri. Android users Ok Google. Smart devices are Google or Alexa. The Xbox is the one device they had in any decent numbers in peoples homes...now they pull it...

Your writing is so awful that I'm struggling to make sense of this...

Cortana is a skill on Alexa, so no real issue with Alexa. And no, Amazon and Google are not coming to GLAS termostat. Johnson Control stopped offering an assistant built in to the product. The market is adjusting to the popularity of smart speakers. Johnson Controls has a skill on alexa and a skill on hey, google just like Microsoft does. Its a shame that Johnson Controls to deprecating the device. But having it be a smart speaker didn't work. Couldn't play good music on it. Couldn't bluetooth it to another speaker. It was a missed opportunity. The saving grace for echo is that you can bluetooth to another speaker. Its a crap speaker, and a direct challenge between alexa and cortana showed that cortana understand you better. Cortana has a personality that is far superior to Alexa or others. But as Ballmer said, developers, developers, developers. Sad day in the world when a superior product can be undone by developers. C'est la Vie

Alexa and Google Assistant will be able to control GLAS. Having the assistant directly on the thermostat is pointless when smart speakers are $20. The thermostat just needs to interact with the speaker. Developers didn't kill Cortana. Microsoft did by not putting any effort into mainstreaming the service. As soon as Alexa took off, Google had a $100 speaker ready to go and a $20 version not far behind. At the same time, Google developed and improved their assistant so it was easily the best available and still is today. Microsoft did nothing. You still can't buy a Microsoft speaker and now you never will.

Yep, this is well said. MS did this to themselves. They should have built upon the momentum they had when Cortana released on WP8. They haven't done much since that date.

Well, to be fair you MIGHT be able to buy a Microsoft speaker someday. It will just be running Android and use Alexa.

"Does Cortana have a future on Xbox One?" The real question is, Does Cortana Have A Future At All?

No, Cortana is dead, simples, Google has the necessary data points that allow them to develop at pace, if only MS believed and actually invested properly in thier own mobile platform. This MS is enterprise focussed and enterprise dont really care about VA, if anything they see them as a threat for leaking data and secrets/privacy. Cortana, like Bixby, is dead, the writings been on the wall for ages, if you think otherwise you are deluded.

Bixby is useful due to Samsung's ability to provide tie ins where Google and Microsoft do not or cannot. She can do things that Google Assistant simply cannot on the device, and has direct integration with Samsung services like Pay and Health... and Samsung's smartwatches are almost the only factors on Android IMO. Being on the Bixby hate bandwagon doesn't delete her redeeming qualities. Plus, it's nice to have an option that isn't dumping everything into a Google Account. Cortana was dead the minute Windows Mobile went under. Assistants are awkward on desktops and laptops, especially with so many people having at least a 50 words/min. typing speed, these days.

Nothing new here. When push comes to shove Microsoft is the one getting shoved. They have little consumer presence and are a business company only (all most). Just the way it is.

Not available in most of the world. Not relevant.

Told ya... Looking at you Jason..

I think I bought one of the last Invokes from Harmon Kardon. It was on sale for $39 as a remanufactured product. I don't see it on the website anymore. I now own 4 m(office, home office, TV Room and Bedroom). She is still responsive and helps me quite a bit. Sometimes I impress people with her capabilities. She still lives. I hope the new effort of MSFT to transform Cortana into a conversational assistant via text will still allow Cortana to take the text and understand the same when I speak.

Its funny how after every bad decision by MS, windowscentral rushes to defend it and after weeks finally admits that it was a misstep by MS.

It is impossible for them to have a realistic assessment of these situations. They hold the Microsoft line even longer than Microsoft does.

Xbox was the only place she made sense, IMO. Badly botched on desktop.
Windows Central Newsletter
Thank you for signing up to Windows Central. You will receive a verification email shortly.
There was a problem. Please refresh the page and try again.