Don't forget to get the Office Mobile apps for your Windows 10 tablet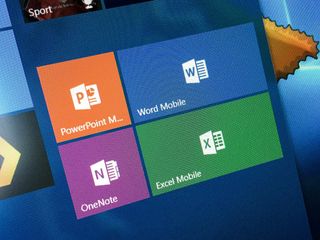 Now we're a couple of days out from the Windows 10 upgrade hitting millions of people around the world, it's time to start putting it to work. For those of you with a sub 10.5-inch Windows 10 tablet, one thing you should definitely check out is the free Office Mobile apps for Windows 10.
The Office apps comprise Word Mobile, Excel Mobile, Powerpoint Mobile and OneNote, and will ultimately be Universal Apps once Windows 10 Mobile launches later on this year. They're free to use for "most editing" on these smaller tablets, while on PCs and things like the Surface Pro 3 you'll need to use desktop Office or have an Office 365 subscription.
From Microsoft:
The apps themselves are pretty good and represent a step forwards in how Microsoft handles Office on its own, smaller devices. Desktop office on a 7-inch tablet has never been fun. Grab each of them for yourselves at the download links below.
Richard Devine is an Editor at Windows Central. A former Project Manager and long-term tech addict, he joined Mobile Nations in 2011 and has been found on Android Central and iMore as well as Windows Central. Currently you'll find him covering all manner of PC hardware and gaming, and you can follow him on Twitter and Instagram.
Anyone know of you can have horizontal scrolling in portrait tablet mode in Windows 10, I can't seem to get it to work.

You take the device... Smack it on the ground and say mean things to it ;) worked for me. Though me n tablet aren't talking anymore... :/ I think he's mad at me. Facka!

I have a HP Stream 7 and it will not rotate at all with Windows 10 on it and I can't go back to Windows 8.1

Hi, Intall the drivers for your hpstream 7 from hp site and the problem will be rectified. Intall drivers based on your version of stream 7. Mine was 5709

My tablet had rotating defaulted to off when I went to Windows 10. You might want to check that.

Yeah i think that may be correct.

On my Asus VivoTab rotation randomly stops working and the auto rotate option disappears from Action Center until you reboot. Ugh.

The auto-rotate selection is greyed out on my SP3 so all I have is a manual selection for Portrait or Landscape only. I guess you did not have this problem...

My S3 did that briefly but it cleared afte a reboot. I think it was probably a driver crash.

Update firmware/BIOS. Works fine here.

Horizontal scrolling has been replaced by vertical scrolling in Windows 10, no matter how you are holding your device

What? I hope that you are joking. If not, that's crazy

How can we get the apps without the OS?!?

They should have included the Mobile Office apps with the OS and made them default. Corel could have written a stupid letter, too.

Didn't know they still made wp

I want these on my original Surface RT

i tried the first thing after upgrade to 10 to download office mobile apps. something happened in the installing time and now the apps wont install, say that " this is embarassing, we cant find the app error 80070002". And microsoft doesnt have a windows store troubleshooter yet for windows 10 store. The 8.1 troubleshooter says it cant work with 10 store. great. anyone got a solution please advise here: http://forums.windowscentral.com/windows-10-general-discussion/371012-ca...

just picked up sp3 128gb xterday $479.99 minus the adapter, pen. I wish they included sp3 in the list of devices that can get office mobile apps for free. :)

The better option for you may be to trial Office 2016. It's free for now and beats the mobile apps. Link: https://www.windowscentral.com/e?link=https2F%2Fmicrosoft.msafflnk.n... May be of use.

thx. i might have to give that shot until the beta period is over.

Why do you need to be 13 years old to download it???

Child labor laws. Kids should not be crunching numbers in Excel. They should be playing tetherball outside.

Who reads that stuff? Just click away!

As most 12 year olds will tell you, never put your real age down or you can't do anything with online accounts. There is some law behind it but I forget what it is. What sucks is most of the time there is no way to parental approve access either. Only option is to provice false birthdates.

Except I can't to anything with these apps on my 10.1" Asus T100TA without an Office 365 subscription. Great.

Wait...you need an Office 365 account to use the Mobile Apps? And there are classes of devices that cannot use Office Mobile? How odd!!!

They say most of the editing functions are available for free on tablets, but it's not working. They want me to buy an Office 364 subsciption. At the same time it's working perfectly fine on an iPad. What the hell, Microsoft? Seems like they're at it again, scewing the most loyal customers.

That's odd, because Microsoft said "viewing and most editing will remain free for non-commercial use on devices of 10.1" or less" and T100TA has a 10.1" screen.

Edit: Well I downloaded the apps and they work fine. I was not prompts for any Office 365 stuff. The apps are nice too!!! Correct. Even the article says so. I gotta.check this out...Office Mobile would be excellent on my Surface 3!!!

I got the same issue here with my 10.1" Asus Vivotab Smart tablet. Excel opens my spreadsheets in read-only mode and keep prompting me to Activate Office 365 for access to full functionality. Bummer!!!

Same here for me. Apps starts in Read-only mode and want me to buty office365 subscription...

Should've called it Office Lite.

I agree. The "mobile" moniker promotes segregation between apps. Windows 10 is supposed to remove al barriers between apps regardless of screen size. Having different apps for smaller screens I backwards to their philosophy.

So much for it being universal when their adding restrictions to their own apps really they should have just replaced wordpad with this on all devices

All working fine on my Omni 10.

I think office mobile apps should be free for the surface and surface pro line as well. They're already premium devices and full micrsoft and windows. It would help marketing. I think paying for a surface or surface pro, but yet again having to shell out 7,99 a month subscription for office, while you know youll be using it a lot is a skewed business model. I think if microsoft said it would add at least word-excel-powerpoint mobile free it would make marketing sense and increase pcs sales with the surface and surface pro line ups. I think having free office 365 on the surface line would make a great investment and incentive to go windows 10 and buy a surface device. I am just saying....

As a SP3 owner, I totally agree and am bummed over not getting the mobile version on my "Mobile" tablet. On desktop, I understand and makes sense. Surface devices should all be able to install it. If one needs the additional editing features, they can get the subscription. Those are nice to have features.

There was 1 year with the one I just bought. Is that not always the case?

But Word Mobile is read only...No thanks. I'm not saying that I expect the full MS word feature set for free, but if you're going through the trouble of making a moble app at least give it core functionality like you've done with Office Online.

There is a way where you can pin the office online apps to start. It requires IE for you set the apps to the start menu. You can also use Edge but the pin tile does not reflect the logo which is BAD !!!!! it is already going backwards when IE had no support for that. off topic here - I miss some of the features from windows 8.1 but you have to move on with newer Operating systems.

So I upgraded an 8-inch tablet from Windows 8.1 with Bing to Windows 10, and it's not letting me do any edits without an Office 365 subscription. It's treating my tablet like a 'PC', I'm assuming cuz I'm running the desktop version of Windows 10 rather than Windows 10 Mobile (which future tablets of this size will run)... which is expected as that's what the MS reps said would happen. Still, anyone aware of a work-around for this?

Unless you are running pro version of Windows, with a small screen like that, your basic Office should be free to use, including editing.

Odd... That is certainly not the case, I'll have to look into fixing the issue.

I'm still waiting for the upgrade on my Dell venue 8 pro

Go to the article here on how to manually force it in Windows Update. Just have to type in a line in Command Prompt and it will start automatically. Did that on mine, now rocking Windows 10, works great. Really like the fact that I can still use desktop mode by opening up Action Center and clicking the Tablet Mode button, awesome stuff. The Edge browser is light years ahead of IE too.

It took a few tries for me to get the Venue Pro 8 to load. I needed to clear space, and use the app to create an install device (usb stick), then upgrade off that usb stick. I still didn't have enough room on the tablet, but was able to use the space on the SD chip. When I selected the SD chip I had to click Refresh to get to the next screen.

Being forced to use a 365 sub is a kinda a downer to me tho... Still exploring the new OS. I can see it getting better and better

I installed Office 2007 on my SP3... What a shame as my friend can have free new Office on iPad.

I'm interested to know how they know the size of screen you're using? Does it suddenly stop working if I plug my 8 inch tablet into an external monitor for example? I'm sure there must be an easy hack to get this on any size screen...

You mean like on a Nokia 2520? Oh........

Apparently my Surface Pro 2 is like 0.5 inches too big...

Same here. So disappointed. :(

My Venue Pro 11 is 0.3 inches too large.

When I purchased my Asus T100 tablet it came with the full set of office. What will I get now? When I update to Windows 10.

Can I get these apps on a Surface RT?

You get Office 2013 FREE on the Surface RT.

Office is free for life on RT.

If these apps save to the cloud, can't one just use office online for free too and avoid a subscription of 365? (for me I'm not a heavy user, so 365 is pointless.)

I have office 365 subscription and I find these "mobile" office apps fantastic for my needs. So far I don't see myself installing the full version of office. I really don't need it.

Really awesome to have all those features on my tablet. I wish to have then on my Lumia 1520.

Install Insider preview. I'm using them on 830.

Office should have made it really simple about the apps in the store. The office mobile apps were suited for tablets and probably for phone too. I just dont understand why dont they remove the listing for those apps specifically for desktops. After all, the desktop apps are much more feature rich applications for us to use and using office mobile for desktop would be insane for desktop users. Also , if you have Office 365 subscription , why doesnt the outlook application replace the mail and calender apps.It becomes very redundant. Afterall , we cant sync all apps from all devices. We have the mail and calender apps for tablets. If i do have a tablet ,i would be using those apps and also office mobile . I really hope that Office takes this things into account before releasing new updates.

I also feel that they shouldnt have individual apps for office. The user has to install them manually just to get all the services . How about using an office app that is sort of a place holder to install all apps. Since these apps require office 365 it makes sense to use all this application at one go. It does not make sense to use some of the applications on a tablet or a mobile device. They should also look into phasing out access and publisher as no one really uses them. From a developer stand point, the SQL management application allows you to have an abstract view of your applications.

In Windows 10, there's a 'Get Office' app that allows you to download them all at once :)

By default, it should install all applications at once. This give a huge adoption for office application especially for users who are trying to use the product to its fullest.

Also if there was a get office app, it should pay way for a user to install desktop application with no hassle. If the desktop office application were already install in windows 7 or 8.1 and it has been upgraded there shouldnt be a get office application because the desktop application has been installed.

Is there an advantage to installing these over the desktop suite?

Will these be free on phones or would you need Office 365 subscription, too?

Huh? So it's free on iOS but not free on their own platform? Guess the iPad does qualify as a tablet less than 10.1"...no big deal, Office 2013 is far more superior than these bastardized apps and works flawlessly with touch on my Surface Pro 2 :)

On my Dell Venue 8 Pro I have Office installed, the version that tablet gave me a license for (office 2013). However it is bloated!!! If I uninstall office 2013 and go to the Mobile apps, what will I lose? What will I gain? (Other than space.)
Windows Central Newsletter
Thank you for signing up to Windows Central. You will receive a verification email shortly.
There was a problem. Please refresh the page and try again.