DOOM 3 BFG Edition and Monaco added to Xbox One backwards compatibility list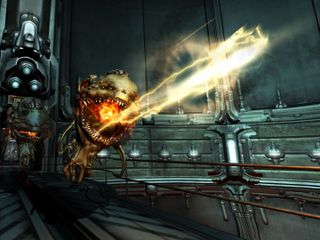 (Image credit: Bethesda)
Xbox One gamers have two more older Xbox 360 titles they can play on their console. DOOM 3 BFG Edition and Monaco are the latest games added to the Xbox One's backwards compatibility list.
DOOM 3: BFG Edition is a game bundle from id software that collects the first person shooters DOOM, DOOM II, DOOM 3, and the DOOM 3: Resurrection of Evil DLC pack, along with a "Lost Mission" for the game that's exclusive for this edition. id Software reboot of the DOOM franchise launches May 13, and its open multiplayer beta starts later today and runs through this weekend.
Released in 2013, Monaco comes from indie game developer PocketWatch Games. It puts the player on a team of thieves as they try to commit crimes in both single player and co-op modes.
Related: Our full DOOM Eternal Xbox One review
Windows Central Newsletter
Get the best of Windows Central in your inbox, every day!
Red Dead Redemption still hasn't actually been released for backwards compatibility yet, has it? Back when it leaked I was hoping it would have been soon. I wonder what the hold up is. If there's a problem, or if it's simply not having permisson from Rockstar. There are already quite a few backwards compatibility games that I own though :) Xbox is so awesome.

What about Quake 4 and Quake arena arcade?

Shame, I only played this BFG edition once, and never finished Resurrection part, I really need cheat codes to finish them......

I don't think it works. Lol. I played back in the day before my gaming laptop broke. Resurrection of evil is not as good though. A copy of half life 2's gravity gun is the only new thing. Posted via the Windows Central App for Android

When I put the disc in it only installed Doom and Doom II...

Weird, try again? It installed all three for me, 9gb total download.

Yeah, I put the disc in didn't work.. So I Uninstalled Doom and Doom II and nothing. It took completely restarting the Xbox one for it to work for some reason.

This game was disc only.... Such a shame. A digital version in the store would be nice.

Is it disc only or is the a digital download for doom 3, I want to buy the game but can't find a digital download for it

It was only ever physical copy. Hopefully they'll bring it to the store soon though since you now have to download it anyway...

I was wondering if there was digital, I don't want a disc if I don't have to, I have two Xboxes to play with my dad and only need to buy digital once but discs twice

Major Nelson's BC page lists it as only being available on disc, the first and only BC game to say that thus far- https://majornelson.com/blog/xbox-one-backward-compatibility/

Thanks for the confirmation on that

But this opens the door for disc Crysis 3 if EA decides not to be A holes. I picked up Doom 3 on Amazon prime today for 13.00 shipped. Why not.