Down to Zero for Windows Phone 8 helps you count down important events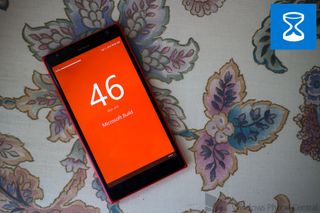 Don't forget anniversaries or other important events in your life. It will save you from a lot of trouble. One app that can help you with that is Down to Zero for Windows Phone 8. It can show a countdown timer with live tiles and even the lock screen. It makes waiting a little more fun.
Head past the break to watch our hands on video and walkthrough.
When you first open Down to Zero, the app tells you to add a new event. You can click the add button to manually enter a date or click the calendar button to add an event right from your phone's calendar.
When adding an event, you need the name, date, and time. You can also select an accent color or background photo. If your Facebook account is connected to your Windows Phone, you can even choose one of your Facebook photos as a background.
Each countdown timer only shows the most relevant number from days, to hours, minutes and seconds. You can watch the countdown live as it goes down to zero.
Want to see a countdown to an event frequently? You can display a countdown on the lock screen. Click the three dots on the lower right corner and select 'set as lockscreen.'
You can also pin a countdown to the home screen. You can use small, medium, or wide tiles.
Want to share your countdown? Down to Zero makes it easy. It creates an image of the countdown and then you can share by email, Facebook, Twitter, Instagram, and more.
Down to Zero is beautifully designed and easy to use. We like the initial version so far. We did, however, have problems adding calendar events to the countdown. It seems the app can only find events from the phone calendar, but not calendars connected with a Google account or Facebook. We hope that gets fixed in an update.
Down to Zero is a free download at the Windows Phone Store. Pinning to the home screen or the lock screen costs $1.49 as an in-app purchase. Give it a try and let us know what you think in the comments!
Windows Central Newsletter
Get the best of Windows Central in in your inbox, every day!
Cool Design! I think 2014 will show us some beautiful apps!

You have to pay to see the lockscreen/live tile. Uninstalled it within 2 mins for that reason. Not paying £1.29 for something i cant trial.

Sorry, I failed to mentioned that. Updated the post.

you have to upgrade for the live tile and lockscreen

Try the app "Noch 53 Tage" or "still 53 days" (actually dont know how ist called in english). Its totally free, with english language support and does only need "data service" permission.

yeah, this one: http://www.windowsphone.com/s?appid=6af26a96-1b27-e011-854c-00237de2db9e
great development and worth a try

Love it when the messaging tile goes all :-o when you get a large number of messages!

Yeah can't even try the lockscreen/tile. Definitely not worth $1.49 when there are free alternatives. Uninstalled immediately.

Nice app. I use Day Counter myself; it counts down and up... not to mention that it's free without adds.

I use counter, simple and clean and I think it is free

count down to April 2nd anyone? ;)

That's exactly what I am using it for ;)

That is what i use to. Countdown is also a very good app.

Looks nice Posted via the WPC App for Android!
Windows Central Newsletter
Thank you for signing up to Windows Central. You will receive a verification email shortly.
There was a problem. Please refresh the page and try again.