Dropbox and Microsoft announce new universal Windows 10 app and expanded partnership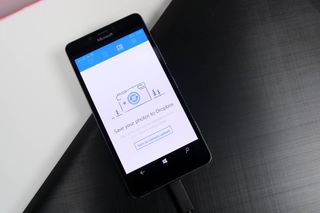 The world of cloud storage is a hot one with a few companies vying for attention. While many use Microsoft's native OneDrive for online storage, there are just as many who use Dropbox, especially in the corporate environment. The ability for workers to use Dropbox anywhere, anytime is a top priority, which is why Microsoft and Dropbox are announcing support for Windows 10 with a new app.
Dropbox app for Windows 10 is now live in the Store for PC and tablets (mobile version is coming), and this app is no simple storage app. The list of features even surpasses Microsoft's own OneDrive in many ways, and it is fantastic to see such sincere collaboration.
Image 1 of 9
Unique features of the Dropbox app for Windows 10 include:
Drag and drop files into the Dropbox app from Windows File Explorer—and even between folders within the app—to easily move or copy them.
Use Quick Search to find what you need faster. Just start typing a search term to see your results—no need to use the search icon.
Set up interactive notifications to accept shared folder invitations without having to launch the Dropbox app.
Enable Windows Hello to use your fingerprint, face, or iris to unlock the Dropbox app, for extra peace of mind.
Add comments directly on your files, and bring others into the discussion with @mentions.
Quickly access recent files using Jump List. All you have to do is right-click on the Dropbox app icon in your taskbar.
Some of those features like drag and drop and Windows Hello integration are very exciting to see in a third-party app and speaks to the level of detail when designing this app.
More information about the Microsoft and Dropbox partnership is revealed by Microsoft's Steve Guggenheimer at the Windows Blog.
Go and grab the new Dropbox app for Windows 10 and let us know what you think! [Note: Mobile version of the app has yet to be updated for Windows 10 Mobile and is doing the coming days]
Download Dropbox for Windows 10 Mobile and PC (opens in new tab)
Source: Dropbox
Windows Central Newsletter
Get the best of Windows Central in in your inbox, every day!
Daniel Rubino is the Editor-in-chief of Windows Central, head reviewer, podcast co-host, and analyst. He has been covering Microsoft since 2007 when this site was called WMExperts (and later Windows Phone Central). His interests include Windows, laptops, next-gen computing, and for some reason, watches. Before all this tech stuff, he worked on a Ph.D. in linguistics, watched people sleep (for medical purposes!), and ran the projectors at movie theaters because it was fun.
Wow.. Nice.. I think this was the announcement Rudy spoke off last week.. Great to see such support to the platform... Will give the app a spin.... Just desperately waiting for the WC universal app now.....

I know the WC universal app has been the MOST WANTED for over two month now. and Dan did say it would be open for beta in a week like "Last year" (before the new year) . but still nothing yet.

Maybe windows central will do like Microsoft and all other companies... Release the app ok android and iOS first then maybe windows. Microsoft launch a new alarm app exclusive to android handsets

Maybe windows central will do like Microsoft and all other companies... Release the app ok android and iOS first then maybe windows. Microsoft launch a new alarm app exclusive to android handsets

Really? Every article has to be about this?

I wonder what Rudy's involvement was with this release... Glad to see this app development.

I believe Rudy was hired as the Lead Developer for Windows App development at Dropbox.

Good quality new apps are a better news than just new apps...

Seriously OneDrive, get it together.

OneDrive doesn't really need an app because it's part of File Explorer on Windows PCs/tablets.... BUT I do think that File Explorer on PC needs a big refresh and given the UWP treatment. It's great on mobile, but needs to be expand to PC and have all the features of the desktop version (i.e. network drives, OneDrive, etc.)

Check out the universal app called "Files&Folders" from the Store for a great example of what Windows 10's file explorer could be.

Nice app, did you develop it?
I ask since you've filled the comments with recommendations for it.

Nope, I'm not the developer. I just discovered the app and really like it, and I want more people to know about it.

Don't really need it? It really needs it, because they dropped file holders. My 32GB tablet cannot sync my entire 800GB OneDrive so every time I need a file I have to use http://www.onedrive.com

This is what Rudy was hinting to. I wonder if Instagram well ever happen though.

Actually for me, I really don't care about Instagram as long as we have Rudy in charge of 6tag

So the app Rudy was teasing is an update to an app that already existed? Yip.

Oh man sorry you're so let down about that... Lol

Just lame, like your comment.

Read below, Rudy addresses this. Posted via the Note 4/Nexus 7 (2013)/Lumia 1020/Lumia 2520

Hah. Our implementation team used Dropbox to share data with customers. Then IT came and said cloud storage was unsafe. They made them switch to google Drive. True story.

That some messed up stupidity...not surprised it came from your IT department

I'm sure you could do so much better.... /s

Because Google Drive, puts your data in a car, and everyone knows that cars are safer than clouds...DUH!!!! /s

you made me lol, like litterally

Google safe? Hah! Our healthcare institution uses Box which has decent encryption. Things may have changed w the other services but none provide HIPAA level security for sensitive data. Box all the way! I hate Dropbox after they got cocky w their service and ridiculous all or none pricing.

FYI my gmail account somewhat got hijacked despite only use to upload to youtube services :/ reallly safe unlike Outlook

We know Rudy's capabilities....W10 needs more developers like him...

You can see the wc app is coming soon, it's on the taskbar in the picture in the article

Well observed! It's still got a bad low-res icon, though.

But don't you just hate it when they keep hiding it from us, the Windows loyalties?

It's better they hide it then announce it too early and people complain they're taking too long lol.

It's snowing apps 8|
OneDrive is adequate for my personal files but this new universal app will be great for work.

The mobile version looks the same, with the 8.1 buttons. And I didn't get an update on my phone. Only PC. EDIT: Yep, Mobile isn't ready yet. "We'll be rolling out the app for Windows 10 Mobile soon, so stay tuned!"
https://blogs.dropbox.com/dropbox/2016/01/windows-10-app/?_tk=social&_ca...

Yes, I can publish the mobile version right now, this w10 update can work on phone, but I want to ship a mobile version with an outstanding quality, an advanced support of Continuum, a perfect adaptive UI for all small screens, etc... So don't worry, it's coming soon (tm)

You take your sweet time Rudy!

Hey there! Was this the app you gave a hint last week? It's so great we have such outstanding developers like you. Keep up the good work!

no, it was an other app, but I can't speak about it (it's in my agreement, I signed it before Dropbox, it's my last non-personal side-project)

Have you considered open sourcing some of the older apps you don't have time to maintain anymore (9Gag, TVShow, Letter Clock etc.) so that other people may keep them alive? Those are really good apps that could do with only some simple maintainance which I believe the community will be ready to contribute to. And keep up the good work. PS: Could you suggest some good resources to get started building Windows 10 Apps (never made a WP app before, but I have okayish knowledge of C# and .NET)? Apart from the Beginner's Guide to WP10 MVA video series.

Thanks, Rudy! Wish there were more developers like you.

Rudy please fix the 9gag app,any update about it?

its coming soon (tm) hah hah awesome!

Rudy, as soon as you have done the Dropbox work (exceptional btw) you should swiftly head to Skype. They need a COMPLETE and TOTAL reengineering of their Windows applications. Their User Interface and logic is close to below zero......

Sorry off topic but after 3 days I'm still not getting any updates/notifications from the Windows Central app. I've tried clearing the app cache, uninstalling, etc. Nothing works. L830 on latest W10M .63 Build. Anyone else having this issue?

You have to go to settings within the windows central app and enable live tiles and toast notifications.

Yeah I've done that. The app has been woking fine for months until this week. I've done a soft reset, uninstalled and reinstalled the app, checked all the settings. But still not getting new stories updates.

I had a similar problem last week. Had to restart my router. No issues with internet or other apps.

This app looks, works and feels great. Love the drag n' drop functionality -- reminds me of the beautiful "Files&Folders Pro" universal app in the Store (check out this app too, if you haven't already). Hope Windows 10's upcoming universal OneDrive & file explorer apps are this nice.

Great work by Dropbox!
On another related note:
I wish Microsoft had baked windows hello security into file explorer to lock all, selective folders or files, photos app, messaging app, contacts app, groove music app and movies&tv app. To lock them all together or to lock selective content.

Drag and drop into a 'metro' app, I didn't even know this was possible. Very cool.

It is not possible in MS's own mail app. Try adding an attachment to email. Sigh

They added this functionality in the big November update. Unfortunately it seems that none of the apps actually take advantage of this yet though... including the Mail app or Edge. Hopefully they update those soon.

We need a decent OneDrive App, PC and mobile

The mobile one is really great.

Yes mobile is! All I wish is white backround option! (i like to use dark theme on phone, but white in some apps) :)

The OneDrive app is actually great already. It's not really needed for PC/Tablets because it's built into File Explorer... BUT I do think File Explorer on PC needs an overhaul.

Check out the universal app called "Files&Folders" from the Store for a great example of what Windows 10's file explorer could be.

Maybe I should start using dropbox along with onedrive because my projects really takes space.

Microsoft should just buy DropBox and get it over with.

Got to say, when I sees these dual announcements, it gets me thinking too. I'm not sure how DropBox is doing on its own, or if it's at a strategic risk of being subsumed by the likes of Google Drive, OneDrive, et al, but dual announcement seem to indicate some sort of affiliation. Maybe it's just Microsoft's continuing effort to be everywhere with their products, although this is more the reverse, their platform, Windows 10, offering all the products / apps. Interesting. One wonders about anti-competitive concerns if they merged services. Maybe they are just testing how well they get along. Curious. Time tells.

They keep extending their partnership and it does make me wonder why it hasn't happened yet. Childish, but part of me hopes it happens so I can see all the Apple fans (who love dropbox) crap their pants with MS owning it. Given the way MS has been buying mobile apps, it wouldn't be a stretch. MS has also gotten better lately at not ruining things they buy. I chalk that up to Nadella.

If Microsoft buys Dropbox, all of the Apple users will not notice a thing. They're not Google.

Rudy, you did it. Again! Drag&Drop, my wishes come true :))) I hope other app developers see what's possible with UWP Apps.

I was surprised to find out that UWP apps support drag n' drop from the desktop. The universal app "Files&Folders" also supports drag n' drop! Microsoft should acquire it and make it the official File Explorer in Windows 10...

All credit goes to Rudy.... Other than he.... Nobody could have been able to make an app which can surpass One Drive.

Congrats to Dropbox and Microsoft. And now please add drag&drop support into the Mail app. I want to be able to drop attachments directly onto my messages.

Exactly! + downloading all attachments at once!

This new app is way ahead of OneDrive. Then the question comes into mind. Is Microsoft serious at all?

How is it way ahead? The OneDrive app on mobile still has more features than this. And on PC, it's all baked into File Explorer. If anything, they are close to on par.

Hopefully this will be the first step in Microsoft acquiring Dropbox and so neutralizing its biggest cloud rival.

OneDrive should have all of these "features".

The fact that this is a better solution than the cluster-#@&$ that is OneDrive right now saddens me to no end. Seriously Microsoft, for a company relying on Office365 subscriptions for revenue, letting your competition get this far ahead of you in terms of quality and useability is an embarassment. Get. It. Together.

I agree wholeheartedly. I was thinking this morning on my way to work how so much easier it was to use the old Dropbox app (haven't updated to Win 10 UWP) compared to OneDrive.
Sometimes, I think Microsoft's commitment to legacy, and it's business-first focus (I get the bread-and-butter argument) keeps them from releasing design teams to truly innovate in features and user experience, before getting schooled by "upstart" competitors.

But OneDrive is baked into File Explorer and the OneDrive mobile app is already great. What are you looking for?

@thaman04, you've responded multiple times in this thread and it is clear you are fond of OneDrive and it seems to do almost everything as well as Dropbox for you. I wish that were the case for me and many others who work with me. Please allow me to offer some feedback. First, OneDrive is not quite as "baked into File Explorer" as you suggest. It is still a service that runs within Windows It just happens to be a pre-installed service. OneDrive can stop syncing and does so quite easily. It doesn't support all possible legitmate file names. There are reserved characters. Other issues can sporadically cause OneDrive to just stop working. Twice I've had to physically remove all OneDrive folders and files just to get the service to start working again. What a pain. OneDrive does not sync as quickly as Dropbox. I work on client systems via RDP. I'll put a file into my Dropbox folder on that client's machine and within seconds my local PC gets the file and I get a nice notification. Even if I use the webapp to upload a file into OneDrive, it can takes minutes for the file to eventually appear in OneDrive and I don't get the notification. Dropbox has way better feedback in its system tray app to alert me to syncing files. OneDrive for Business is getting better, but it is still in shambles and not quite fully integrated with OneDrive consumer so I can have a unified and seamless experience. Dropbox for Business works as flawlessly as Dropbox and is very easy to maintain. Dropbox's web app is far more responsive and user friendly. There are several other minor items I could cite, but the above are what caused my team to put our focus on Dropbox. By the way, we aren't Microsoft haters. Quite the contrary. Our whole team have Office 365 E3 accounts, so we get OneDrive and OneDrive for Business already. We really tried to use OneDrive exclusively since Dropbox for Business is an added expense, but the quality of service with OneDrive wasn't sufficient for our needs. Right now, my greatest joy in OneDrive is the ability to play my music through Groove on my 950XL. Other than that, it is not nearly as useful as I would like it to be.

Onedrive for business is absolute garbage. I wasted 6 months of my time and money being on the phone for hours and hours troubleshooting sharepoint/ODB, azure, etc. I never did get it to work, I just switched over to google drive which works well and is hipaa compliant. Dropbox is a good choice, but the last time I checked they wouldn't sign a business associate agreement and I can't have hipaa compliancy without that.

Were you trying out the beta unified client or the official ODB client? The beta client is much better than the official one, but still needed work. We found Google Drive to be the worst of the breed, but if you have HIPAA requirements then you have to go with what is available.

I love WP10 and Dropbox, but it is frustrating that when i upload something, i cant find a place to look processing :/

I will be more happy if he can fix nearly nonfunctional 9gag app...

What's broken? I check that tonight

What's broken? How could you ask this??? Try to upload post for example... One of basic functionality... P.S. You ask me what is broken few weeks ago... I wrote you list of things what is broken and nothing change...

Sorry, I didn't see you answer the last time, I will fix it before the end of the week (no problem with my test account, but perhaps a problem somewhere)

How for love of God can you talk to Rudy like this? Just be happy that he makes time to create create and free apps! I am new do, do windows mobile community and I immediately noticed how active Rudy still is, and has been for the past years. So stop complaining or be constructive. Or else as a last resort start learn to code. Oh, and by the way to 9 gag app works fine for me?

Dude. Chill with the attitude.

Year ago was your 9gag good app, now most things do not work there... And lot of missing features are there compared to android app...

I'm not sure why you think being rude is going to get results.

What is rude on mz answers?

This for example: "What's broken? How could you ask this???" I don't know where you are from, but in our (Rudy's) culture, this IS rude.

What I can do??? I wrote him several times, what is long time broken on 9gag... NO answer... few week ago he respond on my comment here in WindowsCentral... He ask me what is broken... I wrote him again whole list of things what is broken and NOTHING hapend... When I PAY for his app (YES, I pay for it) lot of these things are function... RudyHuyn just cough up on his 9GAG app... no improve, no update, nothing

Thanks for update... but uplodading post is still do not function..."cant upload" this is what I see everytime...

I'm hoping this will prompt MS to give us a PC build of the OneDrive app - It's quite nice using it in Continuum on the 950 so having it on desktop would be handy

Despite the fact is listed as "works in arm processors" does anyone know if this actually works on Windows RT?

So Microsoft took away the OneDrive app, took away placeholders and drastically reduced the storage size for consumers. Now they give one of their competitors an advantage with an app. I can understand MS losing the mobile war, losing the hardware war, etc mainly because they would rathermake money from services and that can be hardware agnostic. But for the life of me I can't fathom why they would want to cannibalize their services.

Microsoft didn't develop this app, they didn't give it to them.

So now the third party app "Dropbox" has jumplist support, but Microsoft's own "Edge Browser" doesn't have it. that's a bummer.

Basically it's just Rudy Hyun as a 1-man team on this app. Dropbox really does not have any real commitment to Windows.

Great and all, but when on earth is MS coming with an app for OneDrive PC/Dekstop???

Yay !!! MEANWHILE ONEDRIVE STILL SUCKS ! Good job microsoft. Lets a get another 3rd party app, which is better then your own..

Can this do folder sharing stuff yet? Let me know please Posted via the Windows Central App for Android

"Mobile version is coming"? Maybe I'm missing somethin but I thought the purpose of a "Universal app" was that it would work across all platforms.

You still have to optimise the app for mobile (make sure everything fits on the screen etc.)

Finally. Atleast it doesn't have the "Call me, maybe" slogan attached to it like the Slack App. That song and the women who sings the song, stink; she could join Lorde if you ask me. Slogan should have been "Hells Bells" hahaha :)

I wish the OneDrive app were as good as this one...
Windows Central Newsletter
Thank you for signing up to Windows Central. You will receive a verification email shortly.
There was a problem. Please refresh the page and try again.