Duke Nukem 3D: 20th Anniversary World Tour busts some new heads for Xbox One on Oct. 11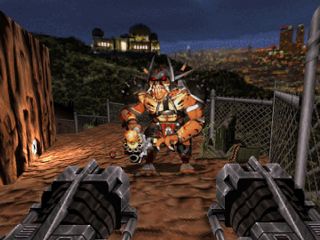 Gearbox Software has officially announced Duke Nukem 3D: 20th Anniversary World Tour. The re-release of the original 1996 first-person shooter will include all-new content and will be released October 11 for PC, Xbox One and PlayStation 4.
Gearbox Software states the biggest addition is a brand new fifth episode: Alien World Order, with levels designed by two of Duke Nukem 3D's original creators, Allen Blum III and Richard "Levelord" Gray:
There's also some additional extras in Duke Nukem 3D: World Tour:
New, bonus content in Episode 5: Duke Nukem finally gets an INCINERATOR to roast new "Firefly" enemies!
New "Duke Talk" plus high-fidelity re-recordings from Duke Nukem's original voice actor, Jon St. John!
New musical score for Episode 5 created by Duke's theme song author and original game composer, Lee Jackson!
Original 1996 source code and "2.5D" engine re-mastered in True 3D for Xbox One, Playstation 4 and Windows 10!
Pre-orders for the game are available for $19.99 (opens in new tab) from the Xbox Store and Steam.
Windows Central Newsletter
Get the best of Windows Central in your inbox, every day!
Same 8bit graphics....pass..

I doubt you played the original..... For nostalgia reasons I will get it. I wonder do you watch classical white and black movies?? Oh its not hd... Won't watch it..

Exactly. He doesn't. And neither do i. Want to get off your high horse now?

I'm with the other guy so yeah I'm getting this game cause it's awesome. Posted via the Windows Central App for Android

Your choice I already pre-ordered! Posted via the Windows Central App for Android

Someone missed the whole allure and point of Doom 2016.

I'm definitely quite taken aback that this is still 8bit graphics. What the heck, gearbox??? You're fired.

What? Fired from what? Your comment makes no sense.

It's called rhetoric. It's a joke. Jesus Christ so you know how the English language works?

Sorry, i just assumed because you said this game was 8 bit that you had no idea what you were saying for the rest of the comment either.

There are things you do, and things you don't do in the video game industry. Look at what 343 did for the 10-year anniversaries of Halo 1, and Halo 2. They revamped the graphics and upgraded them, yet ALSO allowed those who wanted to see what it was like back in the old days to do so. Pretty remarkable if you ask me. Now, as for what Gearbox has done? Simply rereleasing a game which is now 20 years old, AND charging $20 for it??? You're kidding me. Now, for the previous comment about it being 8bit. It was clearly a joke remarking how the game still looks like it looked 20 years ago. Why so serious? You have your opinion, and I have mine. No need to spam the comments about how people can't have an opinion. I loved Duke3D. But I'm disappointed that it is not being upgraded graphically. Bethesda did that with DOOM this year, and frankly, it is one of the most fun games I've played in years. I would have loved to do the same with Duke Nukem. But alas.

It was over $20 when new, so after inflation and new content, It's cheaper now and will play on a modern system. Unless you like DOSBox or like playing with really old hardware and Windows 95 SE, this is an easy solution to a classic.

STILL 8BIT? Duke3D was never 8 bit.

Indeed. The original Nintendo Entertainment System was 8 bit. The SNES was 16 bit.... This came well after that. The N64 was, well.... 64. If people want to moan about dated graphics, at least get your crap right.

Hey this takes me back to the marathon days.

People are complaining about the graphics? Are you _-$+#& me? There's nothing wrong with the retro graphics at all, they're fantastic. Duke Nukem was, and still is, and abundance of fun. The graphics are a major part of that experience. I'll take colorful pixel art with some character over brown dirt and plastic sheen any day. Enjoy your sour grapes, this has my $20 day one.

I'm wondering if you can use old third party maps? If so, time to go looking for some floppies...

8 bit graphics AND a lousy song from its chief dev at PAX: The cringe is real, folks!

I don't think you know what 8 bit means.

NES = 8 bit. SNES = 16 bit. N64 = 64 bit. Oh nevermind, these people complaining probably don't even know what im talking about.

Okay, I should go back and play Duke Nukem Forever, I think it's too much asking them to remake the original game with the latest gaming engine.....

But DNF is one of the worst games ever made, it's just plain bad.

DNF isn't a remake or remaster. Fail.

Castle crashers offered a deal to those who had the original Xbox 360 game... Meanwhile I have to purchase the same game again? Oh c'mon! At least give the loyal fans a discount!

Yeah, it'll depend on just how much extra content has been added to the game as to whether this is work it, especially seeing as you can get the game on 360 cheaply.

$19.99 is a ******* bargain they could have priced it higher! Posted via the Windows Central App for Android

I'm going to assume the recommended specs aren't going to be ridiculously high for this.

This is my childhood! I'll probably buy

FYI this was 32bit on Sega Saturn and PS1 and it was awesome and it will be great to play again.
A game that doesn't take itself or the world seriously and parodies a lot of the world and lifestyle and culture of the time.
The Duke world can upset people, even more so now the world is so PC but I for one look forward to replaying a fun game instead of some of the boring shooters by numbers we have these days.

Funny people dissing blocky graphics and playing Minecraft.

Buying this once again for my ps4 I bought duke nukem like 3 times already once for my pc once for 360 and psvita now ps4 which would make my 4th

Another example of the mismanagement of this IP. Bethesda and iD have shown how to make your IP relevent again, this is just another shameless cash-in