Dungeon Gems is the latest free Gameloft game for Windows Phone and Windows 8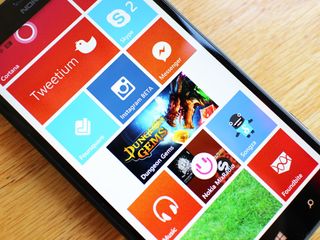 Gameloft continues to show love to Windows Phone and Windows 8. Today the company has just released their latest game for both Windows 8 and Windows Phone – Dungeon Gems. The game mixes puzzle gameplay with RPG elements. Details and download link for you below.
It feels like Gameloft is dropping new games for Windows Phone nearly every week. Blitz Brigade was the last game released for Windows Phone and came out earlier this month.
Here's what you get with new game Dungeon Gems on Windows Phone:
EASY TO LEARN, HARD TO MASTER
Drag your finger over elemental gems to link them and trigger your heroes' attacks.
Link like-colored gems to launch focused attacks or…
Link differently colored gems to unleash devastating multi-element attacks, but beware: These will cost you precious Action Points.
RECRUIT A DARING PARTY
220 powerful warriors await your summons.
Choose wisely: Each warrior can launch a different elemental attack, but is vulnerable to an element as well.
Power up your favorite warriors, then evolve them into new, legendary forms!
YOU DON'T HAVE TO FIGHT ALONE
There's always someone ready to help you in your quest, be it a friend or a complete stranger.
Choose your allies wisely, as you need the right kind of strength to defeat particular foes.
Compare your progress to your friends' and gain bonuses when completing dungeons together.
We'll need to spend a few days with the game before we can properly review it. But we did download the game to check it out. First impressions? Dungeon Gems looks and plays great on our Lumia 1520.
The app is free and available for you to download. 85MB download and no 512MB device support.
Thanks for the tip Hicham!
Windows Central Newsletter
Get the best of Windows Central in your inbox, every day!
ITS PUZZLES AND DRAGONS Edit: ITS LIKE PUZZLES AND DRAGONS

Works fine on my Nokia 3310

I would rather have Puzzle and Dragons.

This is as close as windowsphone is gonna get until we're taken alot more seriously.

Let me guess, this game requires Facebook? I hope that isn't the case.

Is there a problem with the store.. Recent apps featured here in wpcentral shows its not available for my 920. Like flipagram this one wont download.

All fine for me also using a 920

This game isn't compatible for 521 :-(

Time to get over it dude. Microsoft doesn't care about Xbox certification anymore, and it shows in their policies.

Never give up! #SaveXboxWP, baby. Gameloft is the company that started the greatest social movement in the history of Windows Phone. Detials here. Join the fun. Be a hero, not a zero. Xbox is for heroes.

This I agree with. Xbox on WP is dead.

I wouldn't say that just yet especially since a trove of games just got updated for WP8/.1

Why are Xbox games so important?

Mainly for achievements. I enjoy achievements very much... but to continue to refuse to play games that don't have them is a bit ridiculous when Xbox games are almost never released anymore.

For real. These guys don't understand that people just want the games. I'll play without Xbox achievements. Hell, I'll switch back to Android if I have to. Don't boycott the devs, boycott Microsoft. If they aren't making it easy for the devs, they aren't going to do release the games and people won't stick around nor will people switch to WP.

Who cares? You're like a little group of Luddites, moaning that they don't bring out albums on cassettes any more. Move on. No one gives a shit.

Because the first thing I want when launching a new game is to find that it needs to download 59 updates first...
And why does it need access to my photo library?!?

Yep, and no way to make it wifi only, so it used up all my data even though I had a wifi connection... Only reason I caught it and closed it was because of Data Sense... Thanks gameloft...

Gameloft usually makes great games but I'm afraid they're taking the freemium model too far.

my guess it stores some files as images on the phone. read the tos.

Keep em coming..... BUT TRY UPDATING AT LEAST ONE OF YOUR OLD APPS. They all have major bugs and never see any updates.

+920. No xbox no download

Suit yourself - soon enough you'll be left without any games...

World at arms is garbage now. It's like they gave up on basic maintenance.

For a second I thought this was Hidden Gems...

No Xbox, no thanks. I rather play one of the old WP7 Xbox games that arrived on Windows Phone 8 a few days ago.

I'd rather play Splinter Cell, oh wait.. :D

I should stop entering to posts about new games for WP, always 1 GB ram, ALWAYS!!!!

It's just something you've got to put up with when you buy an inexpensive phone. Posted via Windows Phone Central App

Most of WP's market is made of inexpensive phones

Most of the PC market is made of inexpensive computers, but almost all the good games coming out require you to have a relatively expensive gaming machine. Inexpensive phones are for people who don't play games and just want to use it as a phone. They have pretty much every other smartphone capability besides hardcore gaming so it's a pretty good deal. Are you suggesting that devs stop making graphically beautiful games so that you guys don't feel left out?

Getting a "Sorry, this app is no longer available" message in IE on my SP3

What happened to CYAN update!?

App no longer available........? On windows?

Same message here. Pulled

sad. may be P&D got them....

I was like "WAIT DUNGEON DEFENDERS FOR WINDOWS PHONE?!1"

Guys, not supporting because no Xbox, won't bring Xbox on WP back, it will simply drive away ANY support of WP

Just puzzle games everywhere on wp.

Why gameloft why, why you provide your game for free on windows phone. Don't you want to make Money like MS. Even MS not providing good game for free because they want to make money, and that is how economy run(some one told this in previous article comments), so why you provide for free..
(gameloft provides more free and good game than MS on windows platform)

They make them free because WAY more people will download it and then they make more money off of ad revenue than they would off of the few that would purchase the game if it wasn't free.

Man does this game lag and crash a lot, just like a lot of Gameloft games, and this is on a 1520. Am I the only one who has terrible performance on all their titles?

Nope, all their games are technically very bad.

Can't they develop the same games supports 512 MB too.?

Yea, and they can develop Call of Duty: Ghosts to run on the Playstation 2 too, but the graphics and content would be crap. If you want new games, get a new phone. Otherwise, there are plenty of old games that will run just fine on 512 MB. There will always be games released that push the newest hardware to the limits and you shouldn't expect those to run on everything.

So is this app on windows 8 or not? Any news, remove the link or something.

Man, I love Gameloft! They have been showing mad love to WP!

I'll give this a shot. Currently been addicted to game called FableAge on ios, this looks similar (very) and will hopefully will be as decent. Re no xbox, no problem for me. What wp needs is growth right now more than ever. More apps = more users. Once we have that then we will have a greater voice to scream at MS/Spencer to pull their finger out and return this unique feature of the platform.

Great games with great bugs. I'm a little sour since the lack of support on O&C and the dead Rival Knights.

Been waiting for this for ages, can't play it. Gameloft need to show more support for 512mb ram devices.

There are still many yet to come... Like pocket pirates, ice age: adventures, etc... And even new asphalt 8 update is coming for windows..

There you go :( 1 GB of ram again!! Arrr.

Indeed not available on windows...

not for 512mb ram devices

I contacted Gung Ho Games about Puzzles and Dragons, they said they'll "pass on the feedback."

For all you 512 MB whiners, let me paraphrase what you guys are saying: "Why can't my base level Toshiba laptop, that I bought two years without a graphics cards because I'm cheap, run Call of Duty: Ghosts? Activision should really stop making high end games that run fine on gaming machines because that makes me jealous that my cheap machine won't run it. Even though there are plenty of older games that run fine on my machine, I want all these new badass games without paying for a system that can run them." OR "Why can't my stock 4 cylinder Cobalt beat the new Corvette in a drag race? Cheverolet should really show equality and let my Cobalt stand a chance against the Corvette without paying more money."

The thing is schiznatch, when you're first in the market for a new windows phone, you dont know about the 512mb limitation if you haven't owned one before. The idiots in the shops selling them certainly don't have enough product knowledge to fill you in, and it's not until you take it home and try to install a game that you realize there is an issue.

I understand what you're saying and I do agree to a point but I think you're being a bit harsh on some of us that just didn't know at the time we bought our phones because the information just wasn't made available at the time.

When this game runs, it's actually very fun! However technically speaking this game needs hella optimization! On my 1520 it lags so bad when I'm trying to draw a combo, and that's when the glitching 1520 display is actually working enough for me to draw a long combo line without it mistakenly thinking that I lifted my finger from the display, (which has messed up quite a few combos but not enough to ruin the game on its own). The thing that is really annoying me is the game crashes all the time now. I can't complete any more dungeons now because the game crashes before I can beat the dungeon and there is no way to save your progress.

I've been sleeping with the enemy. I downloaded Bluestacks, an Android Emulator which adds Google Play to your Windows PC, to my Surface Pro 2 so I can play Clash of Clans with my other family members. The decision was hard to make.

I just got a Lumia 930 and tried Dungeon Gems and it just freezes at the Gameloft screen. So can't say if its good or not. Also being new to windows phone I'm not sure if there is a way to force an app to close , like the app manager on Android.

Hold down the back button.

great game, unfortunately it has some big performance issues in the "fire" scenarios (21 trough 25). its a shame such a fun game is so laggy in my 1520

I'm play in Window phone, that is so good. Please add friend me :48053s2 (Daily member)

I owned that tutorial... and that's it... I can't even get to the first dungeon (eternal loading).

46721s2 Please add. Buggy, but great game when working. Hoping they work the bugs out.