Dungeon Hunter 5 for Windows Phone and Windows 8.1 adds Xbox Live support and more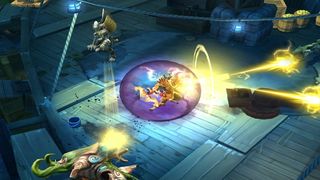 Gameloft has been busy today with new game launches and updates. That includes the fantasy "hack and slash" RPG Dungeon Hunter 5, which had added Xbox Live support for both Windows Phone and Windows 8.1 versions.
Besides the Xbox Live support, here's what's else is new with the game, and it's actually a big content update:
Now 5 more Stronghold rooms to build up with 5 new deadly traps, from the vicious Venom Spitters to the unpredictable Scorching Gyro!
Update-exclusive daily events, set in one of these Stronghold rooms, designed and trapped by the most wicked Xinkashi builders and guarded by Lady Tzimeko, the finest blade from the Far East.
Make good use of the tickets won during these events to get a chance to reap the most powerful items in the Xinkashi chest. Hire up to 5 minions to guard your Stronghold, and master 5 new weapons and armors, forged in the undying fire of the Xinkashi mountains.
Engage in new weekly Wanted Challenges to earn 5 new boss armors and weapons. The Death Knight and his fellows in evil are far less of a threat when you are equipped with their gear!
Unleash your newly found power in three new missions in solo mode!
The soul of a warrior lies in his gear. Discover our new collection book, see what you have looted, and what awaits you!
Minor bug fixes and other improvements.
Let us know what you think of the new update, and the Xbox Live support, in the comments.
Thanks to Pratham and Chauhan for the tips!
Download Dungeon Hunter 5 for Windows Phone (Free)
Download Dungeon Hunter 5 for Windows 8.1 (opens in new tab) (Free)
The Xbox Live support SHOULD fix the account sync issue to where the game would not sync between Windows and Windows Phone and may actually fix the by design issue to where you cannot load/sign in to Facebook to load your save game until after you complete 2-4 missions/tutorials. Hopefully, the game will just sign us into Xbox Live when it loads and all of our progress will transfer. I will test it out later. This update will get me back to playing to game as Beast Quest took my time away from DH5 after waiting for the update and bug fixes. I'll report back later if possible.

I'm loving the influx of games with xbox support :D

This is cool. Though, like everyone, I think we need more games. I dunno but I think if we just had leaderboards with "Xbox friends" that would be enough. Many people want achievements, so that's the full "live" experience, I guess, but either way it should get easier with WX. I'm crossing my fingers.

Ok, stupid question time, I'm new to Windows phone and not really a gamer, but I do have an Xbox 360..... What exactly is meant by "Xbox Live Support"....... Can the gangs be played on Xbox or is it just achievements??.. Many thanks, Rich (UK)

For phones it's achievements and leader boards if I recall correctly

Welcome to Windows phone. You do not need to own an Xbox of any sort. Your Microsoft account, the one you signed into your phone when setting it up, is all you need. Which you've got or you wouldn't be here. Xbox live support means the game has achievements and leaderboards. Sometimes games are released before Xbox features are added to them. If you do own an Xbox, you should be using the same Microsoft account on both your phone and your console/s so that all your achievements are consolidated.

Excellent, many thanks for the tips Guys, much appreciated.

More gameloft shovelware. Yay!

I shoveled it right onto my Windows devices and love it. May I borrow your shovel? One shovel isn't enough to contain the Gameloft awesomness as of late.

Without Gameloft, you would be playing nothing except Angry Birds and thousands of endless runners. Gameloft makes a great console like experience for our devices.

I'm going to install it now.

The definitive edition of Dungeon Hunter 5. No version on any other platform is better. Be comfortable knowing that.

Are there shadows in the updated version? Last time I played, there were no player's shadows at all. Not a deal breaker, but shadows makes the graphics look much better (as on other platforms).

There has always been player shadows in Dungeon Hunter 5, real time shadows that are cast onto the backgrounds, aka, High Detail shadows when I play Dungeon Hunter and I have been playing on Windows since it launched. What device did you play it on? The high detail shadows may have been disabled on your device. I play on my 1520, Dell Venue 8 Pro and PC and there are shadows. I just installed it on my 1020 and I will let you know if there are shadows and if they are high detail shadows when playing on the 1020.

Somebody in the previous articles demanded Xbox live for dungeon hunter 5 and here it is.

Truth. Another victory for #SaveXboxWP. Boom, details here.

Who knows a way to disable those obnoxious "come play again" alerts?

can anyone recommend some other good RPG-s for windows phone please?

512 mb ram support? is it coming?

would someone report if the sync problem is fixed? i abandoned this game for not letting me playing from my PC on the same progress i started on my WP

Is that screen turning black issue on solo missions fixed?

OMG!!! Finally!!! I've been waited for 2 months!!!

so this game doesn't allow you to become allies with andriod and ipone users.... thats the let down part of it....
Windows Central Newsletter
Thank you for signing up to Windows Central. You will receive a verification email shortly.
There was a problem. Please refresh the page and try again.