Watch us take down hordes of enemies in Dynasty Warriors: 8 Empires for Xbox One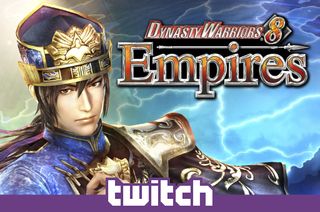 Every weekend, Windows Central streams an Xbox One game or two on Twitch for 1-2 hours and gives out free games to the cool people who join us during the stream. It's like a live podcast, only you also get to watch a game while chatting with our awesome readers and viewers!
Tonight at 8pm Central (9pm Eastern, 6pm Pacific, 2am GMT), we'll be playing Dynasty Warriors 8: Empires from Koei Tecmo. The latest in the Dynasty Warriors series, Empires features a mix of strategic kingdom management and battles with hundreds of enemies on-screen. Read on for quick impressions, contest winners, and the full video replay!
Dynasty Warriors 8: Empires
The latest entry in the Dynasty Warriors series that started it all, Empires takes place within China's Three Kingdoms period. Like Warriors Orochi 3: Ultimate, much of the gameplay involves hacking and slashing at battlefields filled with hundreds of enemy warriors at once. But this one includes a lot more simulation and strategy elements.
Players will choose from several independent campaigns and then choose from several historical characters, each with unique abilities that allow them to excel at different roles outside of the battlefield. You can be a leader and set policies for your government, exercising diplomacy with other nations. Or choose to be a soldier and rise through the ranks as you complete missions for your country.
New features in Dynasty Warriors 8: Empires include the ability to customize your soldiers, horses, and banner (in addition to general character customization). Players can marry an NPC and have children who will receive their parents' traits and grow to become warriors someday. Seasons and weather now affect battles as well.
With a variety of mission types and simulation-focused activities, Dynasty Warriors 8: Empires is far more than just a hack-and-slash game. The menus can be too complicated for my liking, but stick with it and you're bound to love conquering your own Chinese empires.
Sneak Peak – Arslan: The Warriors of Legend
After Dynasty Warriors 8: Empires wraps up, we're going to take a special look at Koei Tecmo's upcoming game Arslan: The Warriors of Legend.
Based on the Japanese anime and manga The Heroic Legend of Arslan, Koei Tecmo's latest takes places in a medieval fantasy setting. Players control Arslan, a prince who finds himself in constant danger when a neighboring kingdom overthrows his country's government and captures his parents. Arslan will have to rely on his few surviving friends as they work to build an army and take back their kingdom.
Arslan: The Warriors of Legend features the Warriors/Musou series' traditional large-scale battles, with hundreds of enemies filling the screen. New mechanics make Arslan stand out from other Warriors games, such as the Rush system in which the heroes' army charges on horseback at opposing forces. A compelling story will keep players engrossed as they experience Arslan's journey and struggles.
Koei Tecmo's Arslan: The Warriors of Legend comes to Xbox One, PlayStation 4, and Steam on Wednesday, February 9. Get your first look at this grand adventure as we play the Steam version (on low graphical settings) on Twitch!
The Contest
We streamed Dynasty Warriors 8: Empires and Arslan: The Warriors of Legend for ~ 2.5 hours. During that time, we gave out a total of 20 game codes:
10 Dynasty Warriors 8: Empires for Xbox One
5 Dynasty Warriors 8: Empires for PlayStation 4 (North American accounts only)
5 Dynasty Warriors 8: Empires for Steam
How to watch Twitch livestreams
What's the best way to experience Twitch? The Twitch website on your PC or Mac web browser. If you don't have or prefer not to use a computer, you can get the Xbox One, PlayStation 4, or Xbox 360 Twitch apps and watch from the comfort of your couch. Android and iOS both have official and unofficial Twitch apps to choose from as well.
On Windows Phone, you'll have to grab an unofficial app. There are several to choose from, each with different strengths and weaknesses. Only one app lets you search directly for our channel, though. If you use the others you'll have to find and follow us from a web browser first. Read the roundup to learn more!
Future streams
Want to know what's next for Windows Central's Twitch programming? We stream a different game every Saturday. The stream always starts at the same time: 8pm Central (9pm Eastern, 6pm Pacific, 2am GMT). Over the next few weeks, we'll be streaming the following (schedule not finalized):
SUNDAY, January 24: A special preview of Clockwork Tales for Xbox One, complete with advance copies to win!
Saturday, January 30: Paul will be out of town at PAX South, but we'll still have a stream with Steam codes to win!
February or March: The Fall with special guest cohost, a member of the game's development team!
February or March: Tachyon Project
February or March: Neverwinter: Underdark – See the newest free Neverwinter expansion and win premium items!
February or March: Lifeless Planet
February 27: BladeStorm: Nightmare from Koei Tecmo We hope you'll tune in as often as you can! Set a recurring alarm on your phone so you'll always know when it's time for the stream to start.
Winners
These guys are about to go to battle...
Xbox One
Kufeifei
Mtaraylz
Dakrkplayer2
Swizzlerzs
Alnuks
Qwe123878
Graxiplon_
Drake_meme
Lightspeedhalo
Thesnapplecap
PlayStation 4
Jurassicworld
Psnaddicts
Coppernicky
Earthbound29
Eajlaxer
Steam
Seth_reaver
Brownmeister2
Shawnsig
Socalledgamer
GuybrushThreepwood
Tonight's prizes provided by Koei Tecmo. Thanks also to our Twitch stream moderators for keeping the peace and giving away the prizes!
Get the Windows Central Newsletter
All the latest news, reviews, and guides for Windows and Xbox diehards.
Paul Acevedo is the Games Editor at Windows Central. A lifelong gamer, he has written about videogames for over 15 years and reviewed over 350 games for our site. Follow him on Twitter @PaulRAcevedo. Don't hate. Appreciate!