The E Fun Nextbook Flexx 9 is a Windows 10 2-in-1 tablet for $139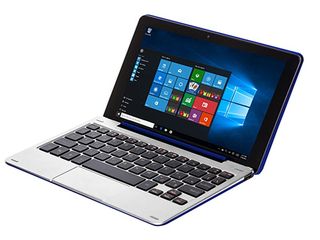 E Fun has released a number of cheap tablets and notebooks with Windows 8.1 pre-installed in the past. Now they are doing the same for Windows 10 devices, and the cheapest model is the E Fun Nextbook Flexx 9. It's a 2-in-1 tablet that comes with a keyboard dock that only costs $139.
For that price, you get an 8.9-inch tablet with a resolution of 1280x800, an Intel Atom Z3735G Bay Trail processor, 1GB of RAM and 32GB of onboard storage, along with a microSD card slot for adding up to 64GB of more storage. The keyboard dock has a full-sized USB 2.0 port, and the tablet portion has microUSB and microHDMI ports. Buyers can get the tablet in three color choices, black, purple or blue.
Yes, it's super-cheap and the hardware is on the low end but it does run the full version of Windows 10. Would you buy the E Fun Nextbook Flexx 9 as a budget backup for your main PC? Let us know in the comments!
Buy the E Fun Nextbook Flexx 9 at Walmart / $139 (opens in new tab)
Via: Liliputing
Get the Windows Central Newsletter
All the latest news, reviews, and guides for Windows and Xbox diehards.
Will work great with Onedrive, oh wait. Looks nice bit of kit for the price

This Onedrive issue is even starting to trend on Facebook. Microsoft needs to do some PR damage control NOW. I hate being stuck on the sidelines like this.

Comes with OneDrive Nano. New master stroke of S. "The Mastermind" Nadella.

OneDrive nano! Lol I have office 365 just about to hit the 1tb mark and now that's the cap

It will actually, assuming you have office 365 like most of us.

Might be great for my kids

Yeah, it could be a great backup or a great thing for kids to use to play or do simple, light things.

Great thing for my parents. Usually i give them my old things when i buy new ones (like last the surface 3 replacing an old Lenovo Miix).

That's what I was thinking. Like to get my boy a W10 tablet for Christmas. Not many kid friendly Windows 10 tablets. IPad is too expensive and Android is something I wouldn't recommend to anyone.

Can this run Edge with multiple tabs? I have a 2011 netbook running on AMD E350 APU which struggled to even run a tab.

I feel like the RAM will be more relevant to the browser than will be the processor.

wow - im shocked at the low price for a 2-1 device running full windows 10 I would have to see this in person before buying.

I didn't even know that windows 10 could run with only 1 GB ram Posted via the Windows Central App for Android

And it runs pretty smooth with very low specs. Though you are restricted in running heavy games and rendering apps, everything for productivity, entertainment and browsing runs very smooth.

W10 hardware requirements state a minimum of 1GB for 32-bit and 2GB for 64-bit

Perfect for all those whining the SP4 is expensive.

Looks similar to a linx 10 tablet

Maybe with an extra gig of RAM. It would still work pretty nice for something for traveling with

Man, this kind of low storage tablet is useless without placeholder files :/

LOL, it has the same storage as the base iPad Pro, and the iPad Pro costs $966 with the keyboard.

I got yhe Nextbook 2-1 with Windows 8.1 for my college niece and it really helped her a lot in her school projects, research and productivity. She doesn't have a full desktop PC but this 2-1 device never let her down.

1GB of RAM? This is definitely a headache waiting to kill someone. Posted via the Windows Central App for Android

1GB ram is too painful. Will pass.

Something like this would be perfect for flight sim enthusiasts who usually use lower-end hardware to power multiple USB devices and offload working on the CPU if the main machine. Also probably good for a cheap streaming device.

The ONLY reason my answer to "would you buy a Nextbook Flexx 9?" is "No" is...........because I already have a Nextbook Flexx 11!!! Bigger, and more powerful, and less than $100 more money. Though I can CERTAINLY nitpick the 11, and while it certainly is no match for a "REAL" Microsoft Surface, and while I'll either give it away or eBay it the instant I can afford to buy a real surface, it is a GREAT budget approximation for the price! If you're looking for a permanent alternative to a Surface, it will probably last you longer than you want it to, if you know what I mean. But if you're just looking for something to get your foot in the door.....buy one! They're gold!!! And I would imagine that most everything I said about the 11 could be said about the 9 as well, only for even less money, and in a smaller, more travel-ready size! On the other hand, if you're want a bigger screen and a little bit better hardware, and are willing to put out $230, plus probably do the Windows 10 upgrade yourself, the 11 is still for sale. -OR- if you want a middle ground, there is also a Nextbook Flexx 10 which meets the two in the middle in size, price, and specs (though it will probably still ship with 8.1 like the 11). Bottom line: I think all three are basically equal in terms of value proposition. Pick your size and you can't really go too wrong. I do hope the speakers are better on the 9 than on the 11, though...that's one part of the hardware I just can't defend. Headphones here are a MUST! :-) Cheers!!!

Meh. If it had 2/3 gigabytes than it would be a good option. Posted via the Windows Central App for Android

Good price, but really I feel anything that runs Windows should really have 2GB RAM at minimum.

1gb ram is nice to remind devs about standards.

How is Windows 10 performing in 1GB RAM?

For people who complain about the Flexx 9's specs and can afford more than $139 for a Win 10 hybrid, I suggest you look at the Asus T100HA (www.asus.com/us/2-in-1-PCs/ASUS_Transformer_Book_T100HA). It offers the newer Z8500 Processor, 4 GB of RAM and 64 GB of memory all for only $299!

I'm currently running Windows 10 on an old Acer nettop with 1gb RAM and and a single-core Atom, it's a little slow but still faster than it was with Win7. BTW they're $89 US at Sam's Club now. I bought one for myself and for my 11 year old. I put his under the tree and mine has yet to arrive, so the verdict is still out. I'm not expecting a laptop replacement, but a tablet that runs Windows with a keyboard for >$100? If I can play a movie or Uno on it and update my resume, I'm good.