Electronic Arts brings The Sims FreePlay to Windows Phone 8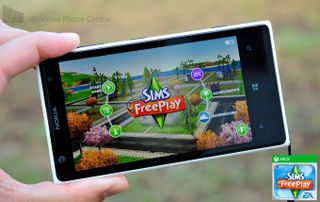 When Electronic Arts announced Tetris Blitz would be coming to Windows Phone in late September, we fully expected that to be the publisher's only Windows Phone release this month. As it turns out, EA did have another release in store for us, though it popped up a little late in the day: The Sims FreePlay!
The Sims FreePlay is the third Sims game for Windows Phone, following The Sims 3 and The Sims Medieval. But those games are essentially simple RPGs dressed in Sims clothing. The Sims FreePlay is much closer to the true Sims games for PC and Xbox 360. As the name suggests, it's also free to play. You'll need a Windows Phone 8 device with 1 GB of RAM to install it. More details after the break!
The Sims FreePlay Store description:
LET THE FREEPLAY BEGIN! CREATE UP TO 31 CUSTOMIZED SIMS FROM HEAD TO TOE, AND…
Design dream homes complete with swimming pools and multiple stories
Let your Sims get married, make babies, and then watch them grow into toddlers and pre-teens
Care for pets, grow gardens, even bake a cake
Give your Sims careers and earn Simoleons to improve their situations
Complete goals for Lifestyle Points, then spend them on hip items
Live with your Sims in real-time (when it's day or night for you, it's the same for your Sims!)
The main difference between FreePlay and the previous Windows Phone games is the real-time element. Everything your Sim (virtual person) does now takes time to complete – the same amount of time it would take in real life, basically. Your Sims do nothing when you're not playing, so you'll need to check on them throughout the day in order to make progress.
Free to play mechanics
We're always glad to see another Xbox-enabled game on Windows Phone, especially from important publishers like EA. Now that the EA and Nokia exclusivity deal has ended, it looks like EA's games will be available to all. Sims FreePlay and Tetris Blitz are both launching as free to play games, whereas the Nokia exclusives all had their free to play elements removed (for better or worse).
Much of the fun in Sims games is decorating a house and acquiring new goods for your Sims to interact with. These things of course cost money (Simoleans). Your Sim can get a job, sell the vegatables they grow, and complete other actions to earn money. Of course this is a free to play game, so players can purchase Simoleans with real money.
The game's second currency Lifestyle Points are used to complete timers and make things go faster as well as purchase premium clothing and furniture. Lifestyle Points can be bought via In-App Purchase as well.
Get ready to Simulate
The Sims FreePlay is a large download, and like other Windows Phone 8 games, it requires about 4x extra free space in order to install. Two gigabytes of free space should do it.
Note that the publisher really doesn't want players to cheat by messing with their phone's clocks. As such, FreePlay requires an internet connection in order to play. Make sure you watch the official video trailer above.
TheSims FreePlay – Windows Phone 8 (1 GB of RAM) – 427 MB – Free – Store Link
Thanks, Kyle S. and Kevin G., for the tips
Paul Acevedo is the Games Editor at Windows Central. A lifelong gamer, he has written about videogames for over 15 years and reviewed over 350 games for our site. Follow him on Twitter @PaulRAcevedo. Don't hate. Appreciate!
When I get to my WiFi space, I'm grabbing this.

+1 I've already added it to my download queue. Just waiting on the WiFi... jejeje

Same! I'm heading home now to grab it

I think download xap won't reqiure 4x storage.

Benefits of Nokia partnership, EA titles, I'm just waiting for EA Scrabble now

This isn't a Nokia exclusive.

No, but Nokia has been working with EA a lot on getting these games. Some are exclusive, others are not.

Why Screabble? AlphaJax is awesome and it has Xbox integration. http://bit.ly/alphajaxwp

What about an updated Sims 3? :(

That's definitely not happening.

This game looks way better anyway

Oh, Sims? http://fc03.deviantart.net/fs71/f/2012/092/2/f/hah__gayyy__gif_by_lucky4...

That's probably why it's the best selling pc game franchise and contains the best selling pc game in history. Think again, noob...

Would rather have Tetris, but at least it's free.

In other new Crysis cannot be played on a dual core XP machine with 256mb of RAM and a ATI 1900.

Damn! Seriously need to upgrade my lumia 620 :(

It will likely be updated soon.

There's no particular likelihood AFAIK.

Yeah! Another game to drain my battery! *Actually really excited **not sarcastic

dissapointed. i wanted to play this, but as the article states, it needs 1GB of ram..... im curious as to if theyll update it with 512MB ram support in the future, similar to what microsoft did a month after Halo Spartan Assault launched and became non exclusive?

Sometimes it's just not possible.

I know this, but one would think if the latest halo game for windows phone and windows 8 would work, than a game like this could recieve support in the future. Its more about whether its optimal and worth the resources as well. It may work, just not well, or may require more resources to make sure its compatible.

The latest Halo game is laughable at how little is going on. And the 512 version runs a fair bit worse and is alot uglier.

If I could remove the 2.2 gb of "other" space, I'd have room to install it..

Try having just over 7gb of "other", even after the gdr2 update.....

Sounds like complete garbage.

Umm. Fair enough, don't play it :)

I had no intentions on doing so?

On one hand people complain that we don't get games and then complain when we do. Should just be happy its come to the platform :)

Different people complain about different things. I don't complain about games not coming out. I couldn't care less really. But this game falls the way of the Facebook game. You can only do so much then wait or pay money to speed it up to do me. No thanks.

Glad to see people are excited about this. It is nice to see EA publish games for WP. However, I don't get the appeal of games like these.

Paul, this looks awesome, future for windows phone looks better every day!

Just texted the down load link to wife and daughter. They're going love this.

Hah, I sent it to my sister, we'll see if she cares or not, but she used to like these games.

Games like these are another reason why 5" or 6" phones are very useful !
Unfortunately my poor Lumia 520 won't run this. Lumia 1020 or 1520 later this year for sure.

Just FYI, I needed to free up 1.75 GB even though it says it only requires 427 MB. If only I could get rid of this 3 GB of wasted other storage.

That matches our estimate of 2 GB pretty closely. As for the other storage: I feel for you, man. Such a troublesome OS issue.

I've free'd 2.5 Gb and still No luck :) ...

Any news about The Simpsons game? :/

Real time? So when I play this game my Sim takes out the trash when I could be taking out the trash, reading when I could be reading, courting a girl when I could be courting a girl. I don't get the draw... To each their own. At least this looks well done.

Hate "free to pay". Need more proper games.

Another game from big guns, great

Love the Sims, playing this game!!

Dilemma. I want to support efforts to get this kind of app on the platform, so I want to spend some money on this app. However, I loathe in-app purchases and the whole "freemium" thing. What to do...

Get ready to Simulate. I see what you did there, Paul :)

I heard Dead Space was cancelled?

That's what EA told us - that it's not in development.

Such a disappointment :-\

Taking longer to download and install than the recent OS update on my 925. Now on step 2 of 5...

Hi, how do you update the OS? Does my 8.0.1 runned 925 is up-to-date? I'm new to WP8, please be easy on me. Thanks :)

The storage requirements on installation have been a huge pain for me lately. I've had to delete practically every game off of my phone to fit some of these larger titles that have been coming out lately, such as this, Six Guns, Modern Combat 4, and Order & Chaos. I never thought the lack of an expansion slot on my 8X would haunt me so much.

I've got a Lumia 920 but still have to delete games a lot lately. The Lumia 1520 can't come soon enough!

-1 for now since I can't install on my 521

Looks like this will have to wait till I finish a couple of games! Didn't see that coming on WP :)

ME WANT REAL RACING 3 AND MADDEN 25!!!

I had 2.6 gig left and I was able to install it.

Got a chance to play it and it's a lot smoother than I was expecting. However it makes the phone really hot in just a couple minutes.

Doesn't look like it continues playing when it's closed like other time based games do (Ice Age, Bug Village). It works if it's open in the background, but I feel like that's going to kill battery.

Why stop making these apps for WP7!!!???

Because WP8 has replaced WP7. And WP8 is much easier to develop for and supports a wide variety of games engines.

7 ate 9. Can't be supporting that cannibal.

Awesome! Patiently waiting on Dead Space though!

Good news.Nice game and glad that it's FREE(mium)!
If only EA could bring Simpsons Tapped Out to WP8 that would be soooooo GREATTTT!!!!!

But working with 512Mb RAM, omg...

This can only mean that The Simpsons Tapped Out is just around the corner???

I play, sorry mean i try to play this on my ipod touch 4th gen 64gb but crashes every few mins. So its nice that i can actually be able to play this properly. One downside is that doesn't have the facebook twitter interaction however i wouldnt know what that is like because that also doesn't work on my iPod touch. Thank you EA

All the new games runs only with 1Gb... I hate you all =.=

I hate it too man..we dnt even have a proper soccer game on 512ram.

Darn it! I need more RAM!

Why doesnt stuff like this ever come out for the surface or other RT devices i wonder?
I played this on my first gen Xoom and loved it and my surface has way more power and no love at all, It makes me rethink going to the Surface 2 when it comes out. ( not just this but all the games that are comming out.)

EA has only produced one Windows 8 game so far (Bejeweled Live), though they do have three Chillingo titles on the way. For whatever reason, they're taking a very cautious approach towards Windows 8.

I haven't played any of the other mobile Sims games, but so far I'm very impressed with this one. Having played A LOT of the PC versions over the years, I was worried that the experience would be too watered down for mobile, especially considering the console ports the series has seen over the years. I've only played about an hour of this one but it's been very enjoyable. It definitely has the common free to play trappings, but so far I don't feel like my experience has been hindered by a lack of paid content unlike other games I've played recently *cough* Six Guns *cough*.

Hi I have a Nokia lumia 520 and wanted to know if Sims freeplay is available for the 520 because i cant seem to find or download it, so could someone tell me if it is and if so how i download it, thanks. I,'m only 13 years old so go easy on me.

The easiest way to test (after searching for it on your phone) is to follow the store link we provide and see if it lets you buy the game or app. But to answer your question, no it's not available on the 520 because the game requires 1 GB of RAM and the 520 has only 512 MB of RAM.

Thanks for clearing that up :)

I can't install the game. They say my phone is not up to date. But, when I check "about phone", it says my lumia 925 is running on OS: 8.0.1xx (to many numbers, I don't remember). Please, someone. I want this game so much :'(

You can look for updates under Settings, near the bottom of the list.

my phone is up to date but still, i cant download that game :(

That's very strange. Can you post a screenshot of the error you're getting?

Where are the cheats? lol

the lumia 800 only goes up to version 7.8 -.- i put this game on my mums ipad and i love it but i can't use it that often. but i have a windows 8 laptop......why can't they bring it out for that?????

Hi there, is there any chance of a Christmas update? I would to decorate my Sims house for Christmas. Thanks.

I can't download this app is it only for certain window fones? X

What about 512 Ram devices?? We deserve to play too! :/:/:/
Windows Central Newsletter
Get the best of Windows Central in in your inbox, every day!
Thank you for signing up to Windows Central. You will receive a verification email shortly.
There was a problem. Please refresh the page and try again.