EA Sports FIFA Companion for Windows Phone updated with FIFA 16 support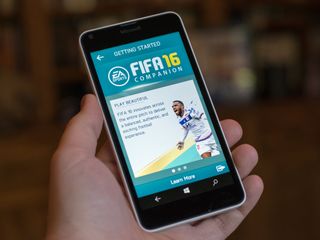 EA Sports recently released FIFA 16, the latest entry in its long-running pro soccer/football series for the Xbox One, Xbox 360, PlayStation 4, PlayStation 3 and PC. Now Windows Phone owners will be able to keep up with their FIFA 16 activities with the newly-updated EA Sports FIFA Companion app.
Here's a look at the new features that have been added to FIFA Companion for FIFA 16:
An all new look and feel for FIFA 16
FUT Draft: Build a squad from a draw of random players in our new mode. Draft your squad on mobile, and play on console!
View TOTW Squad Previews and History
Manage your Squads and Club Items
Purchase Packs in the FUT Store
Stay in touch with your friends with EA SPORTS Football Club
Be aware that the app does require the user have an free EA Account and that the FIFA Ultimate Team features also require the player to have a FUT Club membership.
Buy FIFA 16 at Amazon for $59.88 (opens in new tab)
Download FIFA 16 Companion for Windows Phone (Free)
Via: Plaffo
Windows Central Newsletter
Get the best of Windows Central in your inbox, every day!
It's good thing that they updated the app. Very few companies don't even make the companion's app.

I have been wondering this for a while; Is SmartGlass dead? Why won't anyone use it? Are there limitations that make it not worth it? Is it so they can use the same app on all OSs? I am really curious. - Side note - Big fan of companions, with or without SmartGlass.

AlsoI just though about this. And I think I have the answer to that. Sony doesn't really have something like the Smartglass (or at least as good anyways). So I believe that developers think that instead of giving something that the other platform don't have something like Smartglass (PS3/4, would cause some fanboyism fire), they just end up making their own apps.
Although, it think it foes deeper than that. When they make their own apps they have the liberty as to what they really want to do. The Xbox Smartglass might be good for simple loadout changes and some other basic things.
But making an app lets you do more in a less complicated manner. Take Watch Dog's Mobile Challenge app for example. I don't think it would be possible with smartglass. But, yeah you get the point now.
PPS: Sorry for this long as* comment/reply. But its better than no reply at all :P

Also, it's worth noting that I not all good for us, that they make their own apps. Cause about 70% of the time they don't support Windows Phone eh they make their own apps. As opposed to, if they just used Smartglass we would be 'of the hook'.

Great to see EA are actually supporting the platform decently.

When FIFA 16 game will come to windows phone

No free FIFA 16: UT as Android and IOS got. Windows only keep the costly desktop version this year.
I don't like this article as is misinforming about the great miss EA do to Windows Phone, Windows 10 Mobile and the Store from Windows 10.
Huge back step versus one year ago.
This site looks like different as when it was only Windows Phone Central.

Well it might come later today.

My fifa 15 asking for update but no update available reinstalled 2 times store still same problem

its a problem at ea's side and its happening on every mobile platform. they have also acknowledged the issue but haven't provided any solution yet.

Android and ios have their update, Windows lagging behind as usual. FIFA 15 UT seems very popular on Win8 so I'm not sure why EA isn't trying to fix this problem asap on all platforms.

Any official word about having Fifa ut 16 in windows store any time soon? It's really bad if EA is forgetting about us. Companion app? Great! Official game? ????

They haven't even updated the FIFA 15 UT app, which is currently unplayable for all Windows users, and has been for about 3-4 days. IOS and android have already received their update.

That's because the update is FUT 16 itself...

I talked to an ea advisor which told me the game will come out soon but there is no official release date..