EA, Star Wars breakup proves Lucasfilm is finally serious about gaming
This will be a day long remembered. It has seen the death of EA's exclusivity deal, and it will soon see the end of disappointing Star Wars video games (hopefully).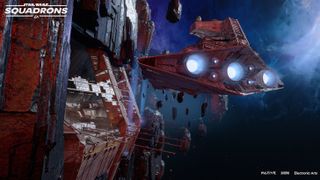 (Image credit: EA)
Lucasfilm dropped a bomb this morning when it announced it had partnered with Ubisoft Massive to create a story-driven, open-world Star Wars game. This news comes just days after the company unveiled its new Lucasfilm Games branding for all of its games going forward. This would mark the end of a near-decade-long exclusivity deal with Electronic Arts, which has had the sole rights to develop and publish Star Wars games since 2012. That exclusivity deal was heavily criticized for drastically hindering the franchise's potential over the years. Now that the companies have effectively gone through an amicable divorce with joint custody of the child, new suitors can enter the picture.
It's clear that Lucasfilm is getting serious about games now. Over the course of EA's run with the series so far, it has produced two Battlefront games — which released to much controversy — Squadrons, and Jedi: Fallen Order. It also canceled a few Star Wars projects, most notably Ragtag from Visceral Games, which would have been helmed by former Uncharted Creative Director Amy Hennig. Looking at what we consider to be the best Star Wars games on Xbox right now, EA's offerings only make up a few. All thing's considered, EA's track record with Star Wars is bad. Lucasfilm saw this and is correcting course.
It would have been unimaginable to see Lucasfilm renew its exclusivity contract with EA in 2023. With this partnership with Ubisoft, Lucasfilm Games is ensuring that the best developer for the job is on board.
Ubisoft Massive is known for developing The Division and is working on an upcoming game set in James Cameron's The Avatar universe. The studio's proprietary Snowdrop Engine, which will be used for its Star Wars game, creates stunning realistic and immersive environments.
"We're looking to work with best-in-class teams that can make great games across all of our IP," said Lucasfilm Games VP Douglas Reilly in the announcement. "We've got a team of professionals here at Lucasfilm Games who can work with the developers, shape the stories, shape the creative, shape the games, to make them really resonate with fans and deliver across a breadth of platforms, genres, and experiences so that all of our fans can enjoy the IPs that they know and love."
This opens up a ton of potential avenues and genres for the Star Wars franchise to explore, ones that EA may not have greenlit. At the end of this most recent announcement, Reilly teased, "This is just the beginning of what I think is going to be a very exciting year for Lucasfilm Games."
Just yesterday we learned that MachineGames was tapped to develop an Indiana Jones video game, and Lucasfilm will still be working with EA on a number of projects going forward. Though Reilly says that their relationship with EA has never been stronger, I have my doubts.
Regardless, Lucasfilm is showing us that it knows it can't put all of its eggs into one basket anymore. Before Jedi: Fallen Order had released, I wrote about how EA had squandered the Star Wars license. As good as Jedi: Fallen Order turned out to be, it wasn't enough to justify continuing the two companies' relationship on the same level.
It's an incredible time to be a Star Wars fan. The Mandalorian is shaping up to be one of the best live-action Star Wars stories in years, Lucasfilm has live-action series for Ahsoka and Obi-Wan Kenobi, among others, in the works. It's feeding our love of The Clone Wars with an animated Bad Batch series. And the company recently published the first book set in The High Republic, beginning a new era of storytelling for the franchise.
Combine all of this with games coming from some of the best studios in the business, I am very, very excited for the future of Star Wars. Though no platforms have been announced, I'd wager we'll be seeing this new Star Wars game on Xbox Series X, Xbox Series S, and PS5 in the coming years.
Main
Get the Windows Central Newsletter
All the latest news, reviews, and guides for Windows and Xbox diehards.
Jennifer Locke has been playing video games nearly her entire life, and is very happy Xbox is growing a stronger first-party portfolio. You can find her obsessing over Star Wars and other geeky things on Twitter @JenLocke95.