There are unlocked and refurbished AT&T Lumia 1520 phones for $249.99 on eBay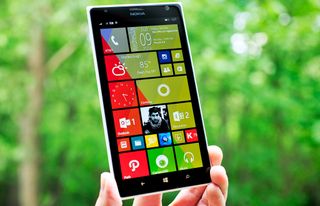 Both Microsoft and AT&T stopped selling the 6-inch Lumia 1520 earlier this month, but if you really want to get your hands on this smartphone, an eBay listing is selling unlocked and refurbished units right now for $249.99.
While the Lumia 1520 may have launched in October 2013, it still has hardware specs that rival those of current smartphones, including its 1920x1080 IPS display, its 2.2 GHz Qualcomm Snapdragon 800 quad-core processor, 2GB of RAM and of course its 20MP PureView rear camera.
The eBay listing is from a retailer called QualityCellz and it indicates that it has already sold 45 units of the Lumia 1520. There's no word on how many might be left, but considering that the page has "Limited quantity available" listed, we would expect that there may not be many more to sell. Keep in mind that the Lumia 1520 accepts GSM SIM cards which means it will only work on AT&T and T-Mobile networks in the US.
Source: eBay (opens in new tab); Via: Reddit
Windows Central Newsletter
Get the best of Windows Central in your inbox, every day!
It is still a better phone compared to majority of Lumias and its kinda lottery for those who don't mind getting a refurbished phone.

Right... We're talking about the most capable WP device ever sold.

Except for the One M8, which is more capable. I mean, the touchscreen even works!

I 2nd this. The only thing I miss is the 1520's camera. But, I'm enjoying everything else on my HTC One m8.

Xxxxxxxxxxxxx Wrong❗❗❗ Try again.

Never had trouble with the touchscreen on my 1520, until I put it in my pants pocket for a while and eventually bent there screen's digitizer. Expensive repair. It was fine otherwise.

Have purchased from Qualitycelz before and was pleased with the phone.

Remember this❓
........
http://www.windowscentral.com/sprint-no-longer-selling-windows-phones-it...

I will miss the Nokia logo (and build quality)

Ill tell you, the build quality of the nokia slipped since the 1520. That screen issue made me want to punch a wall.

Yes I love my 1520 and the screen is beautiful but the touch screen problems that I've had with it and replacement versions I've received via warranty have been downright frustrating. I'm dealing with it though because I love the phone. Adding internet Qi was a nice upgrade too!

I loved, Loved, LOVED this phone. I could not stand the touch screen issue. It put a bad taste in my mouth. I loved the performance and screen size though. I will be upgrading when the next flag ship is released. But in the mean time, the 830 works great for me.

I'm using the L830 and I have to disagree. The build is top notch

I as well own a 830. The build quality is great. I love the thing. But my search button is very touchy. Sometimes it is hard to get it to work.

I would rather have the button less sensitive than overly sensitive. On my 920, I barely have to be close to the search button for cortana to some up. It's especially annoying when playing a game in landscape mode.

The 830 is awesome. My only complaint so far is that Glance, double tap, and the display are not as responsive/bright as my 920, and the lack of a proper Denim update!

Not really sure what is wrong with the glance screen? I know compared to amoled its dull. But from my recollection its just as good as the 920. Also my double tap works better than on did on my 920. Maybe you got a bad unit, but I dont see any of your complaints when compared to my 830 except the Denim update. The only complain I have when compared to the 920/925/1520 is viewing angles.

It's just slightly slower to respond than my 920. I've compared them both side by side. But my 920 has the latest PFD 8.1 update and the 830 does not. Doubt that's it but I will give it at least until the Denim + GDR2 updates to see if it improves. It's weird because if the 830 Glance date/time is on the display then double tap is instant. But if I take the phone out of my pocket and try to do a quick double tap before the Glance display info comes on then it can be slow to wake up. Also, occasionally I get a notification and hear the notification sound but nothing is showing on my display. It did not wake up the phone but the notification is there. But this does not happen that often. It's not that big a deal. Got the 830 during the $199 deal so I'm happy. But the damn ATT Denim debacle is starting to piss me off!

I never had an issue until just recently...I updated to denim and my phone now goes haywire and then I have soft reset my device. It is awful and I am even thinking about going to android (as there are no other good high end WP out - plus I could never go back to a smaller screen...) for a little while til an upgraded version comes out. I really want to wait until Build to see if there are any announcements...but it is frustrating me by the minute.

There are other sellers "youbuyrite" for example with them as low as $214.88 for an unlocked refurb, what makes this news? Is this a paid ad?

The Lumia 1520 has been discontinued so yeah...

I meant a paid ad by the ebay seller not MS.

I am really not sure why you are so concerned about it.

Paid ad? We clearly source Reddit for finding this, written right there at the bottom as we have been doing since 2007. What more do we have to do make this crap clear to you people. A sponsored post will say "SPONSORED POST" somewhere on it. And we barely ever do those anyway.

Nothing like proffering a good ass whipping in the afternoon...

Maybe its because people who come here like Windows Phones, and they found a good deal and thought to let people know about it - like when MS does a promotion or whatever.

I'm always looking for a good deal so I'm happy they do this. I get the Bens bargain alerts too but these postings always better.

I think what makes this news and better than the other listings is that this is the only manufacturer refurbished factory unlocked Lumia 1520 on eBay and at a great price. In the vain of disclosure, I bought a green one from this seller today to replace my cyan Lumia 920 that I love. The thing is recently while playing Make It Rain: For the Love of Money, my phone overheated and the screen darkened. Almost like a burnt brown on the top left edge and (even worse) kind of yellowed the dead center of the screen in the shape of a circle. The edge, though darker, I can live with. But the center annoys the hell out of me when reading. And I do a lot of reading on my phone. I'll love this green 1520 until whatever new top-of-the-line phones come out and then start to come down in price. The 1520 will easily hold me over until 2016.

Just be careful. I bought a refurbished one for a low price and ended up sending it back. Had a lot of problems with it.

Its the ATT crippled version, no thanks. Unicorn or go home. :)

Purchased the green 1520 ATT and yea I miss the qi, however still a great piece of hardware regardless, not a deal breaker.

This look like a good deal. What version os windows does it come with?

Probably 8.1, but does it matter? You can upgrade it to the latest version, or even to Win 10, regardless of the version that come preinstalled.

I bought one these refurb 1520's about 2 weeks ago. Be careful on the quality of these phones. The seller said it was a '9/10' but a quick look shows that' it's a 7 at best- 2 HUGE splotches on the back that look like someone took sandpaper to it, and multiple scratches on the screen.

Epic fail of Gorilla Glass

You're saying that gorilla glass 2 just sucks in general?

You bought without photos?

All refurb sellers use stock photos.

Wonder if they have the touch screen issue?

Lol, only 16Gb phones but quite cheap

Good thing it takes microSD...

Sure I got one but 32Gb ​

Any replacement for my Lumia 920..? I mean., I want an upgrade.. Somebody willing to exchange with me..?

I bought a used near mint condition 1520 on eBay for $240 little over a month ago... Ended up having a mic problem but it was still under warranty and the previous owner hadn't registered it so I sent it in to MS and they sent back a brand new one?? But it's also registered to the same IMEI number.

Gets a new replacement that has the same IMEI. Either it is not a new device, or the repair center has done something illegal XD

Aha, I actually checked the imei on the phone, it is different :P but in the packing slip and email they sent back it was listed as the same, hweird.

Can be used with an italian sim?

No, AT&T uses different frequencies.

If you're not sure of the answer, then I recommend you don't answer. Your answer is incomplete. While AT&T uses different frequencies, this phone supports more than just AT&T frequencies. It support two European 2G frequencies, two European 3G frequencies, and one European LTE frequency. I just imported a European 1320 because it supported band 7 LTE (in use in both Europe and Canada) and 850MHz 3G (in use throughout North America, but supported by all variants of the 1320). Those two frequencies are more than good enough for me, and it was $85 cheaper than the North American variant from expansys.ca.

Yes, as it's unlocked. You can use it to roam in North/Central/South America. If using it in Europe, then you will get the following: - 2G at 900MHz and 1800MHz - 3G at 900MHz and 2100MHz - LTE at 2600MHz (band 7) This isn't every frequency used in the EU (it's missing 1800MHz 3G, and all but one LTE frequency), but the above are all European frequencies this supports. How did I answer your question? By checking Wikipedia. I recommend it. :)

The newer Snapdragon SoCs have faster ISPs, and run cooler. Not to mention the "ghost touches"... Tempting risk ... Putting it on my AmEx card through PayPal!

tempting but no. at&t need to learn to share these phones to other carriers n stop taking them from microsoft. an Unlocked at&T phone on Tmobile means you can't use their internet sharing feature.

AT&T makes no money from vendors selling used phones lol ...

oh im sure these vendors bought these used phones at at&t or microsoft. theyre used and unlocked.

I own an AT&T 1520, and have used the internet sharing feature from time to time.

Beware of updates if you use it on T-mobile and you need internet sharing. The last update killed sharing on both my 1020s. According to internet searches, there is no way to bring it back :/

I think you may have a different problem. I have an AT&T 1520, on T-mobile, updated after I put in the T-mobile sim and my internet sharing is working just fine.

I love mine have had since release its really still what one would conider a flagship. It runs smooth great camera besides ffc and battery life and a simple mod I got my wireless charging. This is the first phone I had that I didn't feel the need to get another one. Once W10 comes out and if they indeed keep the universal items this deal would be awesome. Especially with the ATT open insurance option right now.

What did you have to do to get wireless charging working on it? Was it PMA or Qi?

Open it and solder a qi wireless the explanation is on the site somewhere

Mine is a refurb from some ebay seller... CDMA-something Device comes perfect! Like new.

The 830s sell about the same on Ebay. That's what I ended up getting to replace the kid's 920s.

The newer Snapdragon SoCs have faster ISPs, and run cooler. Not to mention the "ghost touches"... Tempting risk ... EDIT: Think I will pass on this one, its already outdated in a sense ..

I wouldnt call the SOC outdated yet. The 810 seems like its having issues. The 805 is nice, but is it that much better than the 800?

Runs cooler, and clocked higher. It does not kill the 800 in benchmarks, however, since it runs cooler it will have stable performance. From what I have read the 1520 runs generally warm, so that S800 is not seeing its full potential in the thin 1520 chassis! Not a deal killer obviously, but curious as what is to come from Redmond :(

Faster ISP allows for some cool features such as Chroma Flash https://www.youtube.com/watch?v=ZGfEQnhaBoo Nokia 808 had a very interesting ISP ... Too bad Microsoft is in bed with Qualcomm XD

1520's have been available for around this price since at least last fall. I've bought two unlocked yellow AT&T 1520's from blinq.com for $250 or less. Both have been in fantastic condition. The most recent one still even had the peel-off sticker on the back. The initial price may be higher, but you can sign up for their deals with a spare e-mail address and get a coupon for 10% (up to $20) off.

What weather app is this?

So these locked/unlocked phones from AT&T can't run on T-Mobile LTE correct?

I have an AT&T version, the RM-940 and it runs flawlessly on T-mobile LTE. Search the 1520 forums and there are instructions on how to enable bands, etc. Bought this off ebay a few months ago and I don't have any of the issues everyone else complains about, I guess people who have no problems with the phone comment less than people who do have problems. BTW, I LOVE this phone!

Have you been able to try it out in an area where Band 12 is enabled?

Damn it I saw AT&T in the title and was hoping it was my 830 Denim update! :( The MS store should sell off whatever they have left for 1520's at this price!

Got mine here in the UK six months ago, 8 months old unlocked for £240 with a 32gb men card. Best phone I have ever had.

Unfortunately, most of the sellers don't show pictures of the actual units they're selling. Their descriptions of mint, great or good condition is relative. I remeber seeing one ad stating the unit is "New or other" with blemish on the bode or screen or camera lens. Which one is it? I'm on the fence about getting a used AT&T model or a new RM-938. With used you can either get a good deal or someone else's problem. I've read that people who've purchased new RM-938 that end up with problems, are told by Nokie US they won't repair the phone since it wasn't made for the US market.

Yea I ended up buying a green 1520 a few months back on eBay for a little more. Like you mention a lot of the listings are sketchy, the one for mine said something about possible small scratching. I was crossing my fingers till it arrived. Luckily the thing looked absolutely brand new, couldn't find a flaw on it. Bought mine from a seller called BLINQ. Not sure if I got lucky or if they are all like new.

I checked them out after reading the post from 'jcutting' and saw the first time buyer discount you can get. I'm not worried about any issues on T-Mobile with them. Curious how they work where Band 12 is enabled. I was thinking about the RM-938 because of the 32GB and Qi wireless charging, but those are 'must haves' for me.

The only Windows Phone so far confirmed to support band 12 is the global variant of the Lumia 640 XL LTE dual-SIM, to the best of my knowledge. Likely, the T-Mobile variant of the Lumia 640 also will as they've said they'll only release band 12-capable phones from now on.

Yeah, I know. I was asking beacuse it appears that AT&T's Band 17 overlaps T-Mobiles Band 12 and wondered if that would work at all. The T-Mobile page shows the 640 supporting supporting Band 12.

Maybe as windowscentral.com you can ask Microsoft, why did they stop selling it?

Discontinued product. Phasing the 1520 out :(

My problem with this is largely having to do with getting the 1520 from this ebay source. Given the many reports of touch screen issues, what would be your recourse for warranty returns and exchanges? Probably not much I gather. One is probably better off buying from a retailer with a solid return policy, even if you pay a bit more. Otherwise you're spinning the wheel of chance with your $250.

I wonder what the SquareTrade insurance would cover on one of these? That might be an option to look into.

They are rubbish . I have one and its awful apart from the camera. Don't buy one

Buying things on ebay it's a ripoff.

I hope Microsoft & AT&T release a 1520 successor 6-inch flagship (e.g. 1530, 1540) with 2015 specifications. The Lumia 1520 has been my favorite Lumia flagship & I'm eager for a follow-up 6-inch flagship.

That's about what it would cost to get a 1520 with broken screen fixed.

Good price if that's the 32GB version with the caveat of no Qi wireless charging.

Yeah, it's not. 16GB only. But you can always install a memory card. The RM-938 aka Lumia 1520.3 with QI and 32GB is still over $400 at ebay.

A word of caution. These are the same guys that had a flash sale on HTC M7s last week. I bought one and got it two days ago...and it was still locked to AT&T. I reached out to them and haven't gotten a response yet. If I have to unlock it myself, I'll drop their rating on EBay. I share this because Nokia phones on AT&T are a pain in the ass to unlock. Let's hope that these models are actually unlocked. Posted Approved by Nexus 7 (2013)

I would pick this up in a heartbeat if it was the international version with wireless charging :(

Thanks to the people who referenced blinq.com I just ordered the att yellow 1520, hopefully its in great condition. Was only $229, and I used a coupon code to knock off $20, so was $209 shipped. Apparently Google covers the purchase if anything goes wrong and the site has a 30 day guarantee. Let everyone know in 5 days how it is when it arrives.

Oh great is this why asurion had barely no 1520's when I filed my claim last week they are selling them on eBay how awesome thanks att

I have had my 1520 since release....i carry it in my back pocket,I sat on it, I dropped it and it looks great and performs great. I never had a touch problem. The sunlight readability should be turned off..... For some reason one I shut that off, any touch problem vanished. I use my phone with my Kevlar gloves at work.... Works amazing! And yes I got the att version. I don't see how do many people got bad phones when everyone I know who has a 1520 hasn't had a problem. Just because someone on the internet had this problem doesn't mean it's a wide scale problem with the phone.... (as I type from my Nokia 1520) seems to work great!

My plan was up and a new "free" phone was on offer from my carrier. So, 4 days ago I retired my personal1520 and replaced it with the new Samsung Galaxy Note Edge. The main reason for the change was that I also have a Nokia 930 which work supplied and I thought I might as well get a droid for all the apps. The intention was to sell the 1520 on ebay. My 1520 did exhibit the odd touch problem but not as much as the Galaxy Note edge has in the last 4 days. I am really trying to like the Edge but the things that I find I miss the most are the live tiles, the news app, the microsoft integration, the Facebook integration with the people app, the quality feel, the camera apps, the battery life (havent made a day on the Edge versus at least 2 days on the 1520), in fact everything! As for all these great Android apps, about every 4th app I have installed either refused to open, froze, continually closed, was hidden behind banner adds or did not live up to expectations. There are some free apps that are a little light on Windows phone but without advertisements versus a more detailed app on Android but covered in adds with no option to purchase a full app less adds. I will persist for a while longer to see if it is just a learning curve but don't expect to see my 1520 on ebay any time soon. Had there been a new Windows Phone flagship available, I most probably would have gone for it instead. However, it could be argued that the Galaxy Note Edge is a current Android flagship yet it struggles to compete with my 18 month old Nokia 1520 in just about every detail.

I wonder if these come with the double tap instead of swipe bug/bad hardware :¬P

Is these phones still worthy to buy ?