E3 2016: What we want to see most!
E3 is almost upon us, and some of Mobile Nation's games writers recently got together to discuss our most anticipated announcements!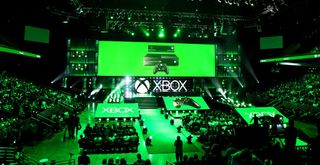 Microsoft is hitting E3 2016 in a big way on June 13th, starting with a press briefing at 9.30AM PDT, and further announcements throughout E3 itself between June 14th and 16th. Some of us will be heading out to E3 to bring you all the latest and greatest first hand, as we have behind the scenes access to some of the biggest Xbox One games on the horizon. So stay tuned.
Until then, here's what we want to see the most from this year's E3!
Matt Brown
As someone who recently verged on bankruptcy to fund a new PC build and HTC Vive, the concept of modern virtual reality is more intriguing to me than ever before. With Sony releasing their virtual reality solution for the PlayStation 4 this fall, the pressure is on Microsoft who have stayed strangely detached in recent years. At this current point in time, a partnership with existing headset manufacturers is looking more likely than ever, utilizing the Windows Holographic platform to bring VR to Xbox.
While I'm excited about additional VR hardware, I feel greater potential lays with upcoming experiences that take advantage of the new technology. Modern consumer VR gear has only recently hit the market and more titles and peripherals are appearing that expand upon the traditional experience.
I'm also looking forward to Microsoft's attempts at continuing to converge their Xbox One and PC line-up, which has been far from perfect up until now. In recent months, the company has shown they're willing to improve their approach to the PC market and this year's E3 may be our first look at that improved platform.
In recent months Microsoft's UWP platform has seen its fair share of criticism, failing to offer what is expected within in the PC gaming industry. Most recently we've seen updates for greater customization of the UWP experience, which will continue to happen past this summer's Windows 10 Anniversary Update. Hopefully with the platform in a capable state to support some of this year's biggest releases, even more of the biggest Xbox One titles will be hitting the PC in the coming months.
In terms of game unveilings, I'm hoping to see more of this year's strong shooter line-up, which so far includes a range of varied titles across the board. Electronic Arts has taken a huge risk introducing a World War 1 themed Battlefield title – an era rarely explored by the triple-A landscape. The company is also scheduled to debut Titanfall 2 over the E3 period, for a worldwide release later this year. This will prove interesting when up against the Call of Duty franchise, which receives two franchise entries this fall.
Jen Karner
I'm here for the role playing games. Or rather, that's what I'm waiting to see at E3 2016. What I'm really waiting for is more about Final Fantasy XV. The Final Fantasy series are what pulled me in to gaming over a decade ago, and i'm really excited to see what is next for the franchise. I'm still interested to see the changes to the battle system, and more of the world. I need as much information on Final Fantasy XV as I can get, so that I make it to the release this Autumn in one piece.
I've got my eye on a few other games as well. Namely I am Setsuna, Deus Ex: Mankind Divided, and Dishonored 2. I like my RPGs, and this year has several that I can't wait to get my hands on. Just the art style in I am Setsuna is enough to draw me in.
The next big game, and the other one I'm really excited about is Civilization VI. We haven't seen much yet, aside from a teaser trailer and i'm really hoping to see some of the changes since Civilization 5's release. It's been 6 years since the last release, and it's one of the best 4X game franchises out there. It'll be interesting to see what's changed and what is staying the same.
Lastly is PlayStation VR. I've been dabbling in VR, but I got really excited at the announcement of a console VR unit. It's going to be really interesting to see how they kick things off, and where they plan to bring VR with their games and system.
Paul Acevedo
Three new Xbox consoles are currently rumored to be announced at E3: a slim Xbox One, the "Scorpio" – a beefy next-generation Xbox One, and an Xbox streaming machine similar to the Roku. I really hope Microsoft announces at least two of those, if not all three. I'd love a slim Xbox One for the office. Maybe it will even look sexier and less VCR-like to boot. The streaming machine would be great as a Roku replacement in the bedroom, especially if we can actually play games from it. Lots of us stream our Xboxes to a tablet or laptop, but streaming to a tiny portable box that's easy to hook up and use would be magnificent.
My big fear would be whether Microsoft would actually support such a potentially niche product through thick and thin. The big MS doesn't have a great history with products like the Zune, to say nothing of Windows Phone's long-time struggles. They wouldn't have to try very hard to make a better box than the PlayStation TV though, as that thing suffered from weak specs and terrible video app support before Son eventually killed it off.
Actual new-gen hardware like the Scorpio is always exciting, but this time it's also necessary to combat the persistent hardware power advantage that Sony has had over Microsoft since the Xbox One launched. If the rumors are true, the new Xbox will outclass both the PS4 and the rumored PS4 Neo, which would be a much more ideal situation for Xbox gamers who don't mind buying a new console so close to the start of this generation.
Oculus Rift support would really help get forward-thinking players on-board. And the idea of enhanced versions of existing Xbox games (such as Neverwinter, in my case) would be a great way to incentive the upgrade for current owners.
As for game announcements, I continue to hope for a new Battletoads from Microsoft and Rare or another developer. Last year we got the Rare Replay announcement, a robust collection of classics with a couple of games from the Battletoads series. But a new Battletoads (especially one that doesn't suck like the original NES game) would be even more exciting for me than Replay (or even Sea of Thieves).
My second most wanted title is Forza Horizon 3. Microsoft has annualized the Forza series for the last few years by alternating releases of mainline Forza Motorsport games and the open-world Forza Horizon spin-offs. Much as I love Forza 6, Forza Horizon and its sequel remain my favorite racing games ever. They just offer so much freedom, beauty, and variety, plus a little bit of style – something mainline Forzas sorely lack.
We already know a Forza game of some sort will be announced at E3. Fingers crossed that Forza Horizon 3 is it, having secretly been in development for a 2016 release. If it's not coming this year, it'd better at least be coming in 2017. Besides Forza Horizon 3, the return of the Project Gotham Racing series would be nearly as welcome! That's it for my E3 predictions. Game-wise I'm playing it safe – partly because of the scarcity of rumored titles, but also because the new hardware rumors have captured my imagination for quite a while now. Let's "win" E3 this year, Microsoft!
Russell Holly
This should surprise exactly no one, but I'm mostly here for the VR.
I want to see Microsoft offer up a slim Xbox One, and then offer up some real details on playing the Oculus Rift with my Xbox One Titles. I'm not sure we're going to get a way to plug the Oculus Rift directly in to an Xbox One, but it'd be awesome if that happened.
Sony is going to push PlayStation VR hard, and it's going to be fantastic. We're going to see some great games, and learn more about how VR is going to be a differentiator for Sony. This space is going to heat up quickly once Sony starts shipping, and E3 is going to be where that hype really gets going.
The one game I want to hear about that has absolutely nothing to do with VR, the game I've been waiting for with an unreasonable amount of excitement for two whole years now, is Kingdom Hearts III. First of all, it's Kingdom Hearts with my Xbox Controller, which is going to make me all kinds of happy. Second, we're hopefully going to get a deeper look at the Keyblade War, which is going to make storyline nerds like me super happy.
So, yeah. VR and Keyblades. Bring it on.
Richard Devine
Forza, Forza, Forza. As a huge racing nut this year's E3 is very much about the same thing as last year's game shows were for me. Microsoft has already teased that we'll be hearing about the next game to carry the badge and nothing else will top it for me.
Extra exciting is that we're expecting it to debut on both Xbox One and Windows 10, and given how good the free-to-play Apex title has been on the PC, it's something that's going to deserve attention.
Aside from actual games, I'm also more intrigued by how the Xbox One and Windows 10 are going to come ever closer together. We know about the Anniversary Update and UWP apps coming to the console, but for the past 12 months or so it's been clear that Xbox has transcended being a console and is now a full platform for Microsoft.
There's a lot that could be done, and it's going to be a wild ride worth being on, I'm sure.
Jez Corden
Like many others, my intrigue for Battlefield 1 is completely off the scale. Triple A World War era shooters have fallen by the wayside in recent years, and EA capitalized massively on shifting attitudes towards sci-fi first person shooters. Even though they're pretty different games, Call of Duty and Battlefield are seen as major rivals in the first person shooter space, and it'll be interesting to see if Battlefield can finally edge ahead, given Call of Duty: Infinite Warfare's rumored low pre-order figures.
I'm also interested in how Titanfall 2 fits into the equation, given that it's also an EA property, and sharing a launch window with both Battlefield 1 and Call of Duty: Infinite Warfare. The original Titanfall was excellent, but a little thin on content and personality, hopefully the sequel will rectify some of the issues that harmed its longevity.
Beyond shooters, I'm wondering if Rare's Sea of Thieves will scratch that MMO itch that's been bugging me since World of Warcraft's glory days. The idea of co-operatively sailing a ship with a crew of friends in a whimsical, typically Rare-style world is equal parts encouraging and exciting, and we're bound to hear more about it at E3.
Some of the other games I'm looking forward to seeing include Ubisoft's For Honor, which is a faction-based, tactical melee combat game. I'm a huge fan of Sniper Elite, and I'm hyped to see check out how the upcoming fourth instalment plays. I'm also hopeful we'll see an announcement for a sequel to inXile's Wasteland 2, which remains one of my favorite games on Xbox One.
On the Xbox side of things, I'm hoping we'll see something nostalgic. Microsoft have spent a lot of time and effort pushing the industry forward. They've brought UWP to the console, they've tried out new paradigms like the interweaving experiences of Quantum Break, and the integration between Windows and Xbox will only get closer. However, I feel as though they've persistently underestimated the power of nostalgia when formulating their strategies. We've had Killer Instinct already, and Halo Wars 2 is a major step in the right direction, but where is the AAA Conker game? Where is the Age of Empires reboot? What about Perfect Dark? MechAssault?
I'm concerned that Microsoft's reliance on second party studios to produce some of their exclusives is a risky strategy in the long term, as Remedy Entertainment is now working on new games for a different partner, indicating that we might never see a sequel to Alan Wake or Quantum Break. Will Scalebound be another one-shot? I'd like Microsoft to show some commitment to some of their existing IP, beyond Halo and Gears, as you can bet Sony will be banking on Final Fantasy 7 nostalgia again at their E3 conference. Time will tell!
How to keep up with our E3 coverage
We'll be posting all of our E3 coverage using the links below, and Paul Acevedo, Mark Guim and I will be in Los Angeles itself, bringing you all the latest and greatest news, interviews and gameplay first hand. Stay tuned for some awesome giveaways next week as well.
What games are you looking forward to seeing most at E3? Let us know in the comments!
Get the Windows Central Newsletter
All the latest news, reviews, and guides for Windows and Xbox diehards.
Jez Corden a Managing Editor at Windows Central, focusing primarily on all things Xbox and gaming. Jez is known for breaking exclusive news and analysis as relates to the Microsoft ecosystem while being powered by caffeine. Follow on Twitter @JezCorden and listen to his Xbox Two podcast, all about, you guessed it, Xbox!
I'd love for Microsoft to focus on streaming this E3. - Ability to stream PC games to the Xbox with no fuzz, including Steam, Blizzard games, etc. - Ability to stream games (from PC and Xbox) to all Windows 10 devices including Surface Pro 4 and Lumia 950 XL. - New streaming subscription service added to Film & TV, akin to Netflix. - Easier to set up a server, my PC's SSD, or my OneDrive as storage for the Film & TV app. - Option to pay a little extra for virtually unlimited OneDrive storage for my movie collection. Ideally, all of this would be handled with a new hardware device such as the speculated Xbox stick. If I can get rid of the bulky Xbox from underneath my TV but still have a fully-functional and modern media experience in my living room and everywhere I go, enabled by Microsoft, that would be great. Naturally, it should all be controlled using Cortana and any Windows 10 device, whether a band, a phone, or what have you. Microsoft everywhere.

Agreed on most of your points but streaming from Blizzard and Steam. You'd probably have to go through them to enable any type of streaming to another device.

Yeah Steam has Steam Link. No way that'd happen I don't think.

I don't think it'd be a problem. It doesn't take an application or anything like that. It's basically just a matter of streaming video, audio and input signals between devices, something which Windows 10 achieves easily already with Miracast. The difference would be how the service is optimized, and how to easily activate it with a button in the Game bar or something.

Steam is DRM enabled for a reason. Microsoft can't just stream Steam games to another device without Valve's permission.

Except they can... Nvidia does this already and it's perfectly legal. It's just like running a cable to your tv. Nvidia: https://shield.nvidia.com/game-stream
Moonstream: http://moonlight-stream.com > streams to android, opensource game-stream client. Maybe DX12 or Vulcan makes this easier to achieve across any GPUs?
KinoConsole: http://kinoconsole.kinoni.com no idea what this is, but seems to work
Remotr: http://remotrapp.com and this has a windows UWP client! so yay. We don't even need MS to do this for us, it's already possible.

How do you know they didn't make the arrangements behind the scenes though? You can't just do what you like with stuff that isn't yours. That's why people have copyright laws and stuff. NVIDIA isn't Microsoft and the Shield isn't the Xbox One.

Because Nvidia did not make a deal with each and every single indie developer out there. Nor do I believe they got streaming rights from every single AAA publisher without a single one saying nope. Also I fail to see how this is breaking copyright, you aren't giving people access to the game in ways it wasn't intended. They are just playing it as intended while the pc is further away. EDIT: see above links, remotr even got a government grant, i doubt it's illegal

Enabling streaming of Steam games to Xbox would be financial suicide for Microsoft Xbox. Why in the world would they spend resources to help people stream games from,a service they make no money on, ultimately costing them additional revenue in lost sales?

They indirectly make money on it by selling Windows licenses Posted via the Windows Central App for Android

Even if they don't allow streaming games from Origin / Steam, Microsoft is still making money from Windows licenses Posted via Surface Pro 4 or Microsoft Halo Phone

But they would have steam games running on the xbox platform, that's data they can use to bolster the popularity of their Xbox platform leading to future income. Also, they should support all games, not specifically steam games but just all.

So if Valve made a UWP Steam app for Windows 10 MS wouldn't allow it on the store? Hmm, so Microsoft can decide what software we get then. Sounds like another good reason to avoid UWP and the store.

Deus Ex and Battlefield 1 is on my waiting list. Most anticipated games and with Watch Dogs 2 news, E3 has become more exciting.
Also I can't wait to hear news about next Xbox one and PS4 (although Sony claims it won't say anything about it during E3) but fingers crossed if MS announces something so will Sony.
Hope to hear sone news on how gaming is further coming on Windows 10 devices. Microsoft just give some good news about Xbox and Windows 10 gaming.
Also how cortana can effect gaming on xbox if they make her available for Xbox One.

She's already available for Xbox One on the latest preview dashboard update (which I believe is the Anniversary update for X1). She was also "discovered" on the dashboard awhile before being removed, but we now have proper integration.

Oh that is interesting hehehe can't wait for her to be released officially Posted from Windows Central for Lumia 1520

The Xbox conference is what I'm most intrigued about this E3, I think they're biggest wildcard right now. There has been lots of rumor and speculation, but we really don't know what they're planning to announce. Anyway, I really wanna see more of Scalebound and Halo Wars 2.

Don't care about VR at all. It's all about the games and hardware revision

Scorpion Framework and Cloud Processing like was promised to us. "for every xbox we have 3 in the cloud available" by Microsoft

You are absolutely right! On the one side Microsofts Azure division performs very well, on the other side Meyersons division needs lot's more Windows 10 sales. Microsoft has a long history of making lousy deals with it's hardware partners instead of creating new products that could threaten it's partners. Instead of making a cheap Xbox One with a heavy cloud framework, Microsoft will force people to buy new PCs to help it's hardware partners and drive it's Windows 10 sales numbers that are far behind expectations. Once again Microsoft misses it's opportunities and I am confident that players like Amazon or Google will bring some cheap gaming devices that are cloud capable.

How are the margins on Azure division? Has it ever made any profit?

Look at the latest financial report. The cloud division backups the losses and has a steady increases year over year. Windows 10 was meant to run everywhere, but obviously Meyersons division can only think in legacy pc unit sales. Xbox sales could hit the 100 million mark easily if the console would be cheap and all the original features like Kinect, voice recognition and OneGuide would be well executed and supported.

I did. No Azure income numbers given. Quite often when relevant numbers are hidden they are not too good.

It's too early to bet on cloud for things that are latency sensitive. The world is not ready, and frankly I'm not sure I would like it because who pays for all the cloud compute time? If the makers go bankrupt would the game stop working because of it's reliance on the cloud? Would we still be able to play legacy game 20 years from like some people do with mario brothers, or would it be broken because much of the infrastructure was in the cloud and no longer exists.

You don't understand, it's not about streaming videos, because this is very latency sensitive. But you can offload lots of things that are mostly not latency sensitive like physics computations for destructions, lighting for day/night cycle, AI etc. If people are biased against cloud they often forget that multi player games are not that different and depending of console/PC you have over 100 players on a map that needs to be updated for the player. You simply send commands to the client how to update, but the expense computations are done in the cloud.

They said "we have processing power about 3 Xbox for every box sold for scale"

I bet most of us will be watching the WWDC tomorrow.

Eh, an Apple-centric developers conference versus video games and potentially new hardware announcements from MS? I imagine the people on a website like this that focuses on Microsoft would get more out of the latter than the former.

True. iOS is the main focus for Nadella as well. Lets see if he is on stage to announce some new goodies.

Battlefield 1 for PC and a Roku-like Xbox are my main two hopes!

I'm not eagerly awaiting for anything but I have a few things I'm curious about: - Battlefield 1. Definitely. I pretty much dropped FPS's the moment they started going all Sci-fi. Loved the Call of Duty's, Commando's, Mortyr's etc that took place during historical events like WWI, WWII etc. With Battleflied's return to the Era, I'm now more interested in it than I have been in FPS's for a long time. - New Xbox hardware. Now, the Xbox stick intrigues me but considering the competition it has to face, I am skeptical. It it happens, it has to nail a couple of things very well. I'm more interested in the possible revision to the XBone. I don't feel the need to upgrade my current Xbox however there are couple of things that would make me upgrade it. And that's if the "revised XBone" has: 1 - ability to play 4K Blu-Rays and if it scales the UI to 4K TVs better than the current generation; 2 - the blu-ray player in it isn't an absolute joke like the current one is (namely, if it's able to resume films and series on blu-rays when they're stopped, and read home burn Blu-Rays...both things that even the PS3 is able to do but the XBone still isn't.); 3 - If it can handle VR. These 3 things are pretty much the demands I have from the "XBone 2.0" to consider upgrading to it. Otherwise I will be getting the PS4 Neo instead since there I know all my demands will be met alongside the PlayStation already having a dedicated VR set without me needing to resource to Oculus or, God help us, HTC. So let's see what E3 will bring.

Unless paired with Kinect, VR doesn't seem exciting.

A few days ago I would have said. DVR but no point now.

I thought it had already been confirmed that new hardware would not be announced in line with Sony and Nintendo also shelving plans to show off new hardware. I hope thats not true because I really want to hear what the future has in store for us. Last gen I played mainly on the XBOX 360 and PC over my PS3 but this gen its been mainly the PS4 but there are some great multi-plats coming and I'd rather not buy across three platfroms if the rumours are true that the Scorpio is going to be the more powerful mid cycle release over the PS4 Neo. I could care less for a 'slim' model but a new more powerful XBOX and the rumoured XBOX Stick are of interest to me. I'd also like to hear if the rumours of a partnership with Oculus Rift are true also. If they do partner up this could be huge and also help finalise a standard for VR instead of having various competing platforms and it would be great to have a VR device to play on PC and XBOX.

The thing here is Sony always rumored a new console and wait for MS to made their move and then release a more powerful console so i don't think the scorpio will beat the next PS4 !! Ok its the E3 but it would be nice to see an announcement of the Surface Phone from MS

Battlefield 1, new hardware, Sea of Thieves for me. Man, I hope they smash the specs on Scorpio.

I'm hoping the new xbox and streamer boxes aren't "xbox" at all but a min spec device that 3rd party manufactures can build. This way manufactures can build different options of xboxes, like building in streamer directly into tv and such.

3 days later where is the small new streaming boxes? or is that going to be announced at games con?