Here's some of our most anticipated Microsoft E3 2016 gaming announcements
By Jez Corden last updated
E3 is almost upon us, and the excitement is reaching fever pitch.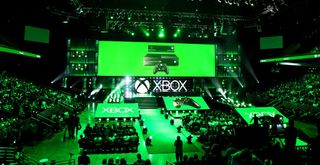 For many, E3 is the crown jewel in the yearly video game calendar. Microsoft will unveil the latest and greatest Xbox One games and features, in their attempt to convince consumers that it is their box you should spend your hard earned cash on. The biggest publishers will reveal their latest efforts for our most beloved blockbuster franchises, and devs both large and small will vie for our attention with brand new properties.
For now, I've collected some of our most anticipated E3 2016 announcements from Microsoft only, ahead of the main event on June 14th.
Xbox One 'Slim'
Rumors surrounding a design revision for the Xbox One started circulating earlier in the year, when Phil Spencer seemingly commented about the possibility of an upgradable Xbox One. The head of Xbox later retracted those statements, saying that not only was he not going to ship a Xbox with a screwdriver kit for consumers to perform physical upgrades, but that he wasn't a fan of incremental smartphone-like mid-gen spec bumps. Sony is expected to shrug off Phil Spencer's criticisms of shorter console cycles with their PlayStation 4.5 'Neo,' which will doubtless dominate headlines at E3 this June.
While we don't expect Microsoft to unveil an Xbox One with a new tier of graphical power, there's plenty of evidence to support the imminent unveiling of a newly-designed slimmer Xbox, and perhaps a new controller, too.
Microsoft purposely gave the 2013 Xbox One an inconspicuous, industrial design, so that it would "blend in" with the other hardware sitting under your TV. However, it's hardly the most iconic device on the market, being far bulkier than the Xbox 360, and its chief competition, the PS4. Using the Xbox 360 Slim update as an example, Microsoft will likely use the opportunity to unveil something that is slimmer and more visually appealing than the current box.
Newer Xbox 360 models didn't just revise the console's looks; they also incorporated technology that wasn't as ubiquitous when the console originally launched, such as HDMI and WiFi. There's every chance the new Xbox One could do the same.
Phil Spencer sparked rumors of a modular, upgradable Xbox One by saying that he didn't want Xbox fans to wait for the latest "technical innovations." His words could imply that even if the new Xbox One doesn't feature a bump in specs, it could include new hardware functions that expand its versatility.
Could we see a Xbox One with a directional microphone like the Amazon Echo, to support the capabilities of the upcoming Cortana update? Could we see a cheaper, disc-less Xbox One that edges towards the promise of a digital future? How about a Xbox One with a second GPU to support the much-hyped VR headsets like the Oculus Rift? Only time will tell, and that last morsel of speculation takes us to our next segment.
HoloLens and VR
Last year, Microsoft revealed a partnership with Facebook's Oculus Rift VR headset, bundling the Xbox One controller with every unit, in addition to bringing a virtual home cinema app to the platform for use with the Xbox One. While Microsoft itself seems reluctant to jump on the VR train just yet, there's every chance the company might expand its partnership with Oculus in some way, and E3 would be the place to announce it.
Beyond VR, Microsoft is well known to be investing heavily in its remarkable, untethered and expensive HoloLens headset. Microsoft gave a jaw-dropping demonstration of HoloLens at last year's E3, demonstrating the holographic version of Minecraft in a playable state. The HoloLens story has developed leaps and bounds since last year, with the improved developer edition shipping out to software engineers combined with new demonstrations that reveal the versatility of HoloLens' potential applications.
Naturally, gaming will be a huge part of HoloLens' positioning with consumers. Microsoft has already shown Minecraft, RoboRaid (formerly Project X-Ray) and Young Conker, demonstrating how small teams of game developers can make playable titles relatively quickly by substituting world design for HoloLens' spatial awareness capabilities, i.e., using real-world tables and chairs as apparatus for a platformer, and so on.
There's every likelihood Microsoft will dedicate time to a brand new HoloLens demonstration at this year's E3, perhaps to show off developments on existing projects or reveal all-new games or even new gaming features for the tech. As a Windows 10 device and Universal Windows Platform endpoint, Windows Central's own Daniel Rubino demonstrated how HoloLens and the Windows 10 Xbox app are fully operational with Xbox One's in-home game streaming, for example.
While it's highly unlikely we'll see anything that equates to a "Xbox VR" headset, it's fair to expect a bit of Microsoft VR/AR love during the E3 festivities.
Microsoft Studios – Games, games, games
Beyond the hardware shenanigans, we fully expect Team Xbox to plow ahead with their games, games and more games strategy that has helped the Xbox One keep up with the PS4 thus far. Here's a collection of titles we can expect to hear much more of at this year's Xbox E3 conference.
ReCore - This is one of the most enigmatic titles on this list. Besides a slick trailer, we know next to nothing about Keiji Inafune's mechanical action-adventure game, which was previously slated for a Spring 2016 launch. Expect ReCore to make an appearance at E3.
Gears of War 4 - We've had a multiplayer beta, a cinematic trailer, and plenty of gameplay footage, but as Microsoft's biggest release of 2016, expect to hear more from The Coalition's dark third-person shooter during the E3 festivities.
Halo Wars 2 - Although Halo Wars 2 was revealed at Gamescom 2015, Microsoft could opt for E3 to show off gameplay from the upcoming strategy game. Creative Assembly – famed for Total War and Alien: Isolation – were tipped to develop the Halo universe's second foray into the RTS genre. Perhaps we'll see some gameplay, and maybe even get a glimpse of that long-teased Xbox mouse support.
Scalebound - Like Halo Wars 2, Scalebound featured heavily in Microsoft's Gamescom 2015 presentation, showing off gameplay, RPG customization and a brief glimpse at co-operative play. It seems likely that Platinum Games' ambitious Xbox One exclusive could get some air time at E3 2016, especially since the game has been delayed into 2017 to expand its scope.
Crackdown 3 - Since day one, Microsoft has touted the capabilities of Xbox Live to provide extra computational power using your internet connection – Crackdown 3 could be the title that proves that concept. The bonus processing power gives Crackdown 3 insane destruction physics, all without lowering the game's visual detail. We're bound to see more of that at this year's E3.
Sea of Thieves - Sea of Thieves joins ReCore in the enigmatic category. We know that it's developed by the legendary Rare, we know that it'll feature pirates, we know that it's going to be a connected game – perhaps even an MMO – and we're pretty sure we'll see more of it at E3!
Forza - While it's too early for a new entry in the main series, it seems entirely likely we'll see a new Forza this year. Whether it's the arcade-inclined Horizons or something completely new, expect to see Turn 10 Studio's latest efforts in June.
ID@Xbox - Beyond Microsoft's AAA offering, there's a cascade of brilliant indie games on the horizon too. From Cuphead, to Ashen, Below and Everspace, it's looking likely Microsoft will showcase the efforts of the creative indie scene as is tradition. There's every chance that Microsoft will use E3 to announce some high-profile indie titles for the console as well, either as console exclusives ported over from PC, or publishing ventures like Gigantic, which brings me to…
State of Decay 2 - As we dive further into more speculative territory, State of Decay 2 rides high on the list of games that we know are coming, but haven't seen even a hint of yet. We've heard that Undead Labs might be present at this year's E3, and perhaps it's to show off the sequel to their Xbox Live Arcade smash hit zombie apocalypse simulator.
Alan Wake 2 - As a fan of video game Easter Eggs in general, Quantum Break will probably go down in history as a veritable omelette of tributes and homages. The game frequently teases Remedy's Alan Wake, implying that both stories take place in the same universe. Remedy have even shown off conceptual work for Alan Wake 2, and Quantum Break contains a live action teaser that ends with the word 'Return', matching a domain Remedy recently purchased – AlanWakesReturn.com. I expect we'll at least get some form of teaser at this year's E3.
Halo 6 - While Halo 5 came out only a few months ago, a sequel is all but inevitable. It might be a little too early for Microsoft to begin talking about Halo 6, but there's a slim chance that Microsoft could tease the next instalment of their flagship franchise this June.
Kinect - While Kinect technology is baked into HoloLens and other marvels emerging from Microsoft Research, its utility as a gaming device has been sadly neglected over recent years. Major Nelson recently teased that the studio still has plans for the sensor. While that's not much to go on, hopefully, we'll see a little something that shows Kinect owners haven't been completely forgotten.
More surprises? - Microsoft will be looking to make some big impacts with its announcements on the gaming front, given that Sony has marketing rights to several heavy hitters, including Final Fantasy 7's remake and the infinite Call of Duty franchise. It'd be great to see some old franchises revisited on the AAA front, such as Conker, Project Gotham and Age of Empires, and perhaps see more entirely new franchises such as ReCore and Scalebound. We need only wait a few more weeks to find out.
New Features: Xbox One, Windows 10 and Azure
Microsoft's box has managed to keep up with the PlayStation 4 thus far, despite Sony grabbing an unprecedented head start. While Microsoft's focus on games has proved an excellent strategy, it could be how Microsoft leverages its desktop operating system monopoly that solidifies Xbox's place in gaming for this generation and the next.
In my opinion, Microsoft stole the show last year with the announcement of Xbox 360 backwards compatibility. Sony themselves were astounded at the feature, given the software engineering wizardry it took to pull off.
Not only is backwards compatibility incredibly pro-consumer, allowing gamers to bring their past-gen catalogue onto the future-proofed x86 generation of consoles, but it adds a powerful differentiator between Xbox and its competition. In my interview with Xbox platform development lead last year, Mike Ybarra noted that the company was working on "two or three" features that were on the same level as backwards compatibility, and we could find out what those are at E3.
Many Xbox fans make requests for Microsoft to extend backwards compatibility to the original Xbox. Due to the original console's x86 architecture, it would be potentially easier on the engineering front to make OG backwards compatibility a reality, but the feature would present other complications. Getting permission to publish third-party original Xbox games on the Xbox One via backwards compatibility could be a difficult proposition, as figuring out who owns the rights to all that licensed music, assets and more would be harder, given how old some of those games might be.
Another feature that Microsoft might announce for the Xbox One is game streaming outside of your home network. It's already technically already possible using domestic networking features, but Microsoft could streamline the process further, leveraging Azure. The company is testing similar features in China, teaming up with Square Enix to offer Final Fantasy XIII via the cloud. Sony of course already has a game streaming service called PS Now, so for Microsoft to begin exploring the inevitable cloud-based future is not only a total no-brainer but thoroughly in line with Satya Nadella's cloud-first, mobility-first vision.
We've also begun hearing about Microsoft's plans for the Windows 10 Anniversary Update this summer, which will not only bring new features to Windows but also Xbox. Microsoft will probably dedicate their keynote specifically to games and major features, but we could hear more about some smaller features either during the conference or in some of Microsoft's satellite coverage.
Background music will likely be demonstrated, and we could get a glimpse of how the long-expected mouse support will work for both apps and games. We also know that Microsoft is working on Xbox One controller support for Windows 10 Mobile, which could open up exciting new possibilities for mobile gaming – particularly when combined with cloud streaming and the Universal Windows Platform.
At the very least, I'd like to think Microsoft can match – and hopefully top – the air-punching awesomeness that was the backwards compatibility announcement at last year's E3. Time will tell.
Jumping ahead
This console generation is certainly stranger than the last. New realities like the cloud, squeezed AAA budgets, and the Universal Windows Platform are poised to disrupt the very notion of the console. While Sony appears to be pushing ahead with their focus on the graphical narrative it has dominated so far this generation by shipping a more powerful console. It seems Microsoft will concentrate on adding value to the Xbox's existing specs through features and services: leveraging UWP, Cortana and more.
While those features might convince less hardcore gamers, Microsoft will need robust gaming announcements to convince Xbox 360 holdouts – millions of whom are still paying Xbox Live customers – that jumping to the Xbox One is a worthy proposition.
Both Sony and Microsoft are eager to convince past-gen holdouts to jump to the new era of consoles, and E3 will give us the full rundown of how both companies seek to grow their share of the market moving towards 2017 – and we'll be there in force to bring you all the latest and greatest information first hand.
What is your most anticipated E3 announcement? What features and games would you like to see Microsoft announce in June? Let us know in the comments!
Jez Corden is a Senior Editor for Windows Central, focusing primarily on all things Xbox and gaming. Jez is known for breaking exclusive news and analysis as relates to the Microsoft ecosystem while being powered by caffeine. Follow on Twitter @JezCorden and listen to his Xbox Two podcast, all about, you guessed it, Xbox!
Excited! :) Windows Central app

What they should do is delay their E3 presentation till after Sony's, then they should subtly mock their PS4.5 announcement (like Sony mocked them in 2013) by proclaiming their commitment to Xbox One as it is--no fragmentation for consumers, no extra work for developers, just commitment to their console, their customers, and developers. And, if Frank Underwood worked for Microsoft, he'd be smart enough to plant people in the Sony conference to boo on cue when Sony screws over their customers and developers with the PS4.5 announcement. That would make for some great theatrics and set up Microsoft's retort later on.

Let me guess, you're a twelve year old who's taking this console war too seriously?

Honestly, apart from Crackdown 3 nothing else mentioned seems particularly interesting to me. I'll be getting GoW4 but everything else I expect will be just more teaser trailers. Hopefully Crackdown sees a release sooner rather than later.

I think if anything there will be an update on the controller and it will have a dedicated button and microphone for Cortana. Additionally, it will likely add the new quick charge feature as well as longer battery life. Posted from Windows Central for Windows 10

Yeah, that'd be awesome. Wouldn't say no to dedicated sharing buttons either.

The ONLY thing that could convince us to pull our Xbox One out of the storage shed would be if they were going to bring back the Kinect functionality. As soon as that died and they went to the unreadable and stupidly-designed menu system we disconnected ours.

https://xbox.uservoice.com

Scuba, we know you will be first in line...

Spot on. The Xbox One was far more interesting before the awful NXOE was imposed on us, forcibly removing features like Kinect gesture navigation that was wrongly stolen away by Microsoft. They promised that "Kinect is Xbox One" and then haven't published a Kinect game since Septemer 2014 and, instead, made the console worse by abandoning its most interesting, distinguishing features.

Kinect gesture navigation was the most interesting and distinguishing feature?

The current dashboard is simply... disgusting, much like the PS3 dashboard. The PS4 dash is somewhat... appealing. And I agree, looking forward to having Kinect functionality back.

Like always, that's a stupid, stupid reason to not use your Xbox. Shouldn't you be entertained by media you consume, not waving your hands around to navigate the UI?

By that logic someone can't use live tiles as a reason to get a windows phone, because the consumers interaction with a device has no bearing on whether they should get it, right?

I think the future of Xbox live is pick up any device, attach it to the TV/monitor and have access to your entire library. At some point in the next 5-10 years 100-150 Mb/s into the home will become mainstream, at that point gaming as a service can become a real reality. That would be game over for Sony. They don't have the 6-8B global cloud infrastructure to compete with Azure. Microsoft is the only company with the Gaming IP & credibility + global cloud infrastucture to pull of the gaming version of Netflix. Unlimited cross device access to all MS 1st party 360+x1 games + EA access for 10 a month would be interesting.

Game over for Sony that already has streaming available to their phones and handheld console? Dont know why its always so confontational with Xbox fans but i doubt anything Microsoft can do will cause anything close to "game over" for Sony.

SOny does not have streaming games to phones. Vita and PC, that's it.

It does stream to flagship Xperias'.

Forget local streaming, try to use psnow in Austrailia, Brazil, China or Vietnam then get back to me. Because of Exchange, Office 365, Skype, Outlook.com ect. microsoft has servers all over the planet. Sony doesn't have the global cloud infrastructure to compete on that level, they would have to partner with other major cloud players where they couldnt compete on price or invest billions that they dont have.

hyped as ****.....really...hopefully this time M$ not stay behind on New Xbox Hardware....and about halo 6....Games in Now days Require Much time to Make....so not really single hope for that...people do not afford two halo announcement at same time...so Halo wars on this time and Save halo 6 for Later...

Regarding a completely new Xbox, Microsoft should wait atleast for a year (or two) more to see what Sony presents with the PS4K. Given that many people would want to hold out on an upgrade as the 4 isn't too old, Microsoft might have an opportunity to capture consumers 2 years down the line as 5 years would be a decent time to upgrade. By that time, the small excitement around the PS4K would probably die down and Microsoft would have the opportunity to present a better product. Sure, they would lose sales now but if they follow what I said, Sony wouldn't want to lose out on sales and would again come with an incremental upgrade which would anger a lot of console fans. While I'm no senior analyst, I think it makes a lot of sense.

I have been waiting so long for the early teased Class 4, which State of Decay was pretty much just a single player tech demo for. State of Decay is one my favorite games, despite performance issues. Nothing but crickets has been coming from Undead Labs since they teased a multiplayer title back in 2011 or 2012. I just figured that the project was silently killed off, especially after they announced Moonrise.


Pretty sure State of Decay 2 is still on the way.

Forza Horizon 3. That's all I need. Especially if it hits 60fps on PC

I think we're almost certain to see a new Xbox with upgraded specs this year. Phil Spencer has already flagged it. Sure, he said that he didn't support incremental upgrades, but the AMD Polaris architecture will be able to provide more than 4 TFLOPS of GPU power in a chip of a similar size to the Xbox One's, which is more than 3x the GPU power of the Xbox One. That isn't incremental. I'm unsure whether we'll see the new Xbox at E3 though - it would kill Xbox One sales until the release of the new console. I wouldn't expect anything modular either - Xbox is about plug in and play.

I just need to know what those back compat-level features are, it has me excited for e3.

So ready to go cloud. No more discs, no more digital download. Cloud is the next step in the evolution

Original Xbox backwards compatibility would be awesome! I'm really looking forward to being able to play MechAssault and Star Wars Battlefront 2 again.

My most anticipated E3 announcements: Faster and smoother dashboard Smaller Xbox One for the bedroom OTA DVR and can share recordings between Xbox One's on my network

I just want to see an Xbox with Ultra HD Blu-Ray and 4k streaming. Haven't had a console since original Xbox, and it would take both of those to get me to buy a new one.

Any news on the TV PVR functionality?

I haven't heard anything since a month and a half ago with the rumored internal testing.

ReCore... I must see more of ReCore.

looking forward to the show.....got the day off

Halo wars 2 & the next forza(really would've liked to see them have a water sports entry like shown on that 1 April fools day) & couldn't care about slim. Yeah original ges while nice most lack xbl & even then requires patches for stuff like the uncapped friends limit. Cant wait for dvr support though I now need an anntenuater to get my new preamp to that sweet spot

New Xbox should have 3.5 mm audio out

I'd be super content with just a logo teaser of Fable 4. I know Lionhwad are done and dusted, but the franchise (which is quite well tied with Microsoft), could possibly have a fourth instalment. Lionhead went off the rails with it, so a new dev might be refreshing, and make the next game more like 1 to 3. Also (this might be horrible), but they have at least the foundations for an online mode on the side with Fable Legends.

Of course you can remotely stream outside your network theres even an app for it
https://www.windowscentral.com/e?link=https2F%2Fclick.linksynergy.co...
Windows Central Newsletter
Get the best of Windows Central in in your inbox, every day!
Thank you for signing up to Windows Central. You will receive a verification email shortly.
There was a problem. Please refresh the page and try again.