Educational endless runner, Get Water arrives on Windows Phone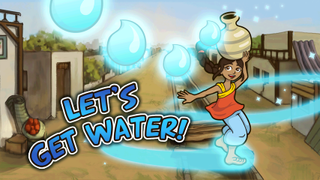 After having spent some time on iOS and Android, the developers behind Get Water, Decode Global Studio, have finally made the game available on Windows Phone. If you're not familiar with the game, Get Water is the educational side­scrolling endless runner that aims to bring attention to the water scarcity in India and South Asia, and the effects it has on girls' education.
It tells the story of Maya, a girl who loves going to school and learning new things, but as the village's water pump is broken she keeps getting pulled out of school to get water for her family. The faster Maya can collect water, the faster she can get back to school to learn more.
Gameplay - Get Water is a side­scrolling endless runner with story elements. The player helps Maya collect water and other collectibles, as well as avoiding enemies, by drawing a line she can surf on. In addition to controlling Maya's movements the player can tap on the screen to make Maya throw a boomerang to fend off enemies who will try to break her water pot. By collecting water the player unlocks new chapters in Maya's story, shown as still­ image videos, and Maya learns new skills so she can collect water faster and protect it better.
Educational aspect - The story highlights the effect water scarcity has on girls' education in slums and rural areas of India. After each run the player gets additional information about water scarcity, how it is used nowadays, and how to conserve it in everyday life. In addition to the information found in the game, a six part lesson plan for 4­6 grade teachers is available on the game's website in PDF format to download for free.
Get Water is available now on the Windows Phone store for $1.99 but there's a free trial offered as well, so you can test out the game for you and your kids before you fully commit. We'll be taking a further look at in a few days here but for now, go ahead and give the free trial a go.
Get the Windows Central Newsletter
All the latest news, reviews, and guides for Windows and Xbox diehards.
Well... Education is an endless process so pairing it up with an endless runner game seems devilishly clever :P

The only comeback I have for this is... Ha Ha!! lol

Wow that's a cool story, we don't realize sometimes in the US how hard other countries have it but yea cool idea and game.

Some people know it but are just insensitive or ignorant about it "I'm glad I'm not them" type of attitude.

as opposed to "I liked it on facebook so I care"

Faster arrival then other "official" apps ;-)

Education endless runner?? My high school teachers may disagree :P

Decode "Global", why not publish here in Brazil?? :/

Simply change the region to India for a while.. By the way its a paid, in case if you don't know..

Guilherme is concerned more about the general state of Windows Phone in Brazil than his own personal gain; developers often do not publish their games in Brazil as they are not fully informed about the rating/ certification system there.

Thanks for understanding me.

Travel in another country.

I just came here to read the comments ;)

If you came here just to read the comments, why did you just leave a comment?

More games to ignore because they're aren't Xbox for Windows Phone.

Xbox... is... dead... Don't ever hope for another Xbox title, until Microsoft simplify their Xbox certification process... But if you want to ignore many good games, just because "No Xbox, no buy" or "Where is Xbox Live" or whatever, that's your choice.

lemme download first n thn review

Ok I tried it out. Not bad. But why is she killing peacocks with boomerangs?! I'm a little concerned about the message they are getting across.

Am I right in thinking this 'fun and educational game' is basically trvivialising the hardship faced in many countries about the balance between basic survival and the opportunity to improve ones chances of a better quality of life through education? I feel a bit uncomfortable about that, am I missing some subtle, clever irony?