EE announces £1.5 billion network investment to bring 4G to everyone in the UK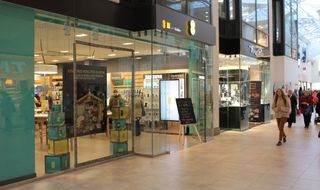 UK mobile operator EE today announced plans to invest £1.5 billion in network improvements over the next three years, with the aim to deliver 4G to more than 99% of the population. The company also plans to roll out double-speed 4G to 90% of the UK by 2017. The plan is the result of pressure from the UK government for operators to tackle signal 'not spots'.
Rural investment is on the cards, which will bring enhancements for both voice and data services to 90% of the UK, connecting every home to minimise areas where reliable signal is hard to come by. These pledges are to see EE combat inevitable problems that will arise through changes of how the general population is using mobile infrastructure.
To read more on EE's investment plans, see the official announcement on the network website.
Source: EE (opens in new tab)
Rich Edmonds is Senior Editor of PC hardware at Windows Central, covering everything related to PC components and NAS. He's been involved in technology for more than a decade and knows a thing or two about the magic inside a PC chassis. You can follow him over on Twitter at @RichEdmonds.
Are the internet speeds are faster overseas?

Depends on distance. Connecting from UK to Australia is certainly going to be slower than connecting to a UK server, but connecting to other European servers will seem just as fast as connecting to UK servers (though they will be technically slower).

Except for the fact that 99% of the population equates to probably 60% of the country. The rest of the country will still be suffering slow 2G!! So venture out of an urban area and speeds will grind to a halt - pretty much the same situation as now. This is where three kills the competition, their 3G (HSDPA2+DC) is almost as quick as others 4G and it covers 98% of the actual country!! With obviously their 4G network helping things along in more urban areas. I think its high time ofcom banned this use of the word "population" - its deceptive and shares no reality with the actual coverage across the country. 99% of the population lives in the towns and cities, and they do venture out of towns and cities sometimes, and expect a good, strong, fast mobile phone experience when the mobile companies are happy to take the billions of pounds paid for by consumers and businesses.

When available the 3 service is good but unfortunately as they no longer have a 2g signal their indoor phone service is very poor even in London.

Well, EE's solution is just to squeeze their 3g spectrum to convert to 4g. Everyone I know on EE has incredibly poor call quality, it sounds like I'm talking a bunch of crypting mumbling johnny-5's all hopping around in background high on a virus.

I cant say I have that problem now since the 4g has really kicked off

They need to solve the indoor signal!

Its a tough one. You have essential two types of network in the UK. 1. Fast data speed, higher quality calls, lower indoor coverage
2. Better indoor coverage, lower data speed, lower quality call Its based on the radio frequency of each network. It gives the networks major pros and cons though. I found when I used Vodafone or O2 I got signal indoors all the time, but data speeds were poor in comparison to EE and Three.

Now we know why there is a market for dual-SIM Windows phones :)

In Edinburgh (or at least the part of it where I live) they are the only network with reliable indoor signal. I've tried O2, Three, Vodafone, Giff Gaff, Tesco mobile and Sainsbury's mobile.

Nokia most likely will get the deal to provide these networks. You know the Nokia that was NOT bought by Microsoft :)

Maybe, or it could be other companies like Huawei.

They could do with solving the issues for people who already are supposed to have 4G but cant get it !

Ahh EE and their big plans. Still waiting on the WiFi calling they promised in autumn. Only reason I changed to them. Had to go around in circles for them to provide me with a signal box. Doubt they have any plans for n.ireland. Always ignored by these sorts of companies.

If you read the link they've put "WiFi Calling enabled on a range of iOS, Microsoft Windows and Android devices to enable mobile calls and texts for every home, office and recreational venue with broadband from 2Mbps"

You mentioned WiFi calling, and I didn't know if you'd read the whole press release.

Thanks but my point is that they seem to like the big headlines and (so far) not much as come from them. Promised WiFi calling was launching at the end of autumn, then before Christmas and still nothing. They announced in December about launching 1500 micro mast networks for rural communities...All talk, little action!

I appreciate this but it is still too expensive. I still have to wait a couple of years at least to fully enjoy 4G

Shouldn't it be BT announce instead of EE

I don't understand how several countries the size of Michigan combined is not covered 100%. But people complain that there's no service in the middle of No Where, OK(real city) Posted via the Windows Central App for Android

You've answered the question in your question. Despite the relative size of the UK countries we have a lot of cities a lot of varied terrain and for its size is highly populated. We also have a lot of laws regarding protecting the green belt, where and where not masts can be built. There's a lot of red tape and rightly so, some things are more important than the speed of my phone connection.

All they have to do now is make it affordable, Unlike the stupid price plans at the moment. Who wants 1gb £15.99 3gb £21.99 and 5gb £27.99 its a joke even if that do come with unlimited txt and calls. Its only £25 on Three for unlimited Calls, Txt and 4G data... Also you got free roaming in some countrys.

I'm paying EE (on pay as you go) £15 for 300 min, 2 GB of data and unlimited texts, and I've so far never exceeded any of my allowances. I used to pay roughly the same amount to Three (albeit with unlimited data), but had to leave them because of their complete lack of indoor signal.

I found EE reception the best. Add 4G and I pay extra compared to Three but so be it.

The flipside with Three is that their 4g speed is nothing to write home about. You cant really complain because it is a free addition, not a payed service. I used to get some sort of 4g lte signal at home when I joined three but now I don't, just max of 4 bars of HSPDA not even H+. However the fact I get unlimited data outweighs the cons for me personally.

Good news. But wish EE would spend 0.0001% of that on a decent WP app and Denim roll out .. Sigh ;)

They've already rolled out Denim (I think this was reported some time ago on this website), at least for 930s.

I have Denim from EE on my 930. Also, I use the EE app continuously and it works perfectly for me.

Interesting in the news article that they're going to be offering WiFi calling to WP: "WiFi Calling enabled on a range of iOS, Microsoft Windows and Android devices to enable mobile calls and texts for every home, office and recreational venue with broadband from 2Mbps"

I'd rather have Orange Wednesdays back. Or in fact Orange themselves

I'm still getting it, well did last week! And just tried now and got my code for tonight!

For now, yes you did.
I'm with Vodafone these days so wouldnt know. I was considering switching to Three, but with all the mergers I think I'd rather stay put. On past record, the mergers benefit no-one but shareholders. Orange had great customer service back in the day, but now going by what my girlfriend has to put up with on EE it's luck of the draw. http://www.google.co.uk/url?sa=t&rct=j&q=&esrc=s&source=web&cd=1&cad=rja&uact=8&ved=0CCMQFjAA&url=http2F2Fnews2Forange-wednesdays-end-ee-cancels-4791973&ei=YJHbVJvJA4Os7AbdwICYBA&usg=AFQjCNFIv3WS_qQjArIZfmi_TeyHLQY-pQ&sig2=Kd4j5T-5lXjl4KtTmlifNg&bvm=bv.85761416,d.ZGU

They promised something new to replace it. Me thinks it will be buy/rent films on your phone. Which for me is a waste of space. Once 241 stops I will call them to complain.

I thought EE was being purchased by BT for 12 odd million?

Agreed deal but yet to be completed.

What is double speed 4G? Surely that would be 8G, maybe!

The limits of 4G are very high. Much higher than even EE's 60meg double speed offering.

Great cant wait to test this in certain areas

http://youthincome.com/?user=28125
Windows Central Newsletter
Get the best of Windows Central in in your inbox, every day!
Thank you for signing up to Windows Central. You will receive a verification email shortly.
There was a problem. Please refresh the page and try again.