EE powers new and existing customers with a free Power Bar to charge smartphones
UK mobile operator EE today announced that new and existing customers will be able to claim a free Power Bar on qualified plans.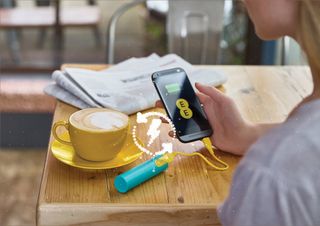 To be eligible for this Power Bar mobile charging kit (which will be made available in the coming weeks), you'll need to be on a 30-day, 12, 18 or 24 month contract, be it mobile, fixed line or broadband. PAYG (Pay As You Go) customers are also eligible, but they need to have been with EE for at least three months. All you need to do is text "POWER" to 365.
Those of you who are only broadband customers, the instructions differ slightly. You'll need to text "JOIN" and your EE landline number to 60005. This will result in a redemption code being provided, which can be used to collect a 2,600mAh Power Bar. This charger can provide some much-needed juice to your smartphone when a power outlet is not available.
As well as acting as a mobile charger, the Power Pack also features an LED torch and indicator lights to show how much power is currently available. Not only can the portable battery be charged at home, EE will swap a depleted Power Bar for a fully-charged replacement bar at any EE store nationwide – for free and as many times as you like.
As noted already, this offer will kick off in the coming weeks. See the press release below and contact EE for more details.
London, 2 April 2015 – EE, the UK's most advanced digital communications company, has announced the launch of EE Power – a free portable smartphone charger with unlimited swaps in store – available to all active* customers on mobile and broadband plans in the coming weeks. The innovative scheme is designed to ensure that EE customers stay charged at all times with 'never ending power'. EE Power is the latest initiative to demonstrate the brand's commitment to reward all new and existing customers and forms part of EE's plan to become the number one network for service.
From launch, EE customers will be able to pick up a free Power Bar in any EE store by requesting a unique code via text. Once the EE Power Bar has been used to charge a device, customers can recharge the portable battery themselves or, if out and about, they can swap it for a fully-charged replacement bar at any EE store nationwide – for free and as many times as they like.
It has been just over two years since EE introduced 4G to the UK and network usage has grown exponentially in this short period. Video streaming and social media engagement now accounts for over 50 per cent of all data use on EE's network as customers access more content on the move. However, this increased activity comes at a cost to battery life and recent research2 shows that there is a genuine consumer need for more power –
Nearly 60 per cent of UK smartphone users claim their battery doesn't last a full day Over half of all smartphone users wish there were more ways to charge their phone in public places - this rises to over 70 per cent of 18-24 year olds Pippa Dunn, Chief Marketing Officer EE, said: "Almost everyone's experienced the frustration associated with running out of battery and it always seems to happen when you need your phone the most. With EE Power, we're trying to help by giving our customers a Power Bar that can simply be swapped for a fully charged one at any of our stores, at any time, for free."
All eligible* customers can get their free EE Power Bar when the promotion launches in the coming weeks by texting 'POWER' to 365 to receive a promotional code. Texts cost 35p and customers can collect their free EE Power Bar by redeeming this code at any EE store across the UK. Each Power Bar typically gives one full smartphone charge per use.
For more information about EE please visit www.ee.co.uk
Rich Edmonds is Senior Editor of PC hardware at Windows Central, covering everything related to PC components and NAS. He's been involved in technology for more than a decade and knows a thing or two about the magic inside a PC chassis. You can follow him over on Twitter at @RichEdmonds.
Mate there's 2,200mah bars in Asda for £5. Cheaper than that coffee.

As an EE customer, I know how much they text me with stupid offers every week, even though I've asked them to stop. I'd rather buy one of these things than text away at a cost of 35p and then essentially give them permission to send more promotional crap to my phone.

Just filter their number or something..

I did text away but no code yet.

Promotion not started yet

Ah! Thanks. Wish the article had made that clear.

Nifty, basically they want to make sure you are consuming more and more data lol. Data, gold ad infinitum.

That's a nice gesture and everything but they should work on inventing new batteries and technologies that will make smartphones last like a freaking week instead.. Come on..

In the UK do the carriers themselves make the phones?

Inventing new batteries isn't their job.

By "they", I mean the people who are responsible, not the carriers.. Duh.....

Yes because that was clearly obvious. Maybe you should make more effort in making clear what your comments mean rather than having a go at others that interpret it incorrectly because you can't be arsed to.

If there are people who think and believe mobile operators actually make phones and batteries, then those people are stupid, on which occasion, yes, I can't be arsed. Everyone has to find something to be bothered by in this place..

There you go again, having a go at everyone else. Nobody said anything along the lines of 'Yeah EE need to be making better batteries' etc.
I'm questioning what you're saying not anyone else and if you haven't made it clear what you're saying then you're going to get replies like this, especially when you imply that the people responding are stupid. People are usually bothered by that...

Already have a power bank. 10,000mah because lets face it something like this is not much use for a phablet. Very rare I need to use it and when I do it's if I'm at an event etc using my camera a lot. It's a fair gesture mind.

Kinda whished Nokia didn't skimp on the icon/1520 if they knew that the full potential of them was going to be enabled down the road why not include a proper charger

How did they 'skimp' on the 1520?

whattttttttttttttttt . flip me there arse musta fell open

Going away with the family in a few weeks so hopefully I can pick one up for the journey.

For £0.35p it is an amazing offer
Windows Central Newsletter
Thank you for signing up to Windows Central. You will receive a verification email shortly.
There was a problem. Please refresh the page and try again.