EE to scrap Orange Wednesday 2-for-1 cinema ticket deal after a decade in service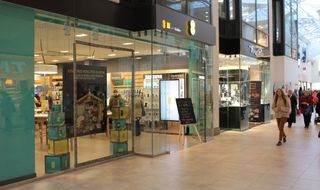 EE will be scrapping the Orange Wednesday 2-for-1 cinema ticket deal after being available for a decade. Customers of Orange (and subsequently EE) have enjoyed a weekly deal that allowed them to head down to their local cinema to check out the latest blockbusters at a reduced price. This offer will no longer be available after February 2015, but the carrier stresses they are working on a worthy successor. According to Marketing Magazine:
The reasoning behind the move is due to EE failing to agree terms with its commercial partner, film distribution body Cinema First. It was a strange service to remain active under the EE branding, especially given the operator has been pushing 4G and movies since becoming the umbrella brand. It's not yet known what deal will replace Orange Wednesday.
Source: Marketing Magazine
Rich Edmonds is Senior Editor of PC hardware at Windows Central, covering everything related to PC components and NAS. He's been involved in technology for more than a decade and knows a thing or two about the magic inside a PC chassis. You can follow him over on Twitter at @RichEdmonds.
That looked cool. How many of you actually used the benefits?

I did it almost every wednesday while at uni. This offer plus a student dicount would bring prices down to about £2.20 a ticket!

I do, lots. And watching a film at the cinema is far different to watching on a phone, especially blockbusters. Is it an attempt to try and squeeze people to buy films from EE on their phones. If so, major fail!

There wasn't much point. The cinemas do a cheap Tuesday, where the ticket prices are lower than the 2-4-1 ticket price, and its dead quiet. Unlike orange Wednesday which was always busy. The other benefit of course that besides already being cheaper, you really see the discount if there is an odd number of you.

Terrible network anyway have no idea how they keep winning awards for best network

Because they have the best signal, so it makes perfect sense to call them the best network. Also, in my case they were also the cheapest for what I wanted (Pay as You Go).

I have been with Orange for the best part of 10 years never any problems apart from the odd connection or call drop issue that. Was always sorted then along came EE & There ignorant arrogant bullshit filling ass holes I have ever had the displeasure to come across. They put you on hold for ages then put the phone down on you they are the worst form of people I have come across & that's no joke

Before I switched to EE I didn't realise there were still places you couldn't get signal. Unfortunately the places I couldn't get signal were in my town centre office, my suburban house, or anywhere in between... Switched back to Three after 3 months and haven't lost signal again since... And I get all you can eat data :)

Sorry, but nobody can claim that three is better than ee. EE constantly get awards for having the best signal and three is constantly proved to have the worst signal in the UK. Three defiantly is cheap, but there's a reason for that, their crap.

Three usually come in second place, not last.

It is not that bad. I got a good deal with the Lumia 930, and 4g coverage is great. It's a good network

A friend of mine is still on orange, purely for orange wednesdays lol.

Go on Tuesday, its quieter, and its cheaper than orange Wednesday anyway...

Or take out Prudential health insurance, and you get a free cinema ticket every week. Plus 50% off virgin gyms which is a £50 saving on the gym alone.

Glad I left and moved to Three for unlimtied data. I did used to use Orange Wednesdays, it was a nice perk.

What does this have to do with Windows? I have the Guardian for news like this.

"Filed under: General News"

Considering the roots of the website, in mobile technology, it's more relevant than the usual Xbox shite we have to wade through.

What does any carrier news have to do with any of the ecosystems? (since it's on all the sites) Well, your precious Windows Phone would be a nice paperweight without the carrier service. So if they make changes to anything, expect to see it here. Maybe someone planned to sign onto this service, and this is one of the many perks the had in mind. Seeing as it will know longer be there, this allows said person to make a better decision if needed. It let's existing users no it's not available anymore. Etc. Posted via Windows Phone Central App

Considering I heard it first here (who wants to read the Guardian), and its a service I use a lot, this article belongs here and is information appreciated.

Is that worldwide decision or UK only?

EE is a UK only company, they don't have anything to do with any networks outside the UK. What exactly are you talking about?

I think you need to check a fee things,??

EE is a UK subsidy of Orange (a French network) and Deutsch telecom. However I believe the deal was uk only, could be wrong, they might have orange Wednesdays in other countries which have orange as a carrier

As far as I am aware EE is no longer involved with Orange or Deutsch Telecom.

Didn't you even just type "wiki ee" prior to posting that nonsense?

It's been two months since I switched to EE. Still can't log in to my account on their website. They will always tell you they are working on it..Liars.I'm so going to switch to Three next month. EE sucks

Been with them for years, their website never works

Have you ever tempted to switch to other networks?What makes you stay with them?Contracted?I was suckered by their claim that they have the widest coverage in UK when I'm staying in London and the signal always drop from LTE to H.I only got 1 bar in side my house.

Have you installed the EE app? I don't use the website as this app gives me all the info I need.

i have.It's totally broken on WP8.1.

I logged into this app and it would not work. Went back an hour later to attempt logging in and it was working. Really odd behaviour, but this has occurred again when I got a new phone. It does fully work now though. Just giving you my experience in case it helps.

I just noticed that the app got updated like 1 hour ago. Will give it a try. But still,more than a month to fix the website is totally unacceptable. I went for a trip to marseille earlier this month for a week and I accidentaly forgot to top up my credit before flying off. It was such a pita when you cannot do online top up.

I found the 2-4-1 service brilliant, even though I eventually left Orange (EE) earlier this year. Even an old pay as you go account kept in credit gave you access to this deal. But EE seem too expensive for very little service. I moved to Virgin Mobile which uses EE masts, so I still get good coverage in the UK. Despite having a L1320 I'm not sure if 4G is good value especially the expensive tariffs on EE. Can any UK users give me their opinions on the best 4G networks/tariffs

Can only say that now I'm on 4G (EE) I would not like to go back to 3G.

4g stops at bath so 3g is all I can get, to be fair 4g is expensive in comparison, I use WiFi mainly for data! 1520 lasts days with Bluetooth and WiFi perm on!

not worried about that silly gimmick of an offer. Where is wifi calling that they promised?

I hope the amount of money they save by pulling this "feature" may go some way to lowering the price of Orange/EE/TMobile unblocking code costs, currently standing at £24.00 they ask the highest price for any Lumia model compared to the other providers. Vodafone unlock for £6.99 U.K, others are not much more. Orange are simply the most expensive, slow to release updates and slow (at best) to resolve technical issues! Quick to jump on billing though. That's why my Wife switched to O2!

Simple answer, don't bother buying locked phones.

Gutted. I use that a lot. Last film was Interstellar which by the way is in my top 3 films.. Awesome Posted via the Windows Phone Central App for Android

I don't have Orange as my main network, I only had Orange pay as you go to get the orange Wednesday, but since they became part of EE, something went wrong when I tried to get orange Wednesday and there was no credit on my phone, I put more credit on the phone and tried again and same thing, when I signed in online, it had someone elses name and address so I have a feeling orange/EE gave my number to someone else, I keep forgetting to take it up with them, because when I went to an EE store they said call Orange customer service, and I didn't bother because my main network is O2, which I have been on for 13 years!!!! I have never had a problem with them or Carphone Warehouse!!!! Carphone Warehouse is the only place that sells the most variety of handsets/makes/models/colours, they are the only store that sold the Nokia N95 8GB version, N8 in black and now to move on they sell a variety of Nokia/Microsoft handsets, only problem is they actually tried to convince me to move away from Nokia, which I don't like, they should give me options, not choose for me, so I asked them to show me a handset that has a camera equal to the 1020 which is what I have and he was stuck for an answer!!! Anyways to my main point... Priority Moments on O2 are the best!!!! They have got a wide variety of partners so we get an immense variety of free stuff like:
Halfords:
Washer Fluid, Bike Lock, windscreen scraper, Anti-freeze, a bucket, carwash fluid and sponge
WHSmith:
Chocolate Coins, Calendars, Wrapping Paper, Folders, Highlighter Pens, Note Pads, Xmas cards
Cineworld:
Free tickets to cineworld now and again, 45% off cinema tickets weekly free popcorn, deals on chocolate
Free chocolates from Hotel Chocolat
GAME store normally give you free action figures like the ones in Sky Lander, or Disney Infinity
Free socks from BHS
And together with that you get discounts for loads of restaurants for the location you are in and various competitions for cinema tickets, vacations, goody bags, signed merchandise and loads more.
You also get priority tickets for comedy stand up performances, sporting events and music events!!!! It's amazing, I love O2 for this reason and I also got an Xbox 360 with a Kinect and 4 games for free with my Nokia N8 upgrade, so this is why I can't fault them!!!!!
Windows Central Newsletter
Thank you for signing up to Windows Central. You will receive a verification email shortly.
There was a problem. Please refresh the page and try again.