The Elder Scrolls Online getting 'Project Scorpio' upgrade this year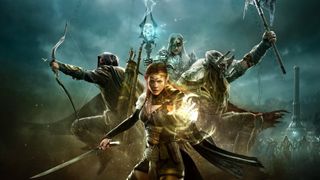 While it's been quite some time since Bethesda's last entry to the main Elder Scrolls games, its MMO RPG, "The Elder Scrolls Online," has been a focus of the company's efforts in recent years. We now have confirmation that Bethesda plans to upgrade the game later this year, to bring support for Microsoft's upcoming "Project Scorpio" Xbox console.
In an interview with Finder, Creative Director at Zenimax Online Studios, Rich Lambert, outlined the developer's plans to upgrade the game to leverage the extra power provided by Project Scorpio. Following a patch late last year which delivered an upgrade for Sony's PlayStation 4 (PS4) Pro console, Lambert expressed plans to offer similar visual enchantments.
Following this statement, Lambert continued to outline the hardware improvements which will best aid a multiplayer-focused game like The Elder Scrolls Online.
While it's yet to be seen how The Elder Scrolls Online holds up on Project Scorpio, the hardware breakdown we've already received seems promising. Packing 8 CPU cores clocked at 2.3GHz, 12GB GDDR5 memory and a 1172MHz GPU with 40 customized compute units, the console far-exceeds competitors in the console space.
Based on the PS4 Pro patch released last November, we already have an idea of what's in store for Project Scorpio owners. While native 4K is available, a separate "1080p Enhanced Mode" also brings improvements to ambient occlusion, water reflections, and shadow fidelity to full HD displays.
For those wanting to get started with The Elder Scrolls Online today, be sure to check out the game's latest Morrowind expansion, which just launched on Xbox One. As always, stay tuned to Windows Central for future updates on all Project Scorpio titles.
See at Xbox Store (opens in new tab)
Matt Brown is Windows Central's Senior Editor, Xbox & PC, at Future. Following over seven years of professional consumer technology and gaming coverage, he's focused on the world of Microsoft's gaming efforts. You can follow him on Twitter @mattjbrown.
i have to say, im happy seeing developers jumping on xbox Scorpio, also PC only developers bringing their games to xbox or are considering it.

Could you provide me where you hears this PC only info from? Don't think your lying, just want to see before i go telling my friends.

MMORPG's (like ESO) are classically PC only it wasn't until this generation that any MMO's came to consoles in a big way.

I thought he was more referring to Scorpio gamers buying PC games from the Windows 10 store. Which is quite an old rumour from January. Sort of like Scorpio being a PC box and a console box in 1.

If Star Citizen gets released on the Scorpio I will be a very happy chappy. This upgrade will also be much appreciated, it's an extra notch in the pro column for me getting the Scorpio.

I doubt Star citizen would come to console. Their developers said they made it on PC for zero compromise. That being said Scorpio would be the prime candidate if they bring it to console. It's got the specs for it.

Great news.
Playing almost 800 hours...time to play in 4k🎮

I should really play some more ESO but I have so many games to finish/start jumping into an MMO is going to kill me.

A creative director that doesn't know what Microsoft has in store with Scorpio? When the dev kit has been out for over a month? I know he can't talk about it due to NDA, but "I haven't spent time digging through it" is a really stupid answer.

The 1TB hard drive in Scorpio is gonna be eaten alive with the 4k stuff. Can't wait.

Yeah, I'm probably going to get a 4TB drive external if I take the plunge on Scorpio. I have a bad habit of having a few dozen games on the go at once. That is providing they actually push ultra high res textures, if it's just a res bump and some advanced Lighting/particle effects then the size difference won't be major.

Hopefully. Still, I reckon 2TB min would be desirable. Depends on whether external drives are still quicker than internal.

You know The Coalition have just designed and released a new compression agent. Which took the Gears 4 file from over 50gb down to 25!!!! I can see this becoming the norm across the industry fro Xbox games. So HDD space won't be as much of an issue as you think.

That's not quite right, I think.... Sure it took it was nearer 90GB.

I have money....please take it.

I think they should enable true cross-play on PC and Xbox/PS4. ESO is the kind of game in which playing on PC or console doesn't make any difference besides mods, but those could technically come to consoles too since Bethesda have been doing that for their newer games. I usually play ESO with a controller on my PC and even find the gameplay better than keyboard and mouse in that particular game.

All of Tamriel with 4k textures and assets.

Underrated game. Definitely a plus for the Xbox.
Windows Central Newsletter
Get the best of Windows Central in in your inbox, every day!
Thank you for signing up to Windows Central. You will receive a verification email shortly.
There was a problem. Please refresh the page and try again.