Electronic Arts brings a stellar lineup of games to E3 2015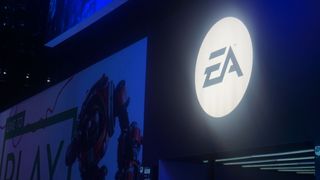 With so many new press conferences going on during E3 this year, the established publishers face more pressure than ever to deliver a good show. Last year, Electronic Arts' press conference left something to be desired. They just didn't have a lot of games far enough along to be shown, and so we got lots of concept art and teases rather than substantial presentations.
Luckily, EA came to E3 2015 with a much better presentation and several compelling playable games. This year's lineup of titles includes Need for Speed, an impressive Star Wars: The Old Republic expansion, Unravel, Plants vs. Zombies Garden Warfare 2, and the heavy hitter Star Wars Battlefront. On the mobile front, Minions Paradise looks like a fun game for the city building crowd.
Read on for our breakdown of EA's E3 2015 software lineup!
Need for Speed
During EA's E3 press conference, the mega publisher explained that its latest Need for Speed will celebrate and combine 20 years of series history to create "the definitive Need for Speed experience." Fancy talk for what amounts to another sequel, albeit one with better than ever production values.
The new Need for Speed features an open world environment, much like NFS: Rivals. The in-game map weighs in at twice the size of that game's, however. Players will once again cruise around challenging other racers and joining in different event types, all while avoiding the cops.
Like most of EA's new slate of games, Need for Speed is built on Dice's Frostbite Engine. The in-game footage we saw certainly looked quite a bit better than 2013's Need for Speed Rivals. This demo featured a race type called Drift Attack. Taking place at night, it had a very cinematic feeling. The new-gen lighting effects especially stood out.
Apparently fans have been asking for more customization options in the Need for Speed series for years. At last, they'll get a robust customization offering to rival more serious racing games like the Forza series. The interface for swapping parts out won't be accused of sterility – it's as flashy as the rest of the game.
Need for Speed will race onto Xbox One, PlayStation 4, and Windows on November 3rd this year.
Star Wars: The Old Republic
The Old Republic is a massively multiplayer online RPG (MMORPG) set within BioWare's "Old Republic" era of the Star Wars universe. The game has received some criticism for not delivering enough of the story-focused gameplay that players of the original Knights of the Old Republic loved. 'Knights of the Fallen Empire' aims to fix that.
Coming on October 22nd, the 'Knights of the Fallen Empire' expansion is all about the classic KOTOR experience. It centers on a battle against a dangerous new faction (whose identity has yet to be revealed). The player's choices will apparently determine how the Galactic Republic and Sith Empire fare against this new threat.
EA promises nine chapters of Bioware-style storytelling in the new expansion. Players will get to explore new worlds, meet new companions, and make dynamic choices that affect the outcome of the story.
'Knights of the Fallen Empire' will be free to all Old Republic subscribers. Gamers who play Old Republic for free will need to purchase the expansion.
You can try Star Wars: The Old Republic for Windows now at StarWarsTheOldRepublic.com.
Unravel
Giant publishers like EA and Activision tend to crank out nothing but big budget AAA titles and sequels nowadays. That's what makes Unravel so exciting. Unravel is essentially an indie title developed by Swedish team Coldwood that EA has picked up as publisher.
The game stars Yarnie, a character made from a single thread of red yarn. The developer constructed a real-life Yarnie doll and took photographs of him in various environments to conceptualize the game.
Coldwood believes that games should do more than just entertain us. They need to be personal and made with heart. In the case of Unravel, Yarnie himself unravels as he moves throughout each level. The yarn represents love and the way we feel when we travel and become separated from people we love. Artistic!
Unravel is a puzzle platformer built around Yarnie's unraveling nature and powers. For instance, Yarnie can swing around on his yarn to reach new places. In one exciting sequence, he ropes a fish and uses it to pull his raft through a river. He also has to deal with enemies like a rampaging guinea pig, truly one of nature's most dangerous creatures.
Unravel will launch as a downloadable title for Xbox One, PlayStation 4, and Windows on an unspecified date. I gave Unravel a spin and really enjoyed it – see my impressions story for more info.
Plants vs. Zombies Garden Warfare 2
The existence of a new Garden Warfare game should come as no surprise. EA says that the original game has had over six million players – a number probably bolstered by the game's free status to EA Access members on Xbox One and PlayStation Plus members on PlayStation 4. Still, many players really dug Garden Warfare, including me.
The original Garden Warfare has been criticized for its lack of single-player content. Even the split-screen co-op mode kind of stinks. Garden Warfare 2 won't be introducing a campaign, sadly. But it will allow gamers to enjoy all game types in single-player or 2-player split-screen. That should help!
Although Garden Warfare featured two playable factions (plants and zombies), only the plants were playable in the 4-player co-op Garden Ops mode. Garden Warfare 2 adds a new zombie equivalent mode called zombie ops. The narrative explanation: zombie leader Dr. Zomboss has discovered a way to turn the tide of battle and take over Suburbia. The plants must go on the attack to stop him.
Garden Warfare features six new playable classes – three for each side. EA showcased the new zombie characters during the show, with more information on the plants coming at a later date. The Imp is the smallest and fastest zombie. Super Brainz dresses like a superhero and functions as a melee class (similar to the plants' Chomper). Captain Deadbeard the pirate specializes in sniping, much like the plants' Cactus. All three fit in well with the established assortment of silly characters.
Plants vs. Zombies Garden Warfare 2 arrives on Xbox One, PlayStation 4, and Windows in Spring 2016. Check out my full gameplay impressions for lots more info!
Mirror's Edge: Catalyst
The game first announced as Mirror's Edge 2 eventually became a prequel called Mirror's Edge Catalyst. This one tells the origin story of Faith, the dark-haired protagonist from the original game. Catalyst takes place in a dystopian world ruled by corporations – a place where citizens have no individual freedom or privacy. Faith will become a catalyst for change, hence the snappy title.
Like the first Mirror's Edge, Catalyst is a first-person action platforming game. This time, the game takes place in an open world with no levels or loading screens. Faith will run and jump through a dangerous metropolis, taking on missions like races and time trials that capitalize on Mirror's Edge's fast gameplay. She'll also have to deal with environmental puzzles and enemies. Since Faith doesn't like guns, expect to make use of her martial arts prowess instead.
Mirror's Edge: Catalyst arrives on Xbox One, PlayStation 4, and Windows on February 23, 2016.
Sports
EA Sports has about a million yearly franchises. During the conference, they mostly focused on FIFA 16. This year's version carries a big new feature: female players! EA has also partnered with Pelé, who appeared on stage to briefly discuss his career.
We also saw bits of NHL 16, Rory McIlroy PGA Tour (which has fantasy courses in addition to real life ones), NBA Live 16 (which has a new face scanning app on mobile devices), and Madden NFL 16. All feature new tutorial modes designed to ease new players into each game
Minions on Mobile
For the first time (if memory serves), EA actually talked up its mobile games lineup during the press conference. The publisher announced two new phone and tablet games: collectible card game Star Wars: Galaxy of Heroes and Minions Paradise. The former was not playable at the show, but we did get to check out Minions Paradise – a 3D city building game starring the minions from the Despicable Me franchise. We'll post impressions on our sister sites soon.
EA tells me that Minions Paradise could come to Windows Phone or Windows 10 sometime after launching on Android and iOS. Here's hoping!
Star Wars Battlefront
Finally, EA's biggest non-sports game of the year is undoubtedly Star Wars Battlefront. Over two years in the making, Battlefront comes from Stockholm-based developer DICE. Battlefront showcases Dice's Frostbite Engine, with numerous graphical effects bringing the Star Wars universe to life.
The original Star Wars Battlefront games featured large-scale multiplayer battles, and the new game is no different. It sports several multiplayer modes with support for anywhere from 8 to 40 players. Everyone starts out as a foot soldier, but naturally they can hop into vehicles as well. That includes flying vehicles like X-Wings and Tie Fighters and ground-based vehicles such as the AT-AT walkers.
The first Battlefront gameplay reveal showcased the iconic battle on Hoth from Star Wars: The Empire Strikes Back. Players divide up into two teams: the heroic Rebels and evil Empire. The Empire wants to destroy the Rebel base, whereas the Rebels must defend it. With foot soldiers, vehicles, and laser blasts everywhere, the battle really demonstrates an impressive sense of scale and chaos.
Star Wars Battlefront features single-player, 2-player split-screen, and online multiplayer modes. It will explode onto Xbox One, PlayStation 4, and Windows on November 17. Give Jonathan's impressions a look for the inside scoop on the next great Star Wars game!
Which of these EA games are you most excited about? Let us know in the comments!
Get the Windows Central Newsletter
All the latest news, reviews, and guides for Windows and Xbox diehards.
Paul Acevedo is the Games Editor at Windows Central. A lifelong gamer, he has written about videogames for over 15 years and reviewed over 350 games for our site. Follow him on Twitter @PaulRAcevedo. Don't hate. Appreciate!