Emoji reactions and mentions are coming to Facebook Messenger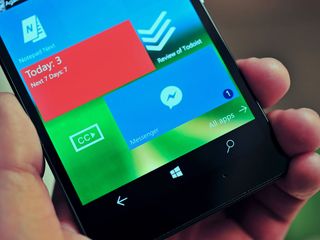 Facebook is looking to spice things up for Messenger users with a couple of fun upcoming features. Rolling out starting today, Facebook is introducing both emoji-based message reactions and @mentions in Messenger. As usual, both features are likely hitting Android and iOS first, but they should make their way to the Windows 10 PC and Mobile app in short order.
With message reactions, you'll be able to express how you feel about a particular message with an emoji. Think attaching a "love" emoji to a picture someone shares of their cute pet. All you'll have to do is press and hold any message then select from love, smile, wow, sad, angry, yes and no emojis to pin to it. It's essentially the same as adding a reaction to a typical Facebook post, just in messenger. It's a shame that there aren't more emoji to choose from, but the ones available should cover most cases.
Mentions are potentially a much more useful addition, especially if you find yourself in a lot of group chats. All you have to do is use the "@" symbol in a message followed by a person's name, and they'll get a different kind of notification that lets them know they were specifically called out. That can come in handy for group chats with a bunch of participants.
As mentioned, these two features are rolling out now, and are likely to hit other platforms first. However, Facebook has been fairly good about keeping Messenger updated, so we should see reactions and mentions hit messenger on Windows 10 and Windows 10 Mobile soon.
Download Facebook Messenger from the Windows Store (opens in new tab)
Windows Central Newsletter
Get the best of Windows Central in your inbox, every day!
Dan Thorp-Lancaster is the former Editor-in-Chief of Windows Central. He began working with Windows Central, Android Central, and iMore as a news writer in 2014 and is obsessed with tech of all sorts. You can follow Dan on Twitter @DthorpL and Instagram @heyitsdtl.
Or at least voice calls it's pathetic how this isn't available

They should make messenger not load in 40 seconds on a Lumia 950...

I was thinking of buying a 950 to speed things up... Guess it's not a hardware issue then, going to stick with my 640.

Just cold opened at 17 seconds(950) Just fyi

It doesnt make any sense, these are really bad apps, and are getting more people out of windows mobile, no doubt about it.

Their size (something like 150MB) is ridiculous for what they do..

Facebook Messenger is bloatware on all platforms and it's kind of pointless now given that FB owns WhatsApp, which is a much better app. Even on iOS, it's 150 MB and takes 3-4 seconds to load. The Windows version is much slower because it's basically an iOS port that runs via emulation.

17 s is a lot... On android it starts immediately even on mid range phones..

No kidding, my Icon fell in the drink and I got a s5 off ebay to hold me over till I see what ms comes up with.. blink and you will miss both apps opening. Huge difference!

Microsoft's Messenger (from 8.1) loads in 3 seconds on my W10M L640...... 8)

How did you get this app?

There's a few threads in the forums. They work great. Have not FB &Messenger from 8.1

7 seconds to load from scratch on my 1520. Quite a lot tbh, but not unbearable.

Yup, the app is a complete crap, and it's a travesty they are not fixing it already. Also, no calls and no copy paste WTF?? Also, can't share location. Unbelievable.

When are they going to enable installation on memory cards?!? The app takes too much space from the internal drive.

Upgrade to phone with at least 16 GB internal storage.

Yeah, right. Just because of one app I should spend a lot of money for a better phone.

Moved it from the phone memory. cba... I don't care if it doesnt works on windows phone

It only messenger wasn't so slow 🙄

I agree what about video and phone!

Jus waiting for video calls and respond messages without open the app like sms...there are too many emojis already

Both faceboon and messenger are crappy apps. I just cant convince anyone to buy windows mobile, because when they see how these apps perform, it all goes down the drain. MS should do something about this, they must be the most used/worst apps in the store.

Microsoft was, until everyone was ******** and crying for facebook to make the apps so they did and this is what we got. The Microsoft apps were a breath of fresh air compared.

The apps are garbage not the phone. Why the hell needs a messenger app more than 100mb internal space and more than 2gb ram. I can't comprehend this.

It seems that Osmeta is like a virtualization software. It has to run Osmeta and the facebook apps on top. Just for that, I'll not be instaling any app that facebook launches until that make them as they should. I just hope they don't go the same route with WhatsApp. If that happens, I'll be forced to leave the platform.

Facebook app is okish, but messenger app is bad. It's slow to start, sluggish in use, and important stuff is missing like calls and video calls. I actually don't mind that they didn't added that story or my day nonsense xD

Soooo dumb. Where is calling and video calling. I hate Facebook so much, "fully committed to Windows 10" was such a bullshit lie

When was the last time they updated facebook or messenger? At least with Microsoft it was at least monthly I have not seen an update in MONTHS and both apps are laggy and slow as hell

Why don't they update their 8.1 app??? Like what's so hard about that? facebook updated the WhatsApp for 8.1...

So I guess it's another feature never coming to windows 10 Mobile

please work on calling option of audio/viedo.and speed up app.it ipens in 10-15 seconds...

They couldn't provide pop up bubbles... In messenger.. The most pathetic apps in wp is fb and messenger....

The whole app is a piece of otherwordly crap. Please leave Emojis out, the POS is slow to load as it is - and missing many many functions. What a shame, MS should kick it out the Store and kill W10M for once and for all.

I never use the messenger app cos it runs slow and takes agrees to load up. Also I'm sure it is spying on me

Just waiting for support for the games in messenger. Kinda annoying to have to pick up the tablet to play a quickie of Everwing on the bus.

How are they fairly good with keeping messenger up to date? It hasn't been updated in like 5 months along with facebook. Still can't do video calls or go live

It's a good news! Probably..