How to enable Battery Saver automatically on the Lumia 950 and 950 XL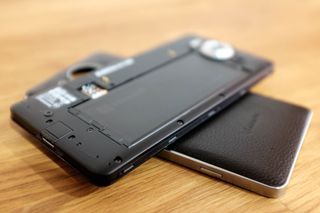 Battery Saver extends the battery life of the Lumia 950 and 950 XL by limiting background activity and push notifications. It is off by default, but you can set it up so that your phone automatically turns on battery saver when the battery falls below a certain percentage. We'll show you how to do it.
Swipe down from the top of the display and tap All settings
Go to System > Battery saver and tap Battery saver settings
Enable Turn battery saver on automatically if my battery falls below
The default setting is 20%, but you can adjust the slider
Once your Lumia 950 and 950 XL is in Battery saver mode, apps stop running in the background and stop sending and receiving push notifications. However, you can add exceptions. In the battery saver settings, tap Add an app. This lets the app operate normally.
I set it up on my Lumia 950 XL so that battery saver automatically turns on below 20%, but I made an exception for Mail and Calendar. Are you going to turn on Battery Saver? What apps are you still allowing to run in the background? Sound off in the comments!
News
Want all the latest news on these phones? Hit these topic pages for all that we got.
Microsoft Lumia 950 XL main page
Support and help forums
Need to chat about the Lumia 950 and Lumia 950 XL? Jump into our forums and ask others what they think or get help and advice on your new phone!
Windows Central Newsletter
Get the best of Windows Central in your inbox, every day!
One day u had to charge it so why to save battery u spend many bucks to buy Lumia 950 xl
Till now also windows mobile10 had bugs

Had a good drink? Your words are as tipsy like your comment here.

that comment is wonderfully hysterical

Translated: The phone has only been available for a day, so providing a useful article on how to preserve battery life seems a little premature, my good fellow. As it is not a budget phone, I would expect the battery to last a week on a single charge, if not forever. Also, I feel it behooves me for some reason to point out that previous beta and preview releases of the Windows 10 operating system for phones has had bugs. I feel that perhaps the bugs should have been eliminated before the code was written.

I wish it told you what functionality you lost for each app on battery saver so you actually knew what allowing them through battery saver did.

Many apps did it in wp8.0 but back then battery saver only disabled the background agent and not push notifications. Now it disables both so no data incoming sent by the server and requested by the phone while the app is not in foreground

Wow they really improved the battery saver. Nice!

Battery saver live tile anyone? I NEED a real time battery live tile! Back in the days of 8.1 ONLY the official Battery saver tile could do that...

Why it is in the status bar and you can always see it in the action center. if you do a long press, it jumps to the battery saver settings.

Yeah. Design preference. I liked an additional BIG battery indicator... Just completed my start screen ya know...

Agree....on windows 8.1 I always had the battery saver pinned to start screen, was quick easy way to see battery percentage without to much effort....really miss it on windows 10 :(

Thanks hardcoreplur I didn't know the long press did that!

Long press on the battery saver option in the settings and pin to start option should appear. :)

I'm not into battery saving... Solution is to have with you a power bank. Just a bit of sacrifice to add a bulk on the back but it's worth it

What that there is a feature called Battery Save and for some weird reason it is off by default? Doubtful.

Daniel, what about the live tile with real time battery percentage(reminiscent of 8.1)? Is it coming back?

No idea, hopefully it will it was a great feature.

After few days, I am somewhat disappointed about the XL's battery life. I hoped it to be around the level of a new 1020, and didn't expect it to be as stellar as the 640XL. Yet I am worried not to make it through the day to the bed side charger on a full charge on average use now.I know that the first days are not conclusive, so are to ask a second impression. By the way, I never wanted to use power saver because it blocked WhatsApp messages too, so thanks for this topic learning is about the improvement. It may now even be feasible to run power saver by default? Testing as of now...

I like it that they added the slider option.

950 XL Loving it! I'm coming from ATIV S
Now 1000 mAh bigger battery over the ATIV S
For me Win10M586 950 XL is a win win over WP8.1.1 my ATIV S had in power! My opinion.
Maybe I have more respect for Win10M doing a 3 year hardware/OS jump then others? The battery saver working very well for me for now.