Energizer 2X Charging System for Xbox One makes sure your controllers never run out of battery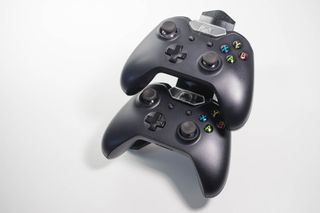 An accessory that all Xbox One owners should have is the Energizer 2X Charging System. It keeps your Xbox One controllers powered and ready for use. No more worrying about having to replace your AA batteries in the middle of a game. It charges up to two controllers at once, and has green and red LED lights that gives you the status of your battery pack while it's charging. It works like it should. Watch our hands-on video to see it in action.
The Energizer 2X Charging System for Xbox One comes with the charging stand, AC power adapter, and two Energizer recharge battery packs. You'll need to remove the existing AA batteries and the battery cover in your controllers and replace them with Energizer's battery pack and cover. You're good to go after that. Plug in the AC adapter to a power source and place the controllers whenever you're not using them. The charger lights up when it's connected to a controller. It's red while it's charging and green when fully charged. If there are no lights, it means the controller is not properly paced on the charger. A little wiggle tends to fix that. There are no magnets to secure the controllers to the charger, but the controllers usually stay in place.
Overall, we're very happy with the charging system and we wouldn't go back to using regular batteries in our controllers. However, there are a couple of things that can be improved. It doesn't automatically turn off when the controllers are fully charged. An auto shut-off would be nice. The AC adapter also feels a little short, but we think we're getting a little nitpicky.
You can buy the Energizer 2X Charging System for Xbox One from the Microsoft Store or Amazon for less than $30. Own one already? Let us know what you think of it in the comments!
Already have it. It works amazingly!

I'm using the Orb, which is also really good. http://www.amazon.co.uk/gp/product/B00GH7U9YM

Definitely greener and better for the environment. Probably saves money on batteries too.

I've had one of these since the Xbox One came out and I couldn't go without it. The AC cable is a little short and sometimes getting the connection between the controllers and the stand to work is a little finicky but other than that it's totally worth it.

I've been using it for months. I can confirm, as long as you REMEMBER to leave your controller on the stand before you go to bed, you will never run out of battery. Lasts for more than a day of gaming.

This is the best option because it used lithium ion and not nickel batteries.

I was wondering that. I bought a ni-cad one, made by Orb and it was nowhere near as good as the official li-ion one. I even found that the headset had issues on the controller with the Orb one. Although, that may have been the controller.

Have had one since day one, works well.

Love it! Use it all the time!

I have one since the Xbox one came out, its fricking awesome. I love it and definitely would recommend it to everyone.

Literally just bought one. It's a sick setup

I use the Panasonic Eneloop batteries. Best rechargeables on the market and I can use them for other things as well.

Other things.. Heheheheh.

Yeah I'm with you. I use Eneloop batteries as well. I'd rather buy universal batteries than a proprietary battery pack and charger that serves only one purpose.

Can they actually hold a charge? (and keep capacity after months of uses?) I have the Black Diamond Icon headlamp, which absolutely slaughters batteries without mercy.

Anything has got to be better than the nyko one. It is horrible.

I agree the nyko is horrible their last gen offering was better

I have to agree. I have the Nyko one and it gets the job done but the front charger tends to only charge 3\4 while the rear does a full. Won't buy another one.

It looks quite unstable, how well does it stay upright? I've got the PowerA Charging station, solid charger and slightly cheaper.

This charger destroys all others. Believe the hype.

It looks unstable but it's quite the opposite and gives a nice 'levitating' effect :-)

The stand looks cheap but is surprisingly well built. It has stood up to my cat's numerous assassination attempts without problem. The clear trays are strong and supportive. Over a years' worth of use and there is no sagging, splitting or damage otherwise, and I'm not exactly "nice" to it when I toss controllers into the charging bays.

It doesn't turn off because it changes from red to green to show you when it's fully charged.

Mandatory for Xbox one controllers. These controllers go through batteries like crazy. Been using for a week, worth the hype and reviews.

Using it already as well, definitely worth it!

I love these! Great product

I have thought about it but I dont game to offten. I have 2 controllers and alternate which is on play and charge. they seam to last fine.

Already have it, It's great no problems owned for 8 months

I bought it at the same time as my Xbox One. It works very well.

Well I am onto my third unit now ... For some reason the charging points stop making constant contact after a couple of months and the lights flash red like a car blinker. My local IT shop has replaced them each time to their credit but they are no longer selling them so RMA next time.

I love this thing, makes charging simple

I bought one with my Xbox as I had some left over trade in credit. Love it! Only thing is that I'd prefer it use Li-Ion batteries rather than Ni-Cad, but as long as you only use it when the controller is flat you shouldn't kill the batteries.

Got one of these myself and I agree with the auto shutoff comment. Other than that it's a definite must have for your controllers. And what's more it didn't cost a bucketload.

The coil whine while it charges drives me crazy

I got the official Xbox battery pack to replace the normal batteries. (seriously? a controler that still runs on batteries? I was shocked when I saw it, being used to PlayStation's built-in batteries...I mean, WTF Microsoft...is this 1999? Anyway, I digress) I might think about getting this solution...IF I find it for sale at a reasonable price. Or at all (since this is for sale at the Microsoft Store...in the US ONLY. As usual with Microsoft.)

Playstation's built in batteries can barely make it through 8 hours of game play. Xbox One's replaceble batteries are the way to go.

agreed the ds4 cant last more than 6hrs

I think the official play and charge kit is better. I returned this after dissatisfaction for a month.

I have it and wouldn't live without it!

Nightmare of all cats owners

I tried this guy. It's a requires a tad more veritcal space than I care to use. I am using the Nyko charging base for the XBO. It lays flat so the controllers are resting nicely on it. The battery packs that come with it work as designed. It's more subdued. The Nyko charger for the PS4 is also rather brilliant, connecting directly to the USB ports and compliments the look at the cost more head room on the shelf.

This controller reminds me to sega Dreamcast...

Reminds me more of the Duke, which was based off the Dreamcast controller, so I can see where you say that.

Will it charge the official Xbox rechargeable battery? Just curious.

The Nyko ones I have don't. There should be 5 pins on the side of the battery if they are compatible.

Actually I bought a noname product, looks almost the same, costs 1/3 of that and does the same thing. Also mine works with original MS Play&Charge Kits.

Had one since day one haven't had to replace the packs either love it

I purchased one of these with my Xbox One last year. I have zero qualms with the accessory. Okay, maybe one qualm - it's easy to sit the controller incorrectly in the cradle and it won't charge. Thankfully, the fancy red/green LEDs help to show that theyre sitting correctly! Except, as I found out just yesterday, it is possible to sit the controller just so where the charging LED will light up but slightly duller than normal. It won't charge in this state. Other than that little issue, I have nothing but love for this accessory! A full charge will happily support a 12-14 hour gaming session, and a full charge happens in about four hours. The battery cradle is well designed and doesn't get in the way, and the rechargeable pack adds just a bit of heft to the controller where it counts. Overall I'd give this an 8.5/10 (points knocked off for the issue above and the slightly low-quality overall design) and eagerly recommend it to anyone who wants a nice rechargeable system for their Xbox One.

I just use rechargeable batteries but this looks awesome.

I like the charger, best batteries on the market for this. Bad part is that 8% of the male population is red green color blind. So the LED is useless to 8% of the target market. (I know ladies play too, with a much lower level of color blindness.). Could do anything red to blue, red to white, anything but red green. It is like no one knows or gets it. Same thing in games. Needs updated with options, not all are out of touch, but Microsoft should make the option for colorblind a standard to produce a game on the platform.
Windows Central Newsletter
Thank you for signing up to Windows Central. You will receive a verification email shortly.
There was a problem. Please refresh the page and try again.