Energizer 2X Charging System for Xbox One makes sure your controllers never run out of battery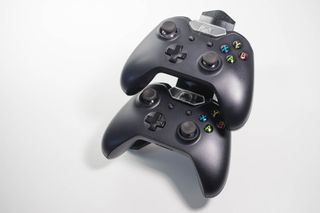 An accessory that all Xbox One owners should have is the Energizer 2X Charging System. It keeps your Xbox One controllers powered and ready for use. No more worrying about having to replace your AA batteries in the middle of a game. It charges up to two controllers at once, and has green and red LED lights that gives you the status of your battery pack while it's charging. It works like it should. Watch our hands-on video to see it in action.
The Energizer 2X Charging System for Xbox One comes with the charging stand, AC power adapter, and two Energizer recharge battery packs. You'll need to remove the existing AA batteries and the battery cover in your controllers and replace them with Energizer's battery pack and cover. You're good to go after that. Plug in the AC adapter to a power source and place the controllers whenever you're not using them. The charger lights up when it's connected to a controller. It's red while it's charging and green when fully charged. If there are no lights, it means the controller is not properly paced on the charger. A little wiggle tends to fix that. There are no magnets to secure the controllers to the charger, but the controllers usually stay in place.
Overall, we're very happy with the charging system and we wouldn't go back to using regular batteries in our controllers. However, there are a couple of things that can be improved. It doesn't automatically turn off when the controllers are fully charged. An auto shut-off would be nice. The AC adapter also feels a little short, but we think we're getting a little nitpicky.
You can buy the Energizer 2X Charging System for Xbox One from the Microsoft Store or Amazon for less than $30. Own one already? Let us know what you think of it in the comments!
Get the Windows Central Newsletter
All the latest news, reviews, and guides for Windows and Xbox diehards.