Uncover a dark mystery in Enigmatis: Mists of Ravenwood on Windows Phone and Windows 8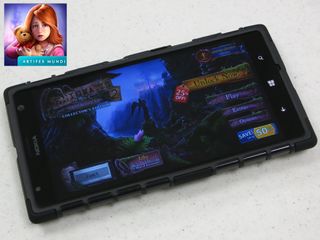 Last fall, I had the pleasure of traveling to Casual Connect USA and interviewing Polish game developer Artifex Mundi. They announced three upcoming games to us during the event: Nightmares from the Deep: The Siren's Call, Deadlings, and Enigmatis: The Mists of Ravenwood. Siren's Call came out in November, followed by Deadlings in February, leaving only Mists of Ravenwood unreleased.
At last Enigmatis: Mists of Ravenwood has launched on Windows Phone 8 and Windows 8 and RT – before Android and iOS! The sequel to Enigmatis: The Ghosts of Maple Creek, Mists is a mystery and horror-based Hidden Object Puzzle Adventure game (HOPA). And like all Artifex Mundi games, it's available at a special discounted launch price for a limited time only.
Follow that bird
In the Ghosts of Maple Creek, players controlled a woman who awoke in the empty streets of a town with no memory of how she got there. She eventually recalls her identity as a detective sent to investigate the disappearance of a teenage girl. The culprit - a demonic preacher – manages to elude her as the story ends.
The preacher is back in Mists of Ravenwood. Our detective heroine once again sets out to hunt him down, following a trail of disappearances to the rural area called Ravenwood. There she encounters a gigantic black bird (who is probably not made of wood) and a frightened young girl whose parents were seemingly stolen by the beast. And thus another dark mystery begins…
Search for clues
As a HOPA game, players will move from scene to scene looking for clues and items that will aid them in their investigation. Each of the 55 hand-painted scenes is full of gorgeous detail and vivid colors. They even feature lots of animations like ambient wildlife that keep them from feeling too static.
As you investigate the mysterious Ravenwood Park, you'll encounter numerous puzzles and 25 minigames. Some of the items our heroine finds get marked as evidence and added to the evidence table. Discover enough clues and you'll be able to draw conclusions that advance the story. You'll also earn up to 35 non-Xbox Achievements for your actions.
As our heroine progresses through this tale of mystery, she'll encounter 19 hidden object scenes. These scenes are more complex and involved than in many HOPA titles. You'll have to interact with objects multiple times, combining and fiddling with them as you find new tools scattered throughout the scene. The addition of mild puzzle elements give these scenes a unique flavor.
An expansive adventure
Mists of Ravenwood contains all of the bonus content found in the Collector's Edition game on PC. The star element is a bonus adventure, something Artifex Mundi likes to throw into their games. Other bonuses include an Encyclopedia that tracks the game's lore,
Enigmatis: The Mists of Ravenwood is an another engaging adventure game from Artifex Mundi. The production values are right up there with the Nightmares from the Deep series, which is to say fairly high for the genre. The developer has done a good job in making this sequel accessible to new players, too. There are ties to the first game but you can still jump right in without feeling lost.
Enigmatis is free to download, but you can only go so far before you're asked to purchase the full game. Think of it as a demo. The full unlock costs $2.99 right now on Windows Phone and $4.99 on Windows 8. Get it now before the price goes up in a few weeks.
Enigmatis: The Mists of Ravenwood – Windows Phone 8 – 312 MB – $2.99 (sale price) – Store Link
Enigmatis: The Mists of Ravenwood – Windows 8 and RT – 692 MB – $4.99 (sale price) – Store Link

(opens in new tab)
Windows Central Newsletter
Get the best of Windows Central in your inbox, every day!
Paul Acevedo is the Games Editor at Windows Central. A lifelong gamer, he has written about videogames for over 15 years and reviewed over 350 games for our site. Follow him on Twitter @PaulRAcevedo. Don't hate. Appreciate!
I hate all those games that appear to be free but then aren't, and that say you can get the full version at 25% off when it's ALWAYS at 25% off (so not really 25% off...).

Umm no universal app yet I suppose (too soon).

Yep. If they come out with one for $3.99, I'll get it, but I'm going to hold off until then.

I doubt they'll offer it universally for less than the price that they want for the Windows 8 version by itself.

So now my cortana as well as the store is working and m not from the US

Where are you from? Is your region on your phone set to US?

Love this style of game. As for the complaint of appears free and its not, these types of games have never have been free, as soon as you run the game it has Buy Full Game or Unlock showing, so you know this is a trial. Also in the store is a full version that show the price, so again know there is a trail and paid versions. I think that is way best as you can see if you like the story and if you don't you then walk away if you do then buy the game. Artiflex makes great adventure games that have a good story and fun mini-games, worth the price to get full.

I agree!! Definitely a fun game.

The Windows store has something called "trials". They shouldn't make you believe it's free until you install it. They should do like normal apps do and activate the "trial" function so we can install it, knowing it's only a trial, and then if we like it we can simply click on buy. Another advantage is that when you uninstall the app and you go to the store it will tell you that you already bought it if you're not sure (if for example you bought a couple of games in the series and you're not sure which ones), you won't have to install it to see if you bought it within the app itself.

Arifex Mundi is up and down afair. Some games are briliant others take you on a roller coaster ride between sceens that makes me wonder if this even makes sense to game creator. This one however is a good one... well worth the price of admision... (Nightmares from the Deep and Nightmares from the Deep 2 are another title not to be missed...)

These types of games would be perfect Universal apps. Gonna wait till then.

Artifex Mundi have set high standards in these types of games and I have a hard time playing similar games from competitors. That said, I was a tad disappointed at the story. Ghost of maple creek is there best game in my book.

I love Artifex Mundi games and will defintely add this one to collection.

I miss old games like Myst and Riven. Nowadays most of the mystery games and point and click games are about "hidden objects" games mixed with a couple of puzzles. Back in the Myst days you really had to think, you had to take notes, you had to decipher codes. I wish they would make a sequel to Riven...

HOPA is a related but slightly different genre than traditional point-and-click adventure. But Windows Phone/Windows 8 does have an excellent one of those: Machinarium. Myst was too esoteric IMO, but what a beautiful world and intriguing story it had! Never got to play the sequels.

Thanks Paul, I'll give Machinarium a try. About the sequel to Myst, Riven, it was awesome! It was way bigger than Myst and the graphics were awesome with a mix of 3d backgrounds and real people. The only problem with Riven is that is was pretty slow to navigate since it was so big. Back in the days it was ok, but these days we're used to games going fast fast fast! Also, I never finished Riven. I go stuck near the end of the game and my friend who was also playing it also got stuck, it was just too complicated at the end! But it was awesome!!!