Enpass update brings Cortana integration and selective field sharing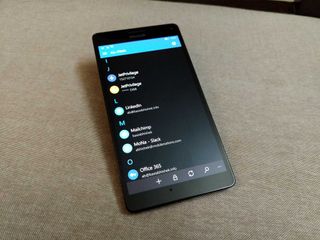 If Enpass is you password manager of choice, you can look forward to a little Cortana magic with the latest update. Rather than manually searching out your information stored in Enpass, you can now ask Cortana to search for specific items.
To get started, all you have to do is open Enpass after updating . From there, you should be able to ask Cortana things like "Search Facebook in Enpass," and have the relevant items show up. Keep in mind that you'll have to have the app unlocked by entering your password for this to work. For more, check out all of the Cortana commands you can use with Enpass.
Lastly, this update also adds selective field sharing, bringing the UWP app more in-line with its iOS and Android counterparts. With the feature, you'll now be able to select specific fields an share what they contain rather than sharing an item's full contents.
If you want to check out all of what's new with Enpass, be sure to pick up the latest update from the Windows Store now.
Download Enpass from the Windows Store (opens in new tab)
Windows Central Newsletter
Get the best of Windows Central in your inbox, every day!
Dan Thorp-Lancaster is the former Editor-in-Chief of Windows Central. He began working with Windows Central, Android Central, and iMore as a news writer in 2014 and is obsessed with tech of all sorts. You can follow Dan on Twitter @DthorpL and Instagram @heyitsdtl.
This app is almost useless without the promised Edge extension. So great work, Im glad they prioritize well...

It's not a matter of priorities. They can't make the promised Edge extension without Microsoft first enabling secure local app communications in UWP via a supported API. Basically, the architecture of their app is an edge case that Microsoft has not filled yet.

How come Lastpass already has an Edge extension?

Likely because it is pulling data directly from a website, rather than a local database.

This is the correct answer.

Not that I use either. But I have the same question.

Simply because LastPass is pulling the encrypted database from their server. Enpass is storing the database locally (the reason why it is more secure) so need to converse with something locally. 1Password or other password manager with the same local storage are facing the same Microsoft limitation.

When have they said this was going to happen? I hope this isn't another GATT thing...

There will probably eventually be a secure way similar to/part of app services to allow authenticated communication between an Edge extension and UWP app - It depends on when MS enables this scenario

I am using the Edge extension since July... Just go on their forum ans you have access to the so-called beta Edge extension.

this is reply to @reportered (for some reason clicking on reply brings me to a page full of code...) Because of the way lastpass stores your login info. In Enpass it only uses the cloud storage of your choice (e.g. dropbox, onedrive, etc.) and with lastpass they keep it on their own servers, so the way the info is accessed through extensions is different. I don't know the technical details, but the API needed for enpass don't officially exist yet and the API needed for extensions like lastpass is already there.

I like and use this app a lot. The only thing I'm desperately needing is custom templates. For example, my clients typically have a very specific set of things I need to track. Entry new entry will have the same fields. I need to be able to create an entry and have it pop up with all the fields from a template I've created.

It's not perfect but why not set up the template you need then use the option to duplicate when you need to use a new one.

Agreed, that would work... but I know they have said this feature is on their list, and I'm hoping they will get it in there before I have to have it. Mainly just in case the data is stored differently or something. I'm actually still moving over and organizing my other data that doesn't require special templates... I have an old encrypted database (which was literally an old program for Windows Mobile 6!) that stored this stuff before and weeding out the good stuff to move over to Enpass has been very time consuming.

Been using this app for over a year now and love it. Turned on the Windows Hello feature when they added it, and it works much faster unlocking the app, than Windows Hello does unlocking my phone. Excellent support from them.

Be aware it also enables unlocking the app with your PIN, so I would recommend making sure you use a very secure and long PIN (Since you don't have to enter it very often with Hello it makes sense to use a very long PIN in general anyway)

If it works like "Hey Cortana" --> Windows Hello authentication --> search results, then I'm impressed. Otherwise, seems a little gimmicky

I downloaded Enpass from the website, not from the Windows Store. Will this work on my Enpass too? Or do I have to download it from the Store? I checked for updates from the in-built option, it says I have the latest Enpass installed.

This is great and all, but personally I still really am waiting on Enpass to support secure file storage in the app. Yes, I realize this means the synced cloud file will get a lot bigger the more crap you put in it, but it'd be nice to secure a few sensitive PDFs, photos, etc. without any addition hassle. There are others apps and solutions for this, of course, but having it integrated directly in-app would be nice. I have pictures of insurance information and PDFs of health records that I'd REALLY like to securely store in Enpass, but that currently isn't an option and is a major bummer.

Storing as an attachment to a password entry would be nice. I don't think I'd use it personally as I rely on other methods for encrypting things like this already but it is a great idea for a feature and since it uses your own storage there's no extra cost to themselves in terms of hosting files.