Enthusiasts are excited about the Surface Laptop Studio, Pro 8, and Microsoft's other hardware
Our readers are mostly excited about the new Surface hardware, but those that are unhappy are very disappointed.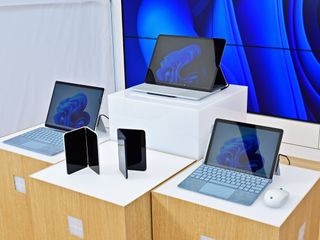 (Image credit: Daniel Rubino / Windows Central)
What you need to know
Microsoft announced five new Surface devices yesterday and three new accessories.
The majority of our polled readers are excited about the lineup.
Almost one in eight polled participants said they were underwhelmed by the announced devices.
Microsoft announced the Surface Laptop Studio, Surface Duo 2, Surface Pro 8, and several other devices yesterday. The buzz around the web seems generally positive for the devices, but we wanted to know what our readers thought, so we ran a poll.
During its event, Microsoft introduced a new form factor with the Surface Laptop Studio. The Surface Duo 2 saw a major upgrade both in terms of specs and design. Other devices, like the Surface Go 3, saw more modest upgrades. With different approaches to its separate Surface lines, Microsoft drew a range of reactions from our readers.
Almost 66% of polled participants said that they were excited about the new Surface hardware. Just over 18% said they didn't feel strongly about the new devices either way. Over 15% said that they were underwhelmed by the new lineup.
"The Surface Duo 2 and Surface Pro 8 definitely got my attention the most," said Fat8893. "The Duo 2 finally has much-needed upgrades from the first-gen model and the Pro 8 is now a worthy adversary to Dell Latitude 7320 Detachable and Lenovo ThinkPad X12 Tablet."
While only 15.51% of voters said they were underwhelmed, those disappointed in the Surface lineup seemed especially frustrated.
Not everyone was thrilled with Microsoft's new hardware. "The Laptop Studio is a letdown across the board," said Keith Wallace. "The design feels like it's trying to match Apple. The color palette of the chassis and keyboard looks like they're trying to cop a Macbook. It feels less flexible and capable than the Surface Book."
News Writer and apps editor
Sean Endicott brings nearly a decade of experience covering Microsoft and Windows news to Windows Central. He joined our team in 2017 as an app reviewer and now heads up our day-to-day news coverage. If you have a news tip or an app to review, hit him up at sean.endicott@futurenet.com (opens in new tab).
Great new stuff. But it's a shame that Windows 11 is not supported on older Surface devices like the Pro 4, 5, Go etc. Even Apple gives longer support on their crap.

You can still install it though with a USB key and Windows 11 ISO. Works just fine. You'll still get updates and drivers.

I have it on my sp3 as an insider and it works just fine.

Excited fo' sho'! When I saw the price of the Duo 2 after I stopped drooling, I decided I'll go with the Duo 1 for now. Maybe will switch when or if the price gets lower.

I really want to love the Surface Duo 2, and I admire the form factor, but it is just not right for me at the moment. The main factors are the lack of quick glance to see the name of the person calling/who texted, my current job function not requiring as much email, and the lack of wireless charging. I'll sit back for now with my Fold 2 and wait for either the Duo 3 or my job duties to change.

The Surface Pro 8 upgrades are significant especially the added support for Thunderbolt. I was also glad to see the further advancement in inking with the Surface Slim Pen 2, which now has haptic feedback. The 15% increase in weight is a bit concerning and am curious how that impacts its portability in everyday use. The Surface Duo 2 is now truly a "phone" and brings it on par with modern smartphones. The real question is whether the software has made a significant enough leap to be an everyday device. And more importantly, will Microsoft start churning out software updates on a regular cadence to both add functionality/improve performance and address bugs. I personally pre-ordered the Surface Duo 2 and am going to give it a try. If I don't feel the device is ready for prime time than I have 60-days to return it per Microsoft's "Surface Promise" return policy.

I would be interested to know how that Surface Promise works out for them. I would guess that the confidence of knowing that they can return it leads to significantly more initial sales and, even if some of those get returned, the final number is presumably still greater than it would be otherwise. I just wonder exactly what happens to those units that get returned. Do they resell them as new or are they considered refurbished?

"Do they resell them as new or are they considered refurbished?"

Refurbished. They did the same for Surface Duo v1. Though many people who did warranty returns got a NIB Duo likely due to existing stock.

Laptop Studio needed AMD.

Did it? What then about Thunderbolt 4?

I'd personally prefer an AMD Surface Laptop Studio over having an Intel one with AMD, but I can see why Microsoft went the way it did. I imagine there are plenty of people that want Thunderbolt 4 support over having an AMD chip.

AMD GPUs can still be used with Thunderbolt 4. At the same price point, RX 6600M completely destroys the RTX 3050Ti, and would have been a good fit for the SLS. Nothing wrong with Intel CPUs, the problem is that they didn't use the full 45W, 8-core, i7-11850H model. Problem with Intel's H35 is that unlike AMD's H35 which are modified H45 chips, Intel H35 are modified U15 chips, meaning they are forcefully over-fed the wattage to 4-cores, meaning they are underpowered and power-consuming all the same. That's why every big OEM has been avoiding the Tiger-Lake-H35 platform since the launch because they were so underwhelming. [11850H/5900HS + 3060 Max-Q/6600M] was the level of spec bump which Surface Book users and the reviewers were asking for in the SB3 successor, NOT [11370H + 3050Ti], hence many obvious disappointments from the tech community. If a thinner, lighter and bigger laptop like Lenovo X1 Extreme can fit a 55W Core i9, I'm sure the SLS could have fit a 45W Core i7.

I think that people get a bit carried away about AMD processors. I support AMD myself. I always get Radeon video cards and I've always used AMD processors in my desktop machines, other than once when I needed Intel for a specific reason. I think that it's perfectly reasonable that Microsoft at least start out with Intel in the laptop Studio though. Microsoft have a long-standing relationship with Intel, so it's no surprise that they would feel most comfortable with Intel processors. There's also little doubt that, whether it's deserved or not, Intel are still far more well-known and well-trusted in the market. Like every other Surface device, Microsoft seem to be starting off with very few configurations and will likely expand that in the future, so it makes perfect sense that only Intel would be available at launch. Perhaps we'll see AMD available in a year or two but it's no shock it's not an option right now.

The complaints about the Surface Laptop Studio design are amusing. Similar complaints greeted the original Surface Book as well. Initially it was all about the "gap" and "why can't they fix that" and "crumbs and dirt will get it there and damage the screen." It wasn't until much later that the real flaw in the Surface Book was apparent: you were limited to low power chips because of the form factor and the unlocking mechanism was not always reliable on the first try. As Intel chips improved, Surface Book couldn't evolve. I'll guess that people who want to draw on a quality Windows device will find the device easier to use than the Book and that very few people will be bothered by the "stacked" deck. The hinge mechanism is interesting and would normally be an area of skepticism, but I think by now the Surface team has demonstrated its expertise with hinges.

"Similar complaints greeted the original Surface Book as well. Initially it was all about the "gap" and "why can't they fix that" and "crumbs and dirt will get it there and damage the screen.""

Agree. Those were, hands-down, some of the dumbest complaints.

No kidding. How about you learn to eat and not be such a f*****g slob?

Agreed - most of the engineers that I've worked/spoken with that use a Surface Book, said after they got over the initial wow factor of the detachable screen, they hardly ever used the feature. Seemed to be a sore area of contention as it led to dissatisfaction when it didn't work. While the screen is sized between the different versions of the Surface Book (14.4 vs 13.5/15), the weight is too, so at least it won't be as heavy in some cases (3.83/4lbs vs 3.38/3.62/4.2lbs)

I had to laugh at the quote in the article: "It feels less flexible and capable than the Surface Book". It lacks the detachable screen that the Book has, but it also offers poses that the Book didn't. The Book probably wins out there but I don't it got used as a tablet all that much anyway. As for being less capable, that is just objectively false. A new Surface Book would not have been more powerful and would almost certainly have been less so.

What pose can the Laptop Studio do that the Surface Book can't?

I absolutely caved like the coward I know I am and pre-ordered the Duo 2 immediately. Loved my first Duo, and though I'm still a bit concerned on the camera bump and its impact on my use cases (holding one-handed like a book in my left hand, using it flat on a table in front of me, and holding it like an actual phone), everything else looks great.

I'm intrigued by the laptop studio, but will not even think about the Duo without clear and consistent software update and follow through. They still have not updated version 1 to android 11 and I see no proof of proper support minus mostly late, but in month monthly updates. Don't care about the pro and already have a pro x. I own Duo 1 so my criticisms are I formed by my own experience

I really wanted to by the duo gen 1 but as fortunate have it... finances meant it was not in the cards then and now my outlook has changed due to the ongoing pandemic. I'm not dropping £1,000 on a device that runs android right now as that's literally my months salary gone on a single item especially since I could be made redundant again due to the damned pandemic. If the duo 2 ran WoA I could have rationalised that purchase as a means to being able to replace my PC completely should it give up the ghost in the next lock down (make no mistake, if anti-vaxxers don't stop digesting horse medicine, we are going to have another lock down). Dex for instance is still nowhere near continuum yet... and I don't see it improving any time soon given android apps are notoriously poor in terms of scaling for large displays. Never the less, a family member is getting a galaxy fold (Gen 1) at a extremely discounted rate for work. If they sell that device, I'd be first one to buy it but at less than the discounted rate as by than it would be probably be mid to late next year. So, right now I'm more than happy with my £120 4th hand Xperia 10 running Sailfish X (Yes, I'm side loading google play android apps - they aren't all everyone makes them out to be).
Windows Central Newsletter
Thank you for signing up to Windows Central. You will receive a verification email shortly.
There was a problem. Please refresh the page and try again.