Are you excited about Microsoft's new lineup of Surface hardware?
Microsoft's Surface lineup just expanded with five new devices, and we want to know how you feel about it all.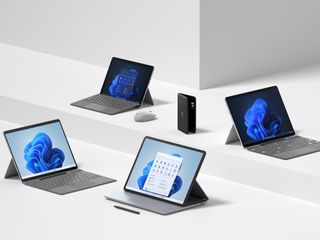 (Image credit: Microsoft)
Microsoft announced the Surface Pro 8, Surface Duo 2, and several other devices today. At its hardware event, the company refreshed old devices, bumped up specs, and revamped designs. It also introduced a new form factor with the Surface Laptop Studio. Now that the event's over, we want to know if you're excited about Microsoft's new lineup of Surface hardware.
We have a full recap of everything Microsoft announced at its Surface hardware event, but we'll run through a few of the highlights as a refresher.
The Surface Laptop Studio is the most powerful Surface device ever built. It introduces a unique form factor as a non-detachable 2-in-1. Its screen is on a hinge, allowing it to be pulled into different modes. It can be used as a traditional laptop, pulled forward into "Stage mode," or laid flat into "Studio mode."
After over a year of reports and rumors, Microsoft officially announced the Surface Duo 2. It marks a significant bump in performance over its predecessor. The Surface Duo 2 runs on a Snapdragon 888 processor, supports 5G, and has NFC. It also has significantly better cameras than the original Surface Duo. Leading up to the event, the Surface Duo 2 drew the most attention from our readers.
Microsoft says that the Surface Pro 8 is the "most significant leap forward since Pro 3." It's more than twice as fast as the Surface Pro 7. It also has thinner bezels, which allow it to have a larger screen without having to be a larger device. Additionally, for the first time ever, a Surface Pro supports Thunderbolt.
While Microsoft refreshed several of its devices, there are few pieces of Surface hardware that didn't see an update. Notably, the Surface Studio 2 continues to age without a successor. The Surface Laptop Go came out last year and didn't see a follow-up today. The Surface Laptop line also wasn't refreshed today, though Microsoft only announced the Surface Laptop 4 in April 2021.
Some people may not be happy with the updates and upgrades that Microsoft announced today. For example, commenters on our site expressed frustration over the low entry specs of the Surface Go 3.
What are your thoughts on Microsoft's new Surface devices? Are you excited about the hardware or underwhelmed? Let us know in the poll above and in the comments below.
News Writer and apps editor
Sean Endicott brings nearly a decade of experience covering Microsoft and Windows news to Windows Central. He joined our team in 2017 as an app reviewer and now heads up our day-to-day news coverage. If you have a news tip or an app to review, hit him up at sean.endicott@futurenet.com (opens in new tab).
Panos should be flat-out embarrassed everyday without the Neo. This should have been the Neo day.

Not easy to do without a chip.
I've been waiting for the Neo too, but it's likely not happening until maybe late next year.

Design definitely took a turn to the worse. It does match the horrible design of Windows 11 though. The Laptop Studio is a pretty interesting concept and will likely be worth it by gen 3 when they: get rid of the dumb rounded corners, have Windows 12 in it, offer it in black.

The design now seems to match Apple's current iPad lineup with the exception of the entry-level 10.2 model, so that is fine by me.

Does anyone know if the SP 8 has an improved camera for HELLO? At my SP7 too often logging in by HELLO does not work in poor light situations. I never have this with my old iPhone XR so I hope Microsoft has done anything about it.

Love Duo 2! Probably going to wait for version 3, though. 👌🏾

I'll jump on the 2. Need to see real reviews first, though. Need to see how the SW looks.
Also the Laptop Studio is high on my buy list for this year.

SP8: Awesome, much needed upgrade. Surface Pro X WHO? Interesting both of my predictions came true, which the WC editors had so much disagreement about when the X/SP7 were released. SP-X bye bye (well maybe it will take a year or so) and SP8 with the reduced bezels and pen slot. SPGo: Meh, very underwhelmed, just a refresh. The Go needs better battery life and smaller bezels, maybe next year, or maybe next year they will have a Suface Go X which will then get cancelled the following year? Laptop Studio: Very nice, not for me as I prefer tablets, but if you like laptops what an innovative device. Sea mouse: or whatever it was, meh but I guess it's good for the environment. Duo: Another dud, still is 2 screens instead of 1 large one, now it doesn't open all the way because of the camera bump, and it's "only" $1500. Same as last time, I predict fire sales around 6-8 month mark.

The stuff that got released, was either a new FF, or hadn't been updated as recently as the spx. Except for duo, but we've known for a while that it is going to be on a faster cadence for the 1st few iterations. I highly doubt arm devices for windows are going anywhere, MS has no choice but to make it work, they can no longer rely solely on x86.

I feel grrrrreat! Nice updates to the line. Looking forward to seeing them in action.

The Laptop Studio is a letdown across the board. The design feels like it's trying to match Apple. The color palette of the chassis and keyboard looks like they're trying to cop a Macbook. It feels like flexible and capable than the Surface Book. Nothing about it seems like a device I's care to use or suggest someone buy, unless you're an artist who really wants to live off one device that doesn't do things as well as something better designed for the task (like a desktop for heavy editing and a Surface Pro for mobile work). The Book had warts I wanted to see fixed, but it still struck me as a more potent, unique device that I could have seen myself using, if done well. This...I could never see myself wanting it. The Pro 8 is pretty yawn-worthy. It's catching up to the Pro X in chassis design and doing the minimum to catch up on specs. Moving to Thunderbolt ports is nice, but far from exciting. It's there and doing what needs to be done, but isn't something that compels you to upgrade from a SP7, IMO. The Go is in the same boat, but even more so. It's done the minimum to be a refresh, but it's wholly unexciting. The Duo definitely wins for excitement and intrigue. I really want to get it. That they're taking a month to deliver is a shame, especially after Panos said "all of these devices will be out with Windows 11 on October 5th." I also don't see justification for the price hike, given the $1,400 first-gen felt like a ridiculous ask and most of what they're doing seems like they are catching up to where the Duo should have been as a $1,400 price to begin with. I'll definitely be looking at getting one, and I'm really happy to see Obsidian coming (Glacier never looked good to me). Given how they REALLY need to convince people that the Duo's a serious commitment after the mess of the first-gen, I think raising the price is the one real mistake, but the curved display looks great and really interesting after years of curved displays from Samsung (and others) that mostly felt useless.

The Laptop Studio is a 19-hour battery life, workstation-class beast with an easel, new pen tech, and starts at $1600. How in the hell could that be disappointing? It puts the lie to the supposedly obvious superiority of the M1 MacBook Pro. And they did it with 10nm Intel! If you want detachable, there are other options in the lineup.

19 hours my ass, more like 6-7 hours with the Intel H35 chip and RTX graphics.

Based on what? When has a manufacturer ever exaggerated the battery life to that extent?

Based on power consumption. It's simple math: Intel H35 draws 15 watts on average while browsing the web (I have an Intel gaming laptop with a similar high ppi display 15" so I measure the power using BatteryBar app). If the Surface Laptop Studio has a giant 90Wh battery, 90/15 = 6, and batteries are under 100Wh legally so even IF it manages to have a 90-100Wh size that translates to 6-7 hours mathematically. My laptop has a 90Wh battery and with a 6-core Intel CPU clocked down to 35 watts and using Nvidia Optimus to disable the dedicated GPU, it only manages 5-6 hours. However I'm going to give this Surface 1 extra hour because the screen is a bit smaller, and since Microsoft likes to power throttle their laptops on battery.

"All of these devices will be out WITH WINDOWS 11 on October 5th." As the Duo does not run Windows 11, Panos' comment was not wrong, just purposely worded. I doubt many people will upgrade from Surface Pro 7 to 8, but it wasn't yawn worthy to me at all. I have already ordered one to replace my aging Surface Pro 5 (the one without a number). And Microsoft had promised its business customers (the ones who buy most Surface devices) that it would not make major changes to the Pro for several years. A new version of Windows being released made sense as the time for a significant upgrade. And one more point about the Pro 8 that most tech media types haven't noticed yet is that this is the first of the Intel Pros to be made from aluminum instead of magnesium. Microsoft made this change as part of its sustainability initiative.

Surface Duo 2 is a sure buy for me.
I'm also really liking the Laptop Studio, but I'm a bit nervous about Gen1 devices from Microsoft. I'll wait for the first real hands on reviews to come in, but it might just be my next main machine. 2500+ bucks isn't a small price tag and I need to be sure it delivers.

I don't think the awesomeness of the Surface Laptop Studio has sunk in yet at WC (unless there's an article about to be posted!). The thing is a beast, and with (claimed) 19h battery life plus the latest MPP pen tech, there's nothing like it. And they did it with two-years-behind Intel chips! That's the Daniel Rubino review I'm very excited to see.

The Surface Duo 2 and Surface Pro 8 definitely got my attention the most. The Duo 2 finally has much-needed upgrades from the first-gen model and the Pro 8 is now a worthy adversary to Dell Latitude 7320 Detachable and Lenovo ThinkPad X12 Tablet. I've initially decided to get the Dell but I'm going to hold it off because of the Pro 8. P.S The Surface Studio Laptop reminds me of HP Spectre Folio.

Pretty good but due to leaks, pretty everything is expected now. Still nice that they finally updated Surface Pro line which is long overdue, and its an overall upgrade for that one. Surface Laptop Studio (such a long name) is a pretty nice take to get to workstation class laptop that is also convertible. Well, I have to think if this is a form factor I want to replace with my Surface Book. But the added performance and better display is indeed attractive, the new haptic trackpad is finally here and I hope the technical aspect of pen support is really addressed the issues before like jitter and activation time. Yes haptic pen is interesting, but its more of a nice to have since its not like many artist were really clamouring in the past even with Wacom. Though the disappointing part with Surface Laptop Studio is it fewer ports and no more full size SD card reader, despite the base being thicker now and wider than the 13 inch Surface Book that had one. Shame they didn't include an SD card reader and at least 1 USB-A port. Surface Duo 2 is a nice upgrade, waiting to see the reviews about it. How camera is really been improved and hopefully the software is finally stable and refined. Though sadly no added pen features to Android it seems like how Galaxy Note series has for years. I get it the closer to vanilla Android thing, but this is not exactly pure vanilla Android either, they missed opportunity bringing more pen features if there is really none. We'll see on full reviews.

From Microsofts perspective the new devices are a big leap forward. From the markets perspective, Microsoft just added long time missing features and nothing "game changing"
Thunderbolt 4, 120Hz screens and a Snapdragon 888 is nothing particularly special end of 2021. The surface studio laptop for example is meant for professionals even though it's equipped with just a quad-core CPU and a lower end 3050Ti graphics card. Sorry, but that's not $2000 "pro" hardware in 2021!
Yes, battery life is something to keep an eye on but, I doubt that hardcore video editing or gaming on battery is possible on this device anyway. That's why I don't see much benefit of having a 30min longer lasting battery compared to other systems which offer more potent hardware for the money (including a good built quality).

Any word on a surface dock 3? One that will work with surface laptop and Nvidia gsync I might hope...
Windows Central Newsletter
Thank you for signing up to Windows Central. You will receive a verification email shortly.
There was a problem. Please refresh the page and try again.