Surface Laptop Studio is Microsoft's new flagship 2-in-1 laptop with a 14-inch 120Hz display and haptic touchpad
Microsoft's new laptop is a 2-in-1 with a unique design.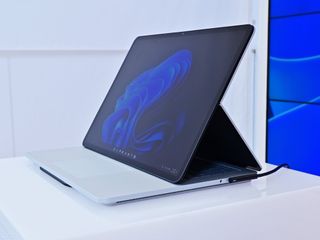 (Image credit: Daniel Rubino / Windows Central)
What you need to know
Microsoft has announced a new form factor laptop dubbed "Surface Laptop Studio".
It's a replacement for the Surface Book and features a new 2-in-1 design.
It also has 120Hz display and a new Precision Haptic touchpad.
Pricing starts at $1,599 and begins shipping next month.
Microsoft has unveiled its next-generation Surface laptop today, featuring a brand-new 2-in-1 design not yet seen on a Surface device before. Dubbed the "Surface Laptop Studio," this new laptop features a 14.4-inch display attached to a unique hinge that allows the display to be pulled forward and laid flat over the keyboard deck for drawing and inking.
The company says that the Surface Laptop Studio is being positioned as a replacement and successor to the Surface Book line, which likely means we won't be seeing another Surface Book with a detachable display again.
The Surface Laptop Studio features an 11th-Gen Intel Core i5-11300H or i7-11380H, which are a little more powerful than the Intel 11th-Gen chips found in the Surface Laptop 4 and Surface Pro 8. The device can be configured with either 16GB or 32GB of RAM, up to 1TB storage, and can even wirelessly charge the new Surface Slim Pen 2, which is sold separately.
The new 14.4-inch display also has a high-refresh rate of 120hz, which will make using Windows 11 feel super smooth with all its new animations. Curiously, the new 14.4-inch display isn't as high of a resolution as that found on the Surface Book line. The device has two USB-C ports, both of which are Thunderbolt 4 enabled, a headphone jack, and the Surface Connect port for those who prefer Microsoft's magnetic charging port.
Swipe to scroll horizontally
Category
Surface Laptop Studio
OS
Windows 11 Home
Windows 11 Pro
Windows 10 Pro
Processor
11th Gen Intel
Core i5-11300H
Core i7-11370H
RAM
16GB, 32GB
LPDDR4x
Graphics
Iris Xe (i5)
NVIDIA RTX 3050 Ti Laptop (i7)
NVIDIA RTX A2000 Laptop (i7, commercial)
Storage
256GB, 512GB, 1TB, 2TB SSD
Upgradeable
Display
14.4 inches
2400x1600
201 PPI
3:2 aspect ratio
Dolby Vision
Up to 120Hz
Touch
Ports
Two Thunderbolt 4
3.5mm audio
Surface Connect
Audio
Four Omnisonic speakers
Dolby Atmos
Two far-field mics
Connectivity
Wi-Fi 6
Bluetooth 5.1
Camera
Front-facing 1080p
IR camera
Keyboard
Backlit
Touchpad
Precision
Haptic
Pen
Surface Slim Pen 2
(Not included)
Security
IR camera
Firmware TMP (consumer)
Hardware TPM 2.0 (commercial)
BitLocker (commercial)
Battery
Up to 19 hours (i5)
Up to 18 hours (i7)
Dimensions
12.7 x 9.0 x 0.7 inches
(322.6mm x 228.6mm x 17.8mm)
Weight
i5: 3.83 pounds (1.7kg)
i7: 4.0 pounds (1.8kg)
Also new to the Surface Laptop Studio is a new "Precision Haptic" touchpad, which means the touchpad itself is static and no longer moves when clicked. Instead, special haptic engines underneath the touchpad vibrate to make it feel as if you're clicking down, similar to Apple's MacBook touchpads.
In the GPU department, Surface Laptop Studio is rocking Intel Iris Xe integrated graphics in the i5 model, and a more powerful NVIDIA RTX 3050 Ti in the i7 variants. Commercial customers can also configure the Surface Laptop Studio with an RTX A2000 if necessary.
Microsoft touts up to 19 hours of battery life, a huge jump from its other Surface products, though real-world testing will likely see that number come down a bit. Pricing for the Surface Laptop Studio begins at $1,599 and is expected to start shipping on October 5 in the United States and Canada, with pre-orders open now.
Swipe to scroll horizontally
| SKU | Price |
| --- | --- |
| Intel Core i5, 16GB RAM, 128GB Storage, Iris Xe | $1,599.99 |
| Intel Core i5, 16GB RAM, 512GB Storage, Iris Xe | $1,799.99 |
| Intel Core i7, 16GB RAM, 512GB Storage, NVIDIA GeForce RTX 3050 Ti | $2,099.99 |
| Intel Core i7, 32GB RAM, 1TB Storage, NVIDIA GeForce RTX 3050 Ti | $2,699.99 |
| Intel Core i7, 32GB RAM, 2TB Storage, NVIDIA GeForce RTX 3050 Ti | $3,099.99 |
Surface Laptop Studio will ship in 47 additional markets in early 2022, though Microsoft is yet to specify which markets specifically. For now, what are your thoughts on Surface Laptop Studio? Let us know in the comments.
Bye-bye Book
(opens in new tab)
The 2-in-1 gets weirder

Microsoft's new Surface Laptop Studio delivers an interesting take on the 2-in-1 form factor. Instead of being a tablet with a detachable keyboard, the display is no longer detachable and can instead be pulled forward and laid flat over the keyboard. It also has a new Precision Haptic touchpad, a 120Hz 14-inch display, and powerful Intel and NVIDIA chips.
Windows Central Newsletter
Get the best of Windows Central in in your inbox, every day!
Zac Bowden is a Senior Editor at Windows Central. Bringing you exclusive coverage into the world of Windows on PCs, tablets, phones, and more. Also an avid collector of rare Microsoft prototype devices! Keep in touch on Twitter: @zacbowden.
It is definitely not for my Netflix viewing but this device looks like a hulk.

Surface hardware feels much more solid this year. I think price might be an issue but justified if performance and experience are good.

Tbf, Surface devices were never known to be cheap so no surprises there. But any slight price decrease are always welcome.

Like your expression of "solid". Exactly that more refined and defined across the board, including the Duo 2.

Love this new device. But and there is always a big but, I would have liked for the display to be removed and the keyboard to have worked wirelessly. When artists draw they like to be able to have display flat and have keyboard to the side for shortcuts. Otherwise nice device.

I imagine that this will work with the Surface Dial (AKA Microsoft Knob) so that would alleviate that issue to some degree, although it's not a cheap add-on.

Speaking of which, they haven't updated Surface Dial for years which is sad. They could added more functionalities and push for more applications to support and APIs. They can even incorporate new haptic tech on it but didn't. They don't even demo with any new Surface devices nowadays.

that's how consumer facing microsoft products die a slow death... without a word..

I think you make a good point about keyboard access while using the pen. In some ways that's a strange oversight. A cheap, programmable keypad would help though, or just a cheap BT keyboard.

This thing is wild! Wish this could have debuted in front of a crowd to hear the reaction. Reminds me of the Surface Book reveal. The vent placement is really interesting.

I feel like this is going to be so uncomfortable to type on. The base is so high and the corners are so sharp. I don't know, this design is a little weird for me.

This is something that bothers me on my Envy. From a lower lap position, where I'm aiming down on the keyboard, it's fine. On a table or taller surface, the outer edge has unpleasant edges that I don't like to place my wrists against. They're not sharp, but they're noticeable in the wrong way. The kayboard's fine, but the chassis isn't great.

I didn't think of that. My old, old Asus laptop from, idunno, 2010 had a really high deck. I hated typing on it. At the time I blamed the switches and layout but it may have also been that high deck.

I wonder how this is thicker in comparison to like XPS 15 and MacBook Pro or even Asus ZenBook Duo. But yeah, it may not be as comfortable as to Surface Book in comparison, which has a base that is so thin and low, it is like typing on regular desktop chiclet keyboard. Though at least it is a 3:2 aspect ratio device, so the space for your palm is quite big that at least you rest on. But it is a concern on the wrist depending on your actual posture, chair and desk height.

That's a THICC boy. Comparing it too my Surface Book 3 it seems a lot thicker. I will have to see it in person first.

Actually, when you check specs list, it's actually thinner than Book 3 in the thickest part.

It's thinner, but looks thicker because it's smaller, so the length to thickness ratio is larger: https://twitter.com/shanselman/status/1440730326930628618

Interesting, but I think the shape is a big letdown. I think the SLS looks like it wants no party of being used on the go, which was at least possible on the SB. People with small hands (not myself) would probably find the the inner part of the chassis's thickness making it a bit tough to hold while using one-handed. I just can't see why this is being promoted as a Book replacement, other than to announce that the Book is dead. The use cases seem wildly different.

I guess that's the only bigger reason, Book form-factor is discontinued. Other than that, Laptop Studio may serve some Book owners but not all, and currently there is no alternative for those who really into to the Book form-factor. Maybe somebody will make one, who knows. For now SLS is the only closest thing replacement for it.

I agree about having to see it in person.

I do see it is thinner, 18mm vs. 23mm, but it looks thicker. It is kind off-putting. I don't think it will be easy to type on in class either. I just upgraded to the Surface Book 3 at the beginning of the year from a Surface Pro 6. I use it at college and wanted the more powerful GPU. The problem I am having though it the tablet portion gets ungodly hot and turns itself off if I do anything GPU related. I hop this fells better than it looks.

It is actually slightly thinner compared to the Surface Book thickest point. But Surface Book is a lot thinner on the base alone, which is more comfortable to type on. So there are tradeoffs.

I haven't read any Microsoft documentation yet but this obviously brief article doesn't specifically mention Surface Dial support. I would hope that it is included.

I doubt there's any on-screen Dial support. It'll just be on-desk support. I love my Dial but it never really caught on.

The tech specs sheet on the Microsoft store site mentions this "Compatible with Surface Dial* off-screen interaction". I hope that helps.

Yeah, sadly Dial seems like a forgotten product from Surface and they haven't updated for years. There was no version 2 of Dial. I hope they are still working to improve that, especially with new haptic tech. But I think they really need to add functionality, maybe added buttons for quick shortcuts and newer APIs for the apps.

It is dead. Didn't catch on in the slightest. Forget about it.

I don't think the dial is dead. I believe they will be upgrading the actual surface studio. I would imagine that a new form of dial will appear that compliments both new products. What I am still really bummed about is Neo. I was so excited about that product when they presented that. I was kind of hoping it would have been a surprise at the show.

Dial was slick as hell but never did catch on. I guess if I was an artist with a Studio then it would seem like a must-have vs a nice-to-have.

That's not bad at all, and the pricing is better than I expected. No more U-series chips, good venting, not too heavy, large screen ... I can see why they went this way. And the hinge is more elegant than those fan mockups we saw, as expected.

Disappointed with the specs, a quad-core CPU and a RTX 3050ti with a "whooping" 4gb of VRAM is low for a close to 15" device. The device looks cool as hell, but the specs are just too low for the kind of costumer it targets. The biggest problem with the Surface Book was that it was restricted to slower CPU and this doesn't fix it.

It does fix it because it won't thermally throttle - the SB line was disastrous for that reason (especially the 13 inch i7).

Intel H35 is basically an overclocked U15 CPU. Many reviews have proven that i7-1165G7 performs same in sustained tasks as i7-11370H or even better in some cases, the only difference being that H35 kills the battery a lot quicker. There's a reason manufacturers have avoided this chip since launch - because it sucks.

Microsoft is claiming 19h of battery life though. Also there appears to be a 28 W configuration. Not sure what this will be (35 or 28).

Microsoft has superior cooling technology in some of their devices, based on their Xbox IP. That allows the chip to earn more mileage.

Surface Book had some of the most atrocious cooling of ANY laptop I've ever used. Xbox may be outsourced to a different designing department completely. And Intel's H35 is a hot pile of garbage in terms of value, thermals, battery, power, and continuity.

Wow, this looks like it has so much potential, but that growth on the bottom looks so bad. Looks like it is cobbled together. I can't believe Microsoft would release a Surface product with hardware that unpolished. Intel is really blowing it, Microsoft needs to do something about them. Hold their feet to the fire. Not that Qualcomm is doing much better for Microsoft though. They need to get this stuff figured out. Do they just have zero pull these days? I understand Qualcomm not carrying about Windows, but Intel's whole existence relies completely on Windows going forward!

We'll have to wait till the 2nd half of 2022 to see what the fruits of Qualcomm's Nuvia acquisition brings.

14.4 in 3:2 aspect ratio is so small screen real estate...

Well 14 inch were never considered to be the big display for laptops to begin with. But it is bigger than 13 inch so that's a plus. We may expect likely a 16 inch version for Laptop Studio 2.

I'm not a fan. The price is up from the Surface Book, which already felt overpriced in its base configuration. On top of that, it feels generous to call it a 2-in-1. Microsoft didn't seem interested in even trying to show it being portable, so its 2-in-1 design (a traditional laptop or a drawing surface that feels very niche as a "form factor") feels more like two similarly grounded, non-portable experiences. The Book always felt clunky, but it felt like it had a more defined purpose and use case as a tablet. This just feels downgraded in its flexibility as a 2-in-1. If the Book was a pricey, niche device, I think this is going to be even more of that. It feels like Microsoft is, again, following, not leading, when the external design looks like it was stolen from a Macbook and the form factor seems like it's copying from the HP Folio and iPad cases. It doesn't strike me as particularly innovative or impressive, mostly because of how the folding doesn't lend itself to a good tablet experience. The way the Slim Pen tucks away is cool, but that's kind of it for notable positives. I'm sure there are some people who will like and enjoy this, but it just doesn't seem like there's anyone I know with a use case where I would recommend this as a go-to product.

This is well said. Puts into words how I felt during the presentation. Feels more like a step back in some respects being a Surface Book user and loving it. Also disappointing that this is replacing the Book line, which is the only way to get a huge 15" Surface tablet (when screen detached).

I really think this comes down to a marketing misstep by Microsoft and the media. There are two big failings that make things worse: 1. Maybe WC's sources described this thing as a Surface Book replacement, but I don't it is at all. The SP and SB felt like siblings, with the Pro being more about the tablet experience and the Book more about laptop functionality. The SLS seems targeted more at the kind of people drawn to iPads and Macbooks--people geared towards artistry. If some SB users move to the SLS, fine, but I don't believe that is anything of what MS is trying to do. They want more of a mobile workstation for Studio owners. 2. Microsoft seems very stagnated over the past 3-5 years. Even Duo was more of a repurposed Courier than something new. MS seems to be stuck playing catchup, rather than being the leader Surface once was. To me, the SLS continues to reflect this. Rumors needlessly tied this to comparisons of the Book. The name ties it to the ultra-niche Studio when it isn't necessary. The color scheme looks straight-up high jacked from Apple. Most reactions to the SLS point to "this is what the HP Folio and iPad did." There's just seemingly little MS has done if late to show they're not behind the curve. It's not as if their brand is falling apart, but I do think there's a lot of potential left on the table by how inside-the-box they seem to be thinking and how unwilling they have been to be market disruptors like they were when the SP first launched.

Nobody does "disruptions" everyday. Most days are actually for refining and getting the right products to your customers. They did pro, book, studio, hub, dial, duo, neo, etc within this brand in 12 years. That's quite plenty. Many "disruptions" are actually like the way car companies do "concepts". They are presentations of ideas to help the brand with halo and with critics etc. But for the brand to thrive it also need just solid proven or near proven concepts that will shift product.

About the point 1, Surface Book were also targeting artist as well, considering it is actually part of the design when you flip the tablet portion to be angled with the base. Normal tablets don't do this. But SLS is indeed a bit more geared towards from Studio owners who want more portable versions of it, maybe. SLS is a more of a proper workstation laptop, which is good since sadly the Book didn't really deliver that, instead Book though before were the most powerful Surface product they had, it is more about the form factor, the user case you can do with its detachable tablet. You have both a normal laptop and a pure detachable tablet when you need it, though clearly not designed to be use it as a tablet exclusively due to low battery life and basically no other ports than Surface Connect and Headphone Jack. Personally I don't even use its tablet portion that often, and that's fine and I think that was the intention to begin with. And that is I guess many people find themselves misinterpreting it to be a standalone tablet use and criticise for what it is not what it is intent to. Many still even think you have to always flip and dock the tablet back to its base for tablet use, which isn't accurate either. I guess its too unique and have niche use case for most people, and sadly market decides and thus Microsoft is discontinuing this form-factor now. For those who want to have pure tablet and a laptop, will have to go back and buy two seperate devices now for a bit more costs. SLS is targeting for those who used Surface Book that always re-attach the tablet portion to the base for tablet use. But it is not targeting for those who use tablet separately, that market is not being served here now. The alternative if you want Surface tablet PC is to get SLS and Surface Pro or X or even Surface Go. Just save a bit more money this time since it will be way more costly for this route.

"the folding doesn't lend itself to a good tablet experience." Well it was the same on the Surface Book. There was really only one easel-like posture. You could remove the tablet bit, but people weren't doing that, it had terrible battery life on its own, and it came with a bunch of compromises. And if you want a detachable, there are still two in the Surface lineup. The Surface Book form factor is the only Surface one that you can't see in the wild. That's because it wasn't popular enough. They needed a change, and I suspect this was the right move for MS. HP makes something like this already, but not with 19 h battery life and not this small. This is one hell of a creative workstation and it starts at $1600. I find that impressive, not disappointing.

I agree that the Book has issues, but I've repeated that long enough to where it's apparent MS wasn't reading my comments or seeing the project from that same perspective, haha. IMO, it needed a 360-hinge that could detach, or it just needed to be a fixed 2-in-1 like the XPS, Yoga, or Envy. The gap made its folded state awkward and the hinge design made converting it to a tablet without ditching the base at your desk awkward. Still, we had one at my work. It was an unnecessarily expensive purchase in the end, but we tried it out. I could never see a use case where that happens. I could see MS iterating on the Book to make me want it, but I can't see it with this thing. I think the Laptop Studio is even more niche and hard to understand than the Book.

Why did they downgrade display resolution? I guess the answer is battery life.

No, the 120hz refresh rate was more likely the reason

Oh no, that's a shame! I really love that detachable screen feature despite not having a kickstand. ☹️

1.8 kg is REALLY heavy for a 14 inch laptop.
Just for comparison, Lenovo's 16 inch X1 Extreme with RTX 3080 weighs less: 1.75 kg. I don't like this at all, ASUS Flow X13 Tablet with 8-core Ryzen and 3050Ti weighs just 1.3 kg and costs only $1400. So why would anyone buy this over the X13??

So is 1.7Kg. Well spotted. Wow its heavy. Most laptops are 1.3Kg and the Surface Pro is 900 grams with keyboard. The weight would put me out of the race. I find 1.3Kg laptop to heavy but almost 2Kh. A friend has an old MacBook that's 2Kg. It's absurdly heavy. It'll be the need for a fan base. Should've been ARM based.

"So why would anyone buy this over the X13??"

Not everyone likes plastic ASUS stuff? I sure don't. It flexes, it creaks, louder fans, you don't the haptic pen, or you know,

good

audio. I can think of a dozen reasons to never get anything ASUS, tbh. Serious question: Nearly a decade into Surface isn't it

tiring

to trot out the "buT iT's tOo eXpeNsIve!" thing? It's old. It doesn't matter. It never matters. Yeah, the beauty of a PC is you can buy a $3,000 elegant metal PC with a premium build or a plastic, Chinese PC for $500. Who cares? Buy what you can afford, buy what you want.

"So why would anyone buy this over the X13??"

Yeah, I dunno, cause it looks hideous? With a Ryzen 9 and 3050Ti, it's rated for 6 hours of battery? It only has 2 speakers? Because it doesn't go into Studio mode or media viewing mode like Laptop Studio? The 720p webcam is going suck? It doesn't have Windows Hello? It only has a 60Hz display?

Relax... Would you like me to post a link to my Google Drive with signed photos of my laptop? Because I have it with me right now, and I assure you, the X13 is FAR better engineered than the previous Surface Book including build quality aspects. Yes, I've had the pleasure of using the Surface Book as well. You really don't seem to have a clue so here goes some cold hard answers to your burning questions: 1. Flow X13 like most Asus laptops are made of reinforced Magnesium Alloy.
2. "Haptic" pen is MPP 2.0, you know, same protocol as Surface.
3. Asus ROG Speakers are some of the best in gaming laptops and on par with something like XPS.
4. I get 8 hours of battery life, easy, oh the beauty of using industry-leading components.
5. It does have "Windows Hello" FingerPrint Login on the side, which is more reliable than Facial Recognition these days.
6. As a 2-in-1 Tablet with eGPU better than anything Intel's Thunderbolt can offer, the "Stuido mode" is quite frankly amazing to use.
7. The screen is 120Hz, yes this IS the first Windows tablet with a 120Hz refresh display that supports active Stylus input.
8. Weighs 1.3 kg, meaning you can actually use it as a tablet, and has unlimited hinge angles to choose from unlike this new Surface which gave up on the tablet side.
9. There are no performance or cooling issues on this 13 inch, 1.3 kg laptop that houses a 16-thread CPU and a 3050Ti GPU.
9. All that for JUST $1,400 USD as I've said before. I know. Shocking right? Well don't be TOO surprised, Asus has been doing this far longer than Microsoft.

Someone call the cops, someone committed a murder here!

1. All Surfaces have been made with Magnesium Alloy.. something the vast majority of ASUS units don't do. 2. Show me a haptic from Asus half at good as the first gen surface slim pen. Also It has a haptic touch pad to go with it. 3. The ROG speakers considered the best? Never seen a review that reflect that. They are loud but Tinny at hell. 4. The SLS gets 19 hours... vs your 8. 5. You've obviously never used Windows Hello on a surface. I have no issues logging on with it in pitch black darkness 6. What X13 eGPU is using the same bandwidth as thunderbolt 4 (40GBPS) So I can use an eGPU on the SLS. It also offers a dedicated gaming or workstation gpu. I'll tell you what the X13 ISN'T doing. Pushing out to 2 4K screens on its own, which SLS did in the demo. 7. This weighs 1.7kg. putting this well within normal laptop portability. Because that's what this IS. A laptop. If you wantba TABLET get the Pro. Why are you comparing apples to oranges? This is meant for power users, and nobody is using the X13, like a Tablet ether. 8. Nothing you said about the X13 makes me want it ether. It isn't ba tablet, I wouldn't buy it over the Pro. If I want to game with it, I need to buy the eGPU. which at that point...I lose my portability if paying 1499 means I have something I don't need to compromise as much with so be it

Your points are entirely invalid since you haven't used either devices.

I could say the same thing about what you posted...

"Serious question: Nearly a decade into Surface isn't it tiring to trot out the "buT iT's tOo eXpeNsIve!" thing? It's old. It doesn't matter. It never matters." I think you're very wrong on this part. I don't have expensive hobbies and I can treat them as business expenses, so I can easily afford to spend whatever I feel like on these things. That doesn't mean I will, or should, throw value out the window. This also isn't going on a decade. The Surface Pro used to be priced more competitively. You didn't get forced into the $30 up charge for an Alcantara keyboard just to get something other than black (I also find the Signature Type Cover colors really bland). You used to get get a Surface Pen in the box (they conveniently raised the Surface Pen's price form $50 to $100 the same year they stopped including them). That they have shifted from the SB to the SLS shows that people didn't adopt the SB well, likely because of the price. The SLS costs more and seems to narrow its target of users even further, and I think few will be unsurorised if this takes the same route of the SB--a couple of minor internal refreshes before being retired due to low adoption. The SP at least used competitive pricing to help get its foot in the door and established both the product line and the Surface brand as a whole. MS has stopped doing that, and I think it hurts these high-dollar, niche offerings. They don't need to go back to writing down a billion dollars to move products, but it's going to be tough to price yourself out of the budget of most PC buyers because the firm factor isn't an easy sell and most people willing to spend this kind of mk ey are either r looking at gaming machines or are Apple diehards, neither of which are serviced well by the SLS. In short: Price concerns aren't a tired argument when they're still relevant and influencing purchasing decisions.

Meh, coming from retail, people on here and in Stores, complained about the price of the Original surface pro, as they did about the RT. Also the starting price of the Book was the same as the SLS. When the book released the 32GB i7 it too, was over 3K. In terms of Sales. MS never expects these to be barn busters. Their purpose is to move designs of pcs forward.. and they do that. As far as why the Book was replaced by this. It had nothing to do with sales and every thing to do with design. The key feature of the SB, a removable screen, was becoming a limitation, because you could only fit certain processors from intel into screen while still keeping it cool and light, and thin. It's physics. The SB was beginning to lag behind on performance compared to newer laptops, and MS couldn't change that without a redesign that moves away from hiding internals behind the screen. This is the result. Now they have more room to fit better hardware and better performance

Agreed. SB1 is one of the best laptops I ever owned, and I got a killer deal on it, so that helped. But when it was time to upgrade, Surface was priced too high for what I was getting, which were usually at last-year specs and nothing that the competition wasn't doing, if not better. I finally caved and got a MB Pro M1. I'm not unhappy, and in fact, it ranks right up there with the SB for me. I do miss the form factor from time to time, but now the SB is more my consumption device vs my workhorse. Thing is, that was a big jump for me, I was MS diehard through and through from Windows Phone 7, first Surface Pro, etc. And yes, it does seem like you are getting less in the box than before. I think anyone getting this device should get the pen and a year of 365 for free.

Yea spot on. One of the biggest problems with SB was the 'price to performance ratio'. And now essentially you have to: Pay MORE = for LESS power (compared to RTX3000), less vRAM, less battery life, worse keyboard ergonomics, smaller screen, lower resolution, limited hinge angles, and a more restrictive use case overall, etc. I imagine lots of Heads of big businesses' IT departments looking at the SLS and going "Why would we need something like that or pay that much to replace WAAAY better stuff we already have?". And frankly I don't see the actual target users - CAD people like Architects - wanting the SLS either, because obviously this thing is NOT aimed at Creative Folks.

I'm probably going to choose laptop studio over the x13... but I have to defend it here on some of your points...
X13 does have a 360 hinge that gives it media viewing modes and tent modes, it DOES have windows hello, (just fingerprint based though), it also has a 120Hz display I agree though with some of your points though, the laptop studio should get good battery life, will not flex, the keyboard will be really nice, and inking will be much better than the x13. It will feel refined I'm sure; the resolution is perfect for the size of device.

Right. IF the pen is indeed better and battery life is good as they claim, I agree with you that it might be worth buying for some people. I hope they are both better.

The Flow X13 is an amazing device. I do like that the SLS has a more handy hinge (quickly switching between typing and drawing), bigger screen, bigger battery I believe, better sustained performance (at least with 1-4 cores usage) and dockable full pen.

Smaller battery* : 58Wh. Don't expect to get more than 4 Hours from SLS, it's more of a desktop replacement at this point. Also Intel's 35W are just overclocked 15W chips, not "true" high-performance cores. Basically that means you're not going to get more CPU performance than well-cooled Ultrabooks using ULV chips.

Such a shame there's no no ARM variant or I'd be upgrading my Surface Pro X. It fixes the Surface Pro keyboard issue. But couldn't go back to fans and inconsistent battery.

I love the Book line and I'm sad that it's being replaced.

Exactly, and this is not even a good replacement: looks like the screen can't be detached, like in the Surface Book line, which was the main reason why I chose the SF3.

Now this is the device I'm going to do. This is going to be my new desktop 😁

The only disappointing this about the Surface Laptop Studio is it is now have less 1 USB port and for whatever reason, no more full size SD card that Book got. Oddly missing for a workstation laptop. Well sure even MacBook Pro didn't have one, but that why its been criticised for not having one and still wishing it has one. Other than that, this is interesting. Sadly I will miss the form-factor of a detachable tablet, but it is what it is. I hope that at least the new digitizer and pen will address the jitter issue with N-Trig and maybe improve the tapering when flicking the pen, which isn't really that bad but improvements is appreciated. Considering they are really marketing this to artists as well, and some artist will care about those details or else the device may not be enjoyable for them to use.

I owned the SP3 until last year and have essentially the same thing now with the SP7. Everything from the SP3 to the SP7 has been quite boring, the Book never appealed the laptop either and this however and a FINALLY redesigned Surface Pro has awesome potential. This also makes a mockery of MS banging on about TB being too unsafe to include. I already have the ridiculously priced MS Dock 2, so the nod to backwards compatibility there is nice. I think I might buy this and see what I can get fro my SP7 :) the Surface Pro form factor has a number of short comings (for me) and I had been waiting to see if they followed Dell or HP with a foldable. As a segue, anyone know if I can run Window 11 without an MS account ? I know it gets harder every year but I was hoping I still could for 11 as well ?

Microsoft seems absolutely reluctant to the disclose Battery Capacities (I've asked them a few times through different channels) of this device, which tells me the battery life is going to be trash and THEY are well aware of it.

Any word on a surface dock 3? One that will work with surface laptop and Nvidia gsync I might hope...

Well I just pre-ordered it an hour ago. i7 model. I've never pre-ordered a new device before but sort of excited. I didnt have an option to change the shipping method from free/standard so I hope it arrives before the 8th. I'll be out of state for 2 weeks on the beach.

Yes it's going to cost me $3,199 😁 finally this is what I needed. Can't wait to make you UWP app on it.

Yes I know ☺️ like I said on the Discord. It's like they read my mind. ☺️

Huge surface fan, but I have no idea who this is for. Why not just have a 360 degree hinge on the surface book and make it slimmer and less complicated. I don't see a big market for this design and specs I'll wait to see it for myself of course and see reviews with hands-on. Trust Panos' designs - but this one is out there for me....

Paper developing app Windows 11
Artist
write
Architects
Hopefully this is helpful to you

"Why not just have a 360 degree hinge on the surface book and make it slimmer and less complicated.", why oh why do people want a 360" hinge instead of this better in almost every way hinge? This actually allows you to quickly switch between typing and drawing, something that is incredible clunky with 360" hinge laptops with some weight (/beefy internals).

This device looks great and I think it is a very nice improvement from the book. The internals being on the bottom means that it will be more powerful down the line and the 120hz screen is perfect. Thunderbolt 4 means that this could potentially pair with an egpu and it's all that I would need hands down.

To be honest I am a little disappointed by Surface Laptop Studio. I think almost every new surface device was a unique piece of engineering and design. I was surprised to hear the word 'Original' from Panos on stage, when I knew the device going to be announced at the end is just an iteration of Acer ConceptD and Predator 2-in-1, or Intel's concept hardware.
The fulcrum hinge and the tention wire on surface book was an inspiring piece of engineering. Laptop Studio feels more like a easy workaround to simply cram in more hardware in a surface hardware. At least if they would have brought something similar to the gravity hinge found in the Studio, to the laptop studio, allowing any angle and screen position, it would have been worth the iteration over this form factor, price, hype, and the 'Surface Flagship' monicker.

" allowing any angle and screen position", that actually sounds like something that could come to a 2nd gen SLS, maybe similar as how the Pro line evolved.

Meh, had enough of Microsoft, had 8 Surface devices, all had issues. Look, the real problem is this... Microsoft Windows is made to work on a huge number of manufacturers with different hardware specs, a jack of all trades, master of none. Im going back to Apple after 10 years, why? Although they have their own issues, the software and hardware work much better together, devices last for years longer than any Surface would, more expensive initially, cheaper over time without slowing down unbearably after 3 years.

Apple does not even have direct competitors to most Surface devices, and if you do not use a pen or touchscreen than its better to compare to Dell XPS or such. Or maybe Surface Laptop when refreshed. "devices last for years longer than any Surface would, more expensive initially, cheaper over time without slowing down unbearably after 3 years.", if your device slows down after 3 years you likely have junk or bloatware on the device, or it did not have a SSD. My laptops definitely do not slow down after 3 years.

This is very innovative! Great job Microsoft!

SB2 15 inch owner here, quite disappointed that I have an underwhelming upgrade path here. Laptop is underpowered/mass market rather than for Creators. Surface Pro throttles hard. Laptop Studio lacks the core count and wattage to make this a serious upgrade from my SB2 15 inch. It even looks under spec'd, relative to the XPS 15, say, or a MacBook Pro. Think my time with the Surface line is at an end, sadly

If you actually use 8 cores than yeah the multiperformance is lacking, but for single core performance and up to 4-core usage this is golden for a 14.4" laptop. Remember that the SLS cpu watt usage is 35 watt and not the low watt usage Book and Pro use, not to mention I would guess the SLS will not have cpu throttling issues on sustained loads which the Book and Pro have.

Great comment in reply. Absolutely right. For most people, quad-core 11th gen with presumably good thermals and 35W will be great. Let's see how that plinth holds up! May be that a quad-core without as much throttling as an XPS 15 does really well Me personally, I do music production with multi-CPUs spun up hot. In retrospect a SB2 wasn't a great choice, but at the time of release it did very well in a shoot-out against comparable devices (particularly because I got a great inking experience and top of the line dGPU). Enough that I banked the next few years' usage on it. For music production, my gut is this isn't enough. And that tells me Microsoft may have a narrative problem here. Who is this for? Not powerful enough GPU to keep gamers happy. Not enough drafting angles to keep artists happy? Not powerful enough for music production. Is this just the slightly better and weirder and heavier Laptop for people who want to do a little bit of gaming, and a little bit of content creation? 'Prosumer' device?

"Who is this for? Not powerful enough GPU to keep gamers happy. Not enough drafting angles to keep artists happy? Not powerful enough for music production. Is this just the slightly better and weirder and heavier Laptop for people who want to do a little bit of gaming, and a little bit of content creation?", good questions. My first thought was this is a nice device for architects / 3d cad drawers or 3d sculpture and 2nd this a good all-around upgrade for the Surface Laptop (except for the weight). So yeah I would say a prosumer device and maybe perfect art device if studio/flat mode suffices.

I wanted to be wowed with the Laptop studio but having used the Surface Studio, Surface Book and an HP tablet for concept and drafting work my experience has been: 1. The Studio is an absolute dream to use.
2. The 15" Surface Book is barely adequate in size and the flip keyboard is a total fail for keyboard shortcuts.
3. The HP tablet is too small for more than basic touchup work. The keyboard is acceptable in drafting mode on a table, but not on a lap. (On my lap is my favorite way to draw with the SB2) The Laptop Studio (LS) has a glaring issue that makes it seem like they didn't consult people who actually draw stuff regularly. Every drafting and drawing program I have ever used have keyboard shortcuts. The studio is the only one of the three mentioned above that has a frictionless keyboard experience. The LS device hides the keyboard! It appears that the LS will have a better experience than the Surface Book, but at this size of screen the on-screen keyboard is too big to leave up so you are left with either: 1. Constantly lifting the screen. 2. Constantly turning the on-screen keyboard on and off. It's super annoying and constantly breaks the flow of your work. It is the antithesis of frictionless design. I'm sad they made the studio Laptop smaller than the 15" Surface Book. I guess there going to be pros and cons to using each of these drafting devices, but no one has created the perfect frictionless drafting tablet yet.
Windows Central Newsletter
Thank you for signing up to Windows Central. You will receive a verification email shortly.
There was a problem. Please refresh the page and try again.