Escaping the Underworld with the Windows Phone game Pigs Can't Fly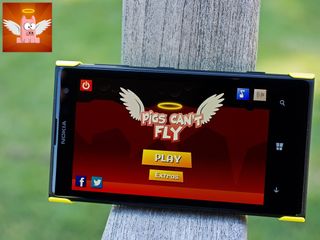 Pigs Can't Fly is a light-hearted Windows Phone 8 game that has you helping a lost little pig who has crash landed in Hell. You will need to guide the pig through eighty levels filled with dangers and eventually escape the perilous underworld.
Pigs Can't Fly has nice graphics, straightforward gaming controls and plenty of challenging game play. It is a nice choice to have in your Windows Phone gaming library when you are in the mood for a game with a slightly more relaxed pace.
Game Layout
Pigs Can't Fly is another gaming title with a no-nonsense main menu that has options to jump into game play, mute the sound/music, visit the developer's Facebook and Twitter pages and visit the game's Extras page. The Extras Page gives you access to your gaming achievements and extra skins you can unlock for your pig.
The eighty levels of play are spread out across four chapters. Levels are progressively unlocked and become more challenging the further you advance through the game.
The game screen has your movement controls (wings) in the lower corners and a pause button sitting in the upper right corner. The goal is to safely fly your pig to the lighted exit of each level. Tapping the left wing will fly your pig to the left and tapping the right wing will send the little pig to the right. The more you tap, the higher the pig will fly.
Game Play
The first few levels of Pigs Can't Fly are on the easy side to allow you to get used to the flight controls without much pressure. As you move your pig around each level, a Bonus Star will be positioned somewhere along the way. Collecting these Stars are the key to unlocking the additional pig skins.
As you progress through the game, dangers will come into play that will turn your pig into bacon. Dangers include lava pools, lava spouts, spiked walls, and demon monsters.
You will need to take more of a casual approach to playing Pigs Can't Fly. There may be an inclination to rush through each level but speed makes it too easy to hit a spiked ceiling or get toasted by a lava spout. Pigs Can't Fly is a game of patience, timing and a delicate touch.
Overall Impression
Pigs Can't Fly is a nicely drawn-up game for Windows Phone 8. Game play is challenging enough to keep you interested and with eighty levels of game play, Pigs Can't Fly should last you a while.
I wouldn't mind seeing a few power-ups tossed into game play though. I like the challenge flying through the depths of the underworld presents but a power-up for invincibility would be nice here and there. Otherwise, I found Pigs Can't Fly to be a well-rounded, somewhat addictive game for Windows Phone 8.
There is a trial version available for Pigs Can't Fly with the full version running $.99. Pigs Can't Fly is available for Windows Phone 8 (shows available for low-memory devices) and you can find Pigs Can't Fly here in the Windows Phone Store.
Windows Central Newsletter
Get the best of Windows Central in your inbox, every day!
George is the Reviews Editor at Windows Central, concentrating on Windows 10 PC and Mobile apps. He's been a supporter of the platform since the days of Windows CE and uses his current Windows 10 Mobile phone daily to keep up with life and enjoy a game during down time.
Looks fun... Gonna give it a try!

Gonna try it out. Lately I been revisiting Mini Dash. Forgot how much I liked that game. PS I hate the new game hub

2nd part of your comment, I too hate this new look and the functionality as well. Its slower and horrible...

To the 2nd part of comment too: I hate the layout of the new Store. Let me have the option of having it shown to me the original way.

There should be no option to switch the store layout. It is impossible not to like the new store. New categories, better comment layout. What to expect.

Why do developers not giving free atleast for one day or half day ...price thumbs down

Hell yeah. I feel you. I was pissed I went to best buy and wanted to get a 72 TV free for a day before I decide if I wanted to buy it. They looked at me like I was an idiot.

With the tv if its not what you expected or defective you can take the chuff back or ask for a replacement..... You can see where I am going with this

And this game has a try before buy so why complain. And no I don't see where you going. Cause you buy don't like it defective you take it back get your money. But you completely missed the sarcasm.

I Didn't miss the sarcasm! Just thought the sarcasm was misplaced

Why would developers want to support useless customers?

On which criteria are customers going to be judged useless? Perhaps all WP owners should have to take and pass a suitability questionnaire before they are allowed to browse the gilded paradise that is the WP store

A customer who doesn't pay for games or apps is essentially useless to game or app developers and publishers. Most developers don't make games just for the warm feelings it brings, but also to make a living. It's not about how suitable you are, but whether you are actually a potential customer at all.

Agreed. That's why most unpaid apps have, quite rightly, either limited functionality or adverts, sometimes both!
The OP question seemed not to merit the heavy handed sarcasm and the hefty guffaws that followed.
I can be quite the Oscar Wilde when talking to someone whose first language may not necessarily be English

So my initial thought of the game didn't impress me. I'm sure it gets harder but this game didn't keep my attention at first.

Yeah looks pretty flat to me. Gameplay is similar to rayman and not even better.

This game reminds me of super meat boy of pc

I'm giving it a try. Thanks for the heads up.

wow. first laser spitting sheep and now also flying pigs? Games are getting super bionical and hybrid!