The Escapists: The Walking Dead shambles onto the Windows Store for PC (Now available)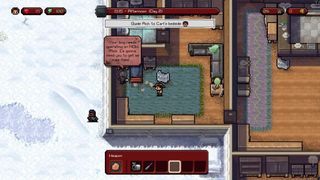 Update: Now available!
The Escapists: The Walking Dead, an awesome mashup of the hit indie game and everyone's favorite apocalyptic TV series and comic, is now available on the Windows Store (opens in new tab) for Windows 10. And if you happen to be a fan of either The Escapists or The Walking Dead, there's plenty to like here.
If you're familiar with The Walking Dead, you'll know what to expect with the story with this release. However, where things get interesting is with the 8-bit pixel art style of The Escapists. As you play through the game, you'll control a pixelated Rick Grimes as you work to survive with the rest of the group, including Maggie, Glenn and Michonne.
Here's more of what you can look forward to with The Escapists: The Walking Dead:
5 Locations: Tackle 5 of the most infamous locations from The Walking Dead story including: Meriwether County Correctional Facility, Woodbury, and Alexandria.
Epic Crafting: Choose from over two hundred + different items to make over 70 tools or weapons to aid your survival.
Well known characters: Interact with all your favourite characters from the comics and recruit them to help you with important tasks.
Routines: Make sure you and your survivors keep up your daily routines - it's important for morale!
Guns!: Firearms will now be available to craft or discover - they are handy for keeping walkers at bay!
Zombie hordes: Use your wits and your survivor companions to fend off hordes of hungry walkers.
The Escapists: The Walking Dead is available on the Windows Store from the link below for $19.99. Do note that, at the time of this writing, the download wasn't populated just yet. However, it should become available within short order.
Thanks to Aaron C. for the tip!
Download The Escapists: The Walking Dead at the Windows Store ($19.99) (opens in new tab)
Dan Thorp-Lancaster is the Editor in Chief for Windows Central. He began working with Windows Central as a news writer in 2014 and is obsessed with tech of all sorts. You can follow Dan on Twitter @DthorpL and Instagram @heyitsdtl. Got a hot tip? Send it to daniel.thorp-lancaster@futurenet.com.
What does "shambles" mean in this context?

Walk slowly and erratically, like a zombie I suppose he was meaning. "He shambles down the street."

"move with a slow, shuffling, awkward gait" I mean, you could have just Bing'd it yourself. You are literally on the internet, after all lol

Hey Daniel I liked that "Bing'd it", no googling round here. :)

No Xbox integration on Windows 10 despite being an Xbox One game. Microsoft's ID@Xbox strategy for Windows 10 is clearly failing. Few indie developers who make Xbox One games also release their games on Windows 10, and only a tiny percentage of that already tiny percentage also make their Windows 10 games Xbox Live compatible despite already being in the ID@Xbox program. Not good.

Seriously? It is a pass for me then.. :'( I'm really looking to see more Xbox Live enabled games on Win10

Update: upon further investigation, the game may have Xbox integration on Windows 10. It's not clear: the website Store page doesn't have the Xbox banner but the Store app icon does have it, but the Store description does not mention Xbox integration at all, and I can't find an achievement list for the Windows 10 version, but this is a growing problem as many Windows 10 Xbox games now share an achievement list with the Xbox One versions of the games. The information on this game is frustratingly incomplete.

Makes absolutely no sense to skip the Xbox Live support for a game that already has Xbox Live support on Xbox One.. They just lost a customer with that decision..

Update: it may have Xbox intregation. It's not clear. See my comment above.

Don't spread false information. It's obviously an Xbox game. You're upsetting people. And besides, it would still be a cool game without Xbox integration. If you passed up every game that doesn't have an Xbox logo, you'll miss out on some great stuff.

I'm not "spreading false information" and it wasn't "obviously an Xbox game". As I wrote above, "It's not clear: the website Store page doesn't have the Xbox banner but the Store app icon does have it, and neither the Store description nor the website mentions Xbox integration at all, and I can't find an achievement list for the Windows 10 version anywhere". Furthermore, the game's Store webpage launched first, hours before the actual Store page, which is when I wrote that comment, and that page does not have any Xbox branding whatsoever. But, please go ahead and explain how at the time of my posting this game was "obviously an Xbox game". The rest of your comment is subjective and patronizing. I know more than you about what I consider to be 'cool' and 'great'.

Looks awesome I wonder if this will be made available for mobile

But when I click the "get app" button and it opens the store, screenshots for both Mobile and PC are listed, the same pictures appears on both though, that could be a good signal.

Did they say it wont come to mobile?

Has anyone been able to download yet? Says not available...

Anyway, the game looks nice .. but € 18? And not even compatible mobile support? Honestly it was tempting but in these conditions, they can keep it. ______________________________________________ apple iphone 7 galaxy note 6 sortie
Windows Central Newsletter
Get the best of Windows Central in in your inbox, every day!
Thank you for signing up to Windows Central. You will receive a verification email shortly.
There was a problem. Please refresh the page and try again.