Eureka Z2 gaming desk review: Up your game, and so much more
It's the little touches that make this desk so nice.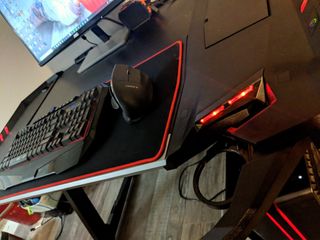 When it comes to gaming desks, comfort over long periods cannot be overstated. The Eureka Z2 gaming desk delivers comfort in a myriad of tiny ways. Plus it looks great in any office or gaming den. But do you really need a gaming desk. Here's everything you need to know about this one, to help you decide.
This desk was supplied by Eureka for the purposes of this review.
$270Bottom line: This desk has small touches that elevate it from a normal desk. The cupholder and sloped typing surface make it a winner.
For
Hidden area for power strip
Under desk cable management
Large area to stretch legs
Built-in cupholder and hooks
Color changing LEDs
Against
A lot of plastic materials used
Not as wide as we'd like
No USB ports
What you'll love about the Eureka Z2 gaming desk
When I was first approached by Eureka to review this desk, I was a little skeptical. I've been a gamer for a long time and never thought my desk would make a difference in how well I play. Turns out, a good gaming desk may not make you a better player but it will increase the length of time you can play and the amount of comfort you get when you are playing.
The Eureka Z2 is made for comfort in long gaming sessions and it shows in a myriad of different ways. For starters, it comes with an extra long mouse mat that extends under the keyboard. This cushions your wrists slightly as you play, as well as making your mouse slide effortlessly across the surface. I use a Contour vertical mouse and it seems to float over the mat like a hover mouse.
The surface you play on also has a slight tilt to it. It's only five degrees, but it's enough to bring your wrists into better alignment with your body. I write at my desk as much as I game, and my wrists feel better after two months of using this desk than they have in years.
All along the underside of the desk are channels and grooves, designed specifically to aid in cable management. My keyboard lead, monitor leads, and the power to them all run under the desk so they don't hang around my feet or sit on the desktop. Everything is hidden away in the base and only comes out at select points on the desk.
The LEDs on the Z2 are pretty much on par with any others you will find. They aren't the brightest, but I think they would be a distraction if they were brighter. I like that they plug directly into your PC, so they shut down when your PC does.
The last little touch is my secret delight on the Z2. The desk has retractable hooks and a cupholder. I can't tell you how many times I have spilled my drink onto my desk and had that mad panic to clean it up before it ruins everything. The cupholder on the Z2 sits the cup outside that spill zone as well as clamping it solidly in place. The hooks are also well made and let me hook my headphones and my Windows Mixed Reality headset on each side of the desk, out of the way, but still within easy reach. I use a simple Logitech USB headphones and mic for podcasting, and they sit perfectly on the hook waiting for me to use them.
What you'll love less about the Eureka Z2 gaming desk
There isn't a lot to dislike about the Z2, except maybe its size. At just over 59 inches wide, it feels like a big desk, but the usable space, once you take away the plastic trims and LEDs, is actually only 30 inches. That definitely isn't enough room for a full-size gaming rig on top of the desk so you will likely need the optional rolling computer stand.
One positive about the size, though, is the depth. The Z2 is a little over 26 inches deep, leaving you a lot of leg room underneath, as well as lots of room to organize your keyboard and mouse to reduce wrist strain. The depth makes up for the width in most cases and Eureka makes bigger desks if you want. But if your main focus is gaming, you should be OK with the size of the Z2.
While the Z2 has a lot of rigid plastic, it is there to house the LEDs and to give the desk that signature gaming feel. It still works, though I wish the plastic was a little thicker and perhaps smoother instead of textures. The writing surface itself is a smooth, carbon-fiber pattern wood which sometimes feels at odds with the rough texture of the plastic. But the plastic makes the desk look solid, bulky, and just plain cool.
One little addition I would love to see in later models is a USB hub. As the desk is plugged into the PC why not have a four-port USB built into the desk for phone charging, as well as plugging in mice and keyboards.
Should you buy the Eureka Z2 gaming desk?
I really enjoy this desk. The height of it, the depth, and that five-degree slant make it the nicest writing desk I have ever used. For gaming, the depth allows you to move the monitor or monitors back to give you plenty of space for your keyboard and mouse.
I like the Eureka gaming desks so much, in fact, that I bought my 12-year-old son the smaller Z1 gaming desk. It's the same design as the Z2 but with a console controller rack as well.
If you are looking for a new gaming desk or even a writing desk, the Eureka Z2 is a great choice. So, yeah, you should buy it if you need a desk like this.
All of the little fine touches that Eureka has put into the Z2 make it a really nice place to sit for six hours, playing your favorite games.
Purpose built
Comfort and style merge

Gaming for long periods of time can be exhausting if you don't have the right setup. Make your experience infinitely better by getting the Eureka Z2 gaming desk.
Get the Windows Central Newsletter
All the latest news, reviews, and guides for Windows and Xbox diehards.
James built his first PC when he was 13 and has never looked back. He can be found on Windows Central, usually in the corner where all the 3D printers are, or huddled around the Xbox playing the latest games.