Windows 11 removes these features when upgrading from Windows 10
You'll get some new features when upgrading to Windows 11, but you'll also lose some.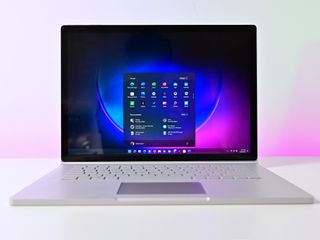 (Image credit: Daniel Rubino / Windows Central)
What you need to know
Windows 11 officially started rolling out this week.
Upgrading will add new features, but it will also remove some features that were available on Windows 10.
Windows 11 removes several options and features from the Taskbar.
Windows 11 launched this week, bringing features like a new Start menu, improved snapping, and a new Microsoft Store. The new operating system also removes some features that were available on Windows 10. Notably, people will lose several taskbar options when upgrading to Windows 11.
Microsoft's website has a list of "feature deprecations and removals (opens in new tab)," though it doesn't appear to be complete at this time:
Cortana will no longer be included in the first boot experience or pinned to the Taskbar.
Desktop wallpaper cannot be roamed to or from device when signed in with a Microsoft account.
Internet Explorer is disabled. Microsoft Edge is the recommended replacement and includes IE Mode which may be useful in certain scenarios.
Math Input Panel is removed. Math Recognizer will install on demand and includes the math input control and recognizer. Math inking in apps like OneNote are not impacted by this change.
Quick Status from the Lockscreen and associated settings are removed.
S Mode is only available now for Windows 11 Home edition.
Snipping Tool continues to be available but the old design and functionality in the Windows 10 version has been replaced with those of the app previously known as Snip & Sketch.
That's not everything. The Start menu is different in Windows 11 as well. Here's what you can expect to see change in that department:
Named groups and folders of apps are no longer supported and the layout is not currently resizable.
Pinned apps and sites will not migrate when upgrading from Windows 10.
Live Tiles are no longer available. For glanceable, dynamic content, see the new Widgets feature.
Tablet Mode is also going away, and Microsoft has a list of what's being altered when it comes to Taskbar functionality.
People is no longer present on the Taskbar.
Some icons may no longer appear in the System Tray (systray) for upgraded devices including previous customizations.
Alignment to the bottom of the screen is the only location allowed.
Apps can no longer customize areas of the Taskbar.
But that's not all! More stuff is removed with Windows 11.
Timeline is removed. Some similar functionality is available in Microsoft Edge.
Touch Keyboard will no longer dock and undock keyboard layouts on screen sizes 18 inches and larger.
Wallet is removed.
Additionally, 3D Viewer, OneNote for Windows 10, Skype, and Paint 3D won't be installed on new Windows 11 devices but will be available from the Microsoft Store.
In addition to the features listed above, Windows 11 removes the option to have the Taskbar never combine apps unless it's full. This removal led to several complaints on Reddit.
Windows Central Newsletter
Get the best of Windows Central in your inbox, every day!
Robert Carnevale is the News Editor for Windows Central. He's a big fan of Kinect (it lives on in his heart), Sonic the Hedgehog, and the legendary intersection of those two titans, Sonic Free Riders. He is the author of Cold War 2395. Have a useful tip? Send it to robert.carnevale@futurenet.com.
Out of all of that, wallet disappoints me the most. I love just having to type in my CCV. Boo!

It'll just be part of Edge at this point.

Yeah, as LiquidLearner says, Edge pretty much does the credit card syncing these days.

Great, no preinstall of Skype. More than the fact it's not preinstalled, I like this because it would seem it means they won't be automatically reinstalling it after you remove it anymore.

They're preinstalling Teams instead.

"Snipping Tool continues to be available but the old design and functionality in the Windows 10 version has been replaced..." Will Windows+Shift+S still trigger this without needing to run an app?

You can just press the Print Screen key.

Sniping tool was replaced by "Snip and Sketch" which is way better, and win - shift - s still works the same way and loads Snip and Sketch.

I'll miss the tablet mode, the live tile for the calendar (I don't want to open the app to see my agenda) and the fact that I can't pin the taskbar to the side for quick and easy app switching in tablet mode.

You can see your Agenda by clicking on the time. I think the Taskbar list is unrelated to Tablet Mode. It says People is no longer present on the Taskbar.

I'm gonna wait and see how tablets feel with 11. I believe it when they say they've improved touch features under one UI, so there's no reason to have two modes. As for tiles n' sech I'm hopeful the new widgets knock it out of the park.

I think Calendar appears as a widget. You can swipe from the left and view widgets.

I have seen a Widget for Outlook somewhere on Youtube but it was for mail, so maybe Calendar is an option

Come on Microsoft also remove Control Panel.

People are going to hate they can't move the taskbar now.

That is terrible especially for touch laptops. Putting the taskbar on the right is great because icons are under your right thumb.

Yeah but the issue is Widgets. The only way I can see this work is if they allowed swapping widgets to the bottom with Taskbar to the side, but that can get confusing for the average person. Microsoft is going for simplicity here.

People is no longer present on the Taskbar after it was removed from start.
Panos wants contacts to be managed by google. **** him

Contacts are in Outlook/Mail. Always has been. It's also where the Calendar is found.

Ok i'll open mail to see them. 🤷‍♀️
Don't you see whats happening here. He pushing it further back so that it takes longer to see your contacts... in preparation for discontinuation. His argument is there's no Phone.
Exchange, Teams, gametags, Skype etc doesn't rely on Contacts.

That's just stupid. As Daniel said, contacts have ALWAYS been in Outlook and they will continue to be there. I don't know where you're getting this from, but you couldn't be more wrong.

So its not true that you couldn't pin people icon to start menu as of 21H1? and as of 11, now the taskbar too. If you want to continue to clap for them, Panos will appreciate the love when you DM him directly.

The Massive Post at the bottom is a broken link

I AM SO HAPPY FOR THIS XD

The only one I care about is: "Named groups and folders of apps are no longer supported" There's got to be something to replace this eventually. Also I want the widgets to launch the apps they represent. It's amazing how this often doesn't work well in Android.

Yeah, this needs to be remedied. Everything in my Start Menu is organized by category and/or grouped into folders. I think I'll be joining the Insider program once again just to leave feedback about this!

"People is no longer present on the Taskbar." Does that mean it's going to be back as a standalone app, or are they getting rid of contacts entirely?

I'd completely forgotten they'd removed the People app. I've gotten used to it, I guess.

It is still here actually, they just removed its shortcut from the All Apps list. The only way you can open that app is through Mail and Calendar when you click the Contacts button from the navigation menu. It is just the People Bar got completely removed, well it was never finished and fully utilized by Microsoft themselves.

IE is still there just disabled? It's been at least 15 years since I last used that ancient browser. Why is it still hanging around??? They're not including 3D Viewer, OneNote for Windows 10, Skype, and Paint 3D, for obvious reasons but then they're keeping IE? Alignment to the bottom only is dumb. I love having the task bar list style on the side. They added this functionality to tabs in Edge then remove it for the desktop? Hopefully TaskbarX will have a fix for this issue. This list looks like a great start to streamlining things and reducing bloat. I tried using the rest of this stuff like People, tablet mode, live tiles, wallet and timeline but they just never became intuitive habits.

Windows is not made to adapt to the way you want to work

I'm not sure if you're being sarcastic or not.

I still need it for a few sites at work. We are moving away from it, but it will take time to move everything.

Will I need an MS account for this or can I just use a local install ? After MS removed my Onedrive , I no longer trust them, so I have no MS store account nor Windows account ,just a local account, that also allows me to run the store app. Can I persist with this ?

What happened to your OneDrive? 😱

"Named groups and folders of apps are no longer supported and the layout is not currently resizable." This one bothers me the most. Of all the things I've hated about 8 and then 10 is that I couldn't make my own folders in the start menu to arrange things like I want even though folders could be created by installing software. I had hoped that maybe they would give us that ability back in 11 especially since in the presentation they talked about how important the user and it being personal were but I guess there goes that, another generation of ugly unorganized start menu.... bummer

See, this is exactly why I ignore the Start Menu and just use my desktop.

The new Start menu is the biggest disappointment to me. I was a huge fan of live tiles. I like that they offered app information as well as a launcher. Being able to customize the app groups, and resize the tiles was great for organizing. Then, you had the full apps list right there, without another button to get to it. Newly install apps popped up at the top. Seems like a huge step back to just dump a pile of static icons on a fixed size window and call it a day.

I agree completely. All of my computers are set to launch in tablet mode. Resizable icons, live tiles, grouping will be missed. I do like having the power switch on the left side of the display and the volume rocker on the right side on the Surface Pro 8. I will no longer turn my Surface off when increasing the volume.

You can't move the task bar?
You can't group apps into folders?
What is this, the dark ages?

It seems rushed IMHO. But just like how Apple will soon invent the notchless phone, MS will one day invent the taskbar that can be moved, and grouping apps.

With no more groups or folders in it, I predict the Windows 11 Start menu is going to get absolutely *spammed*. Unless you use the Windows Store, every app you install is going to put its uninstaller, its readme file, its online help, a few helper/configuration apps, and a link to its web site there.

Actually no, since apps don't automatically added as pinned items on the Start menu, so that's not an issue actually. Even Windows 10 don't do this either. The last time this was a thing was on Windows 8.0 (not 8.1). Those only become a thing in the All Apps list, like since Windows 95. For those new apps installed, Recommended section in Start menu will definitely get spammed with those.

But excluding folders from pinned icons is bad - I always had my games in one folder in he Start menu, office tools in another and so on. I guess I'll need to install some Start Menu replacement :(

Removing grouping and folder on Start. Pinning the taskbar dead bottom. It's gonna be like moving into a new house that has no kitchen sink and shower tub but with a wack ton extra stuff like high-end massage chairs and hifi stereos. Nice move Windows 11 /s

Taskbar is anchored to the bottom. As anyone that works on an Ultrawide monitor can tell you, that is the absolute stupidest thing I have heard. When it is on the bottom you can only see a tiny snipet of each app, on the right or left side you can widen it so you know exactly what you are opening without hovering and waiting for the preview window. This is a horrible step backwards.

"As anyone that works on an Ultrawide monitor can tell you, that is the absolute stupidest thing" It's not much different if you have two side-by-side monitors. I am hopeful (I don't have my hands on W11 and won't for a while) but this does look like a dumb implementation. :-( At least we have new a new snapping system!

Jump Lists -- if you right click on a pinned app in Windows 11, can you see all of its documents and, in the case of a browser, option to open in Private mode? Are those right-click Jump Lists still there on Start Menu apps? Are they still there on the Taskbar? These are my chief mechanism for accessing documents at least as far back as Windows 7, so this is an important functional check for me. Also, can you pin an Edge browser icon for each Profile, or just once for the whole application?

Oddly, those jumplists and additional right-click options are available from the All Apps list but not on a pinned shortcut on the Start Menu, although they are available on the Task Bar. That seems like something that they must be going to change in the future. You can pin multiple profiles for Edge, at least to the Task Bar. Haven't tried to pin them to Start.

Thank you for this tidbit. Hopefully that's fixed soon.

Yeah, Jump List and Notification Badge is another missing thing in the new Start Menu. Funny that Microsoft did actually forgot those since they never mentioned it at all. At least they are still accessible from the Taskbar and when you do Windows Search (since its basically same thing from Windows 10) but unless you pin all your favorite apps on the Taskbar, you can't access those things anymore. Notification Badge is another thing missing, which practically make this new Start Menu dead. Too basic that even Mobile OS home screens have those as a minimum feature. This is why I can't even say its following Android or iOS since new Start menu even lacks those basic features (Folders, Notifications and Quick Actions/Jump List).

The taskbar calendar at the bottom right corner no longer shows my activities or various calendars. Is this a glitch?

You forgot "PRODUCTIVITY"! (ability to group apps in the start menu...)

I dont like how when the start menu is positioned to the left, the bottom left corner doesnt activate the Start menu like his has done since Windows 95.

What's OneNote for Windows 10 called in Windows 11?

OneNote. They were never really called anything else, just a way to differentiate the x86 desktop version and the UWP store version. The latter is dead app walking.

Don't miss any of these features, never used them...

"Quick Status from the Lockscreen"
what? why?

The customizable icons is now gone with Windows 11. Well idk why it has been removed, I guess not very well utilized. This should be a problem if only we can access notification list from the Lock Screen, but alas they don't do that either for whatever reason.