Everything you need to know about Windows Mixed Reality
What is Windows Mixed Reality?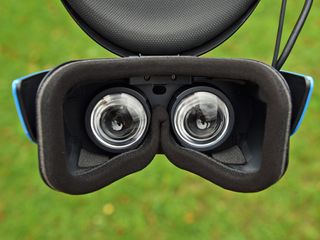 Windows Mixed Reality (WMR) was released October 2017, bringing a number of VR headsets and motion controllers from major manufacturers. Are you new to WMR and its history? Where did it start, where has it gone, and where is it going? Here's everything you need to know about the emerging platform.
It started with HoloLens
Microsoft's HoloLens, an augmented reality (AR) headset, was released for developers March 2016. The HoloLens features a headband reminiscent of the one on PlayStation VR but has a transparent visor instead of a dual-lens display. It can also be operated on its own; no PC or cables are required.
The visor on the HoloLens lets you see your surroundings as well as projected holograms. Your eyes are tracked to move the cursor, you use hand gestures in front of the HoloLens, and you use voice commands to get around the UI.
The HoloLens is an impressive piece of hardware, but the $3,000 price tag isn't exactly feasible for most people. Alternative hardware, preferably with a price most people can afford, is needed to really get a platform off the ground.
Windows Mixed Reality headsets are revealed
In October 2016, Microsoft announced a partnership with a bunch of leading manufacturers, and headsets from Dell, Lenovo, ASUS, Acer, and HP were revealed to the world. A few months later at CES 2017, headsets from these companies were shown off to attendees. A Samsung WMR headset was revealed later in 2017; headsets from all manufacturers are currently available and come with different price points.
Best Places to Buy a Windows Mixed Reality Headset in 2018
Not all headsets have the exact same specs, which helps explain the price difference. For a truly premium experience, the Samsung Odyssey has you covered for about $500, but that doesn't mean headsets from Acer, HP, and Lenovo, priced at about $400, don't deliver an awesome experience.
This is how every Windows Mixed Reality headset stacks up against each other
How does it all work?
The "Mixed Reality" part of the name is pretty much a misnomer. These headsets are straight VR and aim to compete with the likes of Oculus Rift and HTC Vive. The WMR headsets rely on a wired connection to your PC but have inside-out tracking rather than relying on external sensors.
To track the dual motion controllers that act as your hands in-game, each headset has a set of sensors built into the front. Despite tracking being limited mostly to where you're looking — placing your hand and controllers behind your back will break line-of-sight — the controllers deliver a solid VR experience.
WMR is simple to set up, and you should be enjoying content within minutes of plugging it into your PC.
New to Windows Mixed Reality? Here's how to get started!
Powering Windows Mixed Reality
Before purchasing a WMR headset, it's a good idea to check the minimum PC requirements. While having this hardware in your PC will get the WMR portal off the ground, specific games might require different specs to run properly. Always check before purchasing software to ensure your money isn't wasted!
To make things a bit more confusing, there are two classes of WMR: Standard and Ultra. Standard WMR mostly encompasses PCs with integrated graphics and will be expected to run at 60 frames-per-second (FPS). Ultra WMR will have discrete graphics and will be expected to run at 90 FPS.
What is Windows Mixed Reality Ultra?
Here are the PC specs required to run a standard WMR experience:
CPU: Intel Mobile Core i5 (e.g. 7200U) dual-core with Hyperthreading
GPU: Integrated Intel® HD Graphics 620 (GT2) equivalent or NVIDIA MX150/965M
RAM: 8GB DDR3 dual channel
Display port: HDMI 1.4 or DisplayPort 1.2
USB: USB-A 3.0 or USB-C 3.0
Bluetooth: Bluetooth 4.0 for accessories
Here are the PC specs required to run an Ultra WMR experience:
CPU: Intel Core i5-4590 or AMD Ryzen 5 1400
GPU: NVIDIA GTX 960/1050 or AMD RX 450/560
RAM: 8GB DDR3
Display port: HDMI 2.0 or DisplayPort 1.2
USB: USB-A 3.0 or USB-C 3.0
Bluetooth: Bluetooth 4.0 for accessories
If your PC is lacking the appropriate ports to connect WMR, you can always go the way of adapters and dongles to get everything hooked up.
How to connect a Windows Mixed Reality headset to your PC using adapters
Windows Mixed Reality motion controllers
The WMR motion controllers look as though the Vive wands and the Rift Touch controllers had a child. You get the same six degrees of freedom as you do with Vive, Rift, and PSVR motion controllers, and the end result is a great time using virtual hands in a virtual world.
Individual manufacturers are building the motion controllers to go along with the headsets. They all seem to have the same standard of design — though the Samsung controllers are shaped a bit differently — and they all work the same way.
How Windows Mixed Reality motion controllers compare to the competition
Does Windows Mixed Reality play nice with HTC Vive and Oculus Rift?
Thanks to integration with SteamVR, Windows Mixed Reality can join in on the fun of just about any games that are compatible with the HTC Vive and Oculus Rift.
How to use SteamVR with Windows Mixed Reality
This means that two of your friends, one with a Vive and one with a Rift, can jump into the same game, and you with your WMR headset can join them. Of course, not all experiences found on Steam will work perfectly with WMR, but I've put together a list of the ones that I think are best.
Best SteamVR Games for Windows Mixed Reality in 2018
Where else can I find games for Windows Mixed Reality?
The Microsoft Store is full of games and experiences for WMR with more on the way all the time. If you're not sure where to get started, I've rounded up the best of the best available now.
Best Windows Mixed Reality Games in 2018
More resources
Looking for more information about Windows Mixed Reality? Our ultimate guide has plenty more information.
Windows Mixed Reality ultimate guide
Updated February 8, 2018: This articles has been refreshed to ensure it remains relevant to what we know about Windows Mixed Reality.
Get the Windows Central Newsletter
All the latest news, reviews, and guides for Windows and Xbox diehards.
Senior Editor, Laptop Reviews
Cale Hunt is formerly a Senior Editor at Windows Central. He focuses mainly on laptop reviews, news, and accessory coverage. He's been reviewing laptops and accessories full-time since 2016, with hundreds of reviews published for Windows Central. He is an avid PC gamer and multi-platform user, and spends most of his time either tinkering with or writing about tech.