Everything we learned about Microsoft Edge at Ignite 2019
Check out everything Microsoft announced around Edge at Ignite 2019.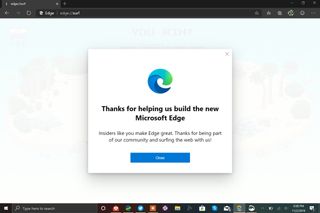 (Image credit: Windows Central)
Microsoft made several announcements around Microsoft Edge at Ignite 2019, and it can be hard to keep up with them all. Everything from a release date, to a new look, platform availability, and more were detailed. Here's a list of everything we learned about Microsoft Edge at Ignite 2019.
Edge gets a release date
At Ignite, Microsoft finally announced a release date for the stable version of its new Edge browser. That date is January 15, 2020, and will launch "business-ready" on day one. Anyone will be able to download the new Edge on January 15, but a more consumer-orientated launch is planned for spring 2020. It's unknown what this consumer launch will entail, but we'll likely see more consumer-focused features, and perhaps the return of some old Edge features as well.
Microsoft was not clear on when the new Edge will be replacing the old Edge out of the box on Windows 10. Microsoft is looking into different ways to deliver Edge to existing Windows 10 users, including via Windows Update or preloaded on a future Windows 10 feature update. It'll likely happen after the January 15 launch date, regardless.
It will be coming to Linux
Microsoft also announced that the new Edge would be available on Windows, macOS, and at some point in the future, Linux too. Microsoft had teased in the past that a Linux version was in the works, and now it's confirmed officially by the company. The new Microsoft Edge will be available on Windows 7, Windows 8.x, Windows 10, macOS, and Linux. Edge is already available on Android and iOS and will be updated with new features to accompany the desktop browser where it makes sense.
A new brand identity
Alongside the release date, Microsoft also unveiled a brand new identity for Microsoft Edge as a browser. The blue E is no more, replaced with a colorful "surf" icon that's a subtle call-back to the idea of surfing the edge of a wave. Microsoft tells us it also considered rebranding Edge but found that the Edge brand wasn't something people had an issue with, but that a new logo identity was required so that users knew they were using the new Edge instead of the old one.
ARM support now in preview
While not technically announced at Ignite 2019, the new Microsoft Edge is now available in preview for Windows 10 on ARM devices. This is a big deal, as it means the new Edge is now natively compatible with devices like the Surface Pro X. It's unclear if ARM support will be there when Edge stable launches on January 15, but if it isn't, it won't be far behind now that it's in public testing.
Features ready on day one
Microsoft has also locked in which features will be available in the new Edge on day one, with more features coming throughout 2020. Day one features include a new collections mode that allows you to browse the web and throw links and images into a group that can be saved and synced across devices. This is a spiritual successor to old Edge's "set tabs aside" feature.
There's also new privacy tracking features specific to Microsoft Edge that allows users to control just how much data they are sharing with websites while browsing the web. Tracking prevention will minimize the number of data advertisers can use to follow you around the web. If you don't like Amazon recommending products to you that you recently searched for online, tracking prevention will help minimize this.
PDFs inside the new Microsoft Edge will also support inking, just like the old Microsoft Edge. Other features are more specific to Chromium than Edge individually, such as being able to sync tabs, settings, and more across devices. Many features of old Edge are looking like they won't be available on day one, including Set Tabs Aside, inking onto webpages, syncing history with Timeline, and more.
Zac Bowden is a Senior Editor at Windows Central. Bringing you exclusive coverage into the world of Windows 10 on PCs, tablets, phones, and more. Also an avid collector of rare Microsoft prototype devices! Keep in touch on Twitter: @zacbowden.
Was kinda hoping the markup features on Edge would port over before the grand launch. Oh well. Its a great product and I'm proud to have been part of its development as a Canary user.

I'm one of those "people" that doesn't have a problem with the Edge brand. I just wish Microsoft cared as much about many of the other Microsoft brands (Windows 10S, Surface Neo, Surface Duo, Surface Pro X, Windows 10X).

Will Edge be getting DNS over HTTPS?

The whole OS is getting DNS over HTTPS. Was announced earlier this week.

I've been looking forward to this for a while. In the meantime, I downloaded Brave and OMG is it great! Because of Brave, I don't feel that urge to wait for new Edge anymore. Folks should check it out. It has ad block built in along with tracking protection. Tor for private browsing. It's fast. It shows its own ads where you generate cash. But you can contribute those funds to sites to visit the most. Brilliant!

I think the collections feature sounds promising. Is it the case that this will replace both the read later feature (which is still in Edge on Android) and set-aside tabs?

Question about the ARM support... Does this require a new download of the program or is just an update to the Win32 program like the rest of the others?

Will this be replacing the edge browser on xbox one?

They should have gone with SPARTAN
Windows Central Newsletter
Thank you for signing up to Windows Central. You will receive a verification email shortly.
There was a problem. Please refresh the page and try again.