Time-traveling, genre-spanning adventure Evoland 2 coming to Windows PC in August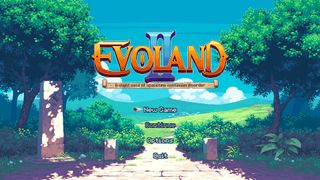 Not long ago, I was quite taken with Steam platformer Adventures of Pip's smart use graphic styles from different gaming eras. While the mix of art styles and puzzle platforming was certainly clever, combining different genres of games would be even more so. That's just what indie developer Shiro Games accomplished with their Steam and mobile debut title Evoland back in 2013.
Fast-forward to today and Shiro Games has just announced that Evoland 2 will come to Windows PC next month. Evoland 2 promises a sprawling action-RPG (not unlike Zelda and Secret of Mana) with tons of different graphic and gameplay styles. Players will hop from action-RPG to a fighting game, shoot 'em up, and many more genres – all in one epic adventure.
Read on for my hands-on impressions with an early build of Evoland 2 and lots of mouth-watering screenshots!
Play the Game, Boy
Evoland 2 begins with a tutorial that takes place in a green-tinged, 8-Bit GameBoy-style world. Players will learn to move and walk around (which we don't really need to be taught, but whateva) before battling against a horde of slimes. A group of sagely people enter and remark that our young hero has passed the test…
Suddenly, the player character Kuro (who can be renamed) wakes up in bed. A young woman named Fina asks whether he has regained his memory yet. The poor lad suffers from amnesia, but the trope fits perfectly within this game that pays homage to dozens of games from yesteryear.
Our hero sets out to explore the forest where Fina's father found him, battling slimes, poison mushrooms, and even aggressive squirrels along the way. Killing enemies fills his XP meter. Once he collects enough experience, he'll level up and boost his attack, defense, and hit points.
Soon Kuro must rescue Fina from a pack of mushroom monsters. She then joins him as a companion. Charging the attack button will cause Fina to perform a lunging sword attack, damaging enemies and clearing out vines that block the team's path.
Not much later, the pair discovers a trio of demons in a clearing. The baddies activate a mysterious relic, which causes the Forest Guardian to awaken from its slumber. After they run away, Kuro and Fina must defeat the challenging boss.
Suddenly, our heroes find themselves in a colorful 8-bit realm. The 8-bit world looks even better than the 16-bit world, if you ask me – it really nails the NES and GameBoy aesthetics. Kuro and Fina have to figure out what happened as they try to make their way back to the village. This area introduces some cool new mechanics, like chopping down a tree and then using it as a bridge to cross the river.
Adventuring across the Spacetime Continuum
Evoland 2's heroes will travel across lands and through time itself as they try to discover what has happened to their world and prevent a dark and desolate future.
Along the way, players will encounter areas based on a fantastic array of game genres: 2D platformer, turn-based RPG, beat 'em up, a vertically-scrolling shoot 'em up, and much more. They'll even venture into 3D realms with varying gameplay styles. You don't often find so much variety in a single game.
Evoland 2: A Slight Case of Spacetime Continuum Disorder launches on Windows PC on Saturday, August 25. Mac and Linux versions will follow later in the year. It will cost $19.99, but you can preorder the DRM-free version for $17.99 from Evoland2.com.
Did you play the first Evoland, dear reader? Let us know if you're excited about the upcoming sequel!
Paul Acevedo is the Games Editor at Windows Central. A lifelong gamer, he has written about videogames for over 15 years and reviewed over 350 games for our site. Follow him on Twitter @PaulRAcevedo. Don't hate. Appreciate!
Oh cool. The first game was really fun, if only for its satirical take on the history of gaming. I'll probably get this when it comes out.

I watched Yogsast Sips play the first game. It's really cool!

Never played it, looks funny I'll probably give it a shot :)

I really enjoyed the first Evoland, I'll be picking this one up as well.

An NES style RPG about time travel? That'll never catch on.

"A slight case of Windows 10 continuum disorder"

Will have to check this out. Nice review!

Looks nice, but $20 is a bit on the high side..hope it comes to wp

So, it's Chrono Trigger Secret of Mana mixed together? I'm in!

O man, this is some kind of a game I'm missing on the phone :) no matter, looks awesome.

I wonder if Kuro's children died when the Forest Guardian awakened

The first game was very good and interesting! A bit on the short side though. Hopefully part 2 can entertain me longer.

A little pricey but looks like a lot of fun. I do enjoy these retro style games
Windows Central Newsletter
Thank you for signing up to Windows Central. You will receive a verification email shortly.
There was a problem. Please refresh the page and try again.