Microsoft's new 'exploding' Live Tiles to launch with Windows 10 for Phone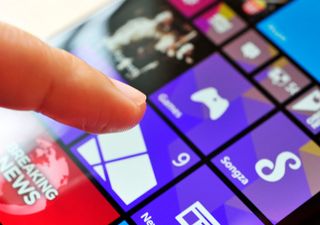 Windows 10 for Phone to have innovative Mixview Live Tiles
When it comes to Windows 10 on PC, much is already known in terms of enterprise design and features. After all, there is a public preview of Windows 10, which is downloadable to any laptop or PC right now. Still, the consumer end of Windows 10 is mostly a mystery at this time. Microsoft reportedly will detail more on that facet early next year.
Another unclear aspect is in regards to the Windows Phone UI. Although Windows 10 spans across PC, laptop, tablet, phone and even the Xbox One, it is not clear what, if any, changes it brings to the Start screen, especially on the phone.
Windows Central has been able to confirm with multiple sources that 'flyout tiles', also known as Mixview, will return to Windows Phone. Such a feature is returning because the concept was originally designed for the 3D Touch system that was to premiere with 'McLaren'.
The cancelled 'McLaren' prototype Windows Phone was to have 3D Touch
McLaren was the codename for the new flagship Windows Phone set for release for fall 2014 before it was abruptly cancelled this past July. (A prototype of that phone was recently spotted as confirmed on Twitter by The Verge's Tom Warren).
At the time, Windows Central noted that although McLaren as a device is dead in the water, various aspects of the 3D Touch system would continue. Exploration into next-generation UIs and interaction paradigms is something that Microsoft is always working on in their Research division. Evidently, Microsoft has seen flyout tiles as something that could be used even without 3D Touch.
Flyout tiles and Mixview
From our original reporting in June on Mixview, we described the new Tile design this way:
It should be noted that such a system was describing the now-defunct 3D Touch gesture system. That iteration of the Start screen was to debut with Windows Phone 8.1 GDR2 on the now-cancelled McLaren Windows Phone.
The original Zune Mixview
Interestingly, Microsoft's original conception for Mixview can be observed in the Zune music software, seen above. Once again, it appears Microsoft is building off legacy design principles.
Fast-forward to late 2014 and although 3D Touch is not something currently in the works (to our knowledge), the Mixview UI is alive and well. A person familiar with the matter recently described to us the current recapitulation of Mixview running on a Lumia 830:
Update: Reportedly, the "special part of the tile" refers to an ellipsis graphic near the bottom right corner. Taping this reveals smaller, actionable tiles.
The above description matches our other sourced reports of what Microsoft is experimenting with for Windows 10. Windows 10, however, is not expected to launch until mid-2015 (at the earliest) and presumably much can change between now and its final release. We have to wait and see if Mixview makes the cut.
Evolving the Live Tile
Microsoft's Live Tile system is, arguably, one of its strongest assets in terms of OS design. While Android and iOS are still sticking with rows of icons for apps, Microsoft's Live Tiles stand out as a viable and interesting alternative. The question of 'where do we go from here?' is certainly a reasonable question, and Microsoft appears to have an answer with these purported flyout tiles.
Regardless, it should be clear that there is stil much to learn about Windows 10, including core aspects of design, interaction and new features. Assuming Microsoft fills in some of these knowledge gaps early next year, Windows Phone users will at least have something tangible to look forward to until its release.
Windows Central Newsletter
Get the best of Windows Central in in your inbox, every day!
Daniel Rubino is the Editor-in-chief of Windows Central, head reviewer, podcast co-host, and analyst. He has been covering Microsoft since 2007 when this site was called WMExperts (and later Windows Phone Central). His interests include Windows, laptops, next-gen computing, and for some reason, watches. Before all this tech stuff, he worked on a Ph.D. in linguistics, watched people sleep (for medical purposes!), and ran the projectors at movie theaters because it was fun.
Looking forward to Developer Preview.

Me to... Hoping it'll be a good three months before general release! So first half of 2015

The "live tiles" are one of the only remaining reasons to buy a Windows Phone at this point.

I would have agreed with you a week ago. But I purchased my first Android phone and have been using it for a week. Live tiles are not the only thing WP has going for it. Handsfree ability when connected via Bluetooth is much better in WP. Sure I could install an app and even program something through tasker, but oh my god what a garbled mess doing all that is. Something as simple as having a persistant toast message for meeting reminders requires an App. On the plus side, there is an App for everything and the widgets are not bad. I have a feeling i'll be back on Windows Phone as soon as they put out a decent flagship with Windows 10.

Oh man, I'm in the same situation. I'm using an Android phone and there are so many things I miss from WP. I also have a feeling that Windows 10 will bring back home.

Yeah. People switching to android or IOS, miss many features of WP. Windows Phone even though we hate you, we still love you.=)

Been there done that, I'm a busy person now and WP is a real time saver, no fuss smooth experience.

Agree.
Now, lets see a 2015 spec'd top of the line, packed full of goodness, photo fabulous flagship please!!! :D

i couldnt agree more with your statement @rwalrond. im currently stuck with a nexus 5 after my 8x died due to water damage and the only phone i could afford was a nexus 5 which was on sale for around 100usd. i totally miss the typography/content oriented design of metro/modern ui. i dont need fancy icons. in windows phone the app list is presented with large text. i see what im looking for. my eyes hurt from searching through the sea of icons which are non functional (accept for being pretty). i just hope when 10 releases for phones, microsoft will consider having it booting from arm devices like a nexus 5 so i can flash windows 10 into it.

Personally, I think the main reason to buy a Windows Phone at this point is Bing Search. My wife has an iPhone, and I have played with it trying to find a way to do the equivalent, for example with local results and the integration with mapping and Here Drive, and I just don't see it. I have not tried an Android phone. Live tiles are nice for calendar and weather. Honestly, beyond those, I don't see much point.

there is a Bing App for ios

Haha... Agreed. And the MODERN design

"Windows 10 for Phone"? Ugh. Why does Microsoft insist on adding extra and unnecessary words to things?!?

HTC Hima (M9) with Windows 10 for Phones©. ;)

The 'for Phone' part is added by Windows Central so you can tell which UI they're talking about. Microsoft have actually removed the word Phone entirely.

Exactly. FWIW, this is very likely to be on Windows 10 for PC too, but at this time I only have multiple visual confirmations on Phone, so I wanted to make that clear.

Can we see a video of this. Call it an early christmas gift lol.

It's just for article clarification purposes. It's going to be just Windows 10 on everything.

Because... https://www.youtube.com/watch?v=EUXnJraKM3k Oldie but goodie.

@ erasure25 I had not seen that before. And it was fantastic. Thanks for making my morning.

Microsoft has no idea how to market to consumers, including the way it names its products. "Windows RT" is one example. "Windows Screen Sharing" was another example. They are clueless.

This sounds great. I'm glad Microsoft going "deeper" into thier particular UI choice with the Live Tile concept.
I love Window's Phone and was glad to see all of the awesome updates that came with Windows Phone 8.1. I was disappointed however with the removal of the deep social network integration and messaging integration which essentially made social network apps "invisible" as you interacted with friends and Family on Facebook and Twitter, interacting with content, liking comments, tagging photos, commenting, etc. I understand the disentangling of the apps from the OS, logic to allow for more frequent and nimbler updates, however communication has become a tad clumsier as Windows Phone is more App Centric(like iOS and Android) than People -Centric as it was pre - 8.1.
I find frustrating and abrupt which was once a seamless process when responding to someone on FB Messenger. Rather than going to the "person", now like iOS and Android we have to chase them through an App: Find messenger and message away. Or if I want to comment on facebook or view a contacts photos, I go to the contact then have to hit the Facebook short cut, a Facebook splash screen momentarily appears, then I am in the Blue and White Facebook app. Like Android and iOS .Whereas in time past, as we know, if we wanted to comment on a contacts Facebook posts or look through their FB images or tag them, you just went to the contact card and commented, viewed or tagged away. The "interface" was seamless. No abrupt leap from the contact card to an app with a visually different UI. The OS itself was like a portal to our social networking world. Seamless. I miss that. Extensibility and has been promised to bring other apps on board in accordance with the "quicker update, more app integration" vision, but we've seen little progress on that front thus far, and the Twitter app which was mistakenly released early on and recalled has yet to reappear(which I'm kind of glad it hasn't since Twitter is still represented the old way.)
All that said I do enjoy all of she improvements 8.1 brought and I'm glad to see MS sticking to thier vision with the Live Tiles evolution! They have been accused of become more iOS and Android-esque in attempts to, I presume to some degree, be easier to transition to for iOS and Android converts. Keep holding to your guns Microsoft. Windows Phones uniqueness, Live Tiles, (Hubs and Social Network Integration) won many of us over. We have swallowed the bitter pill of the casualties of the loss of some loved features for what we have been told was for the good of the platform. Seeing Live Tiles the most distinct and visible feature of Windows Phone taken to the next level is exciting. I'm thinking this is just the tip of the iceberg. :-)

How long did it take you type that comment?!

No matter how long you typed. But I agree to each and every word you said. Things like notification centre and Cortana are good. But removing features from the messaging hub and people hub was not a good decision. Microsoft's whole marketing scheme as "Your personal smartphone", has now kinda lost meaning.

I agree with everything you said. Microsoft has the ideas and people to really wow everyone. Their challenge has always been execution, consistency, and then communication! The other platforms have taken a cue from us with their recent design. I hope Microsoft lives up to its potential.

The more they go back to Zune UI the better. I hope to be able again to press oversized typography to return to previous menu. Such a joy to use.

Amen! I had a Zune HD and that was one of the greatest devices I have ever used

Agree. I still use a Windows Phone 7 device as my media player because the Zune software is so much better than the Xbox Music app (and also better than the Windows Phone app for desktop). I've been trying to add music the the microSD card on my new Lumia 630... but I can't get it to work right... which is incredibly frustrating. I also can't get it to download Maps to my SD card.

Is there actualy still coming a GDR2 release for Windows Phone 8.1? It was planned to be released in October according to WCentral. Anyway, I think it's a nice features. Looking forward to it. :)

It will by the end of the next year..

Wut? By that time W10 will be out.

GDR1 was released in August. GDR2 was planned for October 2014, but never happened for now. Did you even read my comment?

With the 'Coming Soon' everytime, it reminds me October comes every year!!

GDR2 is supposed to add hardware support to 2.7 GHz Snapdragon 805 and 2K display. Since no new high-end phones will be released in the near term, GDR2 may come in the early Spring. Hopefully, MS will surprise us in MWC 2015 (March 2-3) with a new high-end phone announcement.

"When pressing down in the air (without touching the Tile)" I'm confused because that seems it would require new hardware?

That's them quoting from the information given about the now defunct McLaren that they were working on. That was the last time we had heard of the "exploding tiles", that is why that description was included.

I guess.. So not all phones will be having this feature, right?

The tiles themselves will have a spot that you press for a second and they will 'explode' so all phones will support it. Think right click vs left on a mouse.

I was thinking of...
Tap once, open app
Tap twice, open app Mixview ;)

The app would open on the first tap though, giving you no chance to tap a second time

Yeah, reverse is better: One tap explode, two taps opens (like Windows on PC)

No, think of the "long press", the method you use to resize your tiles now. The resize arrow is in one corner while the tile is in "resize mode", and the "unpin" button is in another right? Well the "exploding ellipse" button could be in an adjacent corner, no? (there's currently still two free corners!)

Eh, long press kinda sucks. Double tap to explode will work fine. The device will just wait a split second for another tap before the app launches.

That's what I was thinking.

IMO, a zoom in gesture on the tile with two fingers would be more natural and wouldn't require new hardware.

That would work really well for the larger tiles, but if you have extra tiles displayed on a regular sized phone, then the small tiles are too small for two fingers.

I agree with you that would be much more natural, and I disagree with the other guy, I think it would still work well with small tiles, and even if it doesn't it could be made for large tiles only.

Nice idea actually. But I doubt it. Pinch gesture require two fingers and some of us like to operate the phone using only one thumb in most case. If this gesture is used, I will be one of them who will rarely use the feature.

Another way to explode a tile could be a small swipe. MS already uses swipes for selection though.

Read the article again...

With super sensitive touchscreens, which are on many Windows phones, you don't need to actually touch the screen to indicate a tap so no, this will surely not need new hardware.

Try the Lumia 1520. With the phantom touch, it does that sometimes.

As for the current situation, i think they should put the double tap feature in the notification panel, just like for the wifi settings, one tap to turn on/off and double tap to goto settings. Miss that feature for Bluetooth settings in the notification panel.

That "pressing down in the air" reminds me of super sensitive touch for a second. You really don't need to touch the screen when that thing is enabled. You can hover your finger over the screen and it works on my 525. *works better when scrolling and swiping. Actually that doesn't work for things like typing.

Finally! Some good news for Windows Phone! :)

Yes indeed a very good news

I am currently very much pissed with the OS limitations coupled with the App gap.... So something new coming to WP is a good news

Can I ask you exactly what limitations you are talking about. I mean you can do stuff on WP that you can't on IOS like use game emulators and bit torrent clients try that on a iPhone.there ain't much other then using pirated software you can't do on WP. So if you wanna screw game developers out of money go buy a jailbroken iPhone or a android but I always think that's bad karma. As far as the supposed app gapp how many do you realm need WP gots 350,000 apps in the store and constantly growing. I now there are a few first party apps still missing but you can find just as good if not better third party alternatives.. I mean everybody just likes to nit pick they go oh WP do have the exact same app as iPhone/android. They have a better third party app but its not the exact same so I can't be different from all my little friends what will they think of me. Come on people new apps and games are arriving daily on WP I like to watch it grow if you don't believe my follow all the WP websites and news letters and you'll. See more and more developers are starting to take WP seriously.

Dude, I have come to wp8 after trying all other platforms viz lagdroid, BB OS10.2, and iOS. I was sceptical about wp so I chose a mid ranger Lumia 720 a year back. I would like to say that I pretty much love ❤ wp8.1 PfD. And I am waiting for a flagship from MS Lumia to upgrade. Hence Anything new coming with windows 10 is welcome. And FYI I follow many WP dedicated sites along with sites for other OSes. So stop being so fanboy, and accept the facts plus enjoy our beloved WINDOWS PHONE.

The funny thing is instead of answering my question and providing actual conter points to my argument you just call me a fan boy and I by my own admission am a WP fan boy. That don't make what I said any less true at least I'm not fake and come on a windows phone dedicated site and act like I'm a fan and bash I also don't troll othe tech sites dedicated to ios/android why cuz I don't give a crap about that Linux wearing makeup open source piece of crap known as android. Or IOS I do care about people whining about something like a apo gapp that really ain't a problem any more. If you think if is do everybody a favor and go buy a android.iPhone and stop the bitching

Where are the official apps for instagram, how crappy FB app is you must be knowing, twitter app sucks, Pinterest? Snapchat? Oh and where are Google apps? I know you will say its google problem! So grow up kiddo the list is endless. Where are current top chart games? I know there are aplenty of 3rd party apps. But just if you understand the difference between father and step father then the discussion ends there. And mind you I can use much more abusive language than you can imagine. But I am here for news, reviews, and everything else about MS and not here for a retard like you. So STFU.

-Instagram : I'm not sure what are you talking about but the official instagram app is available for more than half a year allready.. - Facebook: I find my fb app pretty good, at least it doesn't lag like it does on my sister's galaxy. -Twitter: You have a dozent of twitter apps, some are reportedly even better than oficials on other platforms -Pinterest : it is available... -Snapchat: Use 6snap, it is better anyway. -Google apps: why dont you fooking grow up and realize that it is not in Microsoft's hands to bring you google services and apps and go ask your beloved google that huh ? why are they afraid of competition ? oh and who in the sane mind would use google services when you have better offerings here at Microsoft ? I dont know what is your problem, but it is not smart comming to a site dedicated to windows and complain how you like anything else better ...

Thank you for the clarifications. The guy has no idea about WP and repeating stuff that he used to write from last year. Needless to say, when you present facts these haters are either going to call you name or run away. We pity these guys.

This just goes to show that you either don't use a windows phone or don't update your apps cuz fb and what's app just got updated and they are 100% better then they were before as far as instagram I suspect it will get alot better to cuz facebook is buying them and unlike google fb has a better relationship with Microsoft and supports it better the instagram did so I think we will finally see instagram out of beta and much improved once fb finish there purchase of instagram. As far as snap chat well there is 6snap its better then the snap chat app but just cuz it ain't like your friends and you might get laughed at you wont use it. As far as Google well they can go f### themselves for all I care. And I'm sorry but I don't shut the f### up for you or anybody you call me a retard but prove you are by your constant bashing if you don't like windows phone but like Xbox or windows for PC that's fine read them articles but why come on a article about WP and call someone who enjoys WP a retard cuz they wont bend down and kiss googles a##. Just cuz you follow the crowd don't mean every one does 95% of people are follower so don't feel bad.peace out. Cuz I I really could give a rats a## what you think about me or what you think.

Search those 350000 apps, you will get 10 fake apps for each missing official app.... Then come and lecture me. I use not more than 20 apps at a time on my phone but the ones you prefer are crappy then uts bad.

Its the same in Android, a lots of fake apps. First learn to search. A Windows Central reader already knowS which apps they need to install. All the good stuff are discussed here in WC.
Because you are a hater you would not know about that would you?

Bro...fact check...instagram was bought by fb in 2012...so yeah, relations between fb and MS isn't really working out when it comes to Instagram...

Duh? The one who needs to STFU is YOU, dork!

Dude how old are you 15 very mature call me a retard for liking something and just because you don't agree with me you get all pissed and call people names dork is the funniest haven't heard that one in years. I done told you once I shut the f### up for no man.

Huh? My previous comment was a response to Rizwan Naghtan's comment, not yours. Didn't you see him say STFU? I can hardly get pissed off, but that Rizwan guy is an A*hole.

"the list is endless". You've seen this endless list? Are you personally installing all 350,000 apps on your 720? That would be cool!

@rizwan: ha! so fake. you're def not a WP user. and you expect google apps in WP?! lol. are you living under a rock?
just go back to where you're from.
you're drunk, poser.

Give me your email address and I will send you image of me along with my Lumia 720 + BB Z10 + Samsung Galaxy Tab. That might convince you that I own a WP.

@Rizwan - Hello bro mujhe to lagta hai yahan angrezi chutiye bhare hain but I disagree with you on one thing and that is the app gap is filling rapidly. I can see WindowsStore logo in TV ads of almost 90% local apps. All I want is local apps. I don't give a damn to things like SnapChat and Instagram (6tag is better than official apps on all the platforms). Talking about Google apps what you need most Gmail and YouTube I am sure you can get better alternatives on WP .

Re: gcdc_Lumia,
(Thank you for indicating what/who you are responding to.)

I'm with you RIZWAN. Yep I'm a WP fanboy too and love this OS. I would never switch to another one. BUT that doesn't mean that I don't have right to complain or celebrate things. If we won't complain, how would the developers know that if they are doing their job good. Complaining is the first step for improving.
You don't need to just close your eyes and accept anything that's coming to you, compare it with other os . There are only as some exceptional apps that have quality better on WPOS. And that's the truth even if you are a fanboy.

There is still a big gap in local apps though.

Man, try to be objective... WP has limitations, that's a matter of fact. It's a closed OS and that means stability, smoothness and safety for the users but at the same time limitations, cause apps cannot access every process in the OS like it happens in Android for example. As for the app gap, the most popular ones are all there but the quality is not on par with the other platforms, they're usually slower and/or lacking in features... Just look at Fb or Whatsapp. The problem though is with local apps, banks and smaller companies don't even bother developing them.

I've been a pretty strong support of Windows Phone since the beginning. Honestly, it is getting very hard to recommend them anymore. Want the best Office experience? Android or iOS. Want the best gaming? iOS or Android. Want support for everything under the sun? iOS or Android. Music? lololol. It is terrible on WP. Even being full in with the Microsoft ecosystem, WP is no longer the smart choice. Cortana is amazing for sure. Nokia's cameras were ahead of everyone else. The whole thing is so damned frustrating. So much potential, ruined by lack of hardware choices, and failure to ever put themselves first. "But just wait for X...". No, it is my $. If Windows 10 doesn't really blow me away, I'm moving onto android sadly.

The only thing that really bugs me about Windows phone is that popular apps and games take so long to make it to our OS. I'd like to see devs release apps simultaneously for WP, IOS & ANDROID rather than have to wait for an official app, or even wait for a third party app, (I have to hand it to some of the devs out there though, our third party apps are awesome) Another thing that pisses me of about WP (or rather Microsoft) is that Microsoft apps are often better on ios and Android than they are on WP?! Take the Office app for example, that's a serious let down from Microsoft.
Can't wait for Windows 10 and to see what new lumias will come with it, this is when we should really see what Microsoft as a phone company have to offer.

Only apps running in the background. That sucks on WP.

Unlike Android, you can control what apps can run in the background in WP. So you are another fake.

Y do I have a feel that you are fake? Ever multitasked?? It sucks on WP. M a fanboy too but I can accepts the facts. I think u should too.

Wow. Ive been using WP since its inception and the multi tasking inWP8.1 is super smooth, fast, and immediate. Multi tasking is a fail on iOS (reloads the app most often), and on Android,, where the app crashes and restarts. So, No, you are a fake. Without any substance you are babbling stuff. So, mt question, where exactly do you think WP lacks on multi-tasking compared to its competition?

I'm not saying that it's smooth or quick, it is quick when you do it in a short time. You talking about iPhone, you just described everything about Windows Phones multitasking. IOS is fast, it doesn't say resuming all the time, it's smooth and I never experienced it being what you said it is. IOS jumps right back where you left out even if you waited all day, not WP, it has to resume or reload after a few minutes. BTW don't judge me, I'm a WP user and don't like Android or IOS like that. Trust me or else I would have an iPhone or Android. Just speaking the truth that's all.

Of course! I use new gen iPad and resuming of apps happen all the time. So either hou are lying or you have not used an iOS device. In multi tab browsing if you switch back to a webpage it often reloads. Apps or games reloads if not ob focus after couple of minutes. WP multi tasking is much faster and immediate. Its also very smooth. All the apps that I use (Metrotube, readit, Converge, WCentral, Internet Explorer, Overdrivr, Facebook, Gleek, OneNote, Podcasts, Mail, Nextgen reader, etc) I rarely face resuming screens. Also, if you are comparing the user experience of 512 MB cheap Lumia 5xxx device with an expensive iPhone, then you are not right in your head. Compare your experience when you use a Lumia Icon for example and then come back.

Got a 920, keeps saying "resuming" all the time. When multitasking, apps reload after a few minutes which makes multitasking a bit useless honestly. So, I don't have a "512 mb cheap Lumia 5xxx device" but I'm still facing these issues. And it looks like you're the only one not experiencing them. Good for you.

Man shut up, take your head out of Microsoft's butt and accept the facts! It sucks! No other way of saying it.

Again name calling, unsubstantiated hatred, rude insulting tones. Really? Thats the best you can get? Where is substance in your comment? What exactly do you find troubling on the multitasking in WP? Just babbling hieroglyphics is not helpful for you.

Here in Sweden a lot of apps are withdrawn from WP app store like the app from/for my bank. Other local apps are not coming at all. Those I'm thinking of are not "Fun" apps but apps providing services, usefull apps making it easier leading a "normal" grown up life . . .so. Yes, the app gap matters !

Limitations? You can't even do a Bluetooth file transfer on an iPhone. This is a response to a comment WAY up towards the beginning of this thread, btw.

Sort of like the live folders.. Sort of

Only like twenty bazillion times better.

Made me think that the live folders were like a design experiment to prepare for this.

I for one, hope we still have these folders going forward.

wow, looking forward to it!

much cool very tile so windows

Will it come to all existing Lumia devices??

It will come to all Windows Phone 8 devices.

well 10 is coming to exist Lumias so...

Are you trying to say there are some Lumias that don't exist?

Yea upcoming lumias.simple!!

Don't knock 4D touch until you've tried it. (Hint: the fourth dimension is time. So there are Lumias that don't exist...yet.)

And 5th dimension is gravity. Lol :P

And that 5th dimension phone can only be used by cooper

This could be a very strong competitor to androids "widgets" concept. I'd love to see the sub tiles be actions, not just deep links into the apps. That would be a huge disappointment. I'd love a sub tile to skips songs on the music tile!

Widgets on android are buggy and butt ugly, and there isn't a design format to go by - these flyouts I believe will look great, and hopefully have stuff like switching songs, flipping through photos, new post on fb, new tweets, etc. What would be a cool option, even for apps that haven't designed anything in mind for a fly-out, is a password prompt to pop up out of the "static" tile, so you can password lock some apps on your phone - this would be better than "guest corner" in my opinion

The password idea!! Genius man!! Put this up in user voice!! I know ms doesn't want to give third parties access to security... That's a good thing... But I wish ms allowed us by default to lock a certain tile. And if it is implemented in the above mentioned way... That'd be awesome!

I listened to your advice and posted the idea on UserVoice! Not sure how to get traction going on these ideas, but here's the link- vote for it! https://windowsphone.uservoice.com/forums/101801-feature-suggestions/suggestions/6827866-exploding-flyout-live-tile-password

Well i like widgets, that's what i miss the most from Symbian.. And its openness :)

How about for messaging/social network apps, the pop-out could work like a quick 'junk' filter... a little bit like Tinder... say the static tile shows that you have 4 notifications... you click it and a stack of 4 individual tiles with a brief synopsis of each message/notification appear in front of it, swipe the top one away to the left and it is instantly deleted/cleared, swipe it to the right and it remains stored for later...

That right there is a very sexy idea as well.. I can see this pop-out tile thing working very well for microsoft..

It sounds like this will add the functionality for pop out widget-like functionality. Action launcher allows for similar kind of thing in Android... but I never found it that useful. But even being able to jump to certain sections of the app would be usefull.


Nicked and released by google and apple in 3...2...1.....

LOL you had me laugh there :). Seriously though, if they'd do that..

Live tiles on Android or iOS? No. Then you are wrong.

No they won't do that, but adding a similar flyout function to widgets is exactly what they'd do. Especially Google.. I don't like Google..

Great article.... Good job!

Don't understand why @Daniel said that the mixview feature is coming back to WP if nobody ever saw it.

I literally explain why I say it that way in the article.

One day, people will learn to read...

You're an incurable optimist!

That's what I read but nobody ever saw it was just a concept demoed on a windows machine not on windows phone, the demo said in a future this feature will be implemented on all devices running windows, no one ever saw the McLaren or its features, that's the only reason why I asked unless Daniel saw it.

"...Mixview, will return to Windows Phone. Such a feature is returning because the concept was originally designed for the 3D Touch system that was to premiere with 'McLaren'."

Based on the incredible Zune graphics. Check out the free download of the Zune PC software and you will see for yourself. Then go ahead and log into your Xbox (formerly ZUNE) Music Pass. Stunning.

First a phone "based on legacy design principles" of the Zune device and now an OS feature taken from the Zune desktop player. For cryin' loud can they just bring Zune back already? Call it whatever they want to, just give us Zune-like functionality and interface on WP, Surface, and any device using Windows. It ain't rocket science.

It seems to be more Zune-ish than anything, not sure it'll look like that exactly. It does serve as a nice comparison, though.

Zune was the first WP device, even without the "phone" thing...

I never had a Zune, so it will be new to me.

Try to get one, you won't be disappointed!

Is Microsoft going to show us some features of windows 10 for phones on 21 January ??

Um, the correct nomenclature is "Zuney," as in, "I am a Zuney and am fluent in Zunish." And very Ctrl-Alt-Balmer to you Mr. Rubino .

Good old Zune. Just like the Dreamcast it was ahead of its time.

Waaaay ahead of its time man, I still rock my Zune HDs everyday!

For real! I would be happy if they took the Zune software, renamed it Xbox Music, and called it a day

I'd be very happy with that

Must be because of the people who appreciate art and have futuristic vision and a way apply It to the gadgets if today are not in charge. In charge you'll have the usual educated cats that only care about self credit, pushing their own agendas and getting short term investments that will getting lots of green now. Even if they fail they get trucks of money just to leave. Wow, I just depressed myself. Time to go.

Looks like we're finally done catching up and are starting to innovate again. I missed this.

Just waiting for the devs to catch up now :-)

Live folders for apps in a way

Hope they make it right in the same way they implemented Live Folders.
Imagine how this would appear if the touched tile is in the corner of the Start. In Zune the "tile" always go to the center of the screen and then "explode" in more "tiles". Don't know if this is the better way to it animates in phones...

Don't forget there is a margin of space around the whole edge of (and between) the tiles... maybe this will actually serve some purpose beyond aesthetics going forward...? EDIT: Thinking about it, maybe it will work the other way around, with the other tiles fading into the background, in a similar way to how they do when you drag down the notification bar...?

Ooh, if they bring back something like the Zune Mixview, I'll be all over it. That was truly ahead of it's time.

sounds great but really, windows phone move so slow that nothing at this point will make it relevant other than speed of development. And as long as Joe Belfiore keeps dragging that team down, we have to look forward to more of the same anemic marketshare.

Talk for yourself, if you are not interested, fine for you, but I am really excited about W10 and all new features (and I'm sure I am not the only one here).

Its true though, they need to start pushing these ideas out faster. Its awesome but it doesn't do us any good if we have to wait for a goddamn year before its released. I hope with W10 there's much faster update focus on mobile

Do you think that MS will not patent this?

Let me ask you something how is WP so slow I mean android released lolipop and only they high end android will ever see it atvleast Microsoft supports all there phones unlike android and if you ask me they been pretty quick about it . I'm a happy WP customer.

There are only two persons...here
but out there!
Millions of people want new, New, NEW
and this is it! Satya Nadella was wise to delay it until W10
They'll explode the bank in next holiday season with over 50 millions sold phones!

This is... well, it's pretty stupid.

live tile live folder live... bomb?

Live fuse connected to a screen!

"just press for a second in a special part of the tile" Hmm. 1) Sounds like it will only work when the tile is set to at least medium size 2) sounds potentially finicky. Hopefully they are able to implement it well as one of the strong suits of WP, I think, has been its fairly large interaction elements (for the most part, 8.1 has introduced more some fairly small ones).

No different than interactive widgets, something that get thrown in windows faces over live tiles. Well if ur tile is that small the notification is small anyways. So I would think medium up is ok and the right thing to do.

Ah, so they finally got around to ruining the last hold out of Metro UI, the live tiles. Long live Android with squares, I guess.

I'm impressed how you can create such a strong opinon based on next to no facts.

I strongly oppose putting buttons on live tiles.

I did not read anywhere that there will buttons on the live tiles.

"Reportedly, the "special part of the tile" refers to an ellipsis graphic near the bottom right corner. Taping this reveals smaller, actionable tiles."

I'd expect it to be more like a watermark to show peeps where to tap.

Can you elaborate how live tiles will be ruined?

Fixing what's not broken. It's a simple feature. But instead of addressing actual problems like sync limitations, they want to turn it into Android widgets.

It appears android has a monopoly of functionality these days. Any attempt to add a feature is instantly branded Android

In this case it ruins the simplicity, and after how much crap people gave Android widgets around these parts, I didn't expect this kind of reception for this.

Not even sure how this is ruining simplicity. The Live Tiles will probably just keep flipping and changing like they currently do. If you have to press a special part of the tile to enable the MixiView for deeper functions, for those who don't like it THEN JUST DON'T TOUCH THAT PART OF THE TILE. So what's ruined exactly?

You just said it yourself.

I wonder if they'll employ 'smart tiles' in the sense that a double wide or large tile could include actual toggles and switches on the surface. Imagine the Xbox Music tile with controls for play, next song, previous song, etc. Or perhaps an Outlook tile with a scroll for seeing through unread emails.

Come up with the corresponding touch gestures (what if you want to launch Xbox music? What if the scrolling interferes with the tile scrolling?) and your idea is a hit!

Yeah I can imagine it, its gross. Why does everyone want music controls on the tile? It goes against everything Windows Phone stands for.

I don't love that idea. Would prefer if the controls came up when the "fly in" was activated. Basically a tile explodes into a controls sub-tile, a updates sub-tile and a text sub-tile etc. I think having always-on controls is too busy and too apt for mis-taps. I find Android widgets ugly and often useless for that reason, but the actionable notifications are great. This strikes me a nice hybrid of the two.

Sounds awesome. Greatly looking forward to it. Sadly, this only increases my angst for a new WP now though.

Interesting feature. However, I think realistically we're a long ways off before we see Windows phone 10. Windows 10 is scheduled for release to consumers in Fall 2015 summer. I doubt Windows phone 10 will be go out at that time. I'm guessing early to mid 2016. Probably around the same time we see a flagship phone in the US.

They want windows 10 to run on all devices. They won't make it windows PHONE 10, they make it Windows 10 like on all other devices. You think they won't release one OS that'll be working on all devices at one time? I think they will finally unite the releases this time.

One can hope, but I doubt it. Windows 10 is a unified OS but there will still be diffences between traditional PC, tablet & phone. Given the state of Windows phone (which I love) in the US the Phone flavor will be the last to get into consumer hands. Just my thoughts.

I think the reality is that Windows 10 will come to the desktop/tablet in fall 2015. Windows 10 will come to the phone sometime in 2016. It won't be branded "Windows 10 for Phone" but I doubt the Windows 10 phone UI part of continuum will be ready to go in 10 months. Hope I'm wrong.

You are assuming a lot. Windows 10 will be available for all devices, there is only a windows development team, not "a team for each windows" anymore.

I agree that expecting Windows 10 on phones for the Fall of 2015 is wildly optimistic. I'd say Q1 2016, in time for Mobile World Congress, to show off phone hardware.

yes please make it happen :))

Probably will need some new processor. So I'm guessing most Windows Phones won't get it? My 1020 already lags with folders.

You don't have to sound rude and narcissistic about it. Posted via Windows Phone Central App

Let's see. Seems interesting to me.

Just exactly how slow coders are there in MS? Lagdroid and pOS "are still relying on rows of icons for apps", but they also cannot be seen telling crowd about something they can't use at least in 8months.
Is it the heavy organization that makes MS so darn slow, the cursed middle management who have no nothing to give but slow things down with idiotic bureaucracy? It's a hovering tile with action in it, for Pete's sake!

You must be unfamiliar with OS development. Here's a hint: Don't judge MS if you have no idea how it works. Currently their productivity is pretty high and they get things done rather quickly. If you think that these features cost a week at most, you have no f*cking clue what you are talking about.

I don't code apps, I do software myself. And I'm pretty solid that a team of fifteen can do alot more in high-end visual graphics software area than whole of Windows team in a year. Or any given time period. Check out how often various 3D or compositing software update and compare that to this "you'll have popup tiles in less than a year" news. There's something wrong with how MS functions.

Likely more a matter of moving to W10 than being slow to implement it in WP8.1. Don't expect any more feature updates for WP8.X.

You are wrong, you are assuming the wrong way.

I hope the McLaren returns as a zombie. Looking into WP10 preview.

I dunno... "Windows 10 for Phone" isn't as catchy... :P

Now THIS on WP will be exciting! http://vimeo.com/77477198 If it proves to be true....

'EXPLODING' TILES!!!! SPONSORED BY MR TORGUE!!!

Man... I can really see developers f*ckin' this up. :-/

Something to keep me happy and excited till 2015,
Off topic bbm beta got updated

Seems like the next step beyond folders. Interesting, it sounds a bit like a "actionable" live tile which would be more comparable to a actionable widget in Android but more dynamic though it's not clear if these "fly-outs" will be interactive of if they are just data feeds. I wonder if this will somehow offset the deprecation of the hub concept. If these fly-outs are somehow exstensible you might be able to, say, show a pinned contacts Facebook Wall or WhatsApp converations by taping their Contact tile. I think the most critical thing will be seeing how both these concepts translate to Windows 10 on the desktop, since that will ultimately drive developer adoption via universal apps.

I think for the actionable tiles (interactive tiles) I think it'll be similar to the concept to the one shown where there is a button instead. But note while the experience will be different. The concept is the same throughout any device with Windows 10 installed Posted via the Windows Central App for Android

It will be awesome then..... Looking forward.....

This will definitely be on the 520 *trolls hard*

It is confirmed that all WP8 Lumias will get W10... Try harder the next time.

It will be confirmed when they all actually get Windows 10.

One thing is to get W10, another is to get all the things W10 brings.

I don't see $35 Android phones getting Lollipop...

DJCBS, wow, I've agreed with you. It feels weird. it will pass....

GDR2 will come right? I have really lost hopes for it..

It will come, and with support for the SD805 SoC... just in time for Android phones with SD810. Not that the 805 is not powerful enough (heck, the S4 was powerful enough), but it will none the less not be the flagship SoC.

I'm ready to blast off from my seat. I'd like to see this in GDR2 and not wait till late next year

if I could choose, I wouldn't hesitate to go with the earlier idea of interactive live tiles. I think 3d touch wil lead to a more gimmicky experience, just like the Samsung gesture based features that never took off, because its to much of an end user error prone function. It's requires patience from the end user, which the average intuitive user doesn't probably have.

I agree. The 3D touch is simply too abstract. There are too many opportunities to select the wrong item hovering over a tiny little screen moving through space with zero tactile feedback. While different, it seems like a gimmick one would seldom be able to take advantage of while on-the-go in everyday life. I fully expect to see limited interactivity with larger tiles in Windows 10. Probably the first of which will be the Xbox Music player tile with basic << play/pause >> buttons. Given the real estate required, I doubt this will be possible with small and maybe even medium tiles on a phone, only larger ones. Looking at where live tiles began, and where we now know them to be going, this seems like a very real eventuality for Microsoft.

I have a type of flyout tile on my Lumia 735 running 8.1 and I'm surprised no one else has mentioned it. There's a Music + Videos tile that combines music, video, FM radio and podcast functions. Click on that and it expands into a dropdown series of tiles where you can select each one. What's being described here sounds like a variation on that.

That's a folder tile. You can create your own folders by simply moving one tile on top of another. From there you can drag more tiles on top of the new folder to add them to it. You can also name the folder by tapping the grey bar above which appears after you tap it. I assume that the new mixciew tiles will be more abstract than the uniform view which comes from tapping a folder tile.

Is this the new thing part of the tiles along with interactive tiles. Maybe it could be used on the xbox too for games somehow

Omg can't wait to see this exploding thing , I wish I had a chance to download windows 10 now !

Let it be done as you say, and then some.

Not sure if this has been covered elsewhere, but lately the lack of "context" when tapping a live tile is really bugging me. For example, if I tap on Flipboard when a specific article is shown on the live tile, why cant it open that article when the app opens? Do live tiles currently support this? If not, this is something that really needs to be added...

Live tiles serves as a showcase of the updates from the app, not a link to the update itself

But if something grabs my attention and I want to see more, why should I then have to search through the content within the app to find it. In the case of Flipboard this can be frustrating as there can be a lot of content. At least provide such a mechanism to allow the app to opt in to it. I would think it pretty simple to implement with an outcome that is both intuitive and powerful.

I have experienced the same with the Cortana tile... sometimes it'll show a news story headline that interests me, so I click on it expecting to read the story, but instead it takes me to the Cortana screen, and even worse, the news story isn't even in the list!

Incredibly frustrating and its happening more and more with all the news content available within different apps. Based on the flipside of the argument, I guess the app developers should at least take some responsibility for ensuring live tile content is easily visible from app main page. Not sure how with the volume within Flipboard though...

You have a very good point here...

It should be possible to implement something like that already, but it's really what the secondary tiles are for, as it could get annoying in the case you did not want to open the presented content.

Agree, would also be useful with the people tile.

Definitely, like someone has changed their profile photo and you don't recognise them and want to see who it is...

This would be a nightmare. Sure, sometimes you'd want to be taken to a specific location that a tile shows, but others the tile would flip just as you are about to tap it and it'd take you to the wrong place. People would lose their minds. Plus, how would you get to the app main page? Sit and wait until the tile flips back? The horror. Ultimately this fly-out seems like the right fix. You soft tap (or whatever the gesture is) to get it to explode and from there to punch straight into highlighted articles or content. If you want to go straight to the apps main screen, you hard tap.

Good point, not thought of the other point of view. Guess its annoying when behaviour is unexpected and that could be for both cases. Guess this proves there is some value in having more interactive tiles.

This is definitely not supported currently. The livetile is there just to launch the app regarless of what it is currently displaying. Perhaps one of the universal flyouts could be "Cover Story" to access what is visible on the live tile.

Yeah, it mostly happens with news so a cover story fly out sounds like a good option.

The future of Windows (Phone) is great! :D

Apps is OS , that must be fixed ;)

Speak as you like... I'm satisfied with the current app condition as it fulfils what I NEED, but I'll always smile if a well-known developer dips it's toe in our waters :)

Hope this doesn't get cancelled. At least there will be something to look forward to.

What if it needs...1 GB RAM?

This is great news. I've had a similar idea for some time now, but I prefer my execution: Instead of 3D hovering or tapping a very small "...", you would hold down on the tile for a second, and the flyouts would appear above the tile (ensuring that your finger is not covering anything). Then, without lifting your finger from the screen, you could slide to one of the options, such as "redial" for the phone, or "notifications" for Facebook, or "play/pause" for Xbox Music, the possibilities are endless. This is analogous to how you can enter a "?" from the "." keyboard button by holding down for a second. The obvious question you may be asking then, is how would the start screen tiles be rearranged, since holding down is currently how they are moved around. The answer is simple: switch from holding down with one finger, to requiring that you hold down with two fingers to unlock the tiles for moving, taking advantage of our underutilized multitouch screens.

But that conflicts with the screen magnification gesture

Screen magnifier (if you enable it) requires a double tap with two fingers, not holding down with two fingers. Even so, I wasn't able to get it to operate on the start screen anyway, so how could there be a conflict?

Good idea. I think a better way to implement the moving of tiles would be a double tap-hold. That's because I think it would be difficult to tap with two fingers on a small tile.

I see your point. But it doesn't have to work exactly as it does now. Rather than unlocking to move a given tile, it could unlock all the tiles if you hold down with two fingers anywhere on the screen. Then you use one finger to select the tile you wish to move. This would be much like switching between tiles when they are in their wiggly-ready-to-move state, only it would begin without any one tile highlighted.

This is the kind of news I'm talking about.. It's been kinda boring lately... I've been wanting more WP10 news.. About time❗❗❗❗

Sounds very interesting! Looking forward to seeing it in action very soon.

As a returnee to windows phone this is great news I gave my new iPhone 6 to the wife bought a 930 to replace my beloved 920 and haven't looked back its the most user friendly and innovative handset out there. Keep your Chinese android copycats Microsoft have turned a corner in my view

IMO some kind of zoom in gesture on the tile with two fingers would be more natural.

On Windows I can see this working rather well as the mouse can replace the 3D hovering feature. On Windows Phone...I guess it will only work like the folders feature but with a different animation.

I myself am very displeased by this, it will make Windows Phone more confusing to users as I see Windows Phone as the last phone OS that's still easy to use.

All technology through progression gets more complicated, especially with operating systems. The iPhone used to be super simple, now, even as non-frequent user like myself finds the latest version of iOS 'dense'. Just part of the game.

It is still much simple as compared to all the animations and flipping, different tile sizes along with all the gaps and lines in folders on Windows Phone. Yes, icons are static. But I bet users will rather launch the respective apps if they need to instead of waiting for the tiles to flip or refresh.

Agreed. Animations are fine for content which is non-essential, like pictures in People-hub, but if it's something you are actually interested in, you don't want to wait for it.

And now you know why Symbian, the OS that is still the most feature packed, could be confusing. In a few years, we will have another gadget that will replace the smartphone hype, and it too will likely start off extremely simple, much like the iPhone. I could see TVs being that gadget, but who knows.

But an icon at each right bottom corner would look ugly and repetitive and ruin beautiful tiles... They need to implant it differently.

It's nice yes. It keeps it interesting but it still only tarts up the front end. What about a solid music experience and decent email client? Core stuff that is annoying people daily.

Wow, nice writing, Daniel. I always look forward to your articles.

Thanks, glad you liked it!

If this indeed happens, Microsoft has to really support it in their own apps and stick with it. I just hope app developers would take advantage of it.

If it's easy enough to implement, there's is little point in not supporting. In SailfishOS, for example, all apps have "covers" which are displayed on the front page, and it is no bigger deal filling them with actions or data, than any page within the app itself. If MS can make it work similarly then it's all well and good (though I imagine it would be harder in W10 due to a lack of true multitasking).

Since multitasking is a priority in the desktop version of Windows 10, I expect it to be improved for the Phone version as well

This would be a miracle if Microsoft pulls off this all everything the same. I just want to play words with friends on my surface tablet with out going through facebook on the web.

Will more than 10 people buy a Microsoft phone when it eventually becomes available in 2018?

You must be a lagdroid fanboy then. GTFO unless you know what you are talking about mate

That lagdroid term is getting old. Unless you're talking about the Lumia devices.

I'll wait and see I guess. Me personally, I think the current start screen should be an option. I think it should be look more like what android impiments. Docked apps at the bottom and the rest of the screen is open to my interpretation with wallpaper options. I know that the start screen allows me to customize but I'm thinking the tiles are too big and take up too much space and can clutter the screen. Yes i know all the things I can do with less or more tiles. I've been here since day one with wp 7. I would much rather see exploding square icons not tiles. Why WP is struggling? Its not familiar to what the majority of others use. Why can apple people switch easily to android and android to apple? On a visual level, its familiar.

Why are you even on Windows phone if you don't like live tiles or the start screen? Or maybe you're just a troll...

Giving aspects for windows phone apps will be just amazing , instead of having every app with a different design from the two OSs

What about using a long press for mixview, and then moving reorganization to the start screen settings?

exactly what I was thinking. This or a doublefinger pinch-to-zoom gesture

Actionable live tiles please.....

I don't know how I feel about this. One thing that had always been a plus for this OS is how simplistic it is, allowing those new to smartphones to pick it up with ease. This seems like it would add a layer of complexity that might turn newer users off.

Maybe it will turn off a few users, but this is a smart step to gain a lot more users that actually do want to see this happen. I know for sure that if this will happen, some android fanboys around me will be impressed

This sounds cool, kinda like those paint programs that when you press on a button a bunch of options fly out. W10 is gonna rock.

Improving the stand out feature of the OS, looking forward to this awesome OS

I wish Mclaren wasn't cancelled.....

What's the point of having all these exploding animations or the hovering gimmicks when developers are not embracing them??! Get the platform to a higher demand level first then come back to these kind of "3D" stuffs. Allow more flexibility for the OEMs to customize the start screen so that more phone makers will be interested to make their brands standing out from the crowd. Or enhance the toggle switches so that more shortcuts can be added to the pull down notification, or remove the irritating music player on the volume sliders when there is no audio related apps running, etc! Make the platform much intuitive first. WP already has too much slow animations going on, and now they are adding even more on the start screen?! C'mon MS!

Hope DP comes pretty soon for us

If they can bring over the interactive tile concept demoed by MS Research, that would be pretty neat. And in the process, resuscitate the hubs. That said, I'm very hopeful of a blockbuster OS release.

Mclaren would be a flagship.. Why did they cancel.. :/

Microsoft should test this feature with the DP8.1.1 users ;)

Better not. I'd rather have an optimized version than a crappy start

Finally something unique and innovative. This is great news and is a sellable feature that we'll have first. Let's hope it's quick and flawless. MixView tiles for the Win anything experience on PC or phone.

I wouldn't mind them delaying Windows 10 a while to perfect all this new technology.as long as Universal 8.1 apps are scaleable and integrate well with w10 I don't see the need to rush it, especially if they're planning on groundbreaking features.

Exactly, instead of rolling it to the consumers as soon as possible, they should aim at "near-perfection"

That's awesome! Can't wait for the developer preview!!

I sure hope they don't shelve nesting/grouping tiles in lieu of this. Nesting tiles is overdue on the pc/tablet side.

Live tiles-first thing that attracted me to a windows phone

Waiting for the developer preview...

But I believe it would require new hardware for this exploding tile.

If it's true I hope it is a good implementation. If I remember correctly one reason why the concept didn't work out last time they floated the idea is that developers had little interest in using the feature. I'm not terribly sure how interested I am in the idea. I certainly am interested in futher work on the OS, however the consolidation of "one" Windows across all MS platforms is a big significant step all by itself and needs to be done correctly. One store across all platforms and most importantly, relative ease for developers to write to all or many MS platforms at once is critical. But really, without a doubt the most significant thing I am interested in is not all those things about the OS, whether WP or whatever, it's whatever flagship MMOy come out with.

Pant, pant, pant. Droooool

Wow great, waiting for developer preview

Sounds awesome. Hopefully, it will debut on that new 2015 flagship with the 50 mp camera, Snapdragon 810, octa-core processor, 4GB ram, 64GB internal with expandable storage, QHD display all wrapped in 6.6. mm of aluminum monster that no longer relies on the carriers for updates.

I can't believe. Is it true more advance windows 10 will come to all windows phone 8 including 512mb ram devices receive the more advance update? Please reply.....

For the 1000th time, W10 will come to all WP8 devices, assuming the carrier does not block it. But, as always, not all features are likely to be available to all devices due to hw restrictions, be that lack of FFC, display memory, RAM, or processing power.

So the hopes of a McLaren-esque device are not off the books yet! Just hope it has the latest SOC and doesn't make any compromises with functionality i.e no Glance screen. However people will still find something to complain about... unfortunately lol.

I'm eagerly waiting for pfd 10....come on ms....;;!!!

Zune had so many great features. Social and musical. The mix view allowed you to see more by that artist, related artists, and items your social connections were into. It was so much more than a player, and really, this was a precursor to the hub views in WP. In some respects, Bing search in WP and Windows 8.1 are related as well.

Fly out live tiles? Sounds similar to Wincustomize's fly out dock icons. Looking forward to this!

"Taping this reveals smaller"...I assume you mean "tapping"? Sorry, it's the teacher in me.

The number of things you could do with 3D touch is endless. Would be a cool new paradigm for dev's to play with.

Exploding tiles aye. BOOM

What windows phone requires is a top notch flagship which should be
1) Aesthetically pleasing like the lumia 930
2) With latest specs (not two year old specs of 930)
3) Big battery with less weight
4) Great camera (20+ MP rear n 5 MP front atleast)
5) Price should be competitive
Such a phone will bring people in masses to windows platform thus forcing developers to make more apps for WP.
Hence, all problems of wp solved.

I like the way you think. Progressively! On to exploding tiles!

I spotted a mistake. 4) 41+ MP camera. Another feature I would add : Camera Grip Case

I don't like the fly out look. Hopefully there's a option to disable it. I just prefer flat

I'm not impressed. There are other things in WP that could use some work, like adding features to the e-mail and fixing the 'resuming' issue. Just to name two. Rather than wasting time on a gadget that is interesting for a day and a practical nuisance after that.

They can work on more than one thing at a time you know. I think this seems pretty cool and its a natural progression of the OS and its UI.

But I guess we can kiss any improvements to WP goodbye for the next 12 months. All resources will go to windows 10, which we probably won't get on our phone till 2016. It's hard to stay a loyal WP user.

android don't even get updated. u buy phone and your loyalty is over.

That's not true. Just because you are a WP fanatic doesn't mean you have to misrepresent Android.

I miss the zune music player. I hope that they bring it in somehow =/ I never really use the windows media player because i find it annoying and old looking.

Windows phone will never succeed without high-end devices

High end device will come soon buddy... Keep calm and forget flagship :p

Microsoft! Nail it this time!!

Lumia 535..is selling in India..like Christmas cakes....wow..awesome phone..micro...

I'm already picturing a myriad of uses for these flyout tiles. Evernote could use it to bring up shortcuts to make a new text or audio note. A music app could display "Now Playing" information and playback controls from the home menu. The Cortana tile could listen for music or trigger voice search from the start menu. It's all quite exciting!

What was the need to kill McLaren?

Sure live tiles are great. They are better than static/dynamic Icons (talking about Android and iOS here). But what does home screen usage represents on daily phone interaction? Sure WP need features better than the competition - and live tiles surf this wave. But aren't there "basic" features Microsoft badly needs to improve or keep up with? For me, one of them is the lock screen notification. Android is now on par with iOS since detailed notifications for any app can be seen on the lockscreen. Oh wait, it's even evolved since it also works with Android's glance feature, which means you don't even have to press a button - only tap/glance - to decide wether you should get your phone or leave where it stands. What's Microsoft been doing? I honestly hope something similar in this matter. I've recently decided to give Windows Phone a try and bought a Lumia last week (coming from iOS) and the lockscreen preview doesn't preview anything. Why is that called "preview"? Which would one appreciate more on daily usage: better lock screen notifications/preview or exploding genetic modified live tiles? I bet the former.

just further prove that the original Zune software was amazing!... taking the mixtile approach back. Cannot wait for this to come

Sounds good. Cant wait for 2015 and see what Microsoft has in store for us. Good times ahead

Cant wait for windows 10 for phone

Does anyone know how to access MixView in the current version of Zune? I've never seen it but it looks kinda cool.

I love that idea, exploding titles, hope its on every phone, and for the ones without the 3d touch I prefer a single tap for that feature, and double tap to open the app, instead of a long press. But, what MS should incorporate with the long press should be a color option for that title in one corner, and a display control for what information that one title shows you live, with the last two remaining the resize, and unpin. There is no reason way you can't change the colors, and transparency on titles separately, and pick what info that app shows on the live tile.

I love that idea, exploding titles, hope its on every phone, and for the ones without the 3d touch I prefer a single tap for that feature, and double tap to open the app, instead of a long press. But, what MS should incorporate with the long press should be a color option for that title in one corner, and a display control for what information that one title shows you live, with the last two remaining the resize, and unpin. There is no reason way you can't change the colors, and transparency on titles separately, and pick what info that app shows on the live tile.

I love that idea, exploding titles, hope its on every phone, and for the ones without the 3d touch I prefer a single tap for that feature, and double tap to open the app, instead of a long press. But, what MS should incorporate with the long press should be a color option for that title in one corner, and a display control for what information that one title shows you live, with the last two remaining the resize, and unpin. There is no reason way you can't change the colors, and transparency on titles separately, and pick what info that app shows on the live tile.

I love that idea, exploding titles, hope its on every phone, and for the ones without the 3d touch I prefer a single tap for that feature, and double tap to open the app, instead of a long press. But, what MS should incorporate with the long press should be a color option for that title in one corner, and a display control for what information that one title shows you live, with the last two remaining the resize, and unpin. There is no reason way you can't change the colors, and transparency on titles separately, and pick what info that app shows on the live tile.
Windows Central Newsletter
Thank you for signing up to Windows Central. You will receive a verification email shortly.
There was a problem. Please refresh the page and try again.