Explore lost temples and cities in Microsoft's latest puzzle game for Windows 8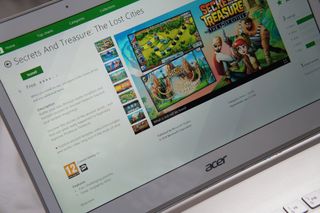 Microsoft has just released a new Windows 8.1 game called Secrets And Treasure: The Lost Cities. It's a free casual puzzle game that also supports Xbox Live.
The game definitely has a Indiana Jones look in terms of its art style. Basically, your goal is to explore temples and lost cities in deep jungles while also training a team of explorers, each of which have their own skills to help you out.
Secrets and Treasure pits the player's mind against a number of puzzles that have to be solved in order to advance in the game and also claim experience points. In addition to the game's main puzzle, it also offers daily challenges to figure out in order to keep things fresh.
You can download Secrets And Treasure: The Lost Cities right now from the Windows Store (opens in new tab). It's free, but it sounds like there might be room for Microsoft to offer additional content for a fee.
What do you think about Microsoft's latest free Windows 8.1 casual game?
Thanks to Pratham Sarwate for the tip!
Good luck with this as I am still waiting for the endless runner Gunstringer.

Keep waiting, their facebook page says they are discontinuing the game in Windows 8... Was also one of my favs, I have it on Windows 8 and 360

I love treasure hunting and puzzles! Will download now!

Will download too, my type of game for casual fun.

Is it a universal app? It should be

If you mean x86 x64 and ARM, yes.

No. I believe he meant for Windows Phone 8.1 and Windows 8.1. As for now WP version is not coming, so let's hope it'll be universal when it come.

They should release it to WP too

Microsoft is on fire with their Xbox games on Windows.

So basically a Peggle rebrand for Windows 8?

We need the ACTUAL peggle to be released on Windows 8 and WP

I get your point. I've no problem in shelling out a buck or two of the content is good, safe and convenient. But I also get his point as I really despise the freemium approach. You'd have to spend a whole lot in the end.

At least Microsoft is still on board with Xbox for Windows. Too bad they've given up on our phones, though.

More "free to pay" crap. Wish MS started to put some proper games on W8 and WP.

Get android where everything is cracked and free. For the rest of us, developers should be paid for their work if they ask.

@Jazmac - Then charge me for the game, don't continually charge me to play the game

I prefer the pay it once model too, this dumb IAP shit sucks.

I'll give it a go for sure. Thanks for the heads up. :)

Had the game for a few weeks now, its definitely fun, but limited to how much you can play daily with the IAP model. Regardless, would love to see a WP version come along. Same with Bingo and Treasure Hunt.
Windows Central Newsletter
Get the best of Windows Central in in your inbox, every day!
Thank you for signing up to Windows Central. You will receive a verification email shortly.
There was a problem. Please refresh the page and try again.