FABric Animals starring Emily - hop, skip and jump through this Windows Phone endless runner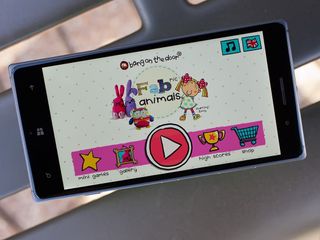 FABric Animals starring Emily is an enjoyable endless runner game in the Windows Phone that is designed for our younger gamers, but I suspect that kids of all ages (and that means some of you adults) will find it to be a fun game too. The core game is an endless runner style game where you guide the game's main character, Emily, through a series of platform challenges.
FABric Animals also has a few mini-games to help pass the time such as a coloring book where you can customize fabric animals. Graphics are well drawn up and game play not overly difficult to frustrate a young gamer, but challenging enough not to be too easy.
In playing FABric Animals over the past few days, it comes across as a nice option to have tucked away in your Windows Phone game library and should appeal to a wide range of age groups.
Your main menu for FABric Animals starring Emily has a host of options that includes access to the mini-games, access to the game's gallery, access to the main gaming mode, access to your high scores and access to the game's store.
First stop is the mini-games. You begin the game with access to the first mini-game, which is a coloring book full of fabric animals. As you play the main game and collect new fabric animals, the additional four mini-games become unlocked. You can view the fabric animals you collect in the gallery.
The game's high scores will not only show your local top scorers but will also detail all the challenges you complete (more on this in a second).
The gaming store is where you go to buy upgrades for Emily and single-use power-ups. They range from double-jump abilities to a head start that begins the game a tad bit further down the endless course. You buy these items with petals you earn during game play or if you prefer, petals you pick up through in-app purchase.
The core game for FABric Animals is an endless runner style game where you guide Emily across an assortment of platforms that are positioned over a lake of lemonade lava. You have bedroom furniture to jump on, clouds to jump between and a few dangers to avoid beyond falling into the lemonade. Emily's forward movement is automatic and all you need to worry about is tapping the screen to make Emily jump.
Dangers include dinosaurs and aliens that can be pounced on, as well as lamps, books and vases that will trip Emily up. While tripping isn't fatal, it can mess up your timing and cause Emily to miss a jump. Beds and couches can be used as springboards to send Emily higher to collect more petals or reach higher platforms.
Scattered along the game course are petals that can be collected for points and the occasional fabric animal that can be collected to unlock the mini-games. When you collect enough petals (there's a meter in the bottom left corner) one of your upgrades will kick in.
Along with trying to jump Emily as far as possible down the endless path, FABric Animals has a collection of challenges you can work towards. Much like achievements, these challenges are performance based and include such goals as traveling a set distance, bouncing off a number of dinosaurs and scoring a set number of points.
I like connecting the main game to the mini-games by requiring the fabric animals to be collected, but I wonder if the number of animals required to unlock a mini-game is a little on the high side. It takes 14 animals to unlock the second mini-game, seven more to unlock the third and seven more to unlock the fourth. I guess what makes it feel like a lot is that the fabric animals do not pop-up that frequently during the game so it will take a while before you have access to additional mini-games. It shouldn't be too easy, but I can see a kid get frustrated with the game when they cannot access the mini-games quick enough.
Overall Impression
FABric Animals starring Emily is a fun game that should appeal to a wide range of age groups. I can see younger children finding the game more appealing, but I found it to be an entertaining time-waster as well. Graphics and animations are well drawn up with that children's book feel. Game play is challenging enough to keep things interesting, but not overly difficult to be frustrating to the younger players.
My only nit is the thresholds for unlocking the mini-games. It's not a deal breaker, but I wouldn't mind seeing it dropped a little to give the kids access to the mini-games quicker.
Overall, if you are in search for a gaming title that will appeal to your children and keep them busy for a while, FABric Animals should do the trick. It's also a fun game to take turns at to see who in the family can claim bragging rights on the leaderboard.
FABric Animals starring Emily is a free game, available from the Windows Phone Store. At last check, the game is unrated and we would place in the 4 Star range. If you have tried FABric Animals, let us know what you think of things in the comments below. Also, don't forget to rate the game in the Windows Phone Store. It is an easy way to send a little feedback to the developer.
Download FABric Animals starring Emily from the Windows Phone Store
Windows Central Newsletter
Get the best of Windows Central in your inbox, every day!
George is the Reviews Editor at Windows Central, concentrating on Windows 10 PC and Mobile apps. He's been a supporter of the platform since the days of Windows CE and uses his current Windows 10 Mobile phone daily to keep up with life and enjoy a game during down time.
How cute that game looks....hi hi hi