Facebook app for Windows Phone gets new Live Tiles, push notifications, login URI and more in huge update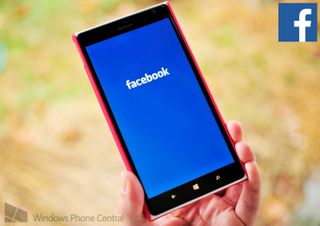 Just in time for the holidays, the official Facebook app has received its 5.2.x update today. That's the same set of overhauls that the beta received last month, which really improved how the app works for notifications and Live Tile updates.
The last time the main development line of Facebook was updated, according to our records, was way back in October with version 5.1.2.0. During that time, the beta has had numerous updates to test out new features.
So what's new in version 5.2.1? Read on as this is much more than just bug fixes and speed improvements!
Facebook 5.2.1.0
Faster and more reliable notifications
Toasts for Facebook chat
Redesigned primary tile
Redesigned secondary tiles for chat, events, groups, pages, and photo albums
Messaging improvements
Performance improvements
Support for additional languages
New developer tools for universal login
In addition to all of that, developers can now start to use the new Facebook login URI for their apps. That new feature, announced last month, will allow devs to use a tool to auto login via Facebook without the user having to punch in their information.
For example, let's say you have Facebook 5.2.1 installed on your phone, logged in, and you decide to run another app that also uses Facebook universal login. Previously, you would receive a new login screen where you would have to re-enter your information. Now, if the developer uses the new URI schema, it will pull your credentials from the Facebook app and login you automatically. Developers need to opt in to the new URI, so we should start to see apps with that functionality in the very near future. For developers, you should read on how to implement here on the Windows Phone Blog.
With all the changes in version 5.2, the official Facebook app for Windows Phone is starting to feel like the app people have wanted. New Live Tiles, more reliable push notifications and of course, it now "feels faster".
All in all, a nice wrap up for 2013 and Windows Phone 7.x and 8.
Pick up the official Facebook app version 5.2.1 here in the Store or scan the QR code below. [Update: link fixed, no longer beta]
Daniel Rubino is the Executive Editor of Windows Central, head reviewer, podcast co-host, and analyst. He has been covering Microsoft here since 2007, back when this site was called WMExperts (and later Windows Phone Central). His interests include Windows, Microsoft Surface, laptops, next-gen computing, and arguing with people on the internet.
Daniel, you attached the beta to the article instead of the main app

Yup, sorry. Fixed. Sorry folks about the wrong link: it's fixed now.

That login URI is available on beta too?

Yes, but devs were only encouraged to experiment with it, since most people are not on the Beta. Now, with this version, devs are encouraged to actually publish their updates with the new URI.

Keep Beta App or go for the Official App now?

Up to you. Same old, some old...beta will always get "new" things. But this 5.2x update should satisfy most.

Dan,before i install this one question, have they solved the issue where almost half of the news feed will be cluttered with posts from random people wishing my friends on their b`day?Does the news feed now look similar to the web version?That wasn`t fixed in the last 2 beta releases.Will switch to this if they have.

Can't really answer as I don't use Facebook ;)

k :(..hope someone here will leave a comment on that

Nope, there's still tons of random birthday wishes.

k :(..thanks for the response tho :)

Reason is simple. 1) News feed is Facebook's magic sorting algorithm. This app is not made by Facebook. They are not going to share their sorting algorithm with Microsoft. 2) Even though the news feed API has a "Sort by Top Stories" feed in addition to "Sort by Time" feed, Facebook intentionally provide a broken sorted news feed in the API and not the sorting algorithm they use internally to prevent third party apps from stealing users from their own apps in other platforms (iOS, Android and Windows 8) and also to prevent gross misuse of FB data by third parties. Source: I've read through Facebook developer rules and have worked with their API to test my theory.

Daniel,then what social app you use or are you busy with wpcentral(by replying us).

(I think he uses twitter)

Nope, my newsfeed is still all randoms wishing my friends happy birthday...

This is a NEW FEATURE of Facebook, Microsoft has no control over these types of posts appearing in your timeline within the App. If you do not beleive me, go to m.facebook.com on your phone (mobile version selected in 'Website preference' in I.E. settings) you will see these posts, and this is directly from Facebook.

It's slower the transitions to the side panels from main page...

Still need chat improvements like real time push, stickers, yellow emoticon support, and to be able to see if my message was read. The rest of the app is looking good but chat is still horrible!

Can't you just use chat in your WP messaging center? I hate FB chat, but thats me. Not sure if I was missing something, sorry.

Inbuilt one has support for emoticons but lacks Stickers , image attachement and Group chats
FB App has ability to display stickers , send and view images and also manage group chats , but lacks emoticons. Both now give realtime push updates. So i'll stick with FB app..

My messages through the FB beta app are not pushing through real time. Or should I say not receiving the message in real time. My brother and I tested it last night. The app auto refreshes every 30 seconds or so and only then the message appears.

The built in messaging is really lousy to the core. MS should have update that built in chat long time ago. It is so dated now, along with how People hub works. It is lacking lots of core functionality that Facebook offers.

I disabled that a long time ago.

I use the built in Facebook chat and it's been working flawlessly. BUT, I'm also using the GDR3 dev build... Not sure if it's working flawlessly on GDR2 or not. I'm being completely honest, I have not missed a single Facebook message since updating to GDR3. They are all instant.

in the messaging app or the Official FB app. I usually get the message right on time using the built in one,

The Beta seems to have working real time push notifications

I'm on beta and it isn't instant. I have to wait for the next auto refresh for the app to fetch the message. The message is pushed immediately from the sender's device but the fetch from the receiving device has to wait to the auto refresh which can take up to 30 seconds.

Wait! I guess, we dont have secondary live tile option in beta to display events, right? Or am I missing something?

It's there. Just go to an event and pin.

Same URI will call both Beta and Stable ones ? Or it will only work for Stable one ?

Answered above. It's the same URI. But now, devs are encouraged to actually publish their apps with the URi schema enabled.

That's a good question. Some people use different accounts on both apps.

Definitely, slower transitions

I can not the update in India for my Samsung Omnia W :(

Thats a huge update ! Thanks a lot MS for all the new added features. I was waiting when all the Beta app features would be inculded into the official one and finally its done. Yippieee !! Hey Daniel I was wondering where u were as I hadn't seen a single post from u today. When I saw this one I said to myself....he's back !! :) Looks like you guys missed the UC Browser update.

UC Browser update is coming next. Took the weekend off after the killer week previous ;)

Dats great..i m looking for it....thanx rubino....u r great...

Ya, now its; play with beta and official and see what one works better; wish I could tag people in "my people hub" though :(

Thanx Daniel rubino for this:)

How do I create new Facebook albums from photo area

Thanks Daniel, hope to see more changes and features soon. I was gonna say Rudy should lend MS Facebook development team some help cos the app doesn't seem to be like Facebook at all (iOS, Android and web versions). It's getting boring especially with the annoying birthday posts here and there. I hope Facebook itself would just take over the development of the app, MS programmers seem not to know what Facebook should look like.

Sucks update no thing change I got boring from Facebook app on WP we won't official app from Facebook.inc

this is the official app from Facebook, a long with Microsoft. They are developing together. If you think nothing has changed from the previous update in October and this version i think you should just go back to sleep

I don't think so. Is solely MS efforts, not from Facebook at all. Trust me. The official Facebook app on Windows 8.1 looks and work much better than this piece of crap. At least, the chat messages get refresh promptly while in the chat for the Win8.1 version than this one.

I'd rather have a Facebook developed app from FB.

Really? Show me the track record of Facebook as a company doing anything right in development...just one thing. Not even their core service is considered ideal, just a mishmash of random features that they beta test on their audience.

Well, at least they do it right with thrit official Facebook app on both iOS and Android platform. I don't find any problem with Facebook core services. However, I'm seeing WP getting out-dated with the core services of people hub. Until we get something big in the upcoming WP8.1, we will just need to stuck with it till then.

iOS app is developed by iOS developers from Apple.

Nope. It is not. Even if what you said is true, this is really putting MS developers to shame by looking at how clunky and crappy the WP version is.

Well, I do agree that Facebook is not a big name in development like Microsoft with its wealth of experience and professional pool. My observations are simple: 1) There's no need for all those bday greetings from a friend's wall showing in my feeds since I am not friends to their friends.
2) The collage function showing photos is not well sized as most times it displays photos inappropriately
3) MS should just integrate the OS chat function to support stickers, photos, emoticons, audio and etc since notification works better from there
4) Instagram and Pinterest posts should show in timeline and wall like on other platforms I still think Facebook team would have better developed this app than Microsoft. It's damn too long waiting and revolving around the same place. Just my opinion.

I don't think you want that... Even Apple had to send over developers to get their app right.

Exactly what do you want?

I want a Facebook app from Facebook not Microsoft.

Why do you care who makes it? If MS just got Facebook to take the exact same code and publish it under their name, that would make a difference to you? The obsession with "official" for no reason but the label baffles me.

I really don't care who makes the app if it works with all the basic functions and features. You should compare this app with the ones on other platforms and see side by side. We all love Windows Phone but it needs quality apps as well. Forget sentiments, MS hasn't done much on this app if only one single developer like Rudy can give us 6tag. I had always thought MS and Facebook constitute the team working on this app but with numerous updates it seems only MS is doing it their way. Can't we get a decent app like Twitter?

Then you would end up with the terrible app that was on iOS for years until Apple stepped in.

I'd like to bet but cz Store is so demented that there is version 3.2.0.4: X

Seems....seems....oh, whats the word I"m looking for....?

Anyone know how I can get the double wide tile with the whole message as shown in the photo? I pinned the double wide tile for Messages, with live tiles and toast turned on for messages in the settings but I only got a tile count :(

You may need to uninstall/reinstall. Had the same problem on the beta and that fixed it.

I tried like you said but it didn't work. Do you use the main tile or the message tile?

Afgzee it is not the official app from Facebook belive me

Why would anyone believe you? You're wrong.

And to believe you instead? HA!

even if I Was wrong Daniel this is just sucks I mean we wait more than month for just simple update we need big update!!!!!!!

Chill. Have some patience.

to be fair, we've been paitent for years and we're only this far with features. Its quite shocking. On Android, the Beta is updated a couple times per week.

Bring "files" and "events" to my Groups, please.

The app has definitely been getting better. The last non-beta version had problems when posting a message containing an ampersand (&). Generally, I have found the beta versions to be quite stable, although I wish they wouldn't have messed up photo viewing in that last beta release. (Sometimes I only get a read more link.)

It "feels" faster as noted. I definitely prefer the new live tile.

Facebook beta also needs an update.. It keeps on showing "unable to load page"

Nokia mix radio also gets updated ..still no sign of music...

the only one i can annoy is the "See More" link. It travels to another transition and after clicking "Continue Reading" you'll be direct to IE Browser. Why Microsoft done this as convient way. Why they just fix the "See More" and open the whole message. then probable it help to microsoft developers. kindly fix

Glad someone else notice this. It's quite annoying, and makes no sense...especially considering the previous version didn't do it.

Yes had this problem just now and this is a big nuisance!

Great to see it gets updated, but I prefer Beta one, I get notifications way better

I checked marketplace, I can't see the update :(

Alot of people here are complaining that is not the same as the ios or android version I thought one of the resons windows was so good because it was different yeah the fb app ain't perfect but it's a work in progress ios or andriod ain't perfect there's thing's about both that could be improved and I'm not just talking about the fb app I'm talking about the whole os. Yeah windows phone 8 and there app are still evolving give it time so many people just want instant. Gratification even if it means selling out and becoming something that I for one don't want WP to become less unique and more android like I don't. Hate android I just think that In many ways WP is better that's why I made the switch I got tired of the lags the force closes im sure alot of android fans will bash me but I'm entitled to my own opinions.

The weak point of this app (and it's a deal breaker for many users) is the content of the news feed. I don't understand why it cannot mirror the content of the news feed on the mobile website, so we get rid of the lovely but countless happy birthday messages.

You got it, that's the bone of contention.

Update not available for 7.x

I am curious as to why the URI feature is not already implemented with the WP OS version of FB. That should be the master log in.

+1520! Either way, we want it to get better.

yeah, but still no official app *grabs popcorn*

how and where can i see birthdays in this facebook app......i cant find them anywhere in the app....help

By tapping events, box on top, birthdays.

How do i change the language of the menus back to english ffs?!?!

This app still exist? I gave up on this App for a long time I mean always will be the same till Microsoft give up and give it to Facebook. And I don't think this App developed by Facebook I mean you can till if you look at the icons like Comment, Like and Share even the publisher it says Microsoft.

all I gotta say its I facepalmed reading your comment.
so much ignorance.... but hey, I will call Microsoft to cancel and stop developing this app because Train Rain, doesnt use it, so it means nobody should /s Maybe Santa will listen to you, Facebook developing team FTW! /s /s

Lol well if you read my comment correctly you will understand me and I'm glad that only few people can understand my words not every god damn person. I wasn't talking about myself I was talking about the whore Windows Phone community and it's true this App will always be the same till Microsoft give up and give it to Facebook.

Whole** sorry about that.

And what makes you think there'd be an app at all if it was left completely on Facebook? The last thing the platform needs is another, where's Instagram; where's Pandora situation.

Are there supposed to be toasts for all notifications? Cause I'm not getting them.

There's a setting to toggle them on and off. By default they are not on.

I have the toast and tile notifications set. All boxes are checked as well.

I still can't see the update for my Omnia W in India...

Great update but sir plz update the next version with the emotions option in status

Better, muuuch better, might actually consider using it now :)

Can anybody tell? Push notifications dont work in FB and FB Beta or it's just me? :/

It works for me, make sure the app is allowed to run in background and turn on notifications under settings in the app. Only message tile has issues, the app's main tile works very well

Which Phone are you using because it's not working for me either.

Works for me in beta version, Lumia 822.

I don't understand what's the point of having an official app and an official beta app! I've tried both and yet both are crap!

The same reason any software has beta releases, testing out new features and making improvements, while getting feedback from users.

Just continue to use the beta version. Beta version usually has more up-to-date features than the official one.

Wow. The FB app actually has a live tile that works! Anyone checked the temperature in hell recently?

lags like crap when attatching a photo and sometimes attatching a photo doesn't work; the app just freezes. please fix it. Lumia 920.

That odd toast bug seems to have gone, finally. I used to receive toast notifications days after they should have been pushed, and they were often duplicated at least three or four times.

not available for 7.8. :/ even the beta app for 7.8 doesnt still have the new live tile.

My phone is now finally receiving Facebook notifications with this update. But, I got one notification instantly one time, then after that I didn't get any until at least an hour or so after the message had been sent. Under Advanced Settings in the Facebook app, what is "Cache will expire every ___ mins"? I'm wondering if this setting changes how often it checks for notifications or something.

Just a FYI!!!, BTW, leave the background task ON, even if it's supposed to be only for the lockscreen, it's not. All my push notifications and live tiles updates does not work if the background task is off

guys,which one is better beta or offical.pl let me know.

*logs in* *checks to see if sending a photo in a private message is still hopelessly slow and nearly broken* Yep. *uninstalls*