Facebook Messenger update brings additional conversation settings and more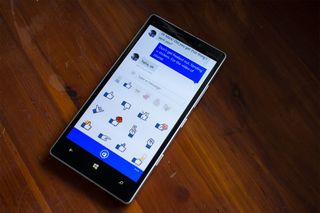 Facebook Messenger for Windows Phone has received another update, this time bringing some new settings for conversations. While the changelog isn't extremely long, this update brings some new functionality that users are sure to enjoy. Here's whats new in version 10.0.1.0:
You can now view details and adjust settings for any conversation. See who's in the conversation and tap to view their Facebook profile. You can also manage notification settings, add people to the conversation and adjust the name or photo of a group.
Stickers now load faster and more reliably.
You can download the updated Facebook Messenger app now.
Download Facebook Messenger from the Windows Phone Store
Windows Central Newsletter
Get the best of Windows Central in your inbox, every day!
Jared started off writing about mobile phones back when BlackBerry ruled the market, and Windows Mobile was kinda cool. Now, with a family, mortgage and other responsibilities he has no choice but to look for the best deals, and he's here to share them with you.
Yup.. It loads faster now..

That is the same change log from the last update.

Yes, dunno why I bought a windows phone!

Well Cortana will be on android on July so, Xiomi here I come.

You'll be better off by buying a Mi4 and later downloading the Windows 10 Mobile ROM when it is released.

alot of updates for messenger lately i like that

Yup, same as it was few days ago.

Details page is upgraded.

This changelog was of ver. 10.0.0.0 Today i think it was only bug fixes..

Where the hell is voice call

Voice call is not coming to WP8.1, let's keep our hope in W10. I am increasingly getting fed up with coping with apps without full feautures like other platforms; Instagram, Viber, Whatsapp (Beta version is almost done), Facebook, Outlook app(coming in W10), Office Mobile, OneNote, OneDrive and many more. Just check those apps on other platforms!

That status bar they added with the last update messed it up for me. Was so much better

When the heck are we going to get the voice calling feature??!?!?!

When W10 for phone is ready, Facebook will port the iOS version! hahahaha, we are too far behind

I wished that, but I read somewhere that apps chat based need to do some more work to port the ios and android apps...:(

Where is landscape??? How many years ...

I still got a top bar orange then green when connecting...

I've got it yesterday morning.

Even I noticed that. Connecting... And updated

Perfomance must be increased dramatically if u get this. Isn't it?

Viewing and navigating to the place the msg was sent from is needed as well. iOS and Android obvioulsy have it... And also working GIFs.

let them add voice calling and then ask for video call!

That's nice and all, but how about a FACEBOOK update. I'm getting so fed up with our garbage facebook app.

I think the next big update will be for windows 10 mobile

Facebook ? App? Omg! The best thing it does is, displaying "unable to fetch information" until I go and place my phone on the top of wifi modem

Still slow as **** to load up, seriously, what the damn thing is this crap?

Is there any one know ,,, about the calling option,,, when that is set to be released

I might be wrong but I'm pretty sure that's an identical changelog to the update a couple of weeks back, but on that occasion the app updated and I couldn't see any of the new features! Maybe they're included this time...

The changelog is of previous update 10.0. And it was indeed available in previous update

Facebook chat updates never change nothing that matters

Off topic: Calender live tile not updating though its running in background. Is there anyone facing the same?

http://windowscentral.com/commenting-guidelines

Dont need to remind everytime; i wrote "Off topic"

Open app, press and hold back, force close it. Reopen the app and do it again. Live tile will work.

Fb messenger. FB forces u to use the app. We want fb chat integration back.

Sorry, you're not getting it back.

u can downgrade to windows phone 8.0 and get it!

Actually, you can't anymore right?

horizontal keyboard for conversations FFS!!

Wish they would add the ability to upload videos like dubsmash.

I was already able to do this stuff, so as people are saying, I think it is an old change log.

No voice calling yet. But bring changes like " now u can type in arial font instead of times new roman" and we are like " its raining updates this week"

Hate the new orange/green bar on the top that shows connection status

This new version drains my battery (l1020). "Normal" idle consumption is about 0,7% (including old FB messanger), and whether I try v10, it's about 1,1-1,7% idle...after uninstall, it was again 0,7%. I tried it three times with similar results.

It's a fine app, but it's just years behind the ios version!

Stickers are rubbish, just let us use normal emoticons FB!

Maybe for you, but not for everyone. I use them and I like them.

This app (fb mesngr) and FB in general is a POS!!! IMHO.

That topbar they added in the last update ruins the design. Not even pleasant to eyes. I wish I could roll back. But WP doesn't let you install any old app.

No notifications after update. Tried to reinstall: nothing happens... I get them ome hour later. All of them at the same time. WHAT THE FUCK? Possibly the most important app off all time just does not work on WP. Why do I have to use a buggy slaggy android phone just to get my things done??? Why is there no way to develop proper shit?? Damn it!

Anyone knows why I do not have that top new bar im running the last version update for sure and I don't have that top bar ....