Facebook's Internet.org lets Indian residents access basic internet services for free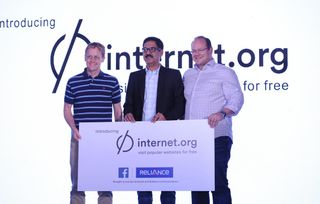 At a media event in Mumbai, Facebook announced that it is teaming up with Indian carrier Reliance in launching the Internet.org initiative in the country. The project, which aims to provide free access to basic internet services on mobile, will be available exclusively to Reliance subscribers in six Indian states, with more being added at a later stage.
The service is now available in Andhra Pradesh, Gujarat, Kerala, Maharashtra, Tamil Nadu, and Telangana, with Facebook stating that the launch of Internet.org in India ties in with the social network's efforts to "connect everyone to the internet, and to help people share their ideas and creativity with the entire world." You need to be a Reliance subscriber in the aforementioned states to access the website, and have mobile data enabled, although access to the service itself will not count toward your data plan.
Currently, Internet.org allows residents in the country to access over three dozen services for free, ranging from news publications like BBC News, maternal health, travel, local jobs, sports via ESPN Cricinfo, communication, and local government information. Facebook and Facebook Messenger access is also included. For a full list of available services, head here. The services are available in English as well as local languages including Gujarati, Hindi, Malayalam, Marathi, Tamil and Telugu.
While there's a dedicated app (opens in new tab) for Internet.org on Android, you can access the website itself from your Windows Phone to avail the services on offer.
Indian readers, what do you think of the Internet.org initiative?
Source: Facebook
This is awesome. Great job Facebook. Now just make it available for all other carriers though I use Wi-Fi. :P :D

Bullshit its free. You only have to give them your date of birth, and let them spam you with never ending shit.

Well, then don't use it? If u can't handle spamming as compared to what the service has to offer, then don't use it.

Amazing! Available for Gujarat too

Not available in N.C.R ㅠ.ㅠ
Anyway, good for those who can get it! :D

Yup correct.
And its not going to limited for much long.
It's will expand eventually.

I just got a message from fb saying you can access the site for free .. Im not using reliance though.. Well at least I can access it without data plan

Huh. What network are you on? I checked on Airtel and Vodafone to no avail. Had to switch to an old Reliance SIM to gain access.

I have free facebook Friday form last 2months.

Only reliance sim is acceptable..

We know. We read the article. Thanks anyways.

Lol. Much comment. Wow. :D via the WPC App on Nexus 5

Figures, when in India. You know why fb did this right? Cause India's internet access sucks so bad (MS started pilot program for rural areas) no one will use fb much anyway. So, if at least one or two adds are seen, it will be worth it.

For this I have to turn on mobile data?

Yeah. It uses mobile data, but it won't count against your monthly quota.

If I don't have any mobile data then? And it is available in all regions ?

Won't work without mobile data. Also, as mentioned in the article, it is only available in six states as of now.

Works only with reliance?

Aircel network has this feature for a long time now... FB and Whatsapp free even in 3G... :D

What's wrong with you man it is not a grammar class stupid

It's correct mate. He used "now" at the end. He is talking about the present while referring to the past. So has works just fine. If he hadn't used now at the end, then your version of grammar would apply.

I bet that English isn't his mother tongue.

Everything in his Name ....chutiya...

I am using Aircel for long time and both facebook and WhatsApp are not free..You use any special sim?

Free in the sense, you need to have a data pack for sure... But the data used for fb and WhatsApp wouldn't be counted in that...

But its not being like that for me.You stay in which city?

I live in Bangalore and my native is Madras... Tried it in both places.. Works fine for me...

Its only for reliance . I hate that . Will it available for other networks also

More adds more money.. This is the strategy of facebook...

If I have no active internet plan will I still be able to connect?

I don't need free data to browse facebook. Youtube? Another story!! :D

There ain't no thing as free lunch.

Most people uses airtel & vodafone network!

Tigo Colombia has it but... ITS NOT AVAILABLE FOR WINDOWS PHONE.

Just wondering... When did Telangana become a state...:-S:-\

What have you been smoking? Telangana has been a separate state since June 2014.

Well off topic... What do u think ok AAP coming into Delhi.?

LOL go and enjoy ur free wi-fi Mr. AAP supporters -.- -a traditional BJP Voter

Internet.org makes just as much sense as online.com from a domain name perspective.
Windows Central Newsletter
Get the best of Windows Central in in your inbox, every day!
Thank you for signing up to Windows Central. You will receive a verification email shortly.
There was a problem. Please refresh the page and try again.