Fantasy Baseball Apps vanishing from the Windows Store
By George Ponder last updated
It's no secret there is an app gap when it comes to Windows 10 apps, especially Windows 10 Mobile apps. For those who participate in fantasy baseball leagues, the options seem to have faded into the shadows.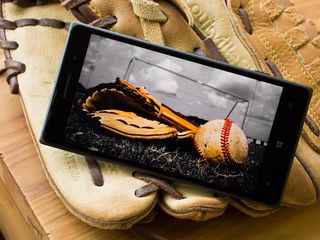 We recently highlighted the best Major League Baseball apps for Windows 10 and noticed that many of the fantasy baseball apps have disappeared from the Store.
There are a few apps available such as Fantasy Baseball (opens in new tab) that ties into your Yahoo Sports fantasy leagues and Live Draft Board (opens in new tab) that helps you set up a fantasy draft. But the offerings today, pale in comparison to what we saw back in the days of Windows 8.1 or even at the early stages of Windows 10.
On the football fantasy front, we had the ESPN Fantasy Football app, but it was pulled from the Store late last year. Then on the baseball fantasy side of the coin, we enjoyed CBS Sports Fantasy.
Baseball apps, in general, have also dried up no longer having the likes of MLB.com's At Bat or Baseball Now available. Granted there are still fantastic Windows 10 apps available to keep up with the Boys of Summer, but the state of baseball apps in the Windows Store is yet another indication that Microsoft needs to find a way to stir up developer support in the platform.
Fantasy sports is a huge industry, and the Windows Store could use a stand-up fantasy sports app. If you are a fantasy baseball aficionado, let us know in the comments how you keep track of your fantasy teams. Whether you rely on websites on Microsoft Edge, the old fashion paper and pencil style of team management, or perhaps we're missing a hidden gem — let us know!
George is the Reviews Editor at Windows Central, concentrating on Windows 10 PC and Mobile apps. He's been a supporter of the platform since the days of Windows CE and uses his current Windows 10 Mobile phone daily to keep up with life and enjoy a game during down time.
Negativity sells but whose buying?

Windows Mobile and "buying" don't go together very well, unfortunately.

Windows 10 app gap doesn't bother me because Windows 10 is a full computer. Now Windows 10 mobile is a different story and Microsoft really need to do something quickly.

400 millions devices was not enough. This tells me more about baseball then about win10 store.

Really? Lol, let's equate your statement with other things such as home automation..? I guess home automation isn't popular either. Dumbest **** I've read today, but don't worry, it's still early.

I've just checked. There are some automation apps in store. That means that some companies think that 400 millions devices are potential market. If one of them goes under, that doesn't have to mean win store is bad. Why every article assume that?

Lol smh... To believe your own nonsensical bullshit is a magical thing I guess.

Nonsensical bullshit that's Baseball isn't it? My NFL app works fine.

Or, and this is a really crazy idea, Microsoft could release some apps and games?

Being a software company and all, one would tend to think so.

They don't care... See what ms execs use as phone :(

The Windows Store is a huge strategy shift for Microsoft. A lot of people don't really use it because they are accustomed to installing applications the old fashioned way. Also a lot of people associate it with mobile and the bad reputation it has leaks over. Developers go where the numbers are, period. Microsoft has the user base out there. They are just doing a lousy job of marketing to that user base and educating them on why the Windows store is important (ie., security, auto-updates, etc.) When and if Microsoft fixes this problem, the developers will come.

You are right about that, BlueSky.

Why should a developer with a working distribution via msi change to Windows store, paying 30% store-tax in the process?

I am a developer myself. Most search for different ways to distribute. And if it does not cost anything/much, they will put it in the store too as long as it is promoted. That saves money in the end. Even if you just make it more expensive in the store to cover some of the tax. Even if it is not much more sales you get, a few are enough. It just has to be easy and in their minds.

I guess this is the reason everyone says Windows 10 is better for getting work done...very few distractions left in the Store.

You could have just said "most apps are leaving the windows mobile store" and it would still be correct...

Meh, doesn't bother me one bit. Heck, I didn't even KNOW there was such a thing as a fantasy baseball app.

Oh I follow baseball but I fail to see the attraction of those kind of majo league sports fantasy games.

If I search "baseball", the app is not one of the first twenty or so items. Either, it's really a lousy app, or the Windows store still has the same algorithmic errors, that many devs are complaining about for so long.

Maybe just maybe Baseball is not a thing many people look for. They might call it the "World Series" but in reality only two countries take part, that is if the couple of Canadian teams even make it in to the playoffs.

You're kidding right? MLB rosters are comprised from the best ball players on the planet, and the countries which the teams play in have no bearing in the name. I'm guessing you're either 12 years old, or you have never watched a baseball game.

No, I'm 54 years old but since I've been to more countries than the US (which I was born in) I understand that Baseball is not a world sport. People play baseball in the US, Cuba, Japan and Taiwan. Please tell us why there are no Mexican teams? Japanese teams never play in the "World Series". It's not even an Olympic sport anymore. Few people care about the best baseball players on the planet. More care about the best Football /Soccer players on the planet. Maybe Microsoft should invest in baseball like they invested in American Football.

I think you are correct bebocheck. Baseball is a niche sport globally seen. And these apps were only aimed at US fans. Out of those fans how many own a Windows phone? Is it a loss for Windows Phone? Locally yes, worldwide no.

Yes a loss for Microsoft. One reason why Microsoft invested in American Football is the need for replays and the need for coaches to quickly see what just happened on the field. Baseball has none of that. Next would be the NHL that could be in need of such technology but on a global scale not much happening in hockey. I grew up in America and I understand why they think they are the center of the world. We are just brought up that way. Not that its true or anything, they (the powers that be) just want you to think that way. They also want you to think that Apple and iPhone are the best. The rest of the world thinks differently.

There are Mexican Teams. They play in a different league. If any of those players are good enough, they play in MLB.

Best players on the planet? Although not incorrect barely anyone outside the states has an interest in baseball. It's more of a US sport.

Korea, Japan, Taiwan, Caribbean teams, and South/Central American leagues exist. Baseball is definitely not limited to the US. Look at MLB today. Every roster has players from Asia, the Caribbean and South America.

I've been using the Royal Pains Yahoo apps for years without issue. They're still there in the store and function.

It's ok... My fantasy app works fine. And I can't be mad at anybody who idiotically speaks ill of baseball... It's for people with intelligence anyway

Seriously. To say that the world has no interest in baseball, even today with the WBC, is simply absurd.

I wasn't speaking ill of baseball ⚾ I was just saying that compared to say Football/soccer it's not a big sport. I love hockey but I won't say there are a lot of people who watch it. I can see why there wouldn't be any NHL apps.

I can't believe we still talk about apps. There will be a windows mobile phone in the foreseeable future but apps won't be the driving factor. For those of us that stay there will be a core set of apps for everyday use and the rest we will just have to accept until the nail is in the coffin

No more pinned apps just pinned bookmarks, what a shame , that we have to go through this.

What are you talking about no apps? Sure there will be. Weather apps, maps, messaging, photo,

ha true i jazz them up App it!

Come on, fantasy baseball apps...Hardly essential, if you look at the big picture this would come last in any list.

Baseball? What's that? Oh, an american sport... Sorry I almost forgot! See you later. Now I'm returning to to my Football (the real one) App.

I'm sure all the crochet apps are leaving the store too... come on, fantasy baseball?! Talk about a niche app within a niche sport within a niche ecosystem
Windows Central Newsletter
Get the best of Windows Central in in your inbox, every day!
Thank you for signing up to Windows Central. You will receive a verification email shortly.
There was a problem. Please refresh the page and try again.