Farm Frenzy 2: Pizza Party served up hot and fresh on the Windows Phone Marketplace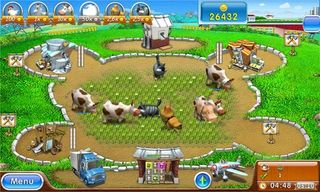 Over the weekend Windows Phone Central reported on a killer bug introduced in the latest Farm Frenzy 2 update. Since then, developer Alawar notified us that they are indeed aware of the problem and working on a fix. They also let us in on some good news: they have a new game on the Marketplace.
Farm Frenzy 2: Pizza Party is an expansion to the enjoyable Xbox Live game. But unlike its predecessor, Alawar has chosen to self-publish Pizza Party as a non-Xbox Live title. The decision seems to stem from Pizza Party's similarity to Farm Frenzy 2; it is an expansion, not a true sequel. The Farm Frenzy series is already several games large on other platforms. By publishing this one as an indie title, Alawar can get Windows Phone caught up more quickly and without publishing too many similar Xbox Live releases.
As I've mentioned, Pizza Party is quite similar to the Farm Frenzy 2 many of us know and love. It offers another whopping 90 levels of time and resource management. As before, each level provides varying starting resources and goals. Most often players will need to acquire a specific number of animals or produce certain goods in order to win the level. To do that, you'll collect whatever your animals drop, catch invading bears (?), process some goods, and sell others on the market. Money earned from completing levels can then be spent on new buildings and upgrades, which in turn allow you to process and produce new goods.
So where does the pizza come in? Pizza Party imagines that agriculture and pizza chains are closely related. Basically, players can now make different kinds of pizzas from the goods they gather on the farm. It doesn't change the gameplay in any major way (less so than say, Sally's Spa compared to Sally's Salon), but hey, that's why it's called Farm Frenzy 2: Pizza Party instead of Farm Frenzy 3. Fans who enjoyed the previous game will likely enjoy a big batch of new levels, and who doesn't love pizza?
Farm Frenzy 2: Pizza Party costs $2.99 (same as its predecessor) and there is a free trial. Get it here on the Marketplace.
Paul Acevedo is the Games Editor at Windows Central. A lifelong gamer, he has written about videogames for over 15 years and reviewed over 350 games for our site. Follow him on Twitter @PaulRAcevedo. Don't hate. Appreciate!
I think MS should relax on the Xbox live branding to let devs bring their games out with Xbox live branding and features a tad easier.

Maybe, but I'm not sure tbh, one of the reasons XBLA achieve such a success was due to its quality requirements, on WP that's a bit debatable, but nonetheless I'm not sure lowering the bar is the way to go.

I kinda agree but the thing is mircosoft has always been this way on xbox live its also to make sure the achievement portion dosn't get flooded.
I remember them speaking about giving xbox indie games achievements and then finding out people would just make games with super easy achievement like click start for 200 gs and they said only select titles would be branded xbox live. I assume the same rule follows for the phone its more or less they only want certain titles so it dosn't seem like all the xbox live enabled games on wp are farm frenzy and sally spa.
Only other reason I could see is that the developers didn't want to go through a much tougher cert process then going indie its why the markers of sally spa decided to put delicious, ncis and there other 3-5 titles non xbl not that microsoft said no its they found it to much of a hassle for not that much extra reward

Nooooooooooooooo.... Need GS :p

Joking aside, I would have bought it if there were achievements but I have a limited budget and there are plenty of Xbox Live titles I haven't bought yet that are both cheaper and have GS.

Meanwhile GLU's garbage offerings get LIVE billing,SMH

Sadly no xbox live. Got the first one as Dotw and loved it. 2.99€ is not okay without Xbox live.

this is the developers decision

They seem to be very clever people, but MS Live rules also prevent (or tries to) the flood of same genre games. In my opinion, I like these rules, I mean we all moan when we come across an example where such rules might be a pain, but we have many more examples of games which could destroy Live. Take a look ar XBLIG, there are hundreds of games which are cynical cash ins, while I understand it's fashionable to endorse "indie", we also need to be fair and realize people will be people, and if there's a way to make money with little effort, most will grab the opportunity, like the fellow who posted before exampme's: press start to win 200G.
Windows Central Newsletter
Thank you for signing up to Windows Central. You will receive a verification email shortly.
There was a problem. Please refresh the page and try again.