Nokia updates its feedback app for Windows Phone; your comments are now more appreciated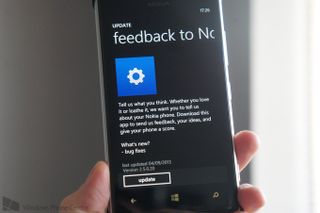 Nokia has pushed out an update for its Feedback to Nokia system application on Lumia Windows Phones. The app is pretty neat, enabling you to provide feedback to Nokia, rating its hardware, software, services and offering comments on how the company can improve its game. As well as the feedback provided, Nokia also collects some information on how your Windows Phone is used.
Fear not with the data collection. We highly doubt Nokia employees are laughing at your mug shots with their Pro Cam suite. So what's included in the latest version, 2.5.0.20? Bug fixes, according to the app store listing. So not the largest update in the world, but what would one expect? The company also fired out an update last month. You can download / update Feedback to Nokia through the Windows Phone Store.
Rich Edmonds is a word conjurer at Windows Central, covering everything related to Windows, gaming, and hardware. He's been involved in technology for more than a decade and knows a thing or two about the magic inside a device chassis. You can follow him over on Twitter at @RichEdmonds.
Nice that a company cares what its customers think enough to warrant an app for feedback, and then updating it all the time. :)

Is that feedback going to Nokia or Microsoft? Either way they need to greatly improve the WP OS, hardware is fine

my 920 gets hot like fire and sometimes while opening the dotted menue it lags .. so hardware is fine but not good

There's a feedback app for that.

trust me. i used it many times.. not just from nokia also the other programs. feedback is the best you can give a developer in order to show him whats good and bad

The phone getting hot I think is related to how software communicates with hardware

I think this is mainly a reason when the CPU has 100% usage and is getting to hot.. dont think the software can do much about the heat reduction of a phone. but to be fair.. the software is using the CPU .. true

Yes software does difference. I tried official Youtube app and my phone was burning. Using unofficial ones (tried few of them) - just warm.

It might differ from the CPU usage. But that is not the work of Nokia but of the developer or microsoft. But nokia was responsible for the Hardware design. Using 100% of CPU should not grill my hand on the back of the device.or do you complain on your pc when your pc gets to hot? clearly a fault in hardware setup like fans etc .. well.. no fans in the smartphone though. .but that is nokias work

I'd say it's balanced 50/50 between the hardware and the software. Make sure the phone won't burn and ventilate properly, but at the same time, software shouldn't be using 100% CPU, 100% of the time (I'm looking at you, Kik Messenger). If both were achieved, we wouldn't need our oven mitts anymore, and our battery would last a day!

Will Nokia exclusive apps belong to Microsoft or???? Will we continue to get the awesome support that Nokia has been offering??? Questions questions questions....

Questions which have already been answered...see today's earlier post ;)

Forgive me. Haven't paid much attention to this amazing site today. Will definitely look it up :)

The constant updates to their system apps that frequently add little surprise additions will be sorely missed.

If news is really boring, hardly news and gets published on a Wednesday afternoon, is anyone reading it?

I wonder why does such a stupid-simple application like this form-submitter app needs BUUGFIXES?? If such a simple as 1-2-3 app needs to be bugfixed from time to time, how dare we even expect, that such a complex app like the VLC player cab be made solid and functioning correctly in 2-3 years.

Nokia lumia 920 main camara using flashlight image not clear (reflection problem) what the solution

i am dissapponted with lumia 920.my phone will heat
up very fast.i
think problem with os.i previously used n97
symbian.having no pblm
even if i used contionusly.i notice that windows phone
8 compress jpeg file more .gives me "blurr image on zoom". processing
technique used in symbain os is good compare to wp.micrsoft reducing
image calirity ,"less
sharp image" compaire to symbain os.plse slove tis
issue on wp8.i am waiting for wp8.1. Plse develop best image processing

I have received an update for my Lumia windows 7 phone and I want to take it off. I used to have a Samsung gallaxy and threw it against a wall and got this one instead. Unfortunatley this update has turned my nice, easy to use phone into a stupidly awkward and rediculous "improvements" to match the original Samsung. Why do I want the screen to black out during a call? I can't work out how to hangup the call. I either have to wait for the other person to hang up or press the on/off button to see the screen again.I can't even see my call history. I get a Speed Dial message. I don't use speed dial so why can't I see my sent and received calls? I don't know how it happens but my cals will unexplainably put themselves on hold. My caller doesn't know what has happened and because my screen has gone black I have to press the on/off button to see that there is a blue bar on the top of the screen telling me the caller is on hold. Why does this happen? Extremely annoying. I want my old phone back and not with the updates!!!!!!!
Windows Central Newsletter
Get the best of Windows Central in in your inbox, every day!
Thank you for signing up to Windows Central. You will receive a verification email shortly.
There was a problem. Please refresh the page and try again.